Lokaal product
Wat is eLabJournal?
eLabJournal biedt een intuïtieve en flexibele oplossing om de informatie in je laboratorium te beheren. Het alles-in-één elektronische notitieboek voor laboratoria bevat ook modules voor het volgen van monsters en protocolbeheer. eLabJournal verbetert de efficiëntie bij het documenteren, organiseren, zoeken en archiveren van gegevens, monsters en protocollen. De software is geschikt voor elk laboratorium, variërend van kleine academische laboratoria en startup-bedrijven tot grote academische instellingen en wereldwijd opererende bedrijven.
Wie gebruikt eLabJournal?
Kleine bedrijven en individuele academische laboratoria Kleine en middelgrote bedrijven en academische instellingen Bedrijven en universiteiten die moeten voldoen aan strenge beleidsregels
Waar kan eLabJournal worden geïmplementeerd?
Cloudgebaseerd
On-premise
---
Over de leverancier
eLabNext
Opgericht in 2010
Ondersteuning voor eLabJournal
Telefonische ondersteuning
Chatten
Beschikbaar in deze landen
Afghanistan, Albanië, Algerije, Amerikaans-Samoa, Amerikaanse Maagdeneilanden en nog 223 andere
prijzen van eLabJournal
Beginprijs:
Niet door leverancier verstrekt
Ja, heeft een gratis proefversie
Geen gratis versie
eLabJournal heeft geen gratis versie maar biedt wel een gratis proefperiode.
Prijsmodellen
vraag een gratis proefversie aan
Over de leverancier
eLabNext
Opgericht in 2010
Ondersteuning voor eLabJournal
Telefonische ondersteuning
Chatten
Beschikbaar in deze landen
Afghanistan, Albanië, Algerije, Amerikaans-Samoa, Amerikaanse Maagdeneilanden en nog 223 andere
Video's en afbeeldingen van eLabJournal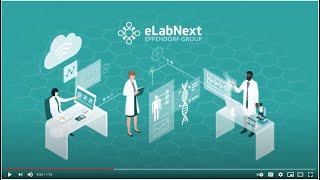 Functies van eLabJournal
Beheer van gegevensopslag
Compliance bijhouden
Compliancebeheer
EDI
Gegevens importeren en exporteren
Gegevensbeveiliging
Inventarisatie
Leveranciersbeheer
Orderbeheer
Projectbeheer
Protocol- en SOP-beheer
Rapportage en analyse
Realtime gegevens
Samenwerkingstools
Steekproefbeheer
Streepjescodes en tickets scannen
Taakbeheer
Toegangsopties/machtigingen
Voor laboratoria
Voorraadauditing
Voorraadbeheer
Voorraadoptimalisatie
Workflowbeheer
Zoeken/filteren
Alternatieven voor eLabJournal
Maura
Business Systems Analyst III in VS
Geverifieerde LinkedIn-gebruiker
Hoger onderwijs, 10.000+ werknemers
Heeft de software gebruikt voor: 1+ jaar
Functionality and Superb Customer Support
Opmerkingen: Our overall experience with eLab Journal has been exceptional. We are glad we chose to partner with them because they were definitely the right choice! They have helped us immensely and we would not have achieved a successful project outcome without them.
Pluspunten:
Working with the team at eLab Journal to implement our LIMS and make enhancements as our laboratory has grown has been a wonderful experience. Everyone we have worked with is responsive and collaborative. The software itself has amazing functionality and provides the features we need to act as an efficient, high throughput testing laboratory.
Minpunten:
When we implemented the software in 2020, some of the menu items and navigation seemed disjointed and not exceptionally intuitive. eLab Journal has evolved since then and we have seen improvements. The team is also open to our feedback as system users.
Reactie eLabNext
7 maanden geleden
Thank you for your review of eLabJournal, Maura happy to hear that you've noticed our improvements, and we always appreciate the great feedback! Since October 2021, we have implemented several new UI updates, reorganized the navigation tools, and taken a more multi-disciplinary approach to the menu items so that chemists, biologists, research techs, and lab directors can easily access their unique day-to-day workflows within the system. Stay tuned for additional major updates by 2023!
Geverifieerde reviewer
Post-doctoral Scientist in VS
Geverifieerde LinkedIn-gebruiker
Research, 51-200 werknemers
Heeft de software gebruikt voor: 6-12 maanden
Keeping Track of the Research
Opmerkingen: This has been a great experience. At first had only planned to use for single aspect of research project and now pushing for us to incorporate into other areas. Customer support has been excellent. Always quick to respond when have questions or requests, and so very willing to work with us to customize the system to our needs.
Pluspunten:
Although there was a learning process to using the system, it did not take more than a week for us to build the framework that needed for managing samples and recording experimental data. Have multiple users with different levels of comfort with technology and hearing more and more from group that so glad that set this up for this research project. Really appreciate that Microsoft Office integrated into system, not only for editing files but as sections within a entry. This has allowed users that do not have access to office to work with us with ease
Minpunten:
Lacking some options that know are available on other electronic notebook freeware (To Do Lists, Task assignment, Calendar, Messaging center, view only of integrating Microsoft office components, comment tracking, tags for indexing entries). One option that would love to have that seen in other electronic notebook software is the option to share study with outside user so can view (not edit) for defined period of time without using a licensed space. Would be happy if there was a limit on how many of these could exist at a time
Overwogen alternatieven: Labguru
Redenen om voor eLabJournal te kiezen: Needed a inventory system that allowed better handling of aliquots and lineage. The permission management system was better for the needs of the group. And that hardly anything is every truly gone, can track history of pretty much everything.
Overgestapt van: Labfolder
Redenen om over te stappen op eLabJournal: The customer service, the rep who set up our demo provided such good information. Was impressed that during the demo period (which was a month), he not only respond well to our questions but took our feedback and entered as requests for modification of the system. Demonstrated to us that would work with us to help us use the system to fit our particular needs
Reactie eLabNext
7 maanden geleden
Thank you for stopping by to review eLabJournal! We are happy to share that we are preparing to release a brand new add-on in Marketplace in the coming weeks for handling Task Assignments/To-Dos; additionally, we now support options for commenting/messaging on other users' experiments/reports, integration with Microsoft Office (Excel, Word, PPT), and labels/tags on projects for easier searching. We also have a few major projects on the horizon, including a full redesign of our Inventory module! Moreover, we confirmed that our team is actively reviewing several of the features you've listed for future development consideration later this year. If you have specific ideas about how you'd like any of these suggestions to be implemented, please consider emailing your Key Account Manager or [email protected] We always appreciate hearing feedback from our users, and we'll do our best to incorporate your comments into our next series of updates!
Alex
Student in VS
Geverifieerde LinkedIn-gebruiker
Biotechnologie, 2-10 werknemers
Heeft de software gebruikt voor: 1-5 maanden
Online journal
Opmerkingen: Better for the environment and also don't have to worry about losing/spilling stuff on lab notebook.
Pluspunten:
Once again it allows for easy access to other lab mates by simply sharing it with them. No issues with legibility or whatever.
Minpunten:
Takes a while getting used to actually typing in experiments, protocols, data, etc. but it can be more convenient than conventional paper.
Reactie eLabNext
7 maanden geleden
Thank you for taking the time to share your experience with eLabJournal, Alex! It's common to have a period of adjustment when transitioning to a digital lab solution, which is why eLabNext assigns every client a dedicated account manager to provide consultations and additional training as needed. If you're not sure how to contact your account manager, feel free to send a message to our Support Team and they will be happy to connect you! Our goal is to have you be very comfortable in the system within 2-3 weeks, so please don't hesitate to reach out if we can help you reach this point!
Hazel
Product Development Associate in VS
Biotechnologie, 51-200 werknemers
Heeft de software gebruikt voor: 1+ jaar
Online Journal
Pluspunten:
Switching from traditional paperback lab notebooks to online journaling is an overwhelming task in itself, but eLabJournal simplifies the process of writing, peer-reviewing, and signing off experiments/studies. Entries are accessible when needed to be shared with other laboratories or departments and with the eLabInventory integration, it's easier to keep track of and know the components of an experiment. An amazing feature is the ability to attach files and to link other experiments within an entry, this eases the need to manage local folders for various users since they are downloadable anytime (and anywhere). Their superb customer service needs praise on its own. They have knowledgeable people who are quick to help and go beyond in explaining things and even accommodate the needs of our lab, both in research and operations.
Minpunten:
An entry can only be signed-off by a single person which makes it tricky for experiments or studies that needs both internal and quality reviews. eLabInventory is glitchy when there's a lot of back-to-back updates or additions made in the system.
Elizabeth
Visiting Scholar in VS
Research, 2-10 werknemers
Heeft de software gebruikt voor: 2+ jaar
eLab has helped manage a veritable flood of samples
Opmerkingen: Overall, I'm very pleased with eLab. It has greatly streamlined the tracking of sample receipt and downstream processing for thousands of samples, allowing me to set up standard procedures that even novice undergraduate students can follow without difficulty. Likewise, the pricing was very competitive and the team at eLab has been very responsive and pleasant to work with.
Pluspunten:
This product has greatly facilitated the standardization of sample intake and inventory. Likewise, I really appreciate the ability to set up lab protocols (with version tracking) and standardized experiment templates. These features, in particular, make it easy to bring on new lab helpers in an undergraduate setting. There is no need to manage and track shared files or folders, and when a student leaves, their records and activities are preserved. The interface has generally been quite intuitive and easy to maneuver, and customer support is responsive and helpful if a user runs into problems.
Minpunten:
There are still a few glitchy (largely aesthetic) areas. For example, the "Lineage" button appears to multiply as one clicks on or manipulates successive sample records. This can be resolved by refreshing the page, but it is not guaranteed that you will remain on the same sample record when you refresh. This doesn't seem to impact the integrity of sample records, but can be annoying when working with a lot of sample records. There is not yet a function to create copies of plates of samples (e.g., whole-plate aliquots, series, or downstream product). One can work around this with batch importation, but I do look forward to this feature eventually being incorporated.
Overwogen alternatieven: Benchling
Redenen om over te stappen op eLabJournal: eLab offered a combined electronic lab journal and inventory tracking/management platform that was both intuitive and economical.
Reactie eLabNext
7 maanden geleden
Thank you for reviewing eLabJournal, Elizabeth! Our team worked hard to design an easy-to-use UI and we're glad to hear that those efforts have paid off for you. The latest version of our Lineage add-on resolved the glitch you mention and is available in the Marketplace please make sure to check and update the Add-On. We're also working on a bulk cloning feature for plates and hope to release it soon. Thanks again for sharing this valuable feedback so that we can improve the eLab experience for our entire user community, and stay tuned for some exciting updates!