Wat is QT9 QMS?
Wie gebruikt QT9 QMS?
Elke organisatie die de regelgeving naleeft (bijv.: ISO 9001, ISO 13485, AS9100, FDA-conformiteit, enz.) of elke organisatie die zijn kwaliteitssysteem papierloos wil maken in een gebruikersvriendelijke interface.
Waar kan QT9 QMS worden geïmplementeerd?
Cloud, SaaS, Web, Mac (desktop), Windows (desktop), Windows (lokaal), Linux (lokaal), Android (mobiel), iPhone (mobiel), iPad (mobiel)
Over de leverancier
QT9 Software
Gevestigd in Aurora, VS
Opgericht in 2005
Telefonische ondersteuning
Chatten
Over de leverancier
QT9 Software
Gevestigd in Aurora, VS
Opgericht in 2005
Telefonische ondersteuning
Chatten
Video's en afbeeldingen van QT9 QMS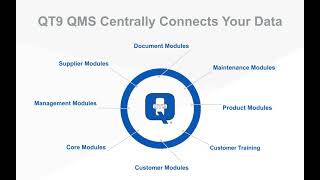 Vergelijk de kosten van QT9 QMS met soortgelijke producten
Functies van QT9 QMS
Afsprakenbeheer
Antwoordbeheer
Apparatuur bijhouden
Apparatuurbeheer
Archiveren en retentie
Asynchroon leren
Auditbeheer
Auditplanning
Beeldregistratie
Beheer van technici
Bestanden delen
Bestandsconversie
Bijhouden van klachten van klanten
Budgetbeheer
Certificaten/labels afdrukken
Certificering en licentieverlening
Code afdwingen
Communicatiemanagement
Compliance bijhouden
Compliancebeheer
Corrigerende en preventieve maatregelen (CAPA)
Cursusbeheer
Dashboard
Documentbeheer
Documenten capture
Documenten coderen en controleren
Documenten opslaan
Documentenclassificatie
E-mails omzetten naar taken
Factureren
Feedbackbeheer
Formulierbeheer
Gantt-/tijdlijnweergave
Gemengd leren
Herinneringen
Ideeënbeheer
Incidentenbeheer
Inkooporderbeheer
Inspectiebeheer
Integraties van derden
Interactie bijhouden
Inventarisatie
Kalibratiebeheer
Kalibratieschema's
Klachtenbeheer
Klantendatabase
Klantenportal
Kosten van voltooiing bijhouden
Kwaliteitsbeheer
Kwaliteitscontrole van leveranciers
Leerpaden en -trajecten
Materiaallijsten
Mobiel leren
Mobiele toegang
OSHA-registratie
Offertes
Onderhoudsbeheer
Onderhoudsplanning
Onderzoek van ongelukken
Orderbeheer
Percentage-voltooid bijhouden
Plannen
Portal voor leerlingen
Predictief onderhoud
Preventief onderhoud
Priorisering
Problemen bijhouden
Proces- en workflowautomatisering
Productplanning
Projectplanning
Rapportage en analyse
Rapportage van incidenten
Rapportage/projecten volgen
Rapportsjablonen
Resourcebeheer
Risicobeheer
Risicobeoordeling
Risicorapportage
Routering
Samenwerkingstools
Servicegeschiedenis
Streepjescodes en tickets scannen
Subtaken maken
Synchroon leren
Taakbeheer
Taakplanning
Taakvoortgang bijhouden
Taken bewerken en bijwerken
Taken importeren
Taken labelen
Terugkerende taken
Tijd bijhouden
Tijd en onkosten bijhouden
Toegangsopties/machtigingen
Toolbeheer
Trainingbeheer
Trainingsbeheer
Uitzonderingenbeheer
Veranderingsbeheer
Versiebheer
Verzendbeheer
Voor mechanische apparatuur
Voorraadbeheer
Waarschuwingen / Escalatie
Waarschuwingen/Meldingen
Zoeken in gehele tekst
Alternatieven voor QT9 QMS
Anthony L.
Global Quality Management Systems Manager in VS
Telecommunicatie, 1.001-5.000 werknemers
Heeft de software gebruikt voor: 1+ jaar
Global user of QT9
Opmerkingen: From demo to deployment, the team at QT9 has supported me with each step of the process. Ongoing training and support has made the rapid deployment seamless and successful. The intuitive nature of QT9 results in almost no learning curve for general users. As the layout and functionality of the modules are similar in design and usage, growing within the software environment has become natural and organic. QT9 has taken the tears out of the daily management of a QMS.
Pluspunten:
Software was plug-n-play for our organization. We were able to get the software up, configured and running within days. The intuitive use of the software allowed for rapid deployment within the organization.
Minpunten:
Limited options on customization. However, while the options seem limited, we have had limited need for customization. The software embraces all requirements of most modern QMS needs.
Reactie QT9 Software
7 dagen geleden
Anthony - Thank you for the positive review. We are happy to hear you were able to get QT9 QMS implemented so quickly. We look forward to working with you more in the future.
Jennifer B.
Quality Manager in VS
Medische apparatuur, 11-50 werknemers
Heeft de software gebruikt voor: 2+ jaar
Overwogen alternatieven:
QT9 QMS
Opmerkingen: We have observed several benefits from moving to QT9. It has allowed us to move from a paper based/manual QMS system to an electronic system and reduce our paper consumption and record storage. QT9 has streamlined our internal auditing process, preparation for regulatory audits, document control and approval, and organizational training. We have been able to reduce our active documents by 30% as unnecessary/redundant documents and procedures have been made more visible through the document review process. QT9 made it possible for our organization to effectively maintain and continue operating our QMS system without interruption during the global pandemic when limits were placed on gathering size. All of our records are now in one location and it has reduced the time that the organization and Quality unit spend in locating records.
Pluspunten:
QT9 allowed us to replace our clunky paper based QMS and move completely to a streamlined, validated electronic platform. The ability to easily manage our document control, auditing, non-conformances, corrective actions, preventive actions, complaints, and calibrations in one location instead of having to spend time retrieving records from multiple locations. QT9 made it possible to maintain our organization's training needs during a global pandemic, when meeting face to face and in groups was restricted. QT9 made it possible to conduct remote training of our organization and evaluate effectiveness with a written test. It unknowingly prepared us to maintain all of our core Quality functions in the midst of a global pandemic without a mis-step. The report format (complaints, corrective/preventive actions, non-conformances, etc) look professional and they are able to quickly be downloaded and provided to either customers, suppliers, auditors, and internally. The consistency of the appearance of the screens in each module made training the organization to use very easy. It was easy to translate the learnings from one module to another. Implementation was similar as well. QT9 technical assistance in uploading of documents and gauges increased the speed in which were able to integrate it into our organization. The unlimited training was also critical especially for the calibration module as it took a bit longer for us to implement and understand how it functioned.
Minpunten:
One feature that would benefit from improving is the ability to create both corrective action and non-conformance records from a customer complaint. Currently, the software only allows the creation of one or the other, but not both. However, all records between complaints, corrective actions, and non-conformances are linked through a daisy chain scenario, but it can be awkward when retrieving records during an audit. The calibration module was the most difficult for us to implement as it operated a differently than the other modules. However, QT9 technical support assisted and provided us with all of the training that we requested without delay and worked with us to ensure that we implemented the module correctly for our organization's needs.
Reactie QT9 Software
11 maanden geleden
Jennifer - Thank you for the awesome and super detailed review! We really appreciate you taking the time to share your feedback. These are such great suggestions! We are sharing your feedback with our team.
Nacaro W.
Dir of Compliance in VS
Lucht- en ruimtevaart, 201-500 werknemers
Heeft de software gebruikt voor: 1+ jaar
Limited Flexability
Opmerkingen: To be honest we do not use all the modules within QT9 but the ones we do use allow us to get by and pass our QMS audits, but for the power user like myself that wants to extract detailed performance data you'll have to extract the data and pull it into excel and manipulate it to get metrics you need.
What you see is what you get, no customizing nothing. No overdue notifications or escalation process built in.
Pluspunten:
Ease of rolling out the product. Built in forms are helpful for a beginner. There are some features if you dig into the settings that allow you minor custom uses. The Calibration and Prevenative Maintenance Modules are promising and somewhat helpful. The document control module has worked well for us.
Minpunten:
1. the biggest disappointment - No customability of modules and forms. Lots of tabs on the nonconforming product and corrective action forms and you cannot get rid of the tabs you do not need, You cannot even hide the tabs. Absolutely no customization to tailor to your organization. 2. No email reminders if you have overdue actions pending, you'll have to look at the database daily. 3. No filtering of overdue items in perato analysis. You can filter: Open Items, Closed, Rejected, Submitted and deleted but nothing to tell you if an item is past due. No email notifications if an item goes past due. You can only disply the entire reports that are overdue. 4. Ad Hoc Reports are Lackluster for reporting performance data analysis (Perato Analysis, Bar Graphs, Line Graphs etc) Nothing here to help you determine how effective or ineffective your QMS is. 5. If you have more than one process approver (Risk, CA's, NC's etc) and one of them approves the action the other approvers cannot go back and make changes. Your locked out. I had myself and one other person approving a risk and the other approver approved the risk and I could not make any changes. I had to delete the entire risk action and start over. 6. Only exports to CSV files not Excel .xlsx extensions 7. Internal audit module - build a schedule only. No prefilled forms to use, no form development capabilities.
Reactie QT9 Software
2 jaar geleden
Hi Nacaro As soon as we saw the review, we had our team personally reach out to you. 1. Customizability: Unlimited custom fields are quick and easy to setup. Tabs cannot be hidden it is like an economy car vs a luxury car. The features are included. 2. Emails: QT9 automatically sends email reminders and overdue notifications to the responsible parties and/or administrators. 3. Filtering: Each individual user can customize their dashboard grids for each module to filter and display the content you want to see. It sounds like you have the "Status" column hidden. 4. Ad Hoc Reports: We include customizable filters for all canned reports and a customer report generator to create any report you could need for measurement. 5. Approvers: Simply change your settings to require 2 or more approvers. 6. Exports: We export to a universal CSV that can be easily be opened in Excel & other programs. 7. Audit Module: During implementation you build an electronic form and you attach related files.
Terri B.
Quality Process Manager in VS
Spoorwegmaterieel, 201-500 werknemers
Heeft de software gebruikt voor: 2+ jaar
Overwogen alternatieven:
QT9 Quality Management System
Opmerkingen: Before using QT9 data gathering and analysis was difficult at best. Now we have the ability to analyze data in order to make real changes to the quality of our processes and products.
Pluspunten:
Easy to set up and use, yet very powerful reporting capabilities. As the administrator I can add users, structure drop down menus, etc. myself and don't have to rely on outside sources.
Minpunten:
Nothing currently comes to mind, but this is because QT9 asks their customers to submit feature requests for improvement ideas.
Reactie QT9 Software
4 maanden geleden
Terri - Thank you very much for the 5-star review! It is great to hear you like our simple pricing model with all the modules included. We appreciate you taking the time to share your positive experience.
Dina T.
Quality Management Specialist in VS
Telecommunicatie, 501-1.000 werknemers
Heeft de software gebruikt voor: 1+ jaar
Overwogen alternatieven:
Very robust program that centralizes and manages essential QMS & EMS processes and outputs.
Opmerkingen: The software is outstanding, the support is quick, and thorough. The QT9 team has worked with multiple departments in our organization. From our internal IT group working to setup connections to other platforms, to the implementation team members and document admins as they have been introduced. The support has been consistent and so very much appreciated.
Pluspunten:
Intuitive, friendly user interface, the well thought out connections from one module to another. The fact that each module is included and not ala carte is a HUGE benefit. The online training academy is one of the best I have used.
Minpunten:
A lot of filters that just take a bit of getting used to. Sometimes they default and employees need a little extra coaching to make sure they are loading the view they need.
Reactie QT9 Software
vorig jaar
Dina - Thank you very much for the 5-Star review! It is awesome to hear you like that all the modules in QT9 QMS are automatically included. Please feel free to reach out to us at anytime for additional training on any modules or training for any new employees.