Wat is PointOS?
PointOS is een Restaurant Management Platform dat functies biedt voor alle aspecten van het ecosysteem van een restaurant. Restauranthouders hebben toegang tot alle tools die nodig zijn om hun bedrijf winstgevender te maken. Het PointOS-platform biedt een alles-in-één verkooppuntsysteem met functies variërend van voorraad- en arbeidsvoorspelling tot gedetailleerde rapporten en analyses die je helpen de juiste beslissingen voor je bedrijf te nemen.
Wie gebruikt PointOS?
Horeca - Bars/restaurants/clubs
PointOS - Details
PointOS
Opgericht in 2007
PointOS - Details
PointOS
Opgericht in 2007
Video's en afbeeldingen van PointOS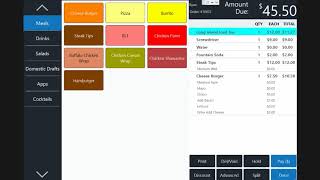 Vergelijk de kosten van PointOS met soortgelijke producten
Vanaf
US$ 39,00/maand
N/A
US$ 69,00/maand
US$ 71,00/maand
PointOS - implementatie en ondersteuning
Ondersteuning
E-mail/helpdesk
Veelgestelde vragen/forum
Kennisbank
Telefonische ondersteuning
24/7 (contact met medewerker)
Chatten
Implementatie
Cloud, SaaS, Web
Windows (desktop)
Windows (lokaal)
Linux (lokaal)
Android (mobiel)
iPhone (mobiel)
iPad (mobiel)
Training
Live online
Webinars
Documentatie
Video's
Frank D.
Business Owner in VS
Geverifieerde LinkedIn-gebruiker
Levensmiddelen- en drankenindustrie, 11-50 werknemers
Heeft de software gebruikt voor: 1+ jaar
Awesome
Opmerkingen: Never had a problem
Pluspunten:
So easy and understanding. Great valley with the money your spending. I'm so glad i end up with this awesome system
Minpunten:
Sometimes it blocks and i need to restart the pc
Reactie PointOS
2 jaar geleden
Frank, We are so happy that you are pleased with your PointOS point of sale system. We are always aiming to provide the best value at an affordable price. While we sell the software as just a license that you can place on any windows device, we do not provide support should something go wrong with your device. PointOS does offer new modern sleek hardware options from Elos with parts and labor warrantees and can replace your device next day.
Levensmiddelen- en drankenindustrie, 2-10 werknemers
Heeft de software gebruikt voor: 2+ jaar
Works well for my bar
Opmerkingen: Overall I haven't had any major issues. It does run slow at times but that's probably related to the internet not the system. I've been using the system for nearly three years. I started with one station and recently bought two more. It is nice that there are no monthly fees.
Overall, I would recommend PointOS.
Pluspunten:
I like the set up of the software. I have three stations in my bar and they are all linked so you can add items to a tab from any station. The system is easy to use, based on my experience and that of my staff. Several of my staff report that PointOS is much easier to use than other software they've used at other bars. The item menu can be easily customized and alphabetized. I like that you can add recipes so if someone isn't sure exactly what's in a drink they can click on the recipe and see it at the station. It calculates cost per ounce when you add items to the inventory so figuring prices is easy. The sales reports are quick and easy so it's simple to pull reports to figure tax each month. There are also employee reports and each employee clocks in so hours are very easy to figure as are tips collected.
Minpunten:
It would be nice if there were more item tabs. We sell a high volume of alcohol and mixed drinks and we don't have room to put all of it on its own tab. Another thing that would be nice, but really not a big deal, is if there were more icons to make the item tabs easier to find. There are some icons, for instance the more popular beers have an icon so it's easy to recognize. For items with no icon, you have to type it in. You can highlight the items by color which is helpful. It is cumbersome to add everything in but I suppose every system is that way.
Reactie PointOS
2 jaar geleden
HI Katie, Thank you for the feedback. Our Support Team has troubleshooting steps to help improve performance and will assist as the best of their abilities to make sure when multiple terminals are in use that the communication between devices is not impeded by improperly setup firewalls and antivirus, but are limited in the abilities to assist with hardware that has not been purchased or maintained by PointOS.
Scott T.
Test Engineer in VS
Geverifieerde LinkedIn-gebruiker
Automotive, 2-10 werknemers
Heeft de software gebruikt voor: 2+ jaar
PointOS is solid but could be better
Opmerkingen: There have been a couple of issues that I have addressed with the company with no resolution. Truthfully it could be more but I dont recall, as we have been running the system for a couple years and I found work arounds. One of which I turned off printing sales tax on the receipt (as we include it in the price of the drink) and it still printed it on there. Another issue is different reports from the same day dont equal each other i.e. server sales reports vs a detailed daily report. As mentioned above the remote reporting software called mypointosconnect has been down many times for multiple days. When contacting customer service wait times typically run less than 15 minutes sometimes less than 2. Its not horrible software but its showing signs of age while other offerings add nice new features, PointOS has a built in jukebox that I've never ever used. I use streaming services for music in the establishment and have since a hard drive with 15k songs crashed during a busy night. If you looking for cutting edge features, you'll be better suited looking elsewhere but if you want something that works day in and day out with limited frills this might be your software. There update might fix some of my gripes, I'll find out the first week of August if they meet their deadline.
Pluspunten:
I like the fact in a tablet world, that I could install the software on a Windows PC. You actually own the software and the service contract is reasonably priced compared to others. By switching to PointOS, the processor they required for direct integration has been great and has saved us a bundle.
Minpunten:
While it's nice to own the software and run it on a Windows box but Windows 7 is getting harder and harder to find. While the software worked flawlessly for the first year it has become sluggish and there have been numerous remote reporting outages as of late. They have been promising a brand new version for over two years and they finally have picked a launch date. The software looks dated and you have to run the system at a very low resolution to function properly. Lastly, automatically added charges or discounts are a percentage. If you want a happy hour price you have to set a happy hour price for every item.
Reactie PointOS
2 jaar geleden
Hi Scott, Thank you for taking time to leave feedback. PointOS has an all new user experience with the reliability of PointOS Professional with new features being added regularly. The new PointOS also has a dedicated development team that has provided expedited trouble responses for both software and some hardware issues. PointOS has an excellent track record for adding new features requested by customers. We value all our customers feedback and our team is always looking for new ways to make PointOS better.
Restaurants, 11-50 werknemers
Heeft de software gebruikt voor: 2+ jaar
Great beginning machine, maybe not for a larger business.
Opmerkingen: Overall, for a business just starting out, it was a great solution and your tech support was always really amazing. I feel like we grew out its capabilities and needed to move in to 2018. I was really excited when I saw the new version coming out, but after waiting a year for it to happen, I moved over to a cloud system. I feel more secure knowing I have auto back-up and knowing that 5 tips don't become 50 at the end of the day when the servers are tired and adjusting hundreds of tips. My biggest beef is I switched to a new system in February and despite telling the company three times, I am still getting charged for the cloud, which was so useless it wasn't worth paying for. I can't get anyone on the phone and despite about 5 emails on the matter, I have heard nothing. Now I have to call my credit card company and dispute the charges.
Pluspunten:
Overall, it is a decent budget POS with a lot of high end functions. I did like the report functions, the weather reporting and incident reporting and inventory functions.
Minpunten:
At this stage, it is a little dated. The cloud was never connected and always had to be manually started, which defeats the purpose of having a cloud back-up. There were many parts, like modifiers, that were really clunky and made operating difficult. I hated how you couldn't name reports that were emailed, and everything came across with the date and time you emailed them. You would have to write down what reports you were running so you could remember when you got in to email to see them. I would have been nice if you could name them, or if they were named the report that you were running. I didn't like the limited amount of modifiers and the limited about of characters you could write to the kitchen. But I mostly hated that the cloud never worked, leaving me feeling vulnerable to computer failures and loss of data. I also didn't like having the wait staff modify the tips, its so much nicer when the system adds it in, it leaves less room for errors.
Reactie PointOS
2 jaar geleden
Lucia, Thank you for your valued feedback. With the newest version of PointOS the cloud is connected via a customizable service and there are no extra steps from the customer side needed once setup and initially synced. All exported reports can be renamed and saved to file, you can gladly call our support team to assist. Additionally PointOS has a number of enhancements for Internal Reports, Automated Reports, and Cloud Reports that do not require remote access to restart the cloud connection, with the added ability to see historical data via the portal even when the system is offline or without an internet connection to sync with.
Robin S.
Owner/General Manager in VS
Restaurants, 11-50 werknemers
Heeft de software gebruikt voor: 6-12 maanden
Test it carefully
Opmerkingen: I had a hard time accessing reports for May (I think it was May) because the Cloud was down. I have to access them separately and add in information because it was out for weeks. That is a real problem.
The weird reports are a problem.
It is pretty easy, otherwise. And for a place less complicated it might be fine.
Pluspunten:
Working with the company initially, assistance with installation. Completely simple without extra fluff. Inexpensive. The credit card processing company is top shelf; helpful and pleasant to work with.
Minpunten:
The Cloud is not reliable. Extra steps, like running a credit card, pop up with every order entry. Having to name every tab if it's not cashed out right away. The reports do not translate well to quickbooks for our accountant. If you hide or delete a menu item, it gets "ungrouped" which makes it impossible to get accurate reports by category. For example, we change Draft beers several times a week. We "hide" or delete those buttons because the page would be full several times over. When we run a report, we get a total for beer, and also for each "ungrouped' item, by name. We have to figure them out and add them back in to the total. I think that reports by hour are set up strangely. We open at 11 am, so if I want to add up shifts, I start there and add up until 3, then 3 -8, then 8 to 11 and have to go back to the top for the rest of the day until 3 am. I don't know how to tweak this or if it can be tweaked. We've had so many support calls, we all dread them. I'm sure there are more examples.
Reactie PointOS
3 jaar geleden
Hey Robin, Our Team can help with the report start and end times. Also our new version bridges all the gaps this classic application may need to work well for you. Please get in contact and give you an over view of the new version.