Wat is Pipeline?
PipelineDeals is de meest geadopteerde CRM voor kleine en middelgrote bedrijven en geeft verkoopteams in een breed scala aan sectoren de mogelijkheid om baanbrekende relaties te ontwikkelen. PipelineDeals is ontworpen rond een gebruiksvriendelijke en aanpasbare gebruikerservaring, verkoopgerichte functies en toonaangevende klantenservice en service. Momenteel gebruiken meer dan 18.000 gebruikers in 60 landen PipelineDeals om zicht te krijgen op hun verkooppijplijn, waardoor ze zakelijke kansen kunnen versnellen en meer deals kunnen sluiten.
Wie gebruikt Pipeline?
Voor organisaties van elke omvang en in alle sectoren.
Waar kan Pipeline worden geïmplementeerd?
Cloudgebaseerd
On-premise
---
Over de leverancier
Pipeline
Gevestigd in Malvern, VS
Opgericht in 2006
Ondersteuning voor Pipeline
Telefonische ondersteuning
Chatten
Beschikbaar in deze landen
Australië, Canada, Verenigd Koninkrijk, Verenigde Staten
Over de leverancier
Pipeline
Gevestigd in Malvern, VS
Opgericht in 2006
Ondersteuning voor Pipeline
Telefonische ondersteuning
Chatten
Beschikbaar in deze landen
Australië, Canada, Verenigd Koninkrijk, Verenigde Staten
Video's en afbeeldingen van Pipeline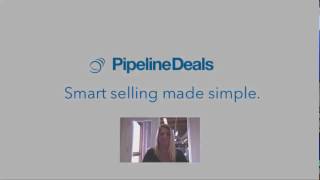 Vergelijk de kosten van Pipeline met soortgelijke producten
Functies van Pipeline
Aanpasbare velden
Activiteitendashboard
Afspraakplanning
Beheer van verkooppipeline
CRM
Campagnebeheer
Contactendatabase
Documenten opslaan
E-mailbeheer
E-mailmarketing
Gedeelde contacten
Gegevens importeren en exporteren
Integratie van sociale media
Kalender-/herinneringssysteem
Kalenderbeheer
Kansenbehee
Klantendatabase
Leadkwalificatie
Leads vastleggen
Leadsegmentering
Marketingautomatisering
Mobiele toegang
Offertes
Opmerkingen/notities
Pipelinebeheer
Prestatiemeetwaarden
Rapportage en analyse
Segmentering
Taakbeheer
Territoriumbeheer
Waarschuwingen/Meldingen
Workflowbeheer
Zoeken/filteren
Alternatieven voor Pipeline
Michael
Business Development Manager in VS
Geverifieerde LinkedIn-gebruiker
Milieudiensten, 11-50 werknemers
Heeft de software gebruikt voor: 2+ jaar
Overwogen alternatieven:
Its not Salesforce, but it also won't bankrupt your small business
Opmerkingen: Overall, this was the solution my company needed. We had used Salesforce long before I was on staff, and it was too costly to keep using. When I was onboarded there was no CRM being used, and that had to change. Pipeline Deals gave us all the functionality we needed at a much much lower cost and barrier to entry.
Highly recommended.
Pluspunten:
This is a very powerful CRM solution. As I was looking for solutions I came across quite a few that were reviewed by many sites. Pipeline Deals consistently was in the top tier of CRMs for SMB companies. I watched a few online demos and reviews before reaching out to their team. I was quickly assigned a representative that walked my team through a live demo and set us up with a POC trial. After our trial ended we signed up and were off. Setting up Pipeline Deals was quite easy, as the software can conform to your needs. Almost all fields are fully customizable, however this did take some getting used to, to see how changes were reflected as a whole in pipeline view. Overall, great product for a lot less than what Salesforce, Salesloft of Hubspot might run you.
Minpunten:
As a smaller company some of the integrations that other CRMs have were either missing or lacking. However, Pipeline Deals is getting better about innovation. One of my favorite shortcuts they rolled out was a LinkedIn plugin, this allowed for you to connect with somebody on linkedIn and in one click import them into your CRM. However, many times it would populate the fields with incorrect info or just generic info like where their company was headquartered instead of where that employee was actually located. Additionally, at times the APIs for some of these newer services would change, and then the features would not work.
Joel
President in
Geverifieerde LinkedIn-gebruiker
Internet, 11-50 werknemers
Heeft de software gebruikt voor: 1+ jaar
Bron: GetApp
Great for Small Business Sales Teams
Opmerkingen: My company has used Pipeline Deals since around the time they started. We were a very early customer. I started with one sales person and have moved up to about 10 today. The system works great for this size sales team. It's not cumbersome to use as a central system for a small team to stay organized. I highly recommend it to anyone with a sales force in that range. I can't speak to it's scale above that as its my experience up to 10 active reps. They have taken what was a massive set of things reps would need to do in some of the other online systems (lets call it OVERKILL) and boiled it down to activity, opportunities, and centralized performance measurement. Its got all the bells and whistles you need... while not overwhelming you (as the sales manager/owner) or your reps with tons of required extras that clutter their ability to move fast and keep selling.
Pluspunten:
The BEST small biz sales relationship management tool we've used (7+ years now every single day) Very intuitive interface. Amazingly powerful API (if you want to code connect it to your own systems) Great customer support team (you talk to real people, in the real office) Extremely powerful list filtering and saved reports tools Constantly adding new features and enhancements to make it more powerful without more "clutter"
Minpunten:
The actual "finished" reporting built-in for sales performance, historicals, trending, etc is lacking quite a bit as far as "management" type reporting goes [its almost all list based reports, no roll ups, etc... you can see everything, but its not presented in any customized executive way, reason I think it works well for smaller teams. But without better aggregation, I dont think it would be fun to manage 25+ reps on something like this]. (It can be done with outside graphing and custom tools using their API but not everyone can do that). Real-Time, Customizable, Formatted Reporting for "summary/trend management" would make this thing a 10 out of 10 !
Mason
Sales/ Customer Service in VS
Automotive, 2-10 werknemers
Heeft de software gebruikt voor: 1+ jaar
Overwogen alternatieven:
User-friendly
Opmerkingen: Have used some Different CRM's before. But I seem to like pipeline the way it set up in the way that you can customize it
Pluspunten:
The functionalities on pipeline very customizable you can use this for track and sales you can also use this afternoon customer converts
Minpunten:
You have to have accurate data if not you have to build it out and then it's time consuming
Geverifieerde reviewer
Marketing Consultant in VS
Geverifieerde LinkedIn-gebruiker
Gezondheid, wellness en fitness, 2-10 werknemers
Heeft de software gebruikt voor: 1+ jaar
Bron: GetApp
You Can Do Better
Opmerkingen: If you have the budget for literally anything else, use it. This is a tool built by sales people and does not hold up when compared to how a truly sales-marketing integrative CRM/automation tool should operate.
Pluspunten:
It's cheap, and no recurring subscription fees.
Minpunten:
Without a recurring subscription fee, they have no motivation to help their current customers. They've already gotten 100% of the money their going to get from them. The lead form, despite being embedded on the host site, runs through a redirect, meaning I'm losing all attribution of leads when looking in Google Analytics. I'm guessing where to attribute marketing dollars because PLP is actively preventing me from seeing where the leads come from. I've been trying to work with the support team for months now and when they couldn't answer my question after the first few emails they just started ignoring me. I've sent 4-5 additional emails with zero response.
Gary
Sales Manager/ Special Projects in VS
Geverifieerde LinkedIn-gebruiker
Bouw, 51-200 werknemers
Heeft de software gebruikt voor: 1+ jaar
Pipeline for Commercial construction customer followup, relationship building, and new Clients
Opmerkingen: Before we used Pipeline Deals we were using paper and pen to keep track of our client relationships. These notes were easily lost in the shuffle and we had no hard reminders for us to follow up with our clients. Now we are able to keep our office focused on the needs of our clients and to pursue new business.
Pluspunten:
The ease of integrating pipeline into our daily routine when making calls and following up with our clients. With the preset notation in our activity feed it is just a couple of clicks with the mouse to fill out our notes for that client. The ability to share "Deals" and to follow up when one of us is out of the office on a business trip or vacation. When we are on a trip having the app available on our phone is also a very nice feature. There is peace of mind knowing that the hard work to manage relationships with our customers does not end if an employee is fired or quits working for us.
Minpunten:
Pipeline is not ready to sync with our Go Daddy email account, so we continue to push our emails to our home page in Pipeline Deals. Then we have to make sure they are entered into our activity feed for our customers through the home page.