Wat is Yellowfin?
Yellowfin is het enige moderne BI-platform dat zowel de workflows van analisten als zakelijke gebruikers ondersteunt. Door beide workflows te ondersteunen biedt Yellowfin een verhoogde gebruikerstoepassing en snellere analyse, waardoor je een veel hoger rendement op je BI-investering behaalt.
Wie gebruikt Yellowfin?
Yellowfin maakt BI-software die niet alleen voor de gegevensanalist is bestemd. Dit bedrijf ondersteunt de drie hoofdrollen in de implementatie van BI binnen je onderneming: zakelijke gebruikers, data-analisten en ondernemings-IT.
Waar kan Yellowfin worden geïmplementeerd?
Cloud, SaaS, Web, Mac (desktop), Windows (desktop), Linux (desktop), Windows (lokaal), Linux (lokaal), Android (mobiel), iPhone (mobiel), iPad (mobiel)
Over de leverancier
Yellowfin International
Gevestigd in Ketchum, VS
Opgericht in 2001
Telefonische ondersteuning
24/7 (contact met medewerker)
Chatten
Over de leverancier
Yellowfin International
Gevestigd in Ketchum, VS
Opgericht in 2001
Telefonische ondersteuning
24/7 (contact met medewerker)
Chatten
Video's en afbeeldingen van Yellowfin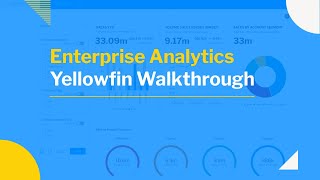 Vergelijk de kosten van Yellowfin met soortgelijke producten
Functies van Yellowfin
API
Aanpasbaar dashboard
Aanpasbare rapporten
Aanpasbare sjablonen
Activiteitendashboard
Ad-hocaanvraag
Ad-hocrapportage
Belangrijke prestatie-indicatoren (Key Performance Indicators, KPI's)
Benchmarking
Dashboard
Dashboards maken
Dataconnectors
Enkelvoudige paginaweergave
Functies en berekeningen
Gegevens combineren
Gegevens importeren en exporteren
Gegevens vastleggen en overdragen
Gegevensbeheer
Gegevensextractie
Gegevenssynchronisatie
Gegevenstoewijzing
Gegevensvisualisatie
Gegevensvoorbereiding met zelfservice
Geplande en geautomatiseerde rapporten
Integratie met applicaties van derden
Integraties van derden
Interactieve rapporten
KPI-controle
Meerdere gegevensbronnen
Metadatabeheer
Mobiele rapportage
Predictieve analyse
Prestatiemeetwaarden
Prognose
Publiceren en delen
Rapportage en analyse
Rapportage en statistieken
Realtime analyse
Realtime gegevens
Samenwerkingstools
Self-service analyse
Slepen en neerzetten
Toegangsopties/machtigingen
Trendanalyse
Visueel workflowbeheer
Visuele analyse
Visuele detectie
Waarschuwingen/Meldingen
Widgets
Zoeken/filteren
Alternatieven voor Yellowfin
Oliver elijah L.
Senior Operations Manager in VS
Geverifieerde LinkedIn-gebruiker
Informatiediensten, 51-200 werknemers
Heeft de software gebruikt voor: 6-12 maanden
Yellowfin is integrated with predictive and Big Data processing tools.
Opmerkingen: The VSV team develops reports and dashboards quickly, simply and dynamically. Yellowfin has an easy to use and intuitive user interface (clients do not need deep training). We managed to create reports and panels with maps thanks to location intelligence. In addition, the integration of Yellowfin with predictive analytical tools and Big Data processing such as R, UDF, Spark are ideal for creating rich applications for end users. Yellowfin allows the connection of multiple data sources.
Pluspunten:
Yellowfin is a very fast and very simple product to create reports and panels. We were able to greatly reduce the response time of the VSV equipment and when VSV clients require new custom reports. It is also excellent that clients do not require in-depth training. The integration capacity of Yellowfin with Big Data is excellent.
Minpunten:
We have obtained great positive results with Yellowfin. To be honest, I consider that it meets the expectations. It is very simple and fast, it is integrated with Big Data, clients do not require a great training. It just works.
Computersoftware, 2-10 werknemers
Heeft de software gebruikt voor: 2+ jaar
Bron: SoftwareAdvice
Easy to use, worth the money.
Opmerkingen: We really like using Yellowfin. While the lack of cloud services and coding to customize are minor issues, we do not have much to complain about. It's very user-friendly and we have easily been able to teach others how to use it. The fact that the program is useable on both Mac and PC makes it a great option. The program is certainly worth the cost.
Pluspunten:
This program was very easy to setup and use. Within a few hours, we were working. The program is very user-friendly and it did not take long for us to train our employees to use it. The dashboards are very pleasing to the eye, and we thoroughly enjoyed using Yellowfin. It was also very affordable, especially as we added users. We loved the customization of the program, and we could really make it our own. When we did have technical issues, customer support was able to resolve them very quickly.
Minpunten:
We really wish that this program had a cloud option. While it's always good to have data stored on a computer, it's easier to have things on the cloud, especially if you need to use different computers. While this program is rather bug-free, we did have a few issues loading items and charts, but any bugs we had were resolved with either time or calling customer service. Otherwise, it's been a pleasure to use. We aren't a fan of having to code to customize colors, but it's not a deal-breaker.
Erik L.
Project Manager in VS
Financiële dienstverlening
Heeft de software gebruikt voor: 1+ jaar
Bron: SoftwareAdvice
Yellowfin was not as flexible or as robust as other options.
Pluspunten:
The simplicity of the interface was a plus, but unfortunately that simplicity went through to the backend. It didn't have the robust features and support that Salesforce did, and I feel it didn't manage multiple data sources as well as DOMO did. I feel that if you want to completely control your reports and have a BI dedicated team build reports where no one else can, it might be a solution for you.
Minpunten:
Anytime I needed a report, I ran into issues with this software. We used yellowfin for a period of months, having switched from Salesforce. I found the reports were difficult to produce, and the data management was okay at best. We later switched to DOMO which was a breath of fresh air, as far as it comes to ease of use and data management.
Reactie Jimmy
6 jaar geleden
Thanks for the review, Erik! Customer feedback is the main engine of Yellowfin's innovation. With that said, we're extremely bummed about your negative experience with Yellowfin and are regretful that we couldn't work with our Partner that was handling your account in a more effective manner. For what it's worth, our newest version 7.2 tackles the issues you bring up. If anything changes for you in regards to your current BI platform, we'd love to show you the newest version of Yellowfin and win you back! Cheers - Yellowfin.
Krissy G.
Implementation Project Specialist in VS
Geverifieerde LinkedIn-gebruiker
Computersoftware, 51-200 werknemers
Heeft de software gebruikt voor: Niet verstrekt
We attempted to use Yellowfin as a Dashboard backbone software. The system is great but limited.
Opmerkingen: We did not end up implementing this live for our clients but it was a nice software and if our client base was smaller or our software data scheme less complex we would have used this. There was not anything wrong really just was not the correct software for our company.
Pluspunten:
I like the user friendly layout, how writing your own "queries" and updating the data the way you want is easy. I like that it is easy to connect to a DB using ODBC or other options (I did not explore all of these). I liked the way the screen displayed and I liked the way that customer service responded well when I had questions. There was a decent amount of documentation and videos available online. The ability to customize colors is decent as well as adding titles and everything to the pages.
Minpunten:
I did not like how customizing colors was writing code or specific selects, I did not like how you could not easily create "custom fields" or formulas. The system was a little slower than I would have liked but I believe it is mostly due to how the data was being extracted. The system was pretty user friendly but had issues with displaying our data set and pulling data from our system easily.
Reactie Yellowfin International
5 jaar geleden
Dear Ms Gray, Thank you for your review of Yellowfin, we appreciate your feedback. We're sorry you did not end up choosing Yellowfin, but happy to hear your positive comments about our analytics tool. Yellowfin works on a real time connection to its data sources, so you are correct to say it was probably down to how the data was being extracted. We've made some pretty exciting updates to our platform in the last few weeks and creating custom fields or formulas has never been easier. Good luck with your analytics journey. Yellowfin
Tom N.
Cofounder and Partner in
Filantropie, 2-10 werknemers
Heeft de software gebruikt voor: 1-5 maanden
Bron: SoftwareAdvice
Yellowfin continues to Delight
Opmerkingen: We are a small company bringing data visualization to a market that is data rich, yet unsavvy about the insights it can offer. After much research and trial, we landed on Yellowfin two years ago as the best choice for us. There is not a problem or situation we have run into yet that Yellowfin could not address; especially with the assistance of the US based support team. Yellowfin worked with us closely to understand our business and fashioned an arrangement that met our needs nicely. We introduced Yellowfin to our development partner and after the proof of concept work they raved it was easier to use and integrated more effectively than other BI tools they work with, which include the other leaders in the industry. We recommend it regularly to others.
Pluspunten:
Ease of use, with compromising functionality, for administrator as well as users. For us, strong security and multitenancy is important. Data visualization option variety and capabilities. We use the alerts, multiple drilling options, raster mapping, heat map as well as normal visuals. Collaboration and connection features as we are creating a learning environment for our constituents. Customization options within the back end as well as embedding front end. Web based and mobile platforms. Story telling capability. Efficiently and effectively handle 1000's of users.
Minpunten:
For us, none yet. As our data warehouse grows, we may add another tool for very heavy data mining.