Wat is Benchmark Email?
Benchmark wil de praktische marketeer strategieën en toegewijde ondersteuning bieden om voortdurende klantenbinding te creëren met tools voor e-mailmarketing en automatisering.
Benchmark biedt een geïntegreerde, geautomatiseerde en robuuste reeks van functionaliteiten die is ontworpen om de praktische marketeer te helpen. Een sterk eenvoudige en eenvoudig sterke oplossing voor betrokkenheidsmarketing die is ontworpen om jou te helpen met gemak boeiende campagnes te creëren en verzenden.
- meer dan 100 werknemers in 15 landen;
- 9 ondersteunde talen;
- 24/7 toegewijde ondersteuning.
Wie gebruikt Benchmark Email?
Benchmark e-mail ondersteunt zowel kleine tot middelgrote bedrijven als grote ondernemingen in een verscheidenheid van sectoren.
Waar kan Benchmark Email worden geïmplementeerd?
Cloud, SaaS, Web, Mac (desktop), Windows (desktop), Linux (desktop)
Over de leverancier
Benchmark
Gevestigd in Los Alamitos, VS
Opgericht in 2004
Telefonische ondersteuning
24/7 (contact met medewerker)
Chatten
Over de leverancier
Benchmark
Gevestigd in Los Alamitos, VS
Opgericht in 2004
Telefonische ondersteuning
24/7 (contact met medewerker)
Chatten
Video's en afbeeldingen van Benchmark Email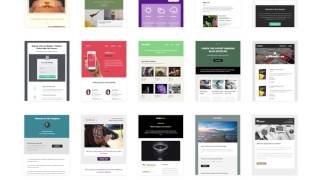 Vergelijk de kosten van Benchmark Email met soortgelijke producten
Functies van Benchmark Email
Aanpasbare sjablonen
Aanpasbare velden
Abonneebeheer
Autoresponders
Beheer van e-mailcampagnes
Bestemmingspagina's en webformulieren
CAN SPAM-compliance
CRM
Campagneanalytics
Campagnebeheer
Contactenbeheer
Contactendatabase
Drip -campagnes
Dynamische inhoud
E-mailmarketing
E-mails bijhouden
Gegevens importeren en exporteren
Integratie van sociale media
Integraties van derden
Leads beheren
Leads vastleggen
Lijstbeheer
Marketing via meerdere kanalen
Rapportage en analyse
Rapportage en statistieken
Sjabloonbeheer
Voor mobiel geoptimaliseerde e-mails
WYSIWYG-editor
Alternatieven voor Benchmark Email
Reviews over Benchmark Email
Bob
Online Radio Expert/Host; Podcast Host; Ordained Minister/Award Winning Author/Prof. Public Speaker in VS
Geverifieerde LinkedIn-gebruiker
Management non-profit organisaties, 2-10 werknemers
Heeft de software gebruikt voor: 1+ jaar
My Review of Benchmark Email
Opmerkingen: Very good! Customer support responded quickly to my inquiries. For emailing your customer base easily and on a regular basis - this is good value for the money.
Pluspunten:
I loved the ability to design newsletters and email them directly to my subscribers. They have many different templates for you to choose from. The ease of use made my actual "writing time" for a newsletter minimal.
Minpunten:
I used Benchmark when I first started in online business. It was very easy to use and the price was in my comfort zone. I then tried to set up a couple of "funnels" and could not do so (this was a couple of years ago - so time may have changed). I contacted Customer Support and was informed that the system I was trying to put in place was not available through Benchmark, that they were only for emailing directly. Unfortunately, I had to close my account and move on to a competitor that did allow me to build out my funnels for online marketing.
Andrew
Research Manager in Vietnam
Marktonderzoek, 2-10 werknemers
Heeft de software gebruikt voor: 1+ jaar
Overwogen alternatieven:
Easy to use platform
Opmerkingen: Overall, I am satisfied and will continue to use Benchmark . I started on a Free Trial and upgraded to a paid service. I plan on sticking to Benchmark for a quarterly newsletter and using to send invitation or special emails.
Pluspunten:
This platform is very user-friendly. It doesn't take much effort to get up to speed on how to use it, and there are many email templates to choose from so you don't always have to create something from scratch! I think it's good value for the money, and the support team has been very helpful in my experience.
Minpunten:
There ares some features where I feel limited. I am not too experienced with softwares like this, so I don't know what's available....but I really wish there was a pop-up feature, where users could click on a button and it would connect to their email to forward a newsletter for example. I also have experienced some deliverability issues and have not been 100% satisfied with the response. I think with this and being a new user, it takes time to learn and develop the best strategy.
Reactie Benchmark
3 jaar geleden
Hello Andrew, Thank you for the review and high rating. Regarding the feature you mentioned, we do have a forward option for the campaigns you send. When you have a moment, log in and chat with us, we'd love to show you how this feature works and also how to improve your deliverability. - Benchmark Team
E-learning, Zelfstandig ondernemer
Heeft de software gebruikt voor: 1+ jaar
Easy to Use Email Marketing
Opmerkingen: I think this is a good free software to use for basic email marketing.
Pluspunten:
I liked using this email marketing software when I was just getting started. It had a free and cheap first tier account. I used the forms to integrate onto my website. I also sent out weekly emails to my list. I also used some of the "light" email automations.
Minpunten:
In order to use more complex email automations, you have to switch over to a paid tier.
Gezondheid, wellness en fitness, 2-10 werknemers
Heeft de software gebruikt voor: 1-5 maanden
Waiting For the Beta
Opmerkingen: I have used other email marketing programs. I chose Benchmark because I wanted an inexpensive option for a project for a client. I would say Benchmark is easy to use and easy to learn especially if you have ever used an email marketing program before. But like all software programs, it has its quirks and you learn to get around them. But Benchmark's tutorials, FAQs and feature lists may not supply you with all the information you need. For instance, there are two email automation programs that each offer only one or two automated steps after the trigger. Nowhere in the documentation did it clearly state that only the Automation Pro, that is still in Beta, offers a customer's journey that you can use to send out more than two emails in a sequence. On the other hand, don't pay for more than you need. If you blast out emails to a list of established customers with only quarterly sales discounts, or discounts for birthdays and holidays, Benchmark is enough. And Benchmark is inexpensive. But if you want to onboard various segments of your customers, educating them and eliciting their engagement, this is not the email marketing program for you. There are two locations for live support, one is offshore and the other is domestic. The offshore folks are nice people but they mainly operate by rote. The domestic support gets it right, but I am still waiting to find out if a personalized greeting can be added to the Automation Beta. In my opinion, a personalized greeting should be a standard feature in a customer's journey. I don't know if it is or not and none of their stated info tells you.
Pluspunten:
Benchmark is easy to use. Easy to set up. Good for very simple customer outreach, i.e a storefront that collects emails and wants to alert customers to sales.
Minpunten:
Very limited feature set. Not standard at this point.
Reactie Benchmark Email
5 jaar geleden
Hi Judith, We appreciate you using Benchmark Email and taking the time to provide some feedback. Thank you for your kind words in regards to our ease of use as well. We do, however, want to address some of your points in regards to our FAQs and tutorials as well as Automation Pro. Admittedly, our FAQs and tutorials are an area we¿d like to put more focus on. That¿s why we¿ve recently established a training department to help keep those areas better up-to-date and helpful to marketers. Our tools are constantly evolving and the support resources we provide must as well. We¿re confident this new department will succeed in this regard, as well as with keeping all support offices across the globe on the same page. Your feedback in regards to Automation Pro is an integral part of the beta process. We expect new features to continue to be added to the automation platform throughout the beta period and after. Again, thanks for the kind words and feedback.
LaToya
Nurse Consultant in VS
Managementconsulting, Zelfstandig ondernemer
Heeft de software gebruikt voor: 6-12 maanden
Overwogen alternatieven:
Benchmark
Opmerkingen: Overall, initially Benchmark was OK. The business problem I was solving with this product was sending out email campaigns.
Pluspunten:
The feature I liked the most about Benchmark Email was the automated email campaign.
Minpunten:
The main issue I had with Benchmark was the deliverance of my emails. For some reason, once my emails were sent out, according to the report in Benchmark, emails were not being opened. That was very strange that none of my emails were being opened.