Wat is Absorb LMS?
Absorb LMS is de keuze van de redactie van PC Magazine voor de beste LMS, en de keuze van sectorleiders en disruptors. Gebruik Absorb om interne medewerkers, externe klanten en partners, of allemaal, te trainen. Schaalbare prijzen en technologie, of je nu 100 of 100.000 gebruikers hebt. Absorb heeft een responsieve interface voor cursisten die op elk apparaat werkt, bevat volledige e-commerce en ondersteunt xAPI, SCORM en AICC. Absorb LMS is intuïtief, elegant en flexibel: het is een ware doorbraak voor beheerders en gebruikers. Probeer vandaag nog een demo.
Wie gebruikt Absorb LMS?
Interne en externe training voor kleine organisaties van een paar honderd cursisten tot zeer grote bedrijven met honderdduizenden cursisten.
Waar kan Absorb LMS worden geïmplementeerd?
Cloudgebaseerd
On-premise
---
Over de leverancier
Absorb
Gevestigd in Calgary, Canada
Opgericht in 2002
Ondersteuning voor Absorb LMS
Telefonische ondersteuning
24/7 (contact met medewerker)
Chatten
prijzen van Absorb LMS
Beginprijs:
Niet door leverancier verstrekt
Ja, heeft een gratis proefversie
Geen gratis versie
Absorb LMS heeft geen gratis versie maar biedt wel een gratis proefperiode.
Prijsmodellen
vraag een gratis proefversie aan
Over de leverancier
Absorb
Gevestigd in Calgary, Canada
Opgericht in 2002
Ondersteuning voor Absorb LMS
Telefonische ondersteuning
24/7 (contact met medewerker)
Chatten
Video's en afbeeldingen van Absorb LMS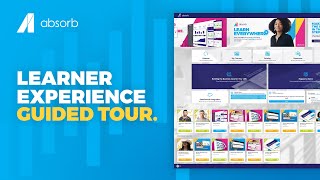 Functies van Absorb LMS
Aannemen van personeel
Aanpasbare branding
Activiteitendashboard
Asynchroon leren
Audio-/video-opname
Beoordelingsbeheer
Certificering en licentieverlening
Certificeringsbeheer
Competentiebeheer
Compliance bijhouden
Compliancebeheer
Content sharing
Contentbeheer
Contentbibliotheek
Cursusbeheer
Cursusbibliotheek
Cursussen bijhouden
Cursussen opstellen
Cursussen publiceren
Documentbeheer
Elektronische formulieren
Gamification
Gebruikersbeheer
Gemengd leren
Geïntegreerd systeem voor maken van cursussen
Herinneringen
Integratie van derden
Integraties van derden
Interactieve inhoud
Leermanagement
Leerpaden en -trajecten
Media-import
Microleren
Mobiel leren
Mobiele toegang
Naleving van SCORM-standaards
Opdrachtenbeheer
Oriëntatieworkflow beheren
Personeelshandboek
Personeelsportal
Personeelstraining
Portal voor leerlingen
Rapportage en analyse
Rapportage en statistieken
Samenwerking tussen meerdere gebruikers
Self-service content curation
Sjabloonbeheer
Sociaal leren
Storyboards
Synchroon leren
Tests en beoordelingen
Toezicht op activiteiten
Trainingbeheer
Trainingsbeheer
Trainingsbureaus
Virtueel klaslokaal
Voortgang bijhouden
Voortgangsrapporten
Waarschuwingen/Meldingen
Werknemersbetrokkenheid
Zelf leren
Zelfserviceportal
eCommerce-beheer
Alternatieven voor Absorb LMS
Craig
Organizational Development & Effectiveness Business Partner
Geverifieerde LinkedIn-gebruiker
Verzekeringen, 1.001-5.000 werknemers
Heeft de software gebruikt voor: 2+ jaar
Bron van de reviewer
Absorb is a Great Choice for a LMS
Bijschriften in het Nederlands beschikbaar in de videospeler
Nicolas
Financial Analyst in VS
Geverifieerde LinkedIn-gebruiker
Financiële dienstverlening, 201-500 werknemers
Heeft de software gebruikt voor: 1+ jaar
Bron van de reviewer
Flexible and very complete LMS
Pluspunten:
It stands out for its simplicity of use and its pleasant user interface. It offers great flexibility in the design of learning experiences, adapting them to the characteristics of each training process. It has an electronic signature so that participants can demonstrate that they met the requirements of their training process. Integrates seamlessly with any eLearning content library.
Minpunten:
I consider that this is a platform with a lot of potential, the only thing that I think can be improved is to simplify some processes to make the configuration easier.
Yashovardhan
Researcher in India
Schoolleiding, 1.001-5.000 werknemers
Heeft de software gebruikt voor: 1+ jaar
Bron van de reviewer
All-in-one learning platform for Everyone
Opmerkingen: I have been using the Absorb LMS for a few years, and have been very pleased with their platform. It is user-friendly, offers a great range of features, is well-supported and highly customisable. The training program setup and course creation process has been easy to learn and manage. I especially appreciate the reporting features which are very user-friendly and provide meaningful data. I also think Absorb has done a great job of creating an online community of customers which is a great resource for ideas and best practices.
Pluspunten:
The features most impactful in Absorb LMS are customizability, scalability, analytics, and reporting. Users can easily customize the look and feel of the platform to best suit their organization's needs. Additionally, it can be scaled up or down depending on the size of the organization and their training needs. The analytics and reporting tools provided by Absorb LMS make it easy to track learner engagement and course effectiveness. Additionally, Absorb's API also allows organizations to easily integrate Absorb into existing business processes. Finally, Absorb LMS is incredibly easy to use and provides a straightforward user interface for authors and learners.
Minpunten:
One of the areas of least satisfaction with Absorb LMS is the amount of setup required to configure the system. This can be particularly challenging for non-technical users and requires a fair amount of time and energy to get the system settings just right. Additionally, the interface of the interface and navigation could be more intuitive.
Overwogen alternatieven: WizIQ LMS, eFront en Docebo
Redenen om over te stappen op Absorb LMS: Absorb LMS stood out to us as a comprehensive, cost-effective, and intuitive platform that addressed all of our training needs. It provides a comprehensive range of features and customization options, making it easy to customize and configure the system to our specific needs. The customization flexibility also allows us to create automated rules and automate much of the training process. It offers scalability for growth, flexibility for changes, and has robust security measures in place to protect our data. Finally, the Absorb LMS is one of the most cost-effective options on the market. That combination of features makes it an easy choice for a reliable and successful implementation of our online training.
Pritam
Developer in Canada
Informatietechnologie en -diensten, 10.000+ werknemers
Heeft de software gebruikt voor: 6-12 maanden
Bron van de reviewer
Absorb LMS review
Opmerkingen: Development team is making it more flexible by constantly improving and adding features.
Pluspunten:
It's integration with ADP is considered to be essential for our team. It has the flexibility of features and is robust and stable. The intelligence search feature making it possible to search the most accurate courses. Videos are so much informative.
Minpunten:
It takes more time to configure the setup. The course organization can be done more properly. The modules are needed to be create by our team only to import the data from LMS.
Stefan
Manager, Knowledge Management in Canada
Computersoftware, 201-500 werknemers
Heeft de software gebruikt voor: 1-5 maanden
Bron van de reviewer
Easy to use LMS platform with the right amount of features for our needs
Opmerkingen: We were looking for an LMS platform for internal training that could be expanded to customer training afterwards. The sales engagement with Absorb LMS has been a great experience, providing us with the tools and knowledge to properly evaluate the platform (including a trial portal which we could test with our own content). Onboarding was well structured, with a clear plan of tasks to accomplish both on our side and on the vendor side. Absorb provides a series of well-made self-training modules to go through, which complemented the training provided by the implementation project manager. Compared to other LMS, the platform itself is easy to use while providing a good breadth of features for our use. It's a mature product, with a solid backend. We did not experience any performance issues or security concerns. Look and feel customization is relatively basic. The interface is also quite rigid: for example, thumbnails or banners must have precise dimensions, otherwise images are stretched. Because of that it requires a lot of efforts, trials and errors, if you want to have a visual experience distinct from the Absorb default. The main shortcoming we experienced is that some common workflows could be streamlined. They can involve a lot of clicks, which is irritating when you're repeating the same workflow several times in a row. Keyboard shortcuts could be introduced to facilitate some operations, which would alleviate this.
Pluspunten:
Easy to use Solid onboarding training for admins Provides content hosting Supports SCORM and xAPI (Tin Can) Supports Instructor Led Classes Zoom integration BambooHR integration Salesforce integration Overall mature platform Great customer support
Minpunten:
Look and feel customization lacks flexibility Some workflows could be streamlined, especially for course management No actual course authoring functionality: users need to import learning objects created with external tools, such as 3rd party eLearning authoring tools. This is fine for our needs, but it would add flexibility if there was at least some content authoring functionalities.
Overwogen alternatieven: Skillsoft, Cornerstone LMS en Litmos
Redenen om over te stappen op Absorb LMS: The intersection of ease of use, features, customer service and costs of Absorb was superior to all other alternatives we considered. Some were superior in terms features but were too expensive for our needs. Some were less expensive but the customer service was a concern. Some were not as user-friendly. It all came down to that equation: ease of use + features + services + costs. Absorb LMS hit the sweet spot for us.
Alex
Content and Student Experience Manager in Australië
E-learning, 11-50 werknemers
Heeft de software gebruikt voor: 1-5 maanden
Bron van de reviewer
Intuitive, Adaptable System
Opmerkingen: We have not had the option to easily view student logins, update courses, create courses and manage our student experience to date, and Absorb has solved all of these problems immediately. The system has been very easy to set-up, easy to navigate within - from a student and admin experience - and the Absorb Create function is invaluable.
Pluspunten:
The simplicity of the system - back end and front end - have made the implementation and launch of our Absorb LMS very straightforward. My company has some unique use cases and my implementation manager, [sensitive content hidden], workshopped a number of issues with me and together we came up with effective solutions. The ease of uploading content has meant that I have had the opportunity to test various course set-ups very quickly.
Minpunten:
Our courses require individualised feedback for assessments and currently Absorb is not set-up to allow for this in a comprehensive manner.
Overwogen alternatieven: Docebo
Redenen om voor Absorb LMS te kiezen: Our previous LMS did not have any of the functionality we needed. It was set-up without planning or assessment of our requirements.
Redenen om over te stappen op Absorb LMS: The features available in Absorb LMS were similar to these other products, but Absorb Create and the pricepoint were what set Absorb apart.