Windward System Five
Wat is Windward System Five?
Windward System Five is a full business management system for companies that sell, service, or rent inventory. The software includes core functionality of Point of Sale, CRM, Inventory Control, and
Meer informatie
Accounting; fully integrated operating in real-time. The feature set and flexibility of our platform allow a diverse set of vertical markets such as Home Goods, Lighting Showrooms, and Rental Shops to thrive with day-to-day use of Windward System 5, whether a single location shop or a national chain.
Minder informatie
Wie gebruikt Windward System Five?
We help small to medium-sized retail/wholesale companies gain control of their business. Windward System Five is fast and easy to use. We're great for companies that sell, service, or rent inventory.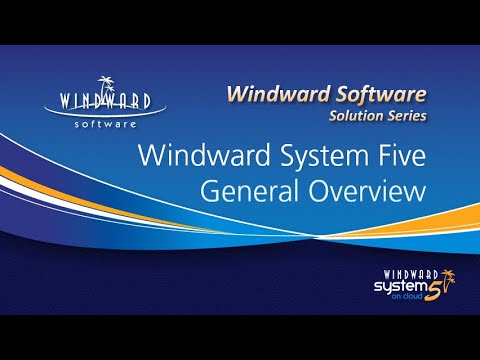 Twijfel je over Windward System Five? Vergelijk met een populair alternatief
Niet beschikbaar in jouw land
Gratis versie
Gratis proefversie
Gratis versie
Gratis proefversie
Waarom krijg ik dit te zien?
Alternatieven voor Windward System Five
Reviews over Windward System Five
Scott
Director of Operations in VS
Geverifieerde LinkedIn-gebruiker
Heeft de software gebruikt voor: 6-12 maanden
A powerful POS with unlimited flexibility, reliable stability, and great support staff.
Opmerkingen: Saved our company time and money in the ling run. Being able to customize the look, feel, and functions of the application let us implement EXACTLY what our company needed. We evaluated MANY other products before choosing Windward, and nothing comes close. It was one of the better decisions made in our organization, and is a big personal red-feather in my hat.
Pluspunten:
- Extremely customizable. Allows you to customize anything from report, to custom price-labels, to customized POS screen (even changing the size/color/look of virtually every button). If you are a little more adventurous, you can even write code that allows you make your own functions. - Easy to learn. For as advanced as this is, most people can pick up on the majority what thy need in a day. For those who want to do more, their is a complete 'Windward Academy' that you can watch videos and read comprehensive guides. - LOTS of support. If I ever have a question, there are about ten people I can call. Of-course, they have 24/7 technical support, but virtually anyone in the company is eager and willing to help. I can call my account manager, or any number of others I have talked to throughout the installation process. Even the lovely receptionist is awesome has walked me through issues on more than one occasion. - Philippines support. You might think this would be under the "Cons" section; but it isn't. The Philippines support is not outsourced like other companies, but they are actual employees working in a Windward office in Cebu. They all speak great English, are EXTREMELY knowledgeable about the product, and aim to please. No matter how frantic I am when I call, they never get upset and are always positive. And they are not going to give up until it's fixed. - You typically don't find this level of customer service in Western support groups.
Minpunten:
- Price tag will be your biggest hurdle. And some features will cost you extra. Having to pay extra to have the software integrate with our merchant account is probably the biggest complaint I have with the company. But even this is vastly outweighed by the Pros. If you want the best, it probably isn't going to be the cheapest. - There are occasional errors that pop up and random issues. But 90% of these are self-resolving (very intuitive software). For the other 10%, support is right there to remote in and stay with you until it's resolve.
Bouwmaterialen, 2-10 werknemers
Heeft de software gebruikt voor: 2+ jaar
Overwogen alternatieven:
Great system management
Opmerkingen: When we first took over this long-time local business, previous owners did most reports or tracking by hand (ie hand-written invoices entered into QB and hand-written price books) WWS5 helps us keep track of items in inventory, current prices and mark-ups for inventory, general price increases from vendors, EOD reports and sales, and AR accounts much more easily. We do not currently use the accounting portion, but hope to move over to the accounting option with the new data set.
Pluspunten:
We currently use Windward for our POS and AR needs. This helps keep us on track for monthly billing to AR clients and keeps up with the daily till. We do very much like the additional features such as inventory management, price checks/updates, but have trouble at time keeping it current due to staffing issues. With more staff, this system would be absolutely amazing.
Minpunten:
When we first installed Windward, there were issues with understanding the larger picture during set-up. Understanding more about the system prior to set up would have helped. We are currently setting up a new database now that we understand more about the full operation of WWS5.
Heeft de software gebruikt voor: 2+ jaar
Gets the job done. Do not do the updates.
Pluspunten:
Very thorough software with lots of room/areas to store Information and very easy to use. The point and click ability of the software makes it easier to train new staff. Can access the software from anywhere in the world using remote desktop connection.
Minpunten:
The updates do not seem to go very smoothly. And update me fix one problem but two new problems arise that were not problems before. We have actually stopped getting updates and have continued to use our current version for years. We have developed our own internal ways to use the software to its fullest potential without getting updates. Software support is readily available however very expensive and a lot of the problems that we have encountered do not have the solution. In order to get the solution we have to pay for the entire resource development team and have to be very very patient to see results. The yearly license fee does not benefit our company as we do not complete the updates. So we paid the fee however are using an out of date software program Because we are afraid to update. Phoning for tech-support can be quite challenging when the bill is charged per minute and we are on hold for 80 percent of the call. We are usually on hold while the tech support discusses with superior or development team to solve our more complex problems. At the end of the day the software program helps us maintain our current business but is not helping us grow our business. We are not ready to commit thousands of dollars to the software program that still has many issues even if we were to update to most current version
Jonathan
Sales & Service Manager in Canada
Groothandel, 2-10 werknemers
Heeft de software gebruikt voor: 2+ jaar
Great fitting package for our business
Opmerkingen: System Five has been very good, and their support team is excellent and helpful
Pluspunten:
Windward fits us great, the cloud system was a very important consideration for remote accessibility. It covers all of our needs in terms of sales, repair work orders, and inventory controls. It is just the right amount of software for us.
Minpunten:
There are some advance features that could add value for us, such as stock adjustments that post to G/L's, min/max's that make recommendations on PO's
Reactie Windward Software
4 maanden geleden
Hi Jonathan, Thanks for the review. You may want to look into the advanced features, they really can be a time saver. Professional Services are available to help you get those implemented. Have a convo with your Account Manager if you'd like to consider that option. Thanks again!
Detailhandel, 2-10 werknemers
Heeft de software gebruikt voor: 2+ jaar
Overwogen alternatieven:
Windward Software is an amazing program to help you run your business in every aspect.
Opmerkingen: Inventory was a huge issue for us before we started using System Five. We absolutely cannot imagine running our business without Windward System Five at this point.
Pluspunten:
The Support is A1 and the features of everything from Inventory to Sales Invoices, everything is connected and very user friendly. Reports are easy to run, reconciliations, sales and purchase invoicing, ageing, financials are easy to read and all other functions are again, user friendly.
Minpunten:
No cons at this time. We didn't like that it didn't have a payroll feature when we started with it but now it does.