Wat is STORIS?
STORIS delivers the Home Furnishing Industry's leading Unified Commerce Solution. STORIS integrates all aspects of a retailer's business including POS, eCommerce, Inventory Control, Merchandising, Logistics, Customer Experience Management, Accounting, BI Tools, Mobile, & more. Today, STORIS automates thousands of furniture showrooms including Ethan Allen, Bassett, and Ashley HomeStores. STORIS is available in the cloud and is designed to add efficiency across retail operations.
Wie gebruikt STORIS?
STORIS, Inc. is the leading provider of Retail Software Solutions to the home furnishings industry.
Waar kan STORIS worden geïmplementeerd?
Cloud, SaaS, Web, Windows (desktop), Windows (lokaal), Linux (lokaal), iPhone (mobiel), iPad (mobiel)
Over de leverancier
STORIS
Gevestigd in Mt. Arlington, VS
Opgericht in 1989
Telefonische ondersteuning
Beschikbaar in deze landen
Canada, Verenigde Staten
Over de leverancier
STORIS
Gevestigd in Mt. Arlington, VS
Opgericht in 1989
Telefonische ondersteuning
Beschikbaar in deze landen
Canada, Verenigde Staten
Video's en afbeeldingen van STORIS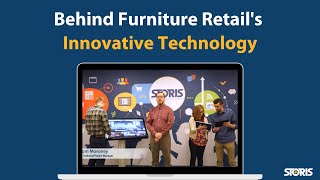 Vergelijk de kosten van STORIS met soortgelijke producten
Functies van STORIS
Beheer van meerdere kanalen
Beheer van retailvoorraad
Betalingen verwerken
CRM
E-mailmarketing
Elektronische betalingen
Elektronische handtekening
Gegevens importeren en exporteren
Gegevensbeveiliging
In- en uitchecken
Inkooporderbeheer
Integratie in de administratie
Integraties van derden
Itembeheer
Klantenaccounts
Kortingsbeheer
Leveranciersbeheer
Mobiele toegang
Multilocatie
Nabestellingbeheer
Orderbeheer
Personeelsbeheer
Prijsbeheer
Rapportage en analyse
Retourbeheer
Retouren bijhouden
SEO-beheer
Streepjescodes/RFID
Verkooppunt
Verkooprapporten
Vervoersbeheer
Verwerking van creditcards
Voor de detailhandel
Voor iPad-apparaten
Voorraad bijhouden
Voorraadbeheer
Voorraadoptimalisatie
Waarschuwingen/Meldingen
Websitebeheer
Winkelwagen
Alternatieven voor STORIS
Jack L.
Design Director, Project Manager in VS
Geverifieerde LinkedIn-gebruiker
Heeft de software gebruikt voor: 2+ jaar
It's a quick and efficient software.
Pluspunten:
It has a lot of checks and balances that doesn't allow the user to make mistakes. It also shows the designer custom options they may not be aware of to give their client the best design solution possible. Once you learn the drop-down abbreviations and become proficient you can quickly create a quote for your client. New employees never exposed to the system are able to pick it up quite rapidly as it is extremely user-friendly. Our administrator has the ability to quickly fix any errors we might have made. The reports it generates allow us to give real-time information to our clients. The ability to review clients past purchases when adding items to their home is very helpful and selecting new furniture that will compliment what they have purchased in the past!
Minpunten:
There are times that the software is down. This can wreak havoc on our business. This may not be hey STORIS issue but rather an in-house Ethan Allen issue. We also recently moved locations. This required a new store code. The system was unable to blend the client base from the old store code to the new one requiring searching a customer's information in two different places. Not a significant hindrance.
Vanessa C.
President in VS
Detailhandel, 2-10 werknemers
Heeft de software gebruikt voor: 1+ jaar
Overwogen alternatieven:
McRoskey Mattress Company
Opmerkingen: Good. Once you get everything set up and everyone trained it is straight forward.
Pluspunten:
the customer service team at Storis and their tenacity to address issues as they arise
Minpunten:
a little cumbersome for our type of operations but we operate unlike most mattress retailers
Reactie STORIS
7 maanden geleden
We at STORIS are happy to hear about your positive experience with our software. Thank you for your partnership.
Geverifieerde reviewer
Former Employee of Ashley HomeStore in VS
Geverifieerde LinkedIn-gebruiker
Informatietechnologie en -diensten, 1.001-5.000 werknemers
Heeft de software gebruikt voor: 6-12 maanden
If you want a Time Machine Reminder of the terrible software of the 90's
Opmerkingen: Awful!
Pluspunten:
There are none, except this is the best the furniture world has for software and they worship it. The software is so outdated it's like stepping back 30 years. .Terrible, clunky, slow and just pathetically behind. They say it's because furniture is difficult but I've run logistics and financing before in other organizations it's just that Furniture as a whole is a racket and they exploit customers and STORIS exploits the companies.
Minpunten:
Everything! It is slow, it looks and feels outdated. The company is so overly sensitive if you review them bad they withing days contact higher leadership in a conference call and demand retribution against employees of the organization who spoke out and they are overall. Not kidding had a review posted once and they wanted it taken down and me fired, the Vice president found me on LinkedIn shortly after my review went up. They're that petty cause they know they are slinging terrible and pathetic product. Furniture companies being cheap think they're getting top of the line (similar to what they tell their customers) when in reality they're getting a nice looking package with nothing inside for it to function properly. This product is a LEMON through and through STAY AWAY! Find a start up and invest as a company they will make something 10x better in months!
Cali G.
Controller in Canada
Detailhandel, 11-50 werknemers
Heeft de software gebruikt voor: 2+ jaar
Very Helpful Product
Pluspunten:
The program allows for accurate tracking of inventory in stock, as well as ensuring items are assigned to customers upon entry of the Sales Order. This helps not only to ensure customers are receiving them item they purchased, but also to assist with product re-ordering. The analytics function is a helpful tool to determine which products and product categories are more popular than others.
Minpunten:
Integrating a new product into an established business always has its hiccups. Storis is capable of doing a lot and learning the product did take some time, but we did it. One specific thing that would be helpful would be to have the ability to have more than one program function window open at once. There are times where it would be easier to be able to look at more than one window and not have to switch back and forth.
Reactie STORIS
4 maanden geleden
We appreciate your feedback and your partnership. Thank you for taking the time to leave a review.
Ashlyn D.
Business Admin in VS
Detailhandel, 2-10 werknemers
Heeft de software gebruikt voor: 2+ jaar
After Using For 5+ Years...
Opmerkingen: I have never had a software company be so hands on with their product and offer as much support in training and technical support as STORIS. Sometimes it is easy to take a product for granted when it works seamlessly for you as STORIS does for our business but I am reminded how fantastic the service is every month when our point of contact, Chris, checks in to confirm STORIS is working well for us.
Pluspunten:
I began working at Luxe Home Company after STORIS was already well introduced into our routine and immediately I found the software to be incredibly easy to navigate and learn. It is critical that tasks are able to be performed quickly and efficiently in a small business and STORIS has everything laid out in an easy to use, step by step system. For example, if I want to see our outstanding gift certificates - even if I am not familiar with the function - all I need to do is search "gift certificates" and a clearly labeled option comes up and I am guided through the prompts to print a report with exactly the information I need.
Minpunten:
When STORIS is not working properly for whatever reason, I find troubleshooting not very user friendly. Luckily, technical support has always been quick to respond to whatever issue I am having. Specifically, my biggest gripe is when your computer goes to sleep or if you are disconnected from the internet for whatever reason, if you were working on a sales order or purchase order at that time when you go to reload the same page to pick up where you left over, STORIS will not let you in and you need to call to reset the page.
Reactie STORIS
4 maanden geleden
We appreciate your feedback and your partnership. Thank you for taking the time to leave a review.