iContact
Wat is iContact?
Onbeperkt verzenden. Ondersteuning vanuit Amerika. E-mailexperts onder het personeel. E-mailmarketing van iContact helpt bedrijven in alle stadia en van elke omvang om resultaten te behalen. Het
Meer informatie
kleine bedrijf dat net is begonnen tot professionele marketeers en bureaus, of grote afzenders met 25.000-500.000+ abonnees biedt iContact een plan om aan elke behoefte te voldoen. Alle klanten krijgen een succesmanager die erop is gericht om jou snel aan de slag te krijgen, onbeperkte toegang tot bekroonde technische ondersteuning en een leverbaarheidsscore van 98%.
Minder informatie
Wie gebruikt iContact?
iContact is perfect voor kleine bedrijven, ondernemers, marketeers en agentschappen, maar ook afzenders met grote volumes en van 25.000 tot meer dan 500.000 abonnees. Non-profitorganisaties, EDU's, financiële diensten, evenementmanagers en vele anderen waarderen dit platform!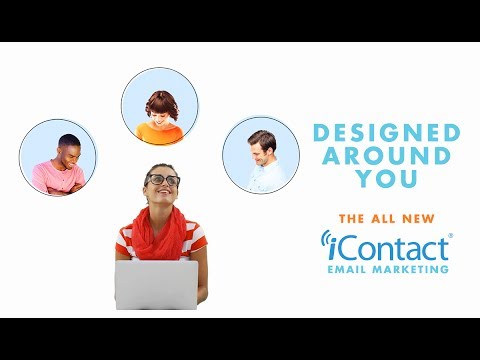 Twijfel je over iContact? Vergelijk met een populair alternatief
Niet beschikbaar in jouw land
Geen prijsinformatie gevonden
Gratis versie
Gratis proefversie
Gratis versie
Gratis proefversie
Waarom krijg ik dit te zien?
Alternatieven voor iContact
Lauren
Marketing Coordinator in VS
Geverifieerde LinkedIn-gebruiker
, 11-50 werknemers
Heeft de software gebruikt voor: 2+ jaar
iContact helps me be successful at my job
Pluspunten:
iContact is a very user friendly product for anyone. My company sends thousands of emails a week and we are always very pleased with how easy it is to create an email and send it immediately. I also really enjoy the dashboard, it helps me keep track knowing what emails have been sent and what emails I have yet to send. i also appreciate that iContact technology can delete any duplicate people in a contact list. That saves me time from having to go through thousands of people making sure I don't have any duplicates. My customer support is also amazing. My iContact rep. is always so good about getting back to me when I have questions or concerns.
Minpunten:
Sometimes when I am creating a contact list in iContact, I have several excel sheets I need to upload to that one contact list...iContact doesn't let me select multiple excel sheets to upload at once, I have to do one at a time which takes a lot of extra time for me to do. I also wish I could delete more than one contact list at once. On the "upload contact" box, I want to be able to see the whole title of my contact list. Sometimes iContact cuts off my list title if it's too long, I would like to see the whole title...
Reactie iContact
5 jaar geleden
Hi Lauren! We sincerely appreciate you taking the time to provide this feedback. Our support team loves helping companies like HireLive who make such a tremendous positive impact. As for the concerns you raised about list uploading, we are taking all product improvement comments very seriously and are working to continually improve our product. We currently do allow you to have 5 concurrent uploads at any given time, but you must start the uploads one at a time. And you are correct, we cannot upload multiple sheets from one excel file. We have noted this potential feature, along with multiple list deletion, and title expansion ¿ and we realize its importance. Thank you again and have a great day!
Informatietechnologie en -diensten, 11-50 werknemers
Heeft de software gebruikt voor: 2+ jaar
Works great for us
Opmerkingen: We've had to contact support a couple of times and they have been helpful. The level we purchased isn't a comprehensive marketing solution. But we came back to it after having trouble with ClickDimensions, it actually works better.
Pluspunten:
When I want to send out an email, I go into my list of prior emails, make changes, and send. It's very easy. It has all of the functionality we need for sending out bulk emails.
Minpunten:
The editor is a bit clunky. It does take a bit of time to create a new email format. Sometimes it doesn't behave like it is supposed to. But once you save that new format you can use it over and over.
Reactie iContact
2 jaar geleden
Hello Karen, Thank you for taking the time to leave this detailed feedback for us, we greatly appreciate it! All the best, Carlos, Customer Marketing Manager
Geverifieerde reviewer
Email Marketing Manager in VS
Geverifieerde LinkedIn-gebruiker
, 11-50 werknemers
Heeft de software gebruikt voor: 2+ jaar
I've used iContact for the last five years.
Pluspunten:
iContact is a low cost solution for basic email marketing. You have access to a strategic advisor. My strategic advisor always provides thorough answers and/or solutions when requested. iContact offers automation with workflows that are easy and quick to build. The user interface is easy to understand.
Minpunten:
The response time to fix API issues can be slow. iContact does not offer a post unsubscribe survey. I'm not able to download user profile information when exporting email send statistics - this is important for me when I want to do a quick analysis on my data.
Reactie iContact
5 jaar geleden
Thank you very much for being a long time iContact customer! We are happy to hear that you have been able to quickly and easily design automations with workflows using your iContact Pro account. We like this feature so much we plan to make it available to all iContact accounts. Thank you as well for your feedback, particularly about adding a post unsubscribe survey. This is being shared with our Product Management team so that it can be reviewed for possible updates in a future release.
Maura
Communications Cordinator in VS
Religieuze instellingen, 2-10 werknemers
Heeft de software gebruikt voor: 2+ jaar
Ease of learning & time to create is minimal
Opmerkingen: we are keeping our church members informed. many are elderly and find our e-mails informative and easy to read.
Pluspunten:
I inherited this task from a retiring volunteer. The ease of passing the job from one to another was great. I copy reuse & recreate and get my weekly information to members without spending a lot of time. I can set up , go on vacation and have another person update and add any information needed while I am gone. The spam check results in minimum recipients that have our email in the spam box.
Minpunten:
Having difficulty managing old e-mails that are in the data base. Not sure what happens when some one un-subscribes but wanted to get e-mails. (confirmations on unsubscribing?)
Reactie iContact
3 maanden geleden
Maura, thank you for your review. It means a lot to us!
Meghann
Marketing Administrator in VS
Juridische dienstverlening, 11-50 werknemers
Heeft de software gebruikt voor: 2+ jaar
Overwogen alternatieven:
For Small Businesses ONLY
Opmerkingen: Overall, I love iContact for small businesses. I would look elsewhere for bigger businesses with more than 10+ on staff. It could be more user friendly, but it gets the job done and works for our law firm.
Pluspunten:
It's extremely easy to deploy automated marketing campaigns, newsletters, quick information to your target audience using this platform. I enjoyed the ease of use in terms of sending out an email. It's nice for small business owners who don't have the time, energy, or resources to allocate to figuring out an email marketing platform.
Minpunten:
I love this platform, but it's extremely out-of-date compared to other email platforms. For example, it's impossible to edit a template. For it being 2022, I would assume this would be easier from a user-friendly perspective.
Reactie iContact
5 maanden geleden
Meghann, thank you for your review! It is possible to edit a template. If you need assistance, our support team can help.