Wat is AutoDS?
AutoDS dropshipping app helped over 40,000 Dropshippers to automate their businesses
We automated the full A-Z dropshipping process, from products importing to order fulfillment from over 25 US, CN, UK, and worldwide dropshipping suppliers...
Wie gebruikt AutoDS?
Cloud-based solution designed to Provide All-In-One dropshipping Solutions to help businesses of all sizes By Importing (Single/Bulk), Monitoring, Auto-order & Full orders Fulfillment Service.
Waar kan AutoDS worden geïmplementeerd?
Cloud, SaaS, Web, Android (mobiel), iPhone (mobiel), iPad (mobiel)
Beschikbaar in deze landen
Verenigde Staten
Beschikbaar in deze landen
Verenigde Staten
Video's en afbeeldingen van AutoDS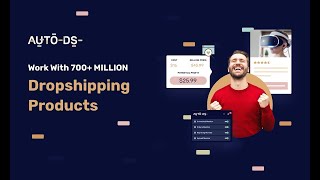 Vergelijk de kosten van AutoDS met soortgelijke producten
Functies van AutoDS
Leveranciersbeheer
Orderbeheer
Productinformatiebeheer
Rapportage en analyse
Sourcingbeheer
Transport bijhouden
Vervoersbeheer
Alternatieven voor AutoDS
Ahmed A.
accountant in Palestina
Geverifieerde LinkedIn-gebruiker
Fabricage van elektrische/elektronische producten, 51-200 werknemers
Heeft de software gebruikt voor: 2+ jaar
autods review
Opmerkingen: Great
Pluspunten:
-FAST PLATFORM -Many Features -Great tool
Minpunten:
the customer service needs to be more professional
Reactie AutoDS
2 weken geleden
Hi Ahmed! Thank you so much for your review! We will continue to provide an excellent dropshipping experience to our users. We are here for any other questions you may have - AutoDS Team -
Jayson C.
Sole Proprietor in VS
Sportartikelen, 2-10 werknemers
Heeft de software gebruikt voor: 1+ jaar
Overwogen alternatieven:
Very Helpful and Awesome Customer Support
Opmerkingen: At first I encountered a lot of problems but it seemed like most of the issues had been fixed already. I'm very happy with the Customer Support Team. Especially [SENSITIVE CONTENT].
Pluspunten:
I liked the automation and analytics. It helps save time and money. Makes us value time and use other time for progress. The product research tool is very helpful too for us to list the right products and make more profits.
Minpunten:
Sometimes the order processor fails and there are some issues with the software regarding updating tracking and confirming orders. Sometimes it shows "ordered" for the status and took forever to ship even though it got delivered already. Sometimes I will find out that the order got cancelled already once I asked for support to investigate, resulting to late shipping.
Reactie AutoDS
vorige week
Hi Jayson! We are thrilled to hear that you enjoy using AutoDS, thank you so much for your review! We will make sure to pass the word to our customer service team to let them know you really enjoy working with them. They are always here to solve any of your problems Please feel free to contact us again if you need more help! -AutoDS Team-
Detailhandel, 2-10 werknemers
Heeft de software gebruikt voor: 1-5 maanden
Bron: SoftwareAdvice
Overwogen alternatieven:
Two months and nothing but headaches
Opmerkingen: It's takes 24-48 hours for them to respond. Now Shopify has frozen my account because I haven't paid the bill, I explained I would not because it is t correct and I have proven it behind a reasonable doubt on my end, now it's their turn.
Another issue with AutoDS is they are understaffed. I had four orders come in and usually tracking is sent within 24 hours. None of these orders updated so I had to contact them and they had an instant reply that due to being busy with Amazon they weren't providing tracking and wouldn't say when they would respond. One order was two days late arriving for Facebook marketplace. You only have 7 days once the order comes in. I finally got the numbers and one item had already been delivered.
It is one thing after another. I am new and trying to scale my business and am two months into it. I can't imagine how things will go in the future if I got busy.
AutoDS did offer to give me a free trial for 30 days for their subscription but that is $47, what about the $119 I can't get cleared.
Pluspunten:
They have great ideas on how to automate orders, shipping, customer service, ease of finding items to sale.
Minpunten:
Where to start lol. I signed up in April at the beginning of the month. After my trial ended the AutoDS site had me sign up for the monthly subscription. All was going good and now I wanted to add the Facebook marketplace add on to help populate my store and to sale on marketplace. I added it to my account, go charged and then nothing. It didn't work. I was told that since I signed up for AutoDS on Shopify I would have to cancel that account and sign up again because it wouldn't work for some reason. The next month I did that. I paid for the monthly of $47, $35 for Facebook, $8 for auto order, and had some auto order credits that they require to send our orders to them automatically. So now I have paid for April and May, the two months I had been on Shopify and AutoDS. In between this, I received my bill from Shopify for $213, $79 was for Shopify and it showed $119 for AutoDS. I emailed AutoDS and didn't get an answer so I emailed Shopify. (Not to mention neither of these companies have a customer service number you can talk directly to.) Shopify responded and said they didn't know what the charges were for and asked me if I would like them to help me resolve this. This process was started on April 26, 2022. Today is May 31 and it is not resolved. I showed receipts for where I paid for both months along with the bill showing I've only been on two months but that isn't enough. AutoDS and Shopify both are dragging their feet. Their chat is always offline.
Reactie AutoDS
vorige maand
HI Donald, We are very sorry to hear about your experience with us. We would be happy if you could contact us so we can check what we can do for you and how we can set everything in a good way. Waiting for your response!
Hal K.
Entrepreneur in VS
Detailhandel, Zelfstandig ondernemer
Heeft de software gebruikt voor: 1-5 maanden
What are you waiting for?
Opmerkingen: When I need answers, I go to the ticketing service that AutoDS provides. In particular, recent correspondence with Jamicia has been professional, service-oriented, and courteous. She is very knowledgeable and truly answers questions from a user's standpoint.
Pluspunten:
The efficiency and user-friendly use of this software provide a logical platform for learning.
Minpunten:
The functionality of the software is very good. No complaints.
Reactie AutoDS
3 dagen geleden
Hi Hal! Thanks so much for your review! We're glad to hear that you enjoy using AutoDS! We will make sure to pass on your compliments to Jamaica! Our customer service is always here for you. Please feel free to contact us again if you need more help - AutoDS Team -
Subbu C.
Managing Partner in VS
Detailhandel, 2-10 werknemers
Heeft de software gebruikt voor: Gratis proef
Company with a great vision, customer service and intention. Some Gaps to be filled
Opmerkingen: Great. I have a good feeling about AutoDS. I am super new here . however, I will be happy to partner with AutoDS given a great culture the company is built around. I trust AutoDS
Pluspunten:
Customer Service; AutoDS is not here to make quick Bucks. They really believe in quality service. Great customer service. Consistent improvement
Minpunten:
There are still gaps when it comes to supporting leading marketplace like Facebook Very high commission for Fund transfer for Fulfillment by AutoDS AutoDS should also provide a solution that is compliant on eBay. I don't see dropshipping from other retailers as a viable long-term solution.
Reactie AutoDS
vorige week
Hi Subbu! We are thrilled to hear that you enjoy using AutoDS, thank you so much for your review! We will make sure to pass the word to our customer service team to let them know you enjoy working with them. They are always here to solve any of your problems Please feel free to contact us again if you need more help! -AutoDS Team-