Wat is Worknice?
Delightful HR software. 100% designed and created in Australia. Simplify your HR and ignite your culture with our modern HR platform - built for growing remote teams. Manage the entire employee lifecycle in one system; from paperless onboarding, smart documents and compliance, integrated XERO payroll, time-off, performance reviews and surveys.
Thrive in the changing work landscape and keep your team engaged, no matter where they are.
Wie gebruikt Worknice?
Worknice is designed with small and medium sized businesses in mind. We set you free from process pain to focus on what matters most - your people.
Waar kan Worknice worden geïmplementeerd?
Cloud, SaaS, Web, Mac (desktop), Windows (desktop), Linux (desktop), Chromebook (desktop)
Over de leverancier
Worknice
Opgericht in 2019
Chatten
Beschikbaar in deze landen
Australië
Over de leverancier
Worknice
Opgericht in 2019
Chatten
Beschikbaar in deze landen
Australië
Video's en afbeeldingen van Worknice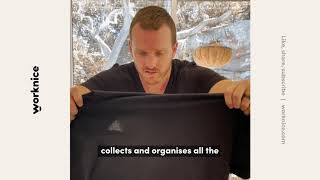 Vergelijk de kosten van Worknice met soortgelijke producten
Functies van Worknice
360-gradenfeedback
Aanstellen (van personeel)
Bibliotheek met HR-meetwaarden
Dashboard
E-Verify/I-9-formulieren
Elektronische formulieren
Mentorschap
Omzet bijhouden
Oriëntatieworkflow beheren
Payrollbeheer
Personeelshandboek
Rapportage en analyse
Schadevergoedingsbeheer
Talentbeheer
Trainingsbeheer
Trendanalyse
Verlof bijhouden
Werknemersdatabase
Werknemersprofielen
Zelfserviceportal
Alternatieven voor Worknice
Reviews over Worknice
Reviews op basis van bedrijfsgrootte (werknemers)
<50
51-200
201-1.000
>1.001
Louise
Head of Growth in Australië
Geverifieerde LinkedIn-gebruiker
Computersoftware, 11-50 werknemers
Heeft de software gebruikt voor: 6-12 maanden
An impressive experience
Opmerkingen: I've worked for several employers over my career, and have not experienced such a seamless and exciting introduction to a business. While the culture is ingrained in the business, I can see that Worknice helps enable and deliver it.
Pluspunten:
As a new employee, Worknice created a really nice online experience during my onboarding process. My employer really wants to create good first impressions with staff as a way of attracting the right talent and making sure we don't leave. I certainly had that great experience, and am now enjoying having access to the platform to do things like accessing my employment contract, confirming policies etc.
Minpunten:
Too early to say, we have not faced any issues to date.
Shubham
Software Engineer in VS
Gezondheid, wellness en fitness, 11-50 werknemers
Heeft de software gebruikt voor: 6-12 maanden
Great application for Human resource
Opmerkingen: I'm impressed . Really great user experience and employee Database is managed well. Easy to use app
Pluspunten:
Streamlines process and compliance across the whole employee lifecycle . Mostly used by Human resource team to add everything about employees.
Minpunten:
The only problem I found was about reminders for birthdates. I guess apart from that really good software to manage company employee records
Cathy
HR Manager in Australië
Rechtspraktijk, 11-50 werknemers
Heeft de software gebruikt voor: 1-5 maanden
Great Product and support
Opmerkingen: My first contact with Worknice was an online meeting with [SENSITIVE CONTENT] who gave me the background of the company and then spent time getting to know what it was we were looking for in a system. I found him to be very professional, not at all pushy and very knowledgeable. Even though the company is fairly new, they had what we wanted and are very open to new suggestions to help develop the product. [SENSITIVE CONTENT] has been nothing but helpful throughout the entire process and is always available whenever I need anything.
Pluspunten:
I looked at many different HR Platforms. There were some really good systems out there and some not so good systems. From my very first contact with Worknice, I was impressed. The system is easy to use and has the features we were after as an organisation.
Minpunten:
There are a few things the system doesn't have at the moment but they are in development and will be coming in the near future.
Samuel
Technical Project Manager in Australië
Informatietechnologie en -diensten, 11-50 werknemers
Heeft de software gebruikt voor: 6-12 maanden
Save me hours of time
Opmerkingen: Overall I'm super happy with Worknice. Moving from manual spreadsheets and multiple systems to a single all in one platform has been awesome. I would highly recommend Worknice to anyone who is growing quickly and needs their HR admin sorted quickly.
Pluspunten:
I manage a busy growing team and it wasn't long before I was swimming in HR admin. Since we implemented Worknice I have literally saved hours of time every week. Having a single centralised inbox for all my HR tasks is my favourite feature for sure.
Minpunten:
Nothing really stands out as a major issue for me.
Holly
Marketing / Admin in Australië
Informatietechnologie en -diensten, 51-200 werknemers
Heeft de software gebruikt voor: 6-12 maanden
Great HR Tool for Remote Teams
Opmerkingen: Overall experience - EASY. It was easy to implement, easy to use and we saw value right away. Many of the other platforms had WAY too many features and were incredibly overwhelming - Worknice is exactly what we need.
Pluspunten:
We are a remote team, so ensuring a great day 1 can be a challenge. Worknice has really helped us nail the experience, so all our new starters have a wonderful experience from Day 1.
Minpunten:
There is nothing I would really say is a con at this stage.