Wat is PGP?
PGP is not just another price comparison tool. PGP makes specific recommendations on the optimal prices for each product, considering customers' value perception and price sensitivity. PGP is the
Meer informatie
result of more than 15 years of research in artificial intelligence, to simulate customers buying behavior and make profitable pricing decisions. Unlike other pricing tools, PGP projects the expected results in volume, revenue and profit, and allows you to simulate different scenarios.
Minder informatie
Wie gebruikt PGP?
PGP is ideal for businesses making pricing decisions on hundreds or thousands of products or services, in both B2C and B2B markets.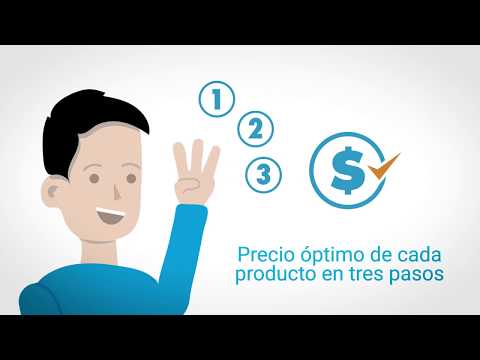 Twijfel je over PGP? Vergelijk met een populair alternatief
Niet beschikbaar in jouw land
Gratis versie
Gratis proefversie
Geen integraties gevonden
Geen prijsinformatie gevonden
Gratis versie
Gratis proefversie
Geen integraties gevonden
Waarom krijg ik dit te zien?
Reviews over PGP
Reviews op basis van bedrijfsgrootte (werknemers)
<50
51-200
201-1.000
>1.001
Geverifieerde reviewer
Managing Director in Frankrijk
Geverifieerde LinkedIn-gebruiker
Nutsbedrijven, 2-10 werknemers
Heeft de software gebruikt voor: 6-12 maanden
A really good up
Pluspunten:
If you are after designing, optimizing and managing pricing strategies, this software is for you.
Minpunten:
Personally, I was not swayed by the interface.
David Andrés
Coordinador de Mercadeo in Colombia
Machinebouw, 51-200 werknemers
Heeft de software gebruikt voor: 2+ jaar
Excelente herramienta para la gestión del ingreso
Opmerkingen: Prexus ha sido una herramienta que nos ha permito llevar nuestro sistema de gestión de precio a otro nivel, rompiendo con el paradigma que se tenía en el sector en el cual nosotros estamos. Antes, teníamos unas listas de precios y unos descuentos que se aplicaba para todos los clientes (no teníamos en cuenta el tipo de canal, la zona, o las características de cada producto), esto hacia que los precios no fueran justos para nuestros consumidores. La herramienta nos ha ayudado a generar un precio y un descuento justo para cada cliente, estando todos bajo una igualdad de condiciones. Los datos generados a partir de la herramienta, se han convertido en una fuente estratégica para el análisis y toma de decisiones al interior de la compañía.
Pluspunten:
La herramienta es muy amigable con el usuario y de fácil manejo; permite realizar cotizaciones fácilmente, configurando cada una de las características de los productos y el rol de cada cliente. La parametrización de los atributos y primas se logra hacer de una manera sencilla. El dashboard, permite visualizar de una manera resumida los gráficos, además que se puede personalizar de acuerdo a la necesidad que se tenga. El soporte por parte del equipo de Prexus, ha sido excelente; siempre están dispuestos ayudarnos y apoyarnos en necesidades particulares que podemos llegar a tener, creando soluciones dinámicas, rápidas y efectivas, que facilitan el análisis y la toma de decisiones.
Minpunten:
Los cambios o mejoras que se han propuesto se han realizado y hasta el momento no hemos tenido grandes inconvenientes.
Carolina
Marketing Genfar in Colombia
Farmaceutica, 1.001-5.000 werknemers
Heeft de software gebruikt voor: 1-5 maanden
Review
Pluspunten:
Toda la info está en un solo lugar, se pueden hacer actualizaciones subiendo archivos de excel
Minpunten:
Los titulos para encontrar los diferentes reportes no son tan intuitivos. Si uno no se acuerda como encontrar algo, toca llamar a preguntar.
Federico
Head of Revenue Management in Argentinië
Schoolleiding, 1.001-5.000 werknemers
Heeft de software gebruikt voor: 1+ jaar
Highly recommended
Opmerkingen: Nuestra empresa ofrece sus productos en todo el país, teniendo un mercado muy variado y diferentes competidores según la zona geográfica.
PGP nos ha permitido tener precios competitivos en todo el país sin descuidar nuestra calidad de marca y rentabilidad del negocio.
Pluspunten:
PGP es una herramienta muy poderosa y muy amigable e intuitiva para su utilización. Se ha adaptado fácilmente a nuestro negocio a pesar las dificultades que puede presentar por su particularidad (educación). En nuestro caso ha logrado consolidar una gran cantidad de variables que a su vez poseen muchos matices según las diferentes zonas geográficas a las que tenemos llegada.
Minpunten:
Sería ideal cargar en PGP sólo un archivo plano que contenga toda la información necesaria
Federico
Revenue Analyst in Panama
Gezondheid, wellness en fitness, 10.000+ werknemers
Heeft de software gebruikt voor: 2+ jaar
Review of Prexus by a member of Sanofi
Opmerkingen: Good experience overall, will keep working with it
Pluspunten:
Easy of use, customer support and correct suggestions of the model
Minpunten:
Make it easier to understand to indirect users of the tool (commercial teams). Better results presentation.