Wat is MarketBox?
MarketBox helpt dienstverlenende bedrijven met mobiele en virtuele medewerkers opschalen en groeien met het e-commerce planningsplatform. Met MarketBox kan een bedrijf alle klantverkopen, beschikbaarheid van dienstverleners, reiszones, reistijd en betalingsverwerking beheren via de aanpasbare online e-commerce verkooptool. Dit platform helpt bedrijven te groeien en meer leads om te zetten in verkoop met een interface die eenvoudig en aantrekkelijk is voor klanten om te gebruiken, en automatiseringen die de administratieve rompslomp verminderen.
Wie gebruikt MarketBox?
Servicebedrijven met mobiele of virtuele medewerkers die op zoek zijn naar software om hun planning te beheren en hun omzet te laten groeien.
Waar kan MarketBox worden geïmplementeerd?
Cloud, SaaS, Web, Android (mobiel), iPhone (mobiel), iPad (mobiel)
Over de leverancier
MarketBox
Opgericht in 2019
Telefonische ondersteuning
Chatten
Beschikbaar in deze landen
Australië, Canada, Ierland, Verenigd Koninkrijk, Verenigde Staten
prijzen van MarketBox
Beginprijs:
US$ 40,00/maand
Ja, heeft een gratis proefversie
Ja, heeft een gratis versie
MarketBox heeft een gratis versie en biedt een gratis proefperiode. MarketBox heeft een betaalde versie vanaf US$ 40,00/maand.
Over de leverancier
MarketBox
Opgericht in 2019
Telefonische ondersteuning
Chatten
Beschikbaar in deze landen
Australië, Canada, Ierland, Verenigd Koninkrijk, Verenigde Staten
Video's en afbeeldingen van MarketBox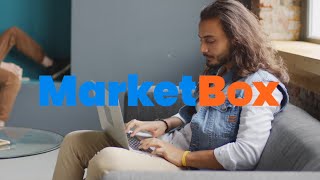 Vergelijk de kosten van MarketBox met soortgelijke producten
Functies van MarketBox
Aanpasbare branding
Aanpasbare formulieren
Aanpasbare sjablonen
Aanwezigheid bijhouden
Activiteiten volgen
Activiteitendashboard
Afspraakplanning
Afsprakenbeheer
Beschikbaarheidsbeheer
Betalingen verwerken
Bevestigingen/herinneringen
CRM
Catalogiseren/categoriseren
Categoriseren/Groeperen
Communicatiebeheer
Contactendatabase
E-mailmarketing
Elektronische betalingen
Evenementenbeheer
Factureren
Factuurbeheer
Geautomatiseerde planning
Gegevensbeveiliging
Herinneringen
Integraties van derden
Kalenderbeheer
Klantenbeheer
Klantendatabase
Klantenportal
Klantgeschiedenis
Klantprofielen
Klasplanning
Lesaantekeningen
Meerdere leveranciers
Meerdere winkels
Mobiele toegang
Mobiele waarschuwingen
Multilocatie
Offertes
Online betalingen
Online onderwijs
Online reserveren
Orderbeheer
Personeelsbeheer
Personeelsplanning
Plannen
Portal voor ouders en studenten
Provisiebeheer
Rapportage en analyse
Rapportage en statistieken
Realtime planning
Reserveringsbeheer
Roosterbeheer
Routering
SEO-beheer
Servicecatalogus
Servicegeschiedenis
Sms-berichten
Taakbeheer
Taakplanning
Terugkerende afspraken
Terugkerende facturering voor meerdere perioden
Tijd bijhouden
Verkooppunt
Verzendbeheer
Voor schoonheidsinstituten en wellnesscenters
Waarschuwingen/Meldingen
Website-integratie
Winkelwagen
Zelfserviceportal
Alternatieven voor MarketBox
Reviews over MarketBox
Reviews op basis van bedrijfsgrootte (werknemers)
<50
51-200
201-1.000
>1.001
Amine H.
Operations Manager in Canada
Geverifieerde LinkedIn-gebruiker
Schoolleiding, 2-10 werknemers
Heeft de software gebruikt voor: 6-12 maanden
Overwogen alternatieven:
MarketBox, thank you!
Opmerkingen: It's been a great experience so far, the support team is very receptive and helpful. As customers, we feel engaged, valued and most importantly heard, when our feedback is taken into consideration!
All the best to the MarketBox team!
Pluspunten:
MarketBox has helped us to optimize the time needed to onboard a provider, make changes to an existing booking and even better, it allows our providers to manage their own schedules with complete ease. The dashboard has real-time data for our daily sales performance, we appreciate that, since it serves as motivation for the time to hit our daily targets. The automated notification feature (Ex: When a booking is made or a customer placed an inquiry) has been crucial to our response times and our overall customer experience.
Minpunten:
MarketBox does a great job capturing different data points for different stakeholders. With that being said, it would be great have more flexibility to create custom reports (Ex: Sales in a given city). Otherwise, everything else is great, the team loves
Charlotte S.
Fitness Guru | Entrepreneur in Canada
Managementconsulting, Zelfstandig ondernemer
Heeft de software gebruikt voor: 6-12 maanden
Marketbox - great solution for my personal training business!
Opmerkingen: Pretty happy - I have more time to take on additional clients, or not work ridiculous hours.
Pluspunten:
Marketbox is a great all in one app for personal trainers and fitness professionals to easily sell services and reduce the amount of manual work associated with running a small business. When I looked to the market to see what was available to run my business, I was left with three poor options until I found MarketBox: 1) Cough up the cash for a solution that is really only aimed at a big box gym (I don't need half the functions and the fee structure doesn't make sense) 2) Spend a lot of time and money cobbling together a bunch of scheduling apps with basic booking and payment abilities 3) Do it on the cheap, and with lack of a technology option, use sweat labour and google drive + social and hope for the best Marketbox has clearly done its homework – and there is hope for the independent personal trainer to be able to make money and survive in this industry. FINALLY! I couldn't be more happy. My fav things include: 1. Managing all of my business data in one location. This includes client sales, bookings, payments. I'm spending less time doing admin work. 2. Option to easily sell services at different locations; sometimes I travel to meet a client, or I train them virtually. This flexibility is key 3. MarketBox is the only system I've seen that allows me to set up travel zones and a zoom integration all at once. 4. Client self-booking - The interface is easy to use (even if you aren't a techie), and my clients love it.
Minpunten:
Cool to have more integrations with additional apps like Fitness Pal, Apple Health, and TruCoach so I can have the complete picture of my client. But these are nice to have.
Geoffrey K.
General Manager in Canada
Geverifieerde LinkedIn-gebruiker
Consumentendiensten, 2-10 werknemers
Heeft de software gebruikt voor: 6-12 maanden
Overwogen alternatieven:
Best e-commerce option for service businesses with a travelling workforce. Customizable and scalable
Opmerkingen: Overall, this is a powerful and customizable booking platform while empowering our providers with proper technology to scale our business.
Pluspunten:
MarketBox easily allows our instructors to set their preferred travel zones, availability, and manage their bookings whether it's online or via the mobile app. This keeps them more engaged, decreasing turnover, minimizing back and forth logistics issues with our support team, and allowing our team to focus on building customer demand/revenue. The MarketBox team is incredibly responsive to feedback and is pushing out features at an impressive rate. It seems like every month at least one major improvement is announced that helps make our team's jobs easier. Powerful features like self-book for clients, automated reminders to our providers, customizable services and skills, and regional pricing allow us to focus on sales and marketing, and not logistics.
Minpunten:
The admin portal could have better UX. But what it lacks in design, it makes up for in power.
Reactie MarketBox
vorig jaar
We're so glad to hear that you've been having a great experience with our MarketBox software! We're continuously adding new features so it will continue to be an even more powerful tool!
Julie D.
President & CEO in Canada
Schoolleiding, 51-200 werknemers
Heeft de software gebruikt voor: 1-5 maanden
Overwogen alternatieven:
Outstanding Customer Service & Easy-To-Use
Opmerkingen: 10/10
Pluspunten:
I like how customizable the software is so we can turn on the features that apply to our services (and turn off the ones that don't). The booking flow is so simple and quick and learning how to maneuver the admin dashboard is too! The customer service is also super speedy to attend to any questions or concerns we may have which makes the onboarding process stress-free.
Minpunten:
Any minor roadblocks we've encountered during the onboarding process have been not only answered by customer service but incorporated into their next round of changes/updates.
Ayesha H.
Recruitment Coordinator in Canada
Consumentendiensten, 2-10 werknemers
Heeft de software gebruikt voor: 6-12 maanden
Incredible software for managing bookings, schedules & travel areas through a mobile app & platform!
Opmerkingen: Switching to MarketBox has been invaluable for us. Overall, the automations, scheduling software, booking and provider profile management have been useful features for our team.
Pluspunten:
MarketBox includes great capabilities that work for our business (private home swimming lessons) and solves many problems we were facing with our old system. We have a lot of part time workers. Instructors have the ability to add multiple travel zones that include different service types and schedules, allowing them to accept bookings in advance conveniently. When an instructor can't accept a booking, MarketBox will even send out a job request to other instructors in the area to see who can accept it, so that we can get our instructors more jobs, and keep clients happy with a good matching instructor. Additionally, client bookings can be confirmed via text message rather than logging in to the account online or on the mobile app (resulting in quicker response times).
Minpunten:
The availability section needs improvement. Some Instructors have difficulty understanding the functionality at times. Image size of the profile picture has to be less than 100kb.