Microsoft Whiteboard
Wat is Microsoft Whiteboard?
Eenvoudige, gratis en gebruiksvriendelijke oplossing voor samenwerking op whiteboards.
Minder informatie
Wie gebruikt Microsoft Whiteboard?
Teams die op afstand via een whiteboard willen samenwerken.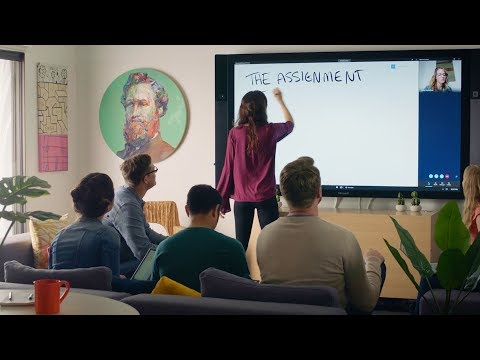 Twijfel je over Microsoft Whiteboard? Vergelijk met een populair alternatief
Geen prijsinformatie gevonden
Gratis versie
Gratis proefversie
Gratis versie
Gratis proefversie
Waarom krijg ik dit te zien?
Alternatieven voor Microsoft Whiteboard
Reviews over Microsoft Whiteboard
Rebecca
Broker
Geverifieerde LinkedIn-gebruiker
Verzekeringen, 1.001-5.000 werknemers
Heeft de software gebruikt voor: 1-5 maanden
Amazing Collaboration Tool
Bijschriften in het Nederlands beschikbaar in de videospeler
Abid
Manager Operations in Pakistan
Geverifieerde LinkedIn-gebruiker
Bankwezen, 5.001-10.000 werknemers
Heeft de software gebruikt voor: 2+ jaar
Microsoft Whiteboard is an Incredible Collaboration Tool
Opmerkingen: My overall experience with Microsoft Whiteboard is very amazing and i am using this software from last 2 years for conducting online sessions, trainings and teaching classes. With the help of Microsoft Whiteboard we can interact with large audience and easily communicate and share ideas with them.
Pluspunten:
I always prefer using Microsoft Whiteboard for online meetings and seminars because it is very easy to use and very helpful software. The software easily integrate with other software and provide excellent support in online trainings. We can also share diagram, equations and express your point of views by choosing different colours and styles.
Minpunten:
Microsoft Whiteboard needs to add more tools and features which will make this software more powerful and helpful for users. Other than that Microsoft Whiteboard is heading towards a good direction and everything in this amazing software works very well.
Maisarah
Brand Manager in Maleisië
Geverifieerde LinkedIn-gebruiker
Telecommunicatie, 1.001-5.000 werknemers
Heeft de software gebruikt voor: 2+ jaar
Best to pair with remote software
Opmerkingen: We are very happy to use it at the first, but after a while we start to see there are some lacking with all the feature that are offered by this software. I have opted to switch to other digital whiteboard software that can fit our work needs better.
Pluspunten:
Microsoft Whiteboard is best to be paired when me and my colleague are having an online weekly meeting or online ideas sharing. Sketching ideas and project process and idea map is very easy to do with this whiteboard and help us to interpreted our ideas into visual.
Minpunten:
Microsoft Whiteboard is lacks of details in the feature and the tools. Like the shape option, they only has basic shape and if i need any other shape, it has to be drawn manually and it is very time consuming to do it all from the start.
Patricia
Office Manager in VS
Geverifieerde LinkedIn-gebruiker
Bouw, 2-10 werknemers
Heeft de software gebruikt voor: 2+ jaar
A Remote Worker's GoTo App
Opmerkingen: When it first came out, I started using it. I love the way I can remotely communicate but also move items on the whiteboard between computers on the network even if I'm not logged on to my workplace desktop.
Pluspunten:
Being able to access it from anywhere I can sign in and to have it update in real time makes this app really great. It eliminates emailing while collaborating because you are "with" everyone.
Minpunten:
When Microsoft changes the functions, you have no choice but to adapt. It's cloud based so you have to live with that to get the other benefits.
Ryan
Assistant Professor of Instruction in VS
Geverifieerde LinkedIn-gebruiker
Hoger onderwijs, 1.001-5.000 werknemers
Heeft de software gebruikt voor: 6-12 maanden
Half-baked and feature-free
Opmerkingen: For a product that is ostensibly part of the Office 365 suite, Microsoft Whiteboard is probably the weakest and least useful product that I've worked with so far. Yes, it's easy to create a new whiteboard; yes, you can even create a (long, ugly, hard-to-read) URL to share your whiteboard; and yes, you can even export your whiteboard as a PNG. But those aren't features--those are basic requirements--and Whiteboard barely manages to pull even those off.
Pluspunten:
The core features are competently executed--it's mind-numbingly easy to create a new whiteboard, and there is no confusion possible as to what the (very few) available tools in the toolbar do.
Minpunten:
The list of missing features is extraordinarily long, so I'll focus on the most glaring omissions and limitations. The tool palette is quite limited; while at first glance it appears there are four different "pens," they are in fact just four copies of the same pen, all of which can be configured only minimally (width, from "1" to "6," and your choice of 15 colors). There is a highlighter tool which has similar configuration limitations and doesn't even include opacity adjustment. The eraser tool is overzealous; one errant click and giant portions of your diagram vanish. The text tool has one pre-set "handwriting" type font that I find to be practically illegible; this can't be changed. There is also a redundant "note" tool that mimics Post-It notes, but it is unclear what the purpose of these notes is intended to be, since there is no visibility control toggle, etc. The drawing experience is awful as well; the interface automatically attempts to "smooth" your drawings (you can't disable this either!), meaning that any fine details that you draw that Whiteboard interprets as errors are obliterated.
Emilie
gerante in Frankrijk
Professionele training en coaching, Zelfstandig ondernemer
Heeft de software gebruikt voor: 1+ jaar
Un outil collaboratif qui facilite la créativité
Opmerkingen: Permet de faire des séances de travail aussi bien à distance qu'en présentiel et de synthétiser au sein d'un seul et même outil les différentes prises de note. IL m'évite aussi de construire des modele de diagramme en utilisant les modèles proposés.
Pluspunten:
La possibilité d'intégrer des outils tels que les notes, les diagrammes déjà proposés en modèle. Le fait que ce soit un outil collaboratif est très pratique pour favoriser la créativité d'une groupe de travail
Minpunten:
L'ergonomie est un peu vieillotte. La bibliothèque de modèle est bien fournie mais pas très jolie !