Wat is Camtasia?
Camtasia lets you record a video of whats on your computer screen. Use it to make lessons, tutorials, or product demos. Turn your screen recordings into compelling videos with Camtasias video editing tools, animations, and effects.
Wie gebruikt Camtasia?
Niet door leverancier verstrekt
Waar kan Camtasia worden geïmplementeerd?
Mac (desktop), Windows (desktop), Windows (lokaal), Linux (lokaal)
Over de leverancier
TechSmith
Gevestigd in Okemos, VS
Opgericht in 1987
Telefonische ondersteuning
Chatten
Beschikbaar in deze landen
Verenigde Staten
Over de leverancier
TechSmith
Gevestigd in Okemos, VS
Opgericht in 1987
Telefonische ondersteuning
Chatten
Beschikbaar in deze landen
Verenigde Staten
Video's en afbeeldingen van Camtasia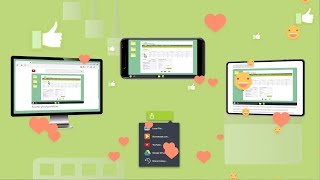 Vergelijk de kosten van Camtasia met soortgelijke producten
Functies van Camtasia
Aanpasbare branding
Animatie
Annotaties
Audio opnemen
Bestanden delen
Maatschappelijk delen
Mediabibliotheek
Opname van meerdere schermen
Samenwerkingstools
Schermopname
Sjablonen
Slepen en neerzetten
Tekstoverlay
Video bewerken
Video vastleggen
Video's maken
YouTube-uploads
Alternatieven voor Camtasia
S m
freelancer in Bangladesh
Geverifieerde LinkedIn-gebruiker
Consumentendiensten, 11-50 werknemers
Heeft de software gebruikt voor: 2+ jaar
''Users of various skill levels might produce excellent videos with Camtasia''
Opmerkingen: For anyone who has to capture their screen and then edit that recording, I believe Camtasia is fantastic. Camtasia has been used to record presentations on the computer screen. We use these recordings after editing to create webinars or online courses. The software costs a fair amount with a one-time purchase fee. Camtasia is an easy-to-use tool that develops learning experiences that demand desktop visuals while producing content that is entirely compatible with a range of video-carrying devices. Additionally, the application uses pixelation or blurring techniques to conceal information that could otherwise be used to individually identify people to prevent any violations of student confidentiality laws or Institutional Review Board standards. A convenient library of visual pictures, icons, backdrops, and audio beds may be combined with user-generated content to give presentations that are eye-catching "pizzazz." Some educators utilize it to communicate concepts that call for a visual component. Both multiple timeline storage and the inclusion of audio-scrubbing in the editing toolbox would be significant advancements. For illustration, a project might promote
Pluspunten:
Every internet project these days needs editing. This covers activities incorporating images, sound, video, and other components. I've used it for more than 6 years. Camtasia was initially used to create instructional videos for students, learners, coworkers, and the online courses my company provides. Camtasia is, in my opinion, relatively easy to use when compared to some of the other products available on the market. Even if we don't have as many bells and whistles, the completed product still feels and looks professional. Rapid video production and transmission. For novices, there are informative courses and supplemental videos. Any variety of media, including PPTs, audio, video, and graphics, can be imported. Training videos can be amazing. They also have fantastic support people. They patch their frequency I would strongly recommend such an item!
Minpunten:
Alternating Period Filters Asset Inventory White Balance modifications Possibly accurate are the audio and screenshot. There might periodically be a delay. On rare occasions, a projected screen will be done but still be listed as a recent project.
Douglas
Business Development Strategies Advisor in Canada
Verzekeringen, 10.000+ werknemers
Heeft de software gebruikt voor: 1+ jaar
Overwogen alternatieven:
Great Video Editing Software for Windows
Opmerkingen: I've had a great experience with Camtasia so far. It has been a great resource to have when editing all my videos and creating new videos. It has great features, and is really to use from an user point of view. It also is very easy to train on and learn. Definitely a great alternative to IMovie.
Pluspunten:
I like the ease of use and drag and drop features the most on Camtasia. When I am editing or creating a video I usually add multiple clips together, and the drag and drop feature allows my video clip to fall into place right where I need it. The drag and drop feature is also great for text overlays or transitions and makes it much easier to edit videos and place your video/picture clips at the exact place it needs to be. Furthermore, the video editing features are great, and can definitely be a good windows alternative of IMovie.
Minpunten:
There is a limited selection of transitions, text overlays to choose from compared with other video editing softwares. Although I use the same text overlay feature every time, it would be good if there was more/more unique options when editing your video. Also when editing your video, sometimes it is hard to cut the few seconds and sometimes milliseconds out to create a perfect video.
Roxana Georgiana
Demand manager in Roemenië
Geverifieerde LinkedIn-gebruiker
Informatiediensten, 10.000+ werknemers
Heeft de software gebruikt voor: 2+ jaar
I would recommend it to a beginner
Pluspunten:
I learned to use it by myself in a few days, you can create short videos and movie trailers.
Minpunten:
Don't expect a super quality from the video created. This app is perfect for a beginner. The effects you can add are quite primitive.
Ernesto Alfonso
Director in Mexico
Geverifieerde LinkedIn-gebruiker
Religieuze instellingen, 11-50 werknemers
Heeft de software gebruikt voor: 2+ jaar
Overwogen alternatieven:
Si buscas edición simple pero profesional esta es la solución
Opmerkingen: Para comenzar es muy bueno pues es el software ideal para comenzar a entender los principios de edición de video.
Pluspunten:
Es amigable, fácil de uso, potente y veloz, facilita la edición para aquel que no sabe o va comenzando en el mundo de la edición de video, sus tutoriales son muy intuitivos.
Minpunten:
Es tardado el proceso de renderización a diferencia de otros programas similares.
Richard
Senior IT Assistant & Graphic Designer in Ghana
E-learning, 501-1.000 werknemers
Heeft de software gebruikt voor: 1+ jaar
Edit Video like a Pro with Camtasia
Opmerkingen: Camtasia is a simple video editing software which business owners can use to create video advertisement, jingles, podcast and many more to promote their business.
Pluspunten:
The feature of separating audio from a video file from a video file before editing and also Camtasia has the audio editing options which makes it flexible to work with. With Camtasia you don't need to be a video expert before using it and this has help a lot of business owners to create and edit their own video.
Minpunten:
The limitation in editing shapes. Also unlike other similar software that come with lower third designs Camtasia can add such feature to increase their rating amongst others.