Misschien vind je dit ook leuk...
Wat is Gmail?
Cloudgebaseerde oplossing waarmee bedrijven e-mails over meerdere gebruikersaccounts kunnen verzenden, ontvangen, organiseren, vertalen en plannen.
Wie gebruikt Gmail?
Het is ontworpen voor bedrijven van elke omvang en is een cloudgebaseerde oplossing voor e-mailmarketing die helpt bij het maken van aangepaste adressen, het verzenden van bulk-e-mails en meer.
Gmail - Details
Google
Opgericht in 2012
Video's en afbeeldingen van Gmail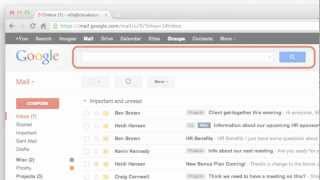 ▶︎
Gmail - Details
Google
Opgericht in 2012
Vergelijk Gmail met soortgelijke producten
Vanaf
N/A
US$ 10,79/maand
US$ 399,00/maand
US$ 10,00/maand
Gmail - implementatie en ondersteuning
Ondersteuning
E-mail/helpdesk
Veelgestelde vragen/forum
Kennisbank
Telefonische ondersteuning
Implementatie
Cloud, SaaS, Web
Mac (desktop)
Windows (desktop)
Android (mobiel)
iPhone (mobiel)
iPad (mobiel)
Functies van Gmail
A/B-tests
API
Aanpasbare branding
Aanpasbare formulieren
Aanpasbare sjablonen
Aanpasbare velden
Abonneebeheer
Abonnementsbeheer
Activiteiten volgen
Activiteitendashboard
Afbeeldingenbibliotheek
Autoresponders
Beheer van e-mailcampagnes
Beheer van mailinglijsten
Bestemmingspagina's en webformulieren
CAN SPAM-compliance
CRM
Campagneanalytics
Campagnebeheer
Campagneplanning
Campagnesegmentering
Contactenbeheer
Contactendatabase
Door gebeurtenissen geactiveerde acties
Drip -campagnes
Dynamische inhoud
E-mailbeheer
E-maildistributie
E-mailmarketing
E-mails bijhouden
E-mailsjablonen
Engagement tracking
Integratie van sociale media
Integraties van derden
Klantenonderzoeken
Klantensegmenten
Klikken bijhouden
Leads vastleggen
Lijstbeheer
Marketing via meerdere kanalen
Meerdere campagnes
Rapportage en analyse
Rapportage en statistieken
Realtime analyse
Sjabloonbeheer
Slepen en neerzetten
Spamblokkering
Voor mobiel geoptimaliseerde e-mails
WYSIWYG-editor
Webformulieren
A/B-tests
API
Aanpasbare branding
Aanpasbare formulieren
Aanpasbare sjablonen
Aanpasbare velden
Abonnementsbeheer
Activiteiten volgen
Activiteitendashboard
Antwoordbeheer
Archiveren en retentie
Autoresponders
Bewaking
CRM
Campagneanalytics
Campagnebeheer
Campagnesegmentering
Chatten/messaging
Contactenbeheer
Contactendatabase
Drip -campagnes
E-mailbeheer
E-mailcontrole
E-maildistributie
E-mailmarketing
E-mails bijhouden
E-mailsjablonen
Gedeelde inboxes
Gegevensherstel
Gestandaardiseerde antwoorden
Handtekeningenbeheer
Inboxbeheer
Integratie van sociale media
Integraties van derden
Klantensegmenten
Klikken bijhouden
Rapportage en analyse
Rapportage en statistieken
Realtime analyse
Realtime controle
Realtime rapportage
Routering
Sjabloonbeheer
Slepen en neerzetten
Spamblokkering
Waarschuwingen/Meldingen
Wachtrijbeheer
Witte lijst/zwarte lijst
Workflowbeheer
Zoeken/filteren
Selena D.
Server/Bartender/assistant manager in VS
Geverifieerde LinkedIn-gebruiker
Levensmiddelen- en drankenindustrie, 10.000+ werknemers
Used the Software for: 2+ jaar
Bron: GetApp
Gmail works for me
Comments: I use my Gmail account to make phone calls, send and receive emails and attachment I love it. I never miss an email. I am completely confident that when I send my emails or attachments that they will be received immediately. I love the Hangout option that is available with Gmail, I use that often as well. My overall experience has been a good one with Gmail and I don't plan on using any other email apps in the near future. Gmail is the easiest app to use for communicating and grouping chats and emails. It is easy to forward attachments as well.
Pros:
Gmail is so easy to use. I love the extra features that Yahoo does not offer, like phone calls and hangout. When I finally discovered Gmail I deleted my Yahoo account. I like all the extra features on my Gmail account. I like the Hangout the most. I I use it for group video chats mostly for work. I have never had a delay or problem with the video chat. I even like it better than the Zoom app. Overall Gmail is the best email option for me. I check my email at least once a day and I use Hangout at least once a week. For that reason I encourage people to use Gmail for the opportunity for free communication. There is another advantage for Gmail which has helped me greatly. Gmail saves your information so it makes it easier to change cell phones, so very helpful.
Cons:
I feel there are no cons with Gmail. At least not for me. I have been using it for over 5 years and have not even found a glitch. The way it is set up is much sleeker and neater than the Yahoo in witch I was using over 8 years. I do not really have any complaints I am a huge fan of Gmail. I did have to try multiple time to create my user name so I ended up using a suggested user name, it took me a while to get accustom to that so that is my one complaint about Gmail. As I stated before I have been using Gmail for years and haven't had any problems with it. I use my Gmail account daily so I haven't had to dealing with the disadvantage that people see if your Gmail is not as active, it will be shut down on you.
Jay S.
Supreme Lord and Master in Australië
Bouw, 2-10 werknemers
Used the Software for: 2+ jaar
Alternatives Considered:
Gmail. A modern and secure option to MS Outlook
Comments: I use Gmail exclusively. I can set the application on my phone up to look the same as the one on my Computer. I use IMAP so an email sent from my phone is synced with my computer to give me a similar and intuitive experience no matter what device I am using. I can "file" information such as a picture of a receipt or details of a customer just by adding a label and sending it to myself. I can do this on my phone or tablet or computer and then use the label to search for it later if I need it
Pros:
Installation. I can sit down in front of any computer or phone or tablet, open a web page, log in and my emails are there. All my settings are there. I don't need to hire a tech to set it up, just log in and away you go. While I use the search feature more often, Zero installation cost or maintenance saves me hundreds of dollars I would have otherwise spent on a technician to set it up and maintain it.
Cons:
It can be difficult to convince customers to ditch Ms outlook and use Gmail instead. Gmail has all the same features as outlook however some require you to think in a different way (i.e. labels vs folders)
Christopher W.
Creative Director in Italië
Entertainment, 2-10 werknemers
Used the Software for: 2+ jaar
No other alternatives for our business
Comments: We didn't really want to use Gmail but there are very few alternatives for our business. We use Google Workspace for our company so unfortunately we are king of stuck with Gmail rather than choosing it ourselves. This is mainly due to the fact we we already pay for Gmail storage.
Pros:
Integrating our customised business email addresses into Gmail is probably the most useful feature Gmail provides.
Cons:
From the start of using Gmail for our business email addresses we constantly get a "something is wrong" alert on our accounts. Formatting doesn't work when cut and pasting other fonts or colours, and the general experience of Gmail is, well, clunky, if that's the word. While it offers lots of custom features it is hard to find out how to use them as the support is just a Google Forum, therefore spending far too long trying to find the right answer. Finally the limit to file size attachments is frustrating. As a media company I send large attachments and after surpassing the 25mb limit a link is then provided to the other remailing attachments. I'm then going back and reducing file sizes as it doesn't look professional in my opinion.
Jessica H.
Assistant in VS
Informatietechnologie en -diensten, 2-10 werknemers
Used the Software for: 2+ jaar
Gmail is literally my brain saved in a program
Comments: I have had the same email address with gmail for over a decade, and i had some messages I saved when my children were little from me sending photos to myself to save in my email. I never have to worry about those memories being deleted, ever, or getting lost or anything else. They have been there for years and I plan to keep them even longer for my kids to be able to look back on and print whenever they want to. Gmail has allowed me to save memories, write friends and family, keep up with birthdays, save and store emails from the past even if I forget the recipients email, gmail will always fill it in for me no matter what new and updated phone I have, gmail remembers everything. I have everything in gmail. This app is basically my brain and my life and idk what I would do without it. It's the first thing I check when I wake up in the mornings, not Facebook. Not insta, but gmail.
Pros:
I just really enjoy every single feature! There are honestly too many to even think of or name off here but gmail is and never has been JUST about checking your emails. You can do everything from this app if you wanted to. I find it very helpful that any email I have ever entered stays stored somewhere in gmails "mind" even if I have long forgotten, I love that if I am wondering if a email is legit or not, gmail shows me the correct spelling and everything of the email recipient in mind. I love that I can keep certain messages in folders for YEARS, and never ever have to worry about them going anywhere or ever being deleted
Cons:
Honestly while I wish it was a bit easier to search through messages for keywords and for gmail to pick up on any typos while searching and find it even if you're not 100% sure, that's not exactly something that bothers me that much. It's definitely not bothersome enough to make me stop using it.
Shahiryar K.
Student in Pakistan
Geverifieerde LinkedIn-gebruiker
Hoger onderwijs, 201-500 werknemers
Used the Software for: 2+ jaar
Gmail
Comments: Its been years now that I have started using Gmail as my primary email service and yet I haven't seen any other email service till to consider it as a better option than gmail.
Pros:
Gmail is the best email service provider in every aspect that you can expect from an Email service. It has two different designs for browser version, a smooth one with pleasant UI and a basic version for slow internet connections. Apart from browser versions it also has dedicated app for IOS and Android. Gmail has made composing and sending emails very easy. You can also easily sort your emails in to different folders or assign them different labels in the same folder according to theor relevance. It has a very smart spam filter, which keeps spam mails away from your inbox. It gives its user quite a lote of storage space for saving email conversations and the attachment files in them.
Cons:
Gmail allows to send an attachment file of 25 Mb or less innsize only, which is a problem, as some times you need to send bigger files, and thus has to look for another way to share the file, which is quite frustrating sometimes.