Wat is eLogii?
eLogii is een schaalbaar en modulair end-to-end platform voor levering/buitendienstbeheer, dat van de grond af is opgebouwd met behulp van de modernste technologie. Het eLogii-platform biedt bedrijven de flexibiliteit om te integreren in bestaande systemen, waardoor elke gebruikssituatie op het gebied van levering of de buitendienst nu en in de toekomst kan worden gefaciliteerd.
Wie gebruikt eLogii?
eLogii is voor elk bedrijf, klein of groot, met een wagenpark van detailhandelaren, koeriers, distributeurs van voedsel en drank, restaurants, farmaceutische, bouw- en buitendienstbedrijven.
Waar kan eLogii worden geïmplementeerd?
Cloudgebaseerd
On-premise
---
Over de leverancier
eLogii
Gevestigd in London, VK
Opgericht in 2019
Ondersteuning voor eLogii
Telefonische ondersteuning
24/7 (contact met medewerker)
Chatten
Over de leverancier
eLogii
Gevestigd in London, VK
Opgericht in 2019
Ondersteuning voor eLogii
Telefonische ondersteuning
24/7 (contact met medewerker)
Chatten
Video's en afbeeldingen van eLogii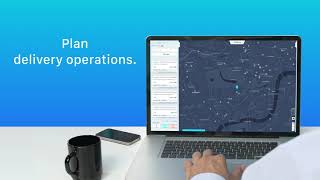 Vergelijk de kosten van eLogii met soortgelijke producten
Functies van eLogii
Beheer van chauffeurs
Betalingen innen in de buitendienst
Bewijs van aflevering
Bezorging van voedsel
Contactendatabase
Elektronische handtekening
Etiketten drukken
GPS
Integratie in de administratie
Integraties van derden
Kilometerstanden bijhouden
Klantenbeheer
Klantendatabase
Klantenportal
Levering volgen
Live tracken bestuurder
Mobiele toegang
Orderbeheer
Personeelsbeheer
Plannen
Prestatiemeetwaarden
Rapportage en analyse
Routehistorie
Routeoptimalisatie
Routering
Servicegeschiedenis
Slepen en neerzetten
Transport bijhouden
Tweerichtingscommunicatie
Vastleggen van mobiele ondertekening
Verzendbeheer
Verzendetiketten
Voertuigbeheer
Voor koeriersdiensten
Wagenparkbeheer
Alternatieven voor eLogii
Alina
Distribution Manager in VS
Voedselproductie, 11-50 werknemers
Heeft de software gebruikt voor: 1-5 maanden
Overwogen alternatieven:
Angelic Organics
Opmerkingen: This was our first time creating and implementing a home delivery system for our CSA farm. We did a lot of research to find the appropriate software that included everything we thought we needed and Elogii Not only provided that but also included other features we didn't even know we needed. We have had many learning curves and growth in our business through the process of fitting this software into our operation. Every question we've had, got an immediate and comprehensive response and we could not be more grateful for the support we've had and how this software has allowed us to succeed in providing in house, home delivery this year.
Pluspunten:
The dashboard is really easy to navigate once you get the hang of it. Every feature is easy to understand and makes sense for the purpose of the APP which is very beginner friendly given that we hadn't had any experience with distribution before this. Elogii has very thorough training and support for the software. Anything that we came across that we needed help adapting to our needs was possible with the understanding and help of the Tech team.
Minpunten:
The integration process was a bit complicated for us but it was probably more because of our lack of experience and Understanding when it came to handling the data. Other than that I would like to see the driver app be a little bit more developed to have an option to go back on a task or select a date to have an overview of the week perhaps. As we continue to grow and take note we will also love to share our thoughts and work to collaborate on a more efficient solution. But elogii and their team definitely Have thought things through and are very Mindful of foreseeing what one may need for a more satisfying and effective experience with the software
Reactie eLogii
2 jaar geleden
Hi Alina, Thank you very much for your review, your feedback and support is very much appreciated. We have some exciting developments on our product roadmap, including further enhancements to the Driver App, which will streamline the solution further. Kind Regards, eLogii Team
Manuel
Ogando in Portugal
Logistiek en toeleveringsketen, 2-10 werknemers
Heeft de software gebruikt voor: 6-12 maanden
Overwogen alternatieven:
We couldn't have done it without Elogii
Opmerkingen: Onboarding was very easy, with ongoing support.
Bugs are very rare, and get reported, flagged and fixed in reasonable time.
New features are being added every month, some we didn't even knew we needed.
The customer support goes above and beyond to make sure our needs get catered.
Pluspunten:
A solid all-round DMS. You get a nice package of all the features you need to set up your day to day operations. Best features: - several different ways to input tasks (different customers have different needs): API, csv import and Customer Dashboard all in one place is very valuable for a business like ours. - solid routing and re-optimization - very fast, no loading times and no lag between dispatcher and driver apps. - excellent customer support on demand
Minpunten:
The driver app needs some polish, but it's functional. Apparently it will be revamped soon.
Reactie eLogii
6 maanden geleden
Manuel - thank you for this amazingly positive review. We are so glad to see your business benefitting from eLogii. You are quite right - the driver app is going to be completely overhauled with a new version being targeted later this year. Watch this space!
Batuhan
Technical Support Engineer in Turkije
Levensmiddelen- en drankenindustrie, 51-200 werknemers
Heeft de software gebruikt voor: 6-12 maanden
batureview
Pluspunten:
Its fresh. Warehouse and map are looking good.
Minpunten:
UI is complicated. Date chosing can be rearrange at the page.
Reactie eLogii
6 maanden geleden
Batuhan - we are surprised to see 3* and somebody from our support team is getting in touch as we speak. Strangely enough our UI being simple and intuitive is something we receive a lot of positive feedback on from customers so we are sorry you don't seem to have had quite the same experience. Changing the date should not re-arrange the page apart from showing tasks for the particular new date in question. Our support and customer happiness teams will be on hand to make sure you are fully satisfied with eLogii!
Zelimir
Warehouse and Transportation Supervisor in Canada
Voedselproductie, 201-500 werknemers
Heeft de software gebruikt voor: 1-5 maanden
Paperless proof of delivery and Route Optimizer
Opmerkingen: We are going paperless, easy to track bill of ladings, eliminates need to have someone do the filing, saves time when it comes to making the route for the fleet.
Pluspunten:
For our organization two of the best features Elogii provides are traceability of bill of ladings, Elogii stores it on their website, one click away, no need to have someone filing all the paperwork, no need for filing cabinets and most importantly, in case of dispute no need for anyone to look thorough files, we are able to pull POD with one click of the mouse. Elogii has ability to take pictures, enter notes, which again is great help when talking about damage claims. Electronic copy of the bill could be Emailed to a customer, with all notes, pictures, signatures and electronic step by step time stamps. We use Elogii to check trucks when they come in and when they leave, it helps us track any waiting charges too. Other important part of Elogii is Route Optimization, anyone that has a fleet this is very handy tool. We have 8 trucks for local deliveries and Elogii sets up the run (route) for 8 trucks under 30 seconds. Route for every driver is visible on the map and this portion we use to track daily progress. This part is very much customizable: We set up our trucks based on weight limit, hours of driving for every driver and area they are servicing.
Minpunten:
Some of the filters and wording were confusing at the begging for end users, it took few weeks for people to get used to it, nothing out of ordinary.
Reactie eLogii
2 jaar geleden
Dear Zelimir, We'd like to thank you for taking the time to share your detailed feedback, and we are very pleased that you've managed to significantly streamline and digitise key parts of your operations. We have a number of new features and updates now available, which definitely includes improved search, filtering and export options - so we look forward to providing you access with these soon! Thanks again for the review and for being such a great customer. Kind Regards, eLogii Team
Richard
Head of Web Design & Development in VK
Groothandel, 11-50 werknemers
Heeft de software gebruikt voor: 6-12 maanden
Completely professional and also adaptable
Pluspunten:
At the start of lockdown, all of the logistics companies that we normally dealt with ceased to trade almost overnight. This meant that we had to find a quick and efficient solution to getting our 100+ orders out daily. We stumbled upon eLogii after reading many positive reviews about the platform, and in particular, how user friendly their API was to integrate with. The team at eLogii welcomed us with open arms right at the start, and helped our in-house development team get to grips with the implementation of the platform. Fast forward 6 months later, eLogii is now an integral part of our daily delivery routing and planning workflow, helping our drivers deliver right across the UK.
Minpunten:
Honestly - none, right now. At the start there were a few teething problems as I think eLogii was still fairly new to the market, however, after a few bug resolves later, the platform is great. Compared to the competition... there is almost no competition.
Reactie eLogii
2 jaar geleden
Dear Richard, Thank you for your review, your support is very much appreciated! We value your feedback, and as always, are committed to continually developing our platform further and providing our customers with the best possible solution in the market. Kind Regards, eLogii Team