LeanMail
Wat is LeanMail?
LeanMail brings relief for Microsoft Outlook users who have tried everything to keep their inbox organized but have given up, as well as an upgrade for those who already have a good method but want
Meer informatie
more and better tools. Those who are looking for ways of battling spam will be especially interested in Inbox480.
Minder informatie
Wie gebruikt LeanMail?
LeanMail is the inbox productivity solution for those who strive to be as efficient and effective as possible. There is simply no better way to be in control your Outlook inbox.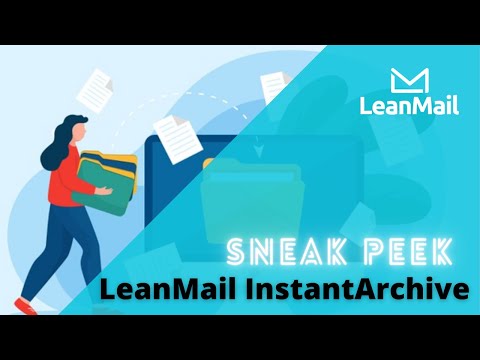 Twijfel je over LeanMail? Vergelijk met een populair alternatief
Gratis versie
Gratis proefversie
Gratis versie
Gratis proefversie
Waarom krijg ik dit te zien?
Alternatieven voor LeanMail
Eric
Director in Ierland
Geverifieerde LinkedIn-gebruiker
Computersoftware, Zelfstandig ondernemer
Heeft de software gebruikt voor: Gratis proef
Life changing management of emails
Opmerkingen: Great live support and training from real experienced people.
I have changed my email management following a proven successful process.
The installation, training and use of the options are so beneficial, I would recommend to everyone to adopt this change.
Pluspunten:
This tool integrated my email system very smoothly to revolutionise my email management. I now so confident that I will not miss any actions to take, loose any step. It is the best way to manage my emails. The training that is included is really easy to follow from a team that supports me every step of the way.
Minpunten:
No complaints, like any change, it took some transformation (dropping bad habits mostly) and take a leap of faith that paid off in spades.
Reactie LeanMail
7 maanden geleden
Thank you for your fine review Eric. The team is cheering you on!
Informatietechnologie en -diensten, 51-200 werknemers
Heeft de software gebruikt voor: 2+ jaar
I know what I need to take care of
Opmerkingen: Leanmail has been a great tool for many years now. I am able to manage my mailbox and keep it very clean so that I don't forget items that need to be taken care and prioritize my day.
Seeing only 10-20 total emails throughout the day in my total inbox is such a stress reliever.
Pluspunten:
Quick Prioritization and setting Next Action elements
Minpunten:
When working on Today's mail, it would be great to have another priority or two. For example, I have a couple of high priority items, and a few normal items. I will take an action step but then I need to wait on a response, so I don't want to move it to the next day, because I want to reach out to the person I am waiting on a response from again before the end of the business day. So, a hack I do is add an "x" in the My Priority feild, so that it pushes that email to the bottom, so I don't continually see it in my list of emails that I have not taken the next step for that day. Hopefully, I am being clear.
Reactie LeanMail
9 maanden geleden
Thank you for great the review, Tony. Remember that you can use the "P" priority (P for Personal) as a third option.
Tonino
Operational Excellence & Strategy manager in Italië
Automotive, 10.000+ werknemers
Heeft de software gebruikt voor: 1-5 maanden
LeanMail experience 2022
Opmerkingen: it is fine
Pluspunten:
at the moment the email organization based on my priority
Minpunten:
at the moment nothing because i need to use it more intensive... i dont know yet all the functionality
Reactie LeanMail
8 maanden geleden
Thank you for your review Tonino. Be sure to visit the YouTube channel in the LeanMail drop down where you can find videos about all the functionality. You also have access to free eLearning, and of course you can get free coaching any time by contacting us.
Julie
Site Manager in Denemarken
Facilitaire diensten, 10.000+ werknemers
Heeft de software gebruikt voor: 2+ jaar
Taskmaster!
Opmerkingen: The onboarding was great. Getting comfortable with the new way of working was easier with the help of Esther. My daily work is a lot smoother now and LeanMail helps me a lot with organizing, prioritizing and planning my work. I recommend everyone to add this to their mailbox.
Pluspunten:
The ability to plan my daily tasks/emails makes my day a lot easier. Also the archiving feature is helping me a great deal. Keeping my documents organized.
Minpunten:
There is nothing I do not like.........
Reactie LeanMail
4 maanden geleden
Thanks so much for the great recommendation, Julie. Much appreciated!
Informatiediensten, 2-10 werknemers
Heeft de software gebruikt voor: 2+ jaar
Great time-saver
Opmerkingen: It's a game-changer, really. Once you get the hang of it you'll never go back to what you did before. And if you stumble along the way, friendly LeanMail staff will follow up and help you get back on track. Getting started and understanding the process will take a little effort on your part, but once you've adapted to it you'll be amazed so few people have picked up on it. In 10 years this is how all managers will be managing their written communications.
Pluspunten:
Seamlessly integrates into Microsoft Outlook and enhances it by putting existing features front-and-center, while also adding new valuable features to boost email productivity.
Minpunten:
Learning curve is a bit steep. But hang on - it's well worth it in the end!
Reactie LeanMail
9 maanden geleden
Dear Jesper, thank you very much for the positive, frank review. You have been an important contributor to our success for over a decade and a half. Thank you again for all your feedback, and keep it comin'!