Wat is Librestream Onsight?
Librestream transforms workforces with AR & AI- enabled knowledge networks for safer, more efficient & resilient workforces. Librestream's Onsight solution is the leading augmented reality platform, built for industrial enterprises & deployed in 193 countries, on 6 continents, & supports translations in 27 languages. Compatible with existing workflows and ecosystems, Onsight provides immediate access to the content, people, relevant data, & guidance needed — in any environment & on any device.
Wie gebruikt Librestream Onsight?
Enterprises in manufacturing and heavy equipment, oil & gas, utilities, renewable energy, test inspection and certification services, aerospace and defense, and mining.
Waar kan Librestream Onsight worden geïmplementeerd?
Cloud, SaaS, Web, Windows (desktop), Linux (desktop), Windows (lokaal), Chromebook (desktop), Android (mobiel), iPhone (mobiel), iPad (mobiel)
Over de leverancier
door Librestream Technologies
Opgericht in 2003
24/7 (contact met medewerker)
Chatten
Beschikbaar in deze landen
Albanië, Algerije, Amerikaanse Maagdeneilanden, Angola, Antigua en Barbuda en nog 177 andere
Over de leverancier
door Librestream Technologies
Opgericht in 2003
24/7 (contact met medewerker)
Chatten
Beschikbaar in deze landen
Albanië, Algerije, Amerikaanse Maagdeneilanden, Angola, Antigua en Barbuda en nog 177 andere
Video's en afbeeldingen van Librestream Onsight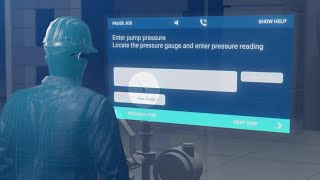 Vergelijk de kosten van Librestream Onsight met soortgelijke producten
Vanaf
N.v.t
US$ 12,85/maand
US$ 588,00/jaar
US$ 300,00/maand
Functies van Librestream Onsight
3D-objecten
API
Aangepaste ontwikkeling
Aanpasbare branding
Aanpasbare sjablonen
Activiteitendashboard
Afbeeldingenbibliotheek
Beheer van klantervaringen
Chatten/messaging
Content maken
Contentbeheer
Contentbibliotheek
Documentbeheer
Eenmalige aanmelding
Gebruikersbeheer
Gegevens importeren en exporteren
Gemengd leren
Integratie van sociale media
Integraties van derden
Interactieve inhoud
Marketing via meerdere kanalen
Modellering en simulatie
Multi-apparaat uitrolmogelijkheden
Multimedia-ondersteuning
Offertes
Ondersteuning voor meerdere indelingen
Op rollen gebaseerde toestemmingen
Over elkaar gelegde objecten
Predictieve analyse
Prognose
Projectsjablonen
Rapportage en analyse
Rapportage en statistieken
Realtime gegevens
Samenwerkingstools
Schattingen
Slepen en neerzetten
Softwareontwikkeling
Tegen een achtergrond gebaseerd op de echte wereld
Toegang en controle op afstand
Toegangsopties/machtigingen
Tweewegs audio en video
Video-ondersteuning
Video-oproepen opnemen
Videostreaming
Virtual reality
Volgen en analyseren van gebruik
Voor training/opleidingen
Voor verkoop/marketing
Workflowbeheer
API
Aanpasbare formulieren
Aanpasbare rapporten
Aanpasbare sjablonen
Aanpasbare velden
Aansturing van onderaannemers
Activiteiten volgen
Activiteitendashboard
Afsprakenbeheer
Apparatuur bijhouden
Auditbeheer
Audittrail
Beeldregistratie
Bewaking
Bijhouden van mislukte inspecties
Code afdwingen
Compliancebeheer
Corrigerende en preventieve maatregelen (CAPA)
Digitale handtekening
Documentbeheer
Documenten opslaan
Elektronische handtekening
Formulierbeheer
Gegevens importeren en exporteren
Incidentenbeheer
Inspectiebeheer
Integraties van derden
Klantendatabase
Mobiele toegang
Offline toegang
Onderhoudsplanning
Rapportage en analyse
Rapportage en statistieken
Rapportsjablonen
Realtime gegevens
Realtime meldingen
Realtime rapportage
Realtime updates
Risicobeoordeling
Sjabloonbeheer
Slepen en neerzetten
Status bijhouden
Streepjescodes en tickets scannen
Taakbeheer
Taakplanning
Trainingsbeheer
Verzendbeheer
Waarschuwingen/Meldingen
Werkorderbeheer
Workflowbeheer
API
Aanpasbare branding
Aanpasbare rapporten
Activiteiten volgen
Activiteitendashboard
Auditbeheer
Audittrail
Authenticatie in twee stappen
Beheer van supporttickets
Bestanden delen
Bestandsoverdracht
Beveiligd aanmelden
Bewaking
CRM
Chatten/messaging
Communicatie via meerdere kanalen
Communicatiebeheer
Compliancebeheer
Controle en beheer op afstand
Diagnostische hulpmiddelen
Eenmalige aanmelding
Enquêtes en feedback
Gebruikersbeheer
Integraties van derden
Live chatten
Meerdere gebruikersaccounts
Onbeheerde toegang
Overzichtsrapporten
Prestatiemeetwaarden
Rapportage en analyse
Rapportage en statistieken
Realtime chatten
Realtime controle
Realtime gegevens
Realtime meldingen
Realtime updates
SSL-beveiliging
Samenwerkingstools
Scherm delen
Servercontrole
Sessieoverdracht
Sessies opnemen
Toegang en controle op afstand
Toegangsopties/machtigingen
Tweewegs audio en video
Update en installatie op afstand
Video-ondersteuning
Videovergaderen
Workflowbeheer
Zelfserviceportal
Bekijk de volledige lijst van Software voor ondersteuning op afstand
Geverifieerde reviewer
System Engineer in VS
Geverifieerde LinkedIn-gebruiker
Lucht- en ruimtevaart, 10.000+ werknemers
Heeft de software gebruikt voor: 2+ jaar
Changing Customer Support with Onsight
Opmerkingen: Overall I am very pleased with the results our organization has had with using Onsight. The members of the Librestream team work very hard to ensure that the Onsight experience is good every time the app is used. When there are questions they are very prompt in answering. The training staff is always ready to step in and assist when needed. On the occasions that I have met with the team from Librestream I have always come away impressed with their customer focus.
Pluspunten:
Onsight by Librestream is a very well designed product that is easy to use right out of the box. My colleagues and I have deployed this technology to various locations around the world with good results. When I need a person in the field to use Onsight it is a simple of matter of an email and a phone call to have them up and running. The people in the field that are using Onsight for our organization vary in computer/phone skill level and none of them have had any issues in setting up and running Onsight. The low bandwidth capapbility is an outstanding feature giving us more access to our customer in remote locations. One of the best things is the app is the person field does not have to have another tool to use Onsight. Having said that, the accessories, the Cube and the Hub, are excellent add-ons to the basic Onsight set up. This app is a game changer for supporting our customers in the field as we can communicate real time driving faster repairs returning the customer's equipment back to service sooner. In our work with Onsight we have integrated the Hub with UniWest's EVi, and the Grey Gecko Real Time Inspection tool.
Minpunten:
I really do not have any problems with Onsight or issues with any of the functions.
Stewart W.
Digital Transformation Manager in VK
Olie en energie, 1.001-5.000 werknemers
Heeft de software gebruikt voor: 1-5 maanden
Onsight for Remote Digital Inspections
Opmerkingen: Overall or experience has been very good. We had a situation recently where an inspection was able to take place at a remote site with social distancing measures put in place. A company nspector and representative from the end-client would be present to witness the testing activities. Although a local inspector could attend, client project representatives were unable to travel to the site, so the Onsight solution was selected so everyone could still virtually attend.
Pluspunten:
There are a couple of areas within the solution which I personally liked. 1. Ease and pace to get this installed. We were up and running within a few days of raising the PO 2. The software offers several unique features above the other applications we considered which lends itself to the higher criticality types of jobs we undertake e.g. ability to take detailed photographs, even on a lower quality line. Ability to annotate on photographs and the ability to share these to all parties on the call. 3. The guest license feature has been invaluable to the way in which we work
Minpunten:
There are a few areas of the solution which hampered us in its use: 1. Restriction of only having 2 people on a call when initiated from a mobile device (phone/tablet) 2. Additional costs for online storage capabilities. If this could be redirected to our own cloud solutions that would really help 3. Some of our end users operate with Macbooks and there is no software available for this
Geverifieerde reviewer
Marketing & promotion manager in Frankrijk
Geverifieerde LinkedIn-gebruiker
Luchtvaart(maatschappijen), 5.001-10.000 werknemers
Heeft de software gebruikt voor: 2+ jaar
Onsight meets our expectations and improves customer satisfaction
Opmerkingen: Our overall experience is good. The tool allows us to improve the reactivity of our technicians. To improve the relationship with our customers and their satisfaction by responding quickly and easily to their needs. It saves time for our customers and our technicians.
Pluspunten:
Onsight is very easy to use and easy to learn. Our technicians use it with our customers without any problem. The features of telestration and document sharing during live video are very useful. This makes it possible to respond very quickly to customer needs. Compatibility with endoscopes and connected glasses is a big added value in our industry.
Minpunten:
There is no difficulty in using the tool, but I think it lacks some features to further improve the user experience. Sharing files in .pdf format is not possible, which can be a problem with some of our documents. It lacks a chat feature, if we just want to exchange quickly, like on a network like Whatsapp or messenger, text information. It is possible to record the session in video format, but the file format is only readable by Onsight, so it cannot be reused outside the application.
Norman H.
SVP, Complex Claims in VS
Verzekeringen, 1.001-5.000 werknemers
Heeft de software gebruikt voor: 2+ jaar
Security, flexiblity and forward thinking
Opmerkingen: Our objective in using a virtual collaboration solution was first to improve the customer experience with regard to equipment insurance claims. Soon after claim reporting, we are able to connect with the customer remotely to get a view of the damage and discuss how the coverage can respond. The customer is engaged as they don't have to wait for us to coordinate a visit and they are able to direct us to what they believe is important for us to see. Beyond being part of the process, the customer gets an assessment much sooner allowing them to make informed decisions. Beyond customer experience, using this technology allows us to better control travel costs and to triage damage in the event that we still need to get on-site.
Pluspunten:
Librestream's application is key for our goal to continually enhance the customer experience. It allows us to interact and collaborate with customers to reach a mutual understanding in a more efficient way. We can control costs by reducing travel while being able to engage with customers sooner and when it is typically more convenient for them. The solution has been developed with security in mind and is very adaptable for the available bandwidth. The Librestream team is committed to helping users succeed and is open to recommendations to make the application work for the user. Excited by their vision of integrating new functionality including potential augmented reality and IoT.
Minpunten:
We use the application almost exclusively to connect with our customers (guests). We send them an invite from which they must download the application, click on a link and then point the device at the item at issue. An ideal solution would be to eliminate the need to download the application. However, we understand that it could reduce security and some underlying data capture. With that in mind, we are not willing to sacrifice for a little more convenience. Another pain point maintaining connection if the customer's device is unable to get a signal. Librestream's application is very adaptable to very low bit rate environments. But when we are unable to collaborate due to low connectivity, we have asked them to explore allowing us to toggle the customer's instance to allow them to record video for future upload. While not possible for us today, I am confident that Librestream's team will make it happen if they are able.
Olie en energie, Zelfstandig ondernemer
Heeft de software gebruikt voor: 2+ jaar
Onsight from Librestream performed where it was needed most
Opmerkingen: The experience with Librestream in supporting us was excellent. Tech support, to sales support, to overall interaction with the company was all good. We didn't need a lot of any of that, but when we did, they were very responsive.
Pluspunten:
The ability for the software to handle low connection speeds was paramount to being able to provide live video for remote expert collaboration. Before I continue, let me clarify my position and use. I took an early retirement from NOV in August 2019 where I evaluated, used, and established the use of this software in Aftermarket and other groups within NOV. I continue to use the software in a consulting role. Okay, as to handling connection speeds or bandwidth. While a service tech may have a great connection close to a WiFi access point, as they move around areas and machinery, there will be less than desirable speeds to the WiFi connection. You want software that can handle those lower speeds without dropping the call. Onsight is excellent at maintaining continuity as those speeds go up an down. For the oil patch, keeping the connection provides a confidence in the rest of the remote support function. This was the top feature for us. Of course, being able to have multiple people on the call and allowing shared audio and video was at the top of the feature list once you could reliably get and keep a connection. Librestream also provided a way to document what was done, as well as an electronic form to allow anyone unfamiliar with a task to step through the task as well. This allowed us to put people in the field that may have had limited experience in some areas, knowing that they had a support team behind them and a set of instructions detailing the work.
Minpunten:
To be honest, there was very little that was a downside. I suppose one feature that would be useful would be to see who had Onsight active if you needed to make a call. We never just called, but set up the remote session prior so that the right people were available, or could be notified to be available. Other than that, there wasn't "least" about it.