Wat is Dynamics 365 Business Central?
Microsoft Dynamics 365 Business Central is een uitgebreide oplossing voor bedrijfsmanagement, ontworpen voor kleine tot middelgrote bedrijven. De software biedt functies voor financiële prognoses en rapportage, supply chain-optimalisatie en projectplanning en -volging.
Wie gebruikt Dynamics 365 Business Central?
Het is ontworpen voor kleine en middelgrote bedrijven en is een oplossing voor bedrijfsbeheer die de financiële prestaties in realtime in kaart brengt, de productiecapaciteit optimaliseert en prioriteit geeft aan verkoopleads.
Waar kan Dynamics 365 Business Central worden geïmplementeerd?
Cloud, SaaS, Web, Mac (desktop), Windows (desktop), Windows (lokaal), Linux (lokaal), Android (mobiel), iPhone (mobiel), iPad (mobiel)
Over de leverancier
Microsoft
Gevestigd in Middletown, VS
Opgericht in 1975
Telefonische ondersteuning
Chatten
Over de leverancier
Microsoft
Gevestigd in Middletown, VS
Opgericht in 1975
Telefonische ondersteuning
Chatten
Video's en afbeeldingen van Dynamics 365 Business Central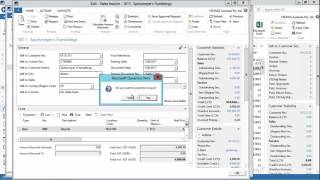 Vergelijk de kosten van Dynamics 365 Business Central met soortgelijke producten
Functies van Dynamics 365 Business Central
Beheer van vaste activa
Budgetbeheer
Budgettering/prognoses
CRM
Cashbeheer
Centrale boekhouding
Consolidering/rollup
Crediteuren
Dashboard
Debiteuren
Factureren
Financieel beheer
Financiële verslaglegging
Grootboek
HR-beheer
Inkoop en ontvangst
Magazijnbeheer
Meerdere valuta's
Mobiele app
Orderbeheer
Personeelsbeheer
Prestatiemeetwaarden
Rapportage en analyse
Rapportage/projecten volgen
Supply-chainbeheer
Taakbeheer
Toetsing van bankgegevens
Verkoopprognose
Voorraadbeheer
Alternatieven voor Dynamics 365 Business Central
Reviews over Dynamics 365 Business Central
Ron V.
Technical Consultant in Nederland
Geverifieerde LinkedIn-gebruiker
Computersoftware, 1.001-5.000 werknemers
Heeft de software gebruikt voor: 2+ jaar
Great ERP software with great integrations
Opmerkingen: I have been working with Dynamics NAV and Business Central for almost 4 years now, as a technical consultant. I install and implement BC on regular basis.
Also I support customers with technical issues around Business Cental, which I love to do.
The possibilities with BC are endless.
Pluspunten:
As a technical consultant, who installs and implements Microsoft Dynamics Business Central I find the integrations with all Microsoft's Azure applications a big plus. Seamless integration with Microsoft's Flow, PowerApps, Outlook, etc work very well.
Minpunten:
There USED to be some disadvantages of Business Central, because for a long time Microsoft wasn't clear what course they would go. But now the course is set to the cloud (Azure) and I think that is the only way to go.
Geverifieerde reviewer
Managing Director in Kenia
Geverifieerde LinkedIn-gebruiker
Informatietechnologie en -diensten, 2-10 werknemers
Heeft de software gebruikt voor: 1+ jaar
Overwogen alternatieven:
Best ERP software so far
Opmerkingen: The procurement process has been made easier.
Our asset management is now on point.
The human resource management especially the payroll management bit is awesome.
Pluspunten:
Dynamics 365 BC has a variety of tools including the procurement module, human resource module, and the finance module. It has a interface that is user friendly and easy to use. It's workflows are outstanding and carrying out an activity from one end to another is made easy. With the workflows, at least a track can be made on the movement of activities carried out in the system. The ability to generate reports is a plus which is also easy. Another good feature is that it can be customized to accommodate the user needs. It is also compatible with Microsoft Excel such that one can export and import data between the two.
Minpunten:
At first, you will need some practice on how to manage it to avoid messing up with your crucial data. Another issue is that running many processes at once can slow it down and this will force you to wait longer.
Heeft de software gebruikt voor: Niet verstrekt
Bron: SoftwareAdvice
Opmerkingen: I have worked in the supply chain for 5 years now and have experience with 3 different ERP's. Our old ERP was limiting, though it was also fairly straight forward. The biggest issue seemed to be how incredibly date sensitive how ever without requiring dates at the same time. This pushed the change to a new ERP and Microsoft NAV was chosen through their partner company Just Foods. A truly bizarre system, the flow of documentation through the program makes little sense and over complicates what would normally be easy transactions. For instance Purchase Orders follow this document flow - First the purchase order is created once you receive your order, a warehouse receipt document is created and received in. However, once it is received in the warehouse, the receipt document disappears and becomes a posted receipt document (both have completely different document numbers that don't connect to each other). At this point your original Purchase order has been changed to reflect what ever was received in, and you have to have a second column to view what you originally ordered. Otherwise, figuring out if you over or under received is difficult at best. Now once the invoice comes in and is posted against the posted warehouse document, your purchase order disappears. The only place your purchase order exists in its original form is the in Purchase order Archive, which was never mentioned to us during implementation, forcing us to call Just Foods later on and pay for their customer service. This same, strange flow of documents, that are essentially intermediary documents only existing to complete a transaction, over complicate what should be a straight forward shipping and receiving process. There are some other basic functionality issues, like figuring out what day you actually shipped or received an item. The easiest way to figure that out seems to require access to the warehouse functionality, which you may or may not want people to have. We get a lot of errors where the tables are locked with other users, and you are just stuck until the report or other person finishes up. The Dimensions on lines can mysteriously disappear, even though the G/L Code and Department code show as filled out in the order. Our MRP has never worked correctly, so in general, we are forced to use Excel to put together our production schedule. All in all, its a sub-par program that you can tell is 5 or 6 different original programs that have been slapped together to try an resemble an ERP system. Now having said all that, obviously I am looking at this from a supply chain perspective as it is what I do. Perhaps on the accounting end it has some ease of use, but due to how difficult it is to understand on the operations end, the accounting rarely comes out correct due to faulty information in the system. On the positive side there do seem to be a million different ways to do the same thing in NAV, and many of the built in reports are extremely useful assuming that the information in the system is correct.
Geverifieerde reviewer
Selbstständig in Duitsland
Geverifieerde LinkedIn-gebruiker
Logistiek en toeleveringsketen, 2-10 werknemers
Heeft de software gebruikt voor: 1+ jaar
Bron: GetApp
Sehr gut,....und sehr teuer
Opmerkingen: Man sollte sich im Vorfeld schon ziemlich genau mit Business Central beschäftigen. Ausserdem sollte das Budget anfangs sehr großzügig ausfallen. Die Auswahl eines guten Systemhauses ist unabdingbar.
Wenn alles gut läuft, bekommt man dann aber eine Software, welche im täglichen Einsatz voll zu überzeugen weiss.
Pluspunten:
Mit dem passendem Systemhaus, guten Nerven und einem üppigen Budget lässt sich ein begeisterndes ERP zaubern. Anpassungen und Optimierungen sind nahezu keine Grenzen gesetzt,...für mehr Produktivität bei allen Abläufen. Wir konnten in allen Bereichen enorme Zeitersparnis erzielen. Die Arbeitsgeschwindigkeit ist ebenfalls überragend. Darüber hinaus arbeiten wir wesentlich präziser. Kunden, Lieferanten und Partner sind begeistert.
Minpunten:
"Out of the box" geht hier gar nichts. Nahezu alles muss angelegt, eingerichtet und definiert werden. Darüber hinaus fällt es anfangs sehr schwer, den Umfang und die Systematik von Business Central einzuschätzen. Wir kamen von einem "geschlossenen" System, bei dem man nach Eingabe der Stammdaten eigentlich direkt loslegen konnte. Dies funktioniert hier nicht. Im Ergebnis führt das zu viel Stress und hohen Kosten für die Entwicklung. Die ersten Wochen und Monate nach dem "live" sind echt nicht lustig.
Chris D.
Financial Planner in VS
Financiële dienstverlening, 2-10 werknemers
Heeft de software gebruikt voor: 2+ jaar
Msft Dynamics as a CRM - there are other options
Opmerkingen: I think overall its a pretty solid software that if customizable would probably be one of my go to CRM recommendations.
Pluspunten:
I did like it's functionality with Outlook and other msft applications. There was little need to reorder things when exporting to excel and all that.
Minpunten:
I did find the lack of customizability of the software to be frustrating. It appeared that there were only pre-populated choices from a drop down list for most things, many of which did not fit what i was trying to label. Now, this could have been a byproduct of my companies enterprise subscription with dynamics, i am not sure.