Wat is Guider?
Guider geeft iedereen toegang tot de loopbaanontwikkeling die ze verdienen. Het AI-matchingalgoritme verbindt gebruikers met geweldige mentoren in hun organisatie en creëert zo schaalbare leerculturen binnen ondernemingen.
In het tijdperk van digitale transformatie ondersteunt Guider teams op afstand door mentor- en coachingprogramma's volledig virtueel te maken.
Dankzij de snelle installatie, minimale administratie en indrukwekkende resultaten is Guider een uitstekende keuze voor mentoring in ondernemingen.
Wie gebruikt Guider?
Ondernemingen die een revolutie willen ontketenen in de manier waarop ze hun mensen ondersteunen en ontwikkelen.
Waar kan Guider worden geïmplementeerd?
Cloud, SaaS, Web, Mac (desktop), Windows (desktop), Linux (desktop), Chromebook (desktop), Android (mobiel), iPhone (mobiel), iPad (mobiel)
Over de leverancier
door Guider Global
Opgericht in 2017
Telefonische ondersteuning
Chatten
Beschikbaar in deze landen
Frankrijk, Verenigd Koninkrijk
Talen
Niet door leverancier verstrekt
Over de leverancier
door Guider Global
Opgericht in 2017
Telefonische ondersteuning
Chatten
Beschikbaar in deze landen
Frankrijk, Verenigd Koninkrijk
Talen
Niet door leverancier verstrekt
Video's en afbeeldingen van Guider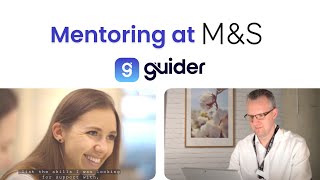 Vergelijk de kosten van Guider met soortgelijke producten
Vanaf
N.v.t
US$ 5.000,00/jaar
N.v.t
N.v.t
Functies van Guider
API
Aanpasbare branding
Aanpasbare formulieren
Aanpasbare rapporten
Aanpasbare sjablonen
Activiteiten volgen
Activiteitenbeheer
Activiteitendashboard
Afspraakplanning
Afsprakenbeheer
Afstemmen en samenvoegen
Beheer van enquêtes/peilingen
Bewaking
Chatten/messaging
Communicatiebeheer
Contentbibliotheek
Curriculumbeheer
Deelnemersprofielen
Doelen stellen en bijhouden
E-mailbeheer
E-mailherinneringen
Eenmalige aanmelding
Engagement tracking
Enquêtes en feedback
Feedbackbeheer
Geautomatiseerde planning
Herinneringen
Inschrijving/onboarding
Integraties van derden
Kalenderbeheer
Kalendersynchronisatie
Klantenbeheer
Leermanagement
Live chatten
Matching op basis van AI
Mentoring program management
Opdrachtenbeheer
Overzichtsrapporten
Personalisatie
Personeelsbeheer
Prestatiebeheer
Programmaevaluatie
Rapportage en statistieken
Scores en reviews
Trainingsbeheer
Volgen van actie-items
Voortgang bijhouden
Waarschuwingen/Meldingen
Zelfserviceportal
Zoeken naar de juiste mentor/coach
Stefania C.
Employment services associate in Canada
Geverifieerde LinkedIn-gebruiker
Human Resources, 10.000+ werknemers
Heeft de software gebruikt voor: 1-5 maanden
Mentorship done right
Opmerkingen: The entire program was easy to use and the feedback was outstan4
Pluspunten:
The entire experience was wonderful. It aided me with running my mentorship program, the interface and UX design allowed for the program to be accessible to all applicants. It saved me time on having to do all the background admin work to set up and maintain.
Minpunten:
No cons! The product is outstanding and I highly recommend it
Naomi B.
Sr Digital Learning & Platforms Advisor in VK
Rechtspraktijk, 1.001-5.000 werknemers
Heeft de software gebruikt voor: 6-12 maanden
Fantastic platform and amazing team at Guider
Opmerkingen: Overall it has been a great experience working with the Guider team and starting to see the platform in action! I would highly recommend Guider to any organisation. It is a great product that is continually being improved and the team are very friendly, helpful and great to work with.
Pluspunten:
It is an absolutely brilliant way to connect people across a global firm for mentoring. The AI behind the matching is really great - people are often surprised but really pleased about who they get matched with, especially as it tends to be someone you probably never would have met otherwise and get to see a different perspective of the firm. Creates more of an inclusive mentoring opportunity with everyone in the firm having equal access to a mentor, not based upon who you know in your cicles. The team and support with Guider are amazing and really work alongside us to continually improve the experience! The guidance and resources built into the flow of the platform and the mentoring relationship It is really easy to use, clean design and very user-friendly
Minpunten:
If you don't have Outlook and Teams integration the experience isn't the greatest for as the mentors have to do so much more manually, especially when working with people with very low tech skills. I wish we had a bit more behind the scenes admin access to help people when they are struggling with setting up their profiles or logging a connection (this is to help the small population, sometimes very senior, who are quite challenged with technology, as in general it is actually quite intuitive)
Reactie Guider Global
7 maanden geleden
Thank you Naomi! So excited to see mentoring growing at the firm with Guider
Max B.
Chief of Staff in Spanje
Geverifieerde LinkedIn-gebruiker
Informatiediensten, 51-200 werknemers
Heeft de software gebruikt voor: 1-5 maanden
Huge thanks to the Guider Team
Opmerkingen: The Guider team were fantastic to work with: helpful, friendly and knowledgeable about their product. They set up our programme rapidly, were always available to receive feedback and provide guidance, and I have no doubt they'll see major success in the future.
Pluspunten:
The matchmaking element of the software was incredibly helpful in automating our mentoring programme; with 80+ mentors and 70+ mentees, facilitating the matchmaking manually would have been a real pain point, and the automated nature of Guider freed up time to focus on engaging with mentors and mentees and gathering feedback.
Minpunten:
The lack of back end was frustrating – the Guider team were helpful in setting up a Google Data Studio, but this was limited by the data displayed, and at times it felt we had limited visibility into the programme on an ongoing basis.
Phil R.
Associate Director in VK
Commercieel vastgoed, 5.001-10.000 werknemers
Heeft de software gebruikt voor: 1+ jaar
Best learning tool by a mile
Opmerkingen: Not to repeat myself here but the outcome was better than expected. As mention, got promoted, built network, improved some of my soft skills and was cool to give back and share my knowledge by being a mentor too
Pluspunten:
Finally something that has real impact. The software was not only easy to sign up, but has completely changed my career. First started as a mentee and it paired me with a mentor better than I expected. She was actually in another country and couldn't have met without this platform. Then about 8 months ago they released a new feature to let us be both a mentee and a mentor and as they have been helping me become a mentor while being a mentee I am now a mentor too, which is nice to give back. I've never bothered with the other learning tools we are given but Guider is the only platform that has directly got me promoted and allowed me to build my network. Great job guys and Kudos to the L&D team too!
Minpunten:
None. Loved it, something I use most months
Reactie Guider Global
vorig jaar
This is so great to hear thanks Phil!
Guy W.
Senior Digital Learning & Platforms Manager in VK
Rechtspraktijk, 1.001-5.000 werknemers
Heeft de software gebruikt voor: 1-5 maanden
Taking mentoring to the next level
Opmerkingen: Very good. They listen to our feedback and have proactively worked towards enhancing the product in upcoming releases. This partnership approach gives us great confidence as we scale mentoring across all our global locations across six continents.
Pluspunten:
I like the fact Guider focussed entirely on mentoring. It does not try to add unnecessary features that add complexity or overlap with other systems. Guider has a simple clean user interface and is therefore easy to use and for people to adopt. I like the fact we can direct our employees to a single destination to find out more about mentoring, find a match, track their interactions and receive timely support throughout the process. It brings structure and scale to our mentoring activities; making it very easy to participate and connect with people outside of your network, all around the world.
Minpunten:
We are looking forward to the MS Exchange/Calendar integration - this will massively enhance the session booking process. Whilst it is possible to do manually, it puts great reliance on individuals to stay on top of their administration. Technology can definitely support and enhance the manual availability sharing process - so we are looking forward to taking advantage of the Guider calendar integration soon.