Wat is Gurucan?
A platform for creators who sell online courses, memberships, digital downloads, webinars & cohort based courses.
Gurucan is a workspace to create products, collect payments, manage students and provide access to the digital products on both web & mobile apps.
Wie gebruikt Gurucan?
Solopreneurs and SMB online businesses that care about their online brand and student's learning experience. Gurucan mobile apps are modern, sleek and highly customizable.
Waar kan Gurucan worden geïmplementeerd?
Cloud, SaaS, Web, Android (mobiel), iPhone (mobiel), iPad (mobiel)
Over de leverancier
Gurucan
Opgericht in 2019
Chatten
Beschikbaar in deze landen
Albanië, Amerikaanse Maagdeneilanden, Andorra, Anguilla, Antigua en Barbuda en nog 115 andere
Over de leverancier
Gurucan
Opgericht in 2019
Chatten
Beschikbaar in deze landen
Albanië, Amerikaanse Maagdeneilanden, Andorra, Anguilla, Antigua en Barbuda en nog 115 andere
Video's en afbeeldingen van Gurucan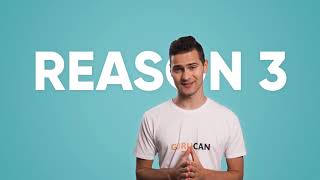 Vergelijk de kosten van Gurucan met soortgelijke producten
Functies van Gurucan
Asynchroon leren
Cursusbeheer
Cursussen bijhouden
Gemengd leren
Geïntegreerd systeem voor maken van cursussen
Mobiel leren
Portal voor leerlingen
Sociaal leren
Tests en beoordelingen
Alternatieven voor Gurucan
Yann I.
Consultant in Finland
Geverifieerde LinkedIn-gebruiker
Online media, Zelfstandig ondernemer
Heeft de software gebruikt voor: 1-5 maanden
THE online platform for all of my courses and teaching resources
Opmerkingen: So far, I'm really satisfied with my experience with Gurucan. I finally have a platform I can use to house all of my courses, memberships, etc... and I've seen in the roadmap that there are more options coming – like the ability to sell eBooks and similar. The platform has a lot to offer and I'm sure that, with a few tweaks and addition, is going to become a name you'll be hearing over and over again in the LMS and online course platform space.
Pluspunten:
There are a few things I really like about Gurucan. Firstly, the fact that it enables you to create and sell a wide variety of products, such as courses, challenges and membership sites, as well as host webinars. I had been using different platforms to offer each of them, so it was great to be able to gather everything "under the same roof". Another thing that, in my opinion, make Gurucan stand out is its smartphone app. How cool does it feel to be able to offer access to a course, membership site, etc. through an actual app?? And you don't need to be a coding wizard in order to be able to use the app – or the Gurucan platform overall, for that matter! Speaking of hosting everything on one platform, many learning management systems and platforms give you the option to send emails to students...but set up actual automation that are triggered once certain parameters are met? Very useful! And since most people, nowadays, have a smartphone, Gurucan's chat feature will make sure that each message we want to send to students is seen and open (since you can send push notifications too).
Minpunten:
Gurucan is a growing platform so I'm sure that these two points will be addressed soon. First, the fact that you need to create various elements – for example a course, an offer, a chat for the specific course and a landing page – separately. It would be great if Gurucan would enable you to just create an element, let's say a course, and choose to automatically create everything else (offer, chat, etc.) for it. The second point that I'm sure will be worked on quite soon is the limited course and landing page builder. I think that certain features, like the ability to add columns to a section, should be included.
Robert C.
Owner in VS
Geverifieerde LinkedIn-gebruiker
Marketing en reclame, 2-10 werknemers
Heeft de software gebruikt voor: 1-5 maanden
Overwogen alternatieven:
What You Need Now & What You Will Need Tomorrow
Opmerkingen: It has been great from the beginning as support was there to answer question before I even purchased and has been there every step of the way when I've needed them since. I've had the pleasure of attending a Q&A and talking with [SENSITIVE CONTENT HIDDEN] and have gotten into detail with some of their future plans (available in their public roadmap). Right now this software is what I need to get going today but I can see the expansion and growth planned that will make it a powerful tool for tomorrow.
Pluspunten:
The software is one of the easiest to use in my opinion. It's very intuitive and I've already recommended it to some of our clients who have tried it and that's the same comment I get back..."It's so easy". When you're running a company and want to offer courses as one of your main goods, having to spend months creating content (especially if you do videos with editing) is already time consuming. Gurucan makes it easy to take all your pieces and make the final course you want to sell.
Minpunten:
I wish there were more design aspects we could control and a more robust GUI. I'd love to see something similar to what GetResponse or Mailchimp offers. What would be the most amazing is to get a WordPress style editor like Elementor or Divi or anything similar so we could make amazing emails, completely customized landing pages and so much more.
Francois B.
Freelance / Consultant in Frankrijk
Entertainment, Zelfstandig ondernemer
Heeft de software gebruikt voor: 1-5 maanden
Overwogen alternatieven:
New impressive player in the LMS field !
Opmerkingen: I need a mobile first LMS. Till late 2020, i was using Moodle web + the free Moodle mobile app. without being convinced (lack of features, useless complexity of architecture ...) i was trying LearnDash + AppPresser mobile app integration, when i saw Gurucan I created first a free trial account then i did buy a LifeTime Deal on Appsumo. I'm working right now on building my course I didn't try to publish my course online yet (not ready) but i tried the mobile app they provide as example I didn't try the marketing email feature cause i already have my own system based on Zapier + Gmass and/or Gmail and/or Inbox, with a great delivery score. I don't plan to use CRM feature neither cause i already use Hubspot .
Pluspunten:
The course structure is simple and they provide many tiny features to add to the courses like challenge or offers. The whole system is much more clearer than Moodle and set up is quicker than with LearnDash You can propulse a full course in 1 hour if your video or audio material is already available. I didn't publish my course online yet so i have not been able to try the mobile vesion yet. but i tried the mobile version of one of the Fitness & Yoga course they provide as example : UX is good, content is loading smoothly, experience is great. can't wait to send my students from Moodle to Gurucan.
Minpunten:
I needed some time to get used to UX after years using Learndash and Moodle : for instance i found myself doing many useless back and forth between screens at the beginning. But After one hour i was 100% used to Gurucan I faced some tiny bugs there and there but i'm sure they will be corrected in the next weeks.
Maria laura P.
Owner in Chili
Schoolleiding, 2-10 werknemers
Heeft de software gebruikt voor: 1+ jaar
GuruCan is what I always Wanted!
Opmerkingen: My experience has been very good, it is practical, professional and allowed me to give a better image to clients.
Pluspunten:
I love how easy it is to use despite not knowing programming
Minpunten:
For the sale of products is a little unfriendly
Virginie F.
Founder and coach in VK
Geverifieerde LinkedIn-gebruiker
Gezondheid, wellness en fitness, Zelfstandig ondernemer
Heeft de software gebruikt voor: 1-5 maanden
Overwogen alternatieven:
The functionality I needed, super easy set-up
Opmerkingen: I use Gurucan to host on-Demand recorded yoga and meditation classes organised by types and length of time- I use the "articles" function for that which works great as users can filter on type and length.
I also use it to host programs and courses- some that are just DYI, and some that are part of my coaching program to complement my clients' journey.
Gurucan has been super easy to set up and customise to fit my branding, and I've managed to transfer all my content from my Wordpress site pretty quickly.
The integrations with Stripe has made it super easy compared to my previous experience with Paid Membership Pro on my Wordpress site.
Customer support is really reactive and friendly, and provide great support and follow-up.
Pluspunten:
The set-up of the platform and that of my content was super easy. It's intuitive, easy to use and it looks great from my users' point of view.
Minpunten:
There are some really promising features that could be improved like the evergreen webinars and the email automations which I find confusing!