Wat is Stackby?
Business process management software that offers spreadsheets, databases and business APIs in a centralized work management platform.
Wie gebruikt Stackby?
Designed for organizations to plan, manage, and automate diverse types of work for small to large teams, enterprises, companies, SMB's, agencies, and more.
Waar kan Stackby worden geïmplementeerd?
Cloud, SaaS, Web, Mac (desktop), Windows (desktop), Android (mobiel), iPhone (mobiel), iPad (mobiel)
Over de leverancier
Relytree
Opgericht in 2018
24/7 (contact met medewerker)
Chatten
Beschikbaar in deze landen
Verenigde Staten
Over de leverancier
Relytree
Opgericht in 2018
24/7 (contact met medewerker)
Chatten
Beschikbaar in deze landen
Verenigde Staten
Video's en afbeeldingen van Stackby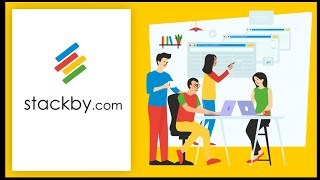 Vergelijk de kosten van Stackby met soortgelijke producten
Functies van Stackby
Aanpasbare sjablonen
Activiteit-/nieuwsfeed
Aggregeren en publiceren van gegevens
Automatisering van bedrijfsprocessen
Back-up en herstel
Beheer van vergaderingen
Bestanden delen
Bestandsbeheer
Budgetbeheer
Campagneanalytics
Campagneplanning
Communicatiebeheer
Contactenbeheer
Contactendatabase
Contentbeheer
Dashboard
Databaseconversie
Documentbeheer
Doelen stellen en bijhouden
Door gebeurtenissen geactiveerde acties
Enquêtes en feedback
Gegevensbeheer
Ideeënbeheer
Integratiebeheer
Integraties van derden
KPI-controle
Kalenderbeheer
Kanaalbeheer
Kanban-bord
Kennisbeheer
Klantenbeheer
Kleurcodes en -pictogrammen
Kosten van voltooiing bijhouden
Leads beheren
Markeren
Marketingkalender
Mediaplanning
Meerdere campagnes
Mijlpalen bijhouden
Mobiele toegang
Multichannel campagnes
No-code
Opmerkingen/notities
Percentage-voltooid bijhouden
Portefeuillebeheer
Priorisering
Procesmodellering en -ontwerp
Projectbeheer
Projectplanning
Publicatieplanning
Rapportage en analyse
Rapportage en statistieken
Rapportage/projecten volgen
Realtime bewerken
Resourcebeheer
Roadmapping
Samenwerkingstools
Sjablonen
Slepen en neerzetten
Staafdiagram
Subtaken maken
Taakbeheer
Taakplanning
Taakvoortgang bijhouden
Taken bewerken en bijwerken
Taken importeren
Taken labelen
Tijd bijhouden
Tijd en onkosten bijhouden
Toegang en controle op afstand
Toegangsopties/machtigingen
Uitgavenbeheer
Visueel workflowbeheer
Waarschuwingen/Meldingen
Workflowbeheer
Alternatieven voor Stackby
Paul L.
Co-Founder in Australië
Geverifieerde LinkedIn-gebruiker
Managementconsulting, 11-50 werknemers
Heeft de software gebruikt voor: 1-5 maanden
By far one of the the best of breed productivity tools to enter the market for a long time
Opmerkingen: Stackby has been super responsive and most importantly helpful and effective. When you get the customer experience right across the entire landscape the rest falls into place, and so far that's what these guys/gals have done.
Pluspunten:
Whether you want to organise data, create systems, keep track of your sales, your marketing, your business assets, and the use cases go on and on and on, this tool can help you achieve that. Also with the new Zapier (Beta) integration it opens up possibilities to bring data to and from the rest of your technology ecosystem. The two main use cases I've started using with Stackby are as a Digital Asset Management System (for my business and I've set up one of my clients in the same way ... they purchased multiple codes also) and as a Deal Management System for financial transactions. Given I'm in the PE/VC space I was pleasantly surprised that the system had relevant templates for this industry already out of the box, in addition to loads of other (what look like) very useful templates. I've poked around several and love how the one's I've checked out have been put together. It feels like whoever created them knows the requirements of the respective industries.
Minpunten:
Is it all fireworks and champagne? No. Not yet. There are a few functional things I've encountered that need improvement. The good news about this though is the company is super responsive and get's to work fast to solve stuff.
Jasmine M.
SMM in Albanië
Marketing en reclame, Zelfstandig ondernemer
Heeft de software gebruikt voor: 1-5 maanden
Overwogen alternatieven:
Stackby is great
Opmerkingen: So I've been researching different project/task management software as business is just wild right now. The app I was previously using simply doesn't have the functionality to hold up, and I tried Stackby and Airtable. While Airtable is an institution, Stackby is just as good in nearly every way, offering plenty of functions and customization, easy to learn to use, and great to keep up with. There's a few things that I want it to do that it's not doing yet, but I'm not sure whether that's because the program doesn't have the capability or because I simply haven't found it yet.
Pluspunten:
ease of use, functionality, feel of dashboard
Minpunten:
still some features that I want and it doesn't have (or I can't find)
Angel G.
Manager in Filipijnen
Verzekeringen, 2-10 werknemers
Heeft de software gebruikt voor: 6-12 maanden
I thought that I could rely on stackby
Pluspunten:
The app appears promising, and it's very similar to airtable. I like that it's affordable than airtable. I am using it for monitoring applicants. If it doesn't delete my files, I will love this product.
Minpunten:
At first, when the records are not yet too many, I don't experience problems. Yet now, I experience it often. The product seems not yet mature, that's why it has lot of bugs and downtimes. I do hope that later on they will improve the product. For now, I still use it but I need to back up a lot.
Burgerlijke en maatschappelijke organisatie, 2-10 werknemers
Heeft de software gebruikt voor: 1-5 maanden
Overwogen alternatieven:
A Great Tool for Tracking the Flow of Information
Opmerkingen: This is an awesome tool with enormous potential. I went back and forth with other tools and eventually came back to Stackby I'd say far and away the biggest pro that tipped this over was the multi-platform accessibility. There are potentially better automation sheet style tools out there but without mobile and desktop UI, they fall short every time. Having native Mac, Cloud, and IOS interfaces is really what's needed to keep me using an app. Well done.
Pluspunten:
I love the templates and the ways that formulas are prebuilt to easily make sense of the data coming in and out of the day to day operations. I also really love how they use tags and categories to make use of various parts of the sheet style inputs.
Minpunten:
The Power up add-on is a hard but essential sell. Also the additional styling options. I'd prefer they just offer everything in one go and do pricing that way, but it obviously didn't stop me from buying so it couldn't be that bad, right?
Marketing en reclame, 2-10 werknemers
Heeft de software gebruikt voor: 6-12 maanden
Overwogen alternatieven:
Loving this SaaS!
Pluspunten:
We've found uses for this product in almost every aspect of our marketing company. Content, Design, SEO, SMM, everyone uses their own boards on stackby.
Minpunten:
I'd love to be able to bring our own APIs to the tables, but this isnt released yet. Its on the roadmap though.
Reactie Relytree
2 jaar geleden
Thanks Ilan for the review. Constantly striving to be better.