Talos ATS
Wat is Talos ATS?
Talos by 360 Resourcing Solutions is een complete oplossing voor wervingssoftware met carrièrepagina's onder de merknaam van de werkgever, een geïntegreerde functie om berichten te plaatsen op
Meer informatie
meerdere vacaturesites, voortgangsfasebeheer van kandidaten en een volledig rapportagepakket. Met Talos kun je een geweldig kandidaattraject creëren, effectiever communiceren met kandidaten, je HR-administratie verminderen en uiteindelijk je kosten per aanwerving en tijd tot aanwerving verlagen. Talos is ontworpen en gebouwd door wervingsexperts in het VK, dus het voldoet volledig aan de AVG.
Minder informatie
Wie gebruikt Talos ATS?
Tot de klanten in het VK behoren Farmfoods, Purplebricks, Village Hotels en HSL Chairs. Met Talos kun je tijd en geld besparen, terwijl je een geweldig kandidaattraject creëert en je werkgeversmerk promoot.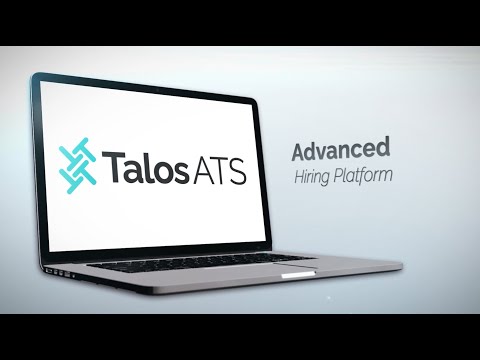 Twijfel je over Talos ATS? Vergelijk met een populair alternatief
Niet beschikbaar in jouw land
Geen prijsinformatie gevonden
Gratis versie
Gratis proefversie
Gratis versie
Gratis proefversie
Waarom krijg ik dit te zien?
Alternatieven voor Talos ATS
Ronnie
Head of Training & Development in VK
Geverifieerde LinkedIn-gebruiker
Detailhandel, 5.001-10.000 werknemers
Heeft de software gebruikt voor: 2+ jaar
Overwogen alternatieven:
Simple, powerful and reliable platform backed up with fantastic ongoing support.
Opmerkingen: A fantastic team to work with from junior to senior level, account managers to technical developers. Positive can-do approach to any challenges that come up.
Pluspunten:
Simple & easy to use. Reliable and does what we need it to do.
Minpunten:
It's not a completely bespoke set up so there are are some features that are unnecessary for our needs and some minor tweaks that we would make if it was. With that said you're not paying for a completely bespoke system here and the team have made a number of changes and custom development as far as practical for them to ensure the system continues to meet the needs of our business.
Reactie 360 Resourcing Solutions
2 jaar geleden
Thank you for the lovely review, it's lovely to hear that you've had excellent service from the team and would recommend Talos. We pride ourselves on providing the very best hiring features, whilst still being easy and intuitive to use - so your feedback will be really well received by both our developers and Talos support!
Jessica
HR Recruiter in VK
Geverifieerde LinkedIn-gebruiker
Machinebouw, 201-500 werknemers
Heeft de software gebruikt voor: 2+ jaar
Overwogen alternatieven:
A great product supported by passionate and proffessional people!
Opmerkingen: I was first introduced to Talos in a previous role (where I was not involved in the purchase decision or installation process). When I changed roles into my current role as HR Recruiter with UniCarriers I was stepping into a new role for the company which previously only ever used recruitment agencies.
I straight away new an ATS system would be beneficial to this role and my first thought was 360. I contacted the rep (my previous account manager) and he was so helpful during the entire process.
Talos has been a pivotal part to the direct hiring strategy and it has enabled us to cut our agency costs by £60,000 in the last 6 months already! I know that the more I use the software the more it will impact on the business in a positive way, especially as it is constantly evolving and new features and improvements are being introduced all the time.
Pluspunten:
What I like most bout Talos is that I find the software easy to use. The different features are relevant and make the hiring process much simpler and more effective. I like that you can keep track of all your vacancies, applicants, candidates, talent pool etc. all in one place. It helps me to provide a efficient service to my hiring managers and a professional and positive candidate journey to all our applicants.
Minpunten:
You cannot amend your adverts once they have been posted, you have to ask the 360 team to make the amendment for you. This is not really a problem because the team at 360 are so quick at responding, however, it could be helpful if this option is available to the administrator of the software also.
Jack
Talent Acquisition Partner in VK
Openbare veiligheid, 201-500 werknemers
Heeft de software gebruikt voor: 6-12 maanden
Very user friendly and great customer service
Opmerkingen: It is a great system that helps to track all candidates, and it is very user friendly/easy to use. The customer support is also excellent and the team are always happy to help me make the most of the system, and customize to my preferences where possible.
Pluspunten:
Visually it looks great, everything is very clear, and you know exactly where to click, very user friendly. I also like having customizable communication templates.
Minpunten:
I would like to be able to list jobs that do not expire, that have the same functionality as normal adverts. We have contractor positions that are always open, so it would be good to be able to manage them in the same way as the normal job listings.
Helen
Recruitment Manager in VK
Detailhandel, 51-200 werknemers
Heeft de software gebruikt voor: 1+ jaar
Overwogen alternatieven:
ATS - Talos
Opmerkingen: Talos is a great ATS and does all the what I need currently. Easy to use and navigate. I would recommend this system to others.
Pluspunten:
This system is easy to navigate and use on a daily basis. I do high volume recruitment, and this involved multiple posting of adverts daily. The system is very streamlined for this.
Minpunten:
Being unable to post the same advert in multiple locations/post codes at the same time, rather that one by one, when I cant post high numbers of adverts. This is usually down to the job boards they connect too.
Catherine
HR Office - Recruitment Specialist in VK
Detailhandel, 1.001-5.000 werknemers
Heeft de software gebruikt voor: 1-5 maanden
Overwogen alternatieven:
New ATS gone down well!
Opmerkingen: Reporting, although basic is really useful for providing quick summaries to senior people. The ease of use is great. The training provided was excellent and they definitely went above and beyond. Snags resolved quickly and always get a response. The front end websites they have created are fabulous, really listened to what we wanted.
Pluspunten:
Ease of use, quicker and more intuitive than the last ATS system we had. The interview booking module is a great time saver.
Minpunten:
previous ATS could be bespoked to our needs but Talos is a box, however the box is always being developed and this will move things forward. The Requisition process is great from a governance perspective but i look forward to being able to bespoke it to our requirements which will happen later this year!