Wat is Salesforce Commerce Cloud?
Converteer meer klanten en laat je merk groeien met Salesforce Commerce Cloud, het toonaangevende e-commerceplatform. Converteer meer klanten met naadloze B2C e-commercetransacties. Probeer het vandaag nog gratis en geef je klanten dezelfde gemakkelijke, consument-achtige winkelervaringen die ze in hun persoonlijke leven ook hebben, altijd, overal, op elk apparaat.
Wie gebruikt Salesforce Commerce Cloud?
Het platform helpt klanten van elke omvang te groeien.
Waar kan Salesforce Commerce Cloud worden geïmplementeerd?
Cloud, SaaS, Web
Over de leverancier
Salesforce
Gevestigd in San Francisco, VS
Opgericht in 2003
Telefonische ondersteuning
24/7 (contact met medewerker)
Beschikbaar in deze landen
Canada, Duitsland, Oostenrijk, Verenigde Staten
prijzen van Salesforce Commerce Cloud
Beginprijs:
Niet door leverancier verstrekt
Salesforce Commerce Cloud heeft geen gratis versie.
Over de leverancier
Salesforce
Gevestigd in San Francisco, VS
Opgericht in 2003
Telefonische ondersteuning
24/7 (contact met medewerker)
Beschikbaar in deze landen
Canada, Duitsland, Oostenrijk, Verenigde Staten
Video's en afbeeldingen van Salesforce Commerce Cloud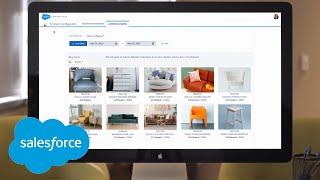 Functies van Salesforce Commerce Cloud
API
Backorderbeheer
Beheer van productgegevens
Bestellingen bijhouden
CRM
Catalogiseren/categoriseren
Contactendatabase
E-mailmarketing
Elektronische betalingen
Gegevensbeveiliging
Inkooporderbeheer
Integraties van derden
Inventarisatie
Kanaalbeheer
Klantenaccounts
Kosten bijhouden
Leveranciersbeheer
Marketing via meerdere kanalen
Marktplaatsintegratie
Mobiele toegang
Nabestellingbeheer
Orderbeheer
Orderinvoer
Orders afhandelen
Productidentificatie
Prognose
Rapportage en analyse
Retourbeheer
SEO-beheer
Terugkerende orders
Vervoersbeheer
Voorraadauditing
Voorraadbeheer
Voorraadoptimalisatie
Waarschuwingen/Meldingen
Websitebeheer
Winkelwagen
Zoeken/filteren
eCommerce-beheer
Alternatieven voor Salesforce Commerce Cloud
Reviews over Salesforce Commerce Cloud
Leticia L.
Acconut Manager in Brazilië
Geverifieerde LinkedIn-gebruiker
Telecommunicatie, 201-500 werknemers
Heeft de software gebruikt voor: 2+ jaar
Great software but complicated to handle
Opmerkingen: It serves to give you all the company's numbers and it is possible to integrate them all into a single system, however, as there are several layers of software, you can't manage without an internally prepared team to provide you with the support that you need.
Pluspunten:
It has many features, is very detailed, and can help you in every part of the sales funnel. It has a good integration with other apps, but you need a team to make it happen faster.
Minpunten:
Because it is so detailed, it is sometimes difficult to have quick information in the palm of your hand, especially when providing dashboards and reports.
Christian C.
Digital Marketer in VS
Detailhandel, 11-50 werknemers
Heeft de software gebruikt voor: 6-12 maanden
Recently Migrated From Magento To SFCC
Opmerkingen: Great onboarding experience and great customer support. They really want to help your business succeed. Little quarks can be weird to transition but overall very happy.
Pluspunten:
I really like the features out of the box. Lots of options that usually would have to be custom developed by developers are included right away. The layout and ease of use are great. Love the marketing and Promo capabilities and Salesforce updates with new features a couple of times a year. Customer support and learning prior to launch is great. Salesforce wants you to succed.
Minpunten:
There are some small things that do need additional development to work the way you want. SFCC teaches you about these things like they're included but you need developers to add the code or style. ex. source code - gift with purchase (when selecting one of a choice of free products) There are also little nuances like case-sensitivity that gets annoying but I think that can come with any platform
Overwogen alternatieven: BigCommerce en Shopify
Redenen om voor Salesforce Commerce Cloud te kiezen: Needed an upgrade
Overgestapt van: Adobe Commerce
Geverifieerde reviewer
Marketing Manager in VS
Geverifieerde LinkedIn-gebruiker
Sportartikelen, 10.000+ werknemers
Heeft de software gebruikt voor: 2+ jaar
B2C Commerce in Salesforce is an excellent option for an e-commerce operation
Opmerkingen: All our company's sales and marketing efforts are made easier by utilizing the Commerce Cloud in conjunction with the Sales Cloud. Because of the size of our organization, being able to communicate with our audience is a huge benefit of using this platform. Using this tool, our team can track their progress and see where they stand on the goals, they've set for themselves.
Pluspunten:
My company's website utilizes Salesforce to keep track of all visitors and clients. We've been able to better manage our workflow and keep track of all the responsibilities we've delegated to others thanks to it. Keeping track of our clients and consumers on the same platform where we do all our other businesses is also a big plus for us. Having fewer browser tabs or tabs open at the same time can save time when working from home. Salesforce is far more user-friendly and efficient than any other platform I've tried. I haven't had the same level of anxiety about keeping track of our inventory and orders as I used to.
Minpunten:
People who work from home have had trouble with their internet connections because they need a fast one to get the most out of the software. As a result of unanticipated delays in reporting, our timelines have been disrupted. The single time this has occurred is extremely rare. To execute simple activities, there are too many functions. We commonly realize that a process is made more difficult by the presence of numerous features. (It's fair if my lack of technical knowledge is to blame for my desire for it to be a little less complicated).
Geverifieerde reviewer
ANALISTA PROGRAMMATORE in Italië
Geverifieerde LinkedIn-gebruiker
Detailhandel, 10.000+ werknemers
Heeft de software gebruikt voor: 2+ jaar
good catalog system
Opmerkingen: the overall experience is good, maybe it miss some functionality to integrate with external monitoring system
Pluspunten:
we are using it for all our catalog and it replace our custom system with an high improvement on our service
Minpunten:
some time since it is a saas, any change is a problem and became quite long. recently we had several issue with authentication
Geverifieerde reviewer
Digital Marketing Director in VS
Geverifieerde LinkedIn-gebruiker
Kleding en mode, 1.001-5.000 werknemers
Heeft de software gebruikt voor: 2+ jaar
This is a fantastic solution to run an online store
Opmerkingen: A common requirement in the organizations where I've worked is the usage of more than one platform to maintain smooth communication between the front office staff, the inside sales team, and the back office. Three or more systems may be required, but Salesforce integrates them all.
Pluspunten:
Salesforce Commerce Cloud is a wonderful alternative if you require support with a complicated setting. Using social media to engage with customers may be highly advantageous to a business. Packages can also be split up into multiple locations on the platform. It's possible to buy almost anything on the internet with the help of the Salesforce Commerce Cloud. Everything you need is included, and it works smoothly with Salesforce CRM. Finally, it can be put to good use. Even though it's a little more expensive than other options, we think it's worth it.
Minpunten:
It would be wonderful if they could merge seamlessly with a more user-friendly design. At first, it's hard to tell what's going on because of the variety of faces. When the time comes, everything will be better and easier to handle. As a sales and customer service tool, it's a challenge. With so many choices and so little direction, it may be overwhelming. You'll need a solid team of programmers to get the table, data, and system working for your business.