Wat is Carestream Dental?
Software voor tandheelkundige visualisering die tandartsen helpt bij het leveren van de juiste diagnoses en het bepalen van de juiste behandeling.
Wie gebruikt Carestream Dental?
Oplossing voor 3D-visualisering die tandartsen helpt bij het maken van digitale modellen om diagnoses, behandelingen en patiëntcommunicatie te verbeteren via het delen van afbeeldingen, maatwerk, visuele evaluatie en meer.
Waar kan Carestream Dental worden geïmplementeerd?
Cloudgebaseerd
On-premise
---
Ondersteuning voor Carestream Dental
Telefonische ondersteuning
Chatten
Beschikbaar in deze landen
Canada, Verenigd Koninkrijk, Verenigde Staten
Ondersteuning voor Carestream Dental
Telefonische ondersteuning
Chatten
Beschikbaar in deze landen
Canada, Verenigd Koninkrijk, Verenigde Staten
Video's en afbeeldingen van Carestream Dental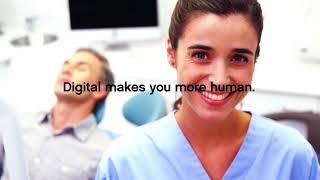 Vergelijk de kosten van Carestream Dental met soortgelijke producten
Functies van Carestream Dental
Afbeeldingsanalyse
Afsprakenbeheer
Beeldvorming en röntgenstraling
Behandelingsschema
Beheer van claims
Beheer van patiëntdossiers
Bevestigingen/herinneringen
Dossierbeheer
Factureren
Grafieken maken
Klantenbeheer
Medische facturering
Multilocatie
Alternatieven voor Carestream Dental
Reviews over Carestream Dental
Kevin
Paraprofessional in VS
Geverifieerde LinkedIn-gebruiker
Schoolleiding, 501-1.000 werknemers
Heeft de software gebruikt voor: 2+ jaar
Easy to use
Opmerkingen: Very good- I learn something new with the software weekly.
Pluspunten:
My side job is a dental assistant and we use soft dent. Softdent is very easy to use and it is quite straightforward. I find it easy to navigate, schedule appointments, dental chart, take X-rays, and send referrals to other offices.
Minpunten:
Sometimes I feel as though it can be difficult to treatment plan a patient's dental work. For example, it can be confusing when the pending treatment gets mixed with past procedures that were already done. I wish there was an easy way to "clean up" old treatment plans and add "watches" to the charts.
Briana
Office Manager in VS
Medische praktijk, 11-50 werknemers
Heeft de software gebruikt voor: 2+ jaar
Overwogen alternatieven:
CS SoftDent Dental Software
Opmerkingen: Overall my experience with CS SoftDent has been unsatisfactory. Between the time it takes to get someone from customer support to assist you to the charging for features that are free from other dental software companies, we have decided to change our software to a cloud based one.
Pluspunten:
I appreciate how easy SoftDent is to use. Yes there is a learning curve when you first being utilizing it but overall it is simple.
Minpunten:
The lack of included features makes CS SoftDent inferior to other dental software that I have experience with. In order to do simple customizations such as changing/customizing the medical history form, you have to pay additional fees and even then there are significant limitations. Recently our state required all medical prescribing offices to use electronic prescribing methods, in turn CS SoftDent decided to charge an exorbitant amount of money on top of our monthly fee for a service that is now required.
Medische praktijk, 11-50 werknemers
Heeft de software gebruikt voor: 2+ jaar
Bron: SoftwareAdvice
Blast from the past Dental imaging software
Opmerkingen: Carestream does have good support; Supporting bad software is almost as good as having no support. So a lot of customers must perceive that Carestream is lacking in support when in fact the software is really a Frankenstein Software with mish-mash of programing designed for Windows 1998 and XP. Its 2017 and Windows 10 is very different level of programming.
Pluspunten:
The software carried us through for the past 10 years. Well programmed for its time. Uses Eclipse instead of SQL. Isn't Eclipse freeware?
Minpunten:
Buying new Server Hardware has its limits and can't compensate for Old programming. Some of the the .ddl are specific to windows XP? Poor Database - lag of 12 seconds? Google is freakin' faster and Carestream database is internal network. Complained about software issues since 2011 with no hope of Carestream forming a team to redevelop the Dental Imaging system When you start using the system, you learn too much about poor software via your tech complaining at least once a week. I fix teeth for a living and I know too much about why Carestream software has problems. So.... you really think you want to go to CbCt and digital impressions with Carestream? 12 second lag with 2D images..... Would you want to pay staff to wait 15-30min for an image?
Crystal
Patient Care Coordinator in VS
Ziekenhuis- en gezondheidszorgbranche, 2-10 werknemers
Heeft de software gebruikt voor: 2+ jaar
Carestream is practical and useful when it comes to scheduling in the dental industry.
Opmerkingen: Overall I think the software is very practical. It's right to the point, no fancy extra's. It was super easy to learn and to train other teammates. We use this software everyday so it is a key component to our everyday tasks.
Pluspunten:
I love how the clipboard and attachments are easily accessible by just right clicking on a patient's appointment. I also like how Carestream support is one phone call away. The reps always help with any concern or question I may have.
Minpunten:
I don't like how it takes so many steps to leave a note on a patient's chart. As scheduling coordinator I like to leave notes about every call I take but this software makes that difficult and time consuming.
Reactie Carestream Dental
2 maanden geleden
Thank you for the positive feedback.
Alicia
Dental Hygienist in VS
Heeft de software gebruikt voor: 2+ jaar
Poor customer service
Pluspunten:
The definition of radiograghs is surperb. That is all I like about it. I think for definition it is better than dentrix. I have been a hygienist for 16+ years and I think for the quality of films it is definitely the best I have seen. It is nice that you can use the radiographic system apart from their software system as far as maintaining records. We use strictly the program only for images. We use digital software. We capture Intra oral films, radiography with a sensor, panos, as well as 3D images. It is great for all of this. All of the images are very well defined.
Minpunten:
Kicks you out of program, customer service terrible and takes lots of time. Whenever you have a problem you have to call them and wait on the line as they try and figure out what the problem is.