Wat is NinjaOutreach?
Software voor influencermarketing en outreach naar bloggers die je processen voor influencer marketing en het genereren van leads stroomlijnt met geautomatiseerde outreach- en vervolgacties. Vergeet nooit meer een e-mail te verzenden.
Wie gebruikt NinjaOutreach?
Marketeers en marketingbureaus, kleine bedrijven en solopreneurs.
Waar kan NinjaOutreach worden geïmplementeerd?
Cloudgebaseerd
On-premise
---
Over de leverancier
NinjaOutreach
Opgericht in 2000
Ondersteuning voor NinjaOutreach
24/7 (contact met medewerker)
Chatten
Beschikbaar in deze landen
Verenigde Staten
Over de leverancier
NinjaOutreach
Opgericht in 2000
Ondersteuning voor NinjaOutreach
24/7 (contact met medewerker)
Chatten
Beschikbaar in deze landen
Verenigde Staten
Video's en afbeeldingen van NinjaOutreach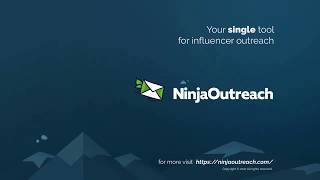 Vergelijk de kosten van NinjaOutreach met soortgelijke producten
Functies van NinjaOutreach
Beheer van digitale assets
Beheer van direct mail
Campagnebeheer
Contactenbeheer
E-maildistributie
Alternatieven voor NinjaOutreach
Reviews over NinjaOutreach
foster
Marketing manager in Ghana
Geverifieerde LinkedIn-gebruiker
Administratie, 2-10 werknemers
Heeft de software gebruikt voor: 2+ jaar
Honest Ninjaoutreach Review
Opmerkingen: This tool is probably my best choice when it comes to running influencer marketing campaign for my clients
Pluspunten:
Ninjaoutreach is a great resource for finding influencer marketers to promote my engaging content. With Ninjaoutreach, it's super simple to find relevant sites and contact information of thought leaders and influencers. I can easily import contact information via CSV which simplifies my campaign. I have the chance to segment my contacts in to list which gives me the upper hand to stay organized.
Minpunten:
Ninjaoutreach has too many features that overwhelmed me at times in my campaign setup. They can also bill you in your free trial without any proper notice
Isaac
SEO Manager in VS
Geverifieerde LinkedIn-gebruiker
Marketing en reclame, 201-500 werknemers
Heeft de software gebruikt voor: 1+ jaar
Overwogen alternatieven:
So much potential!
Opmerkingen: Mostly positive, I enjoy the fact that I have a solid book of contacts at my beck and call.
Pluspunten:
They have an incredible amount of featured, from outreach to influencer prospecting, auto follow-ups and an inbox
Minpunten:
The UX flow is a bit too rigid, for example, if I wanted to make an update to a template before sending it out I would have to cancel the planned campaign, then update the template and resend the campaign.
Detailhandel, 2-10 werknemers
Heeft de software gebruikt voor: Gratis proef
Software is very weak and their business practices are shady
Opmerkingen: My experience was an absolute disaster. I wish I had read the other negative reviews about the way they do business before I signed up for their trial. They capture your credit card information and that's it, you're done. Irrevocably charged for a full year and never get your money back. This is only disclosed in the fine print of a 14 page dense legal disclosure but never shown anywhere else. Normal business practices for ethical businesses would be to disclose that they have an immediate change and no refund policy. The reason they don't is twofold: 1) they know they product is so weak that most people cancel it out, therefore this is the way they keep money to keep their shady operation going. 2) they know it is commercially unreasonable and that the vast majority of people would never sign up for their weak service. As far as trying to communicate with their robots, good luck. they don't answer most questions, are hostile and lie. I was told they send a reminder email three days prior to the charge. THEY DO NOT. I asked for their phone number. They don't have one there they can't give it out. They have no address and as far as I know they are operating in some offshore location and are not above board at all. AVOID THEM AT ALL COSTS. There are plenty of other good competitors that offer real products such as Meltwater and Buzzstream.
Pluspunten:
Not very impressed with the software at all. You don't really need most of the functionality they have in place. You can find what you are looking for just as easily by searching Instagram or doing google searches.
Minpunten:
Their business practices are very shady. Consider: 1. There is no phone number for the business and no way to ever speak with anyone 2. The names of the owners or principals or any real individual is never revealed. Instead they only show fake images. 3. The only way to communicate with them is via a chat which they take a VERY long time to respond to and are hostile, ineffective and aggressive 4. They have a no refund policy that is only disclosed in the fine print of a 14 page document. There is never any mention of it when you sign up. 5. They charge you the full amount during the trial period and there is no way to get the money back. Very unethical
Managementconsulting, 11-50 werknemers
Heeft de software gebruikt voor: 1-5 maanden
Overwogen alternatieven:
NinjaOutreach is Super Helpful
Opmerkingen: We used NinjaOutreach to find and reach out to websites with the goal of them adding a link back to our website. NinjaOutreach combined all the tools we needed to do this: 1) a prospecting tool to allow us to find good websites to target
2) an email finding tool that found email addresses and names of contacts at these websites
3) an autoresponder tool that allowed us to customize and send multiple emails to prospects
4) an analytics/tracking tool to show us the results of our campaigns Before Ninja, we tried both individual services to cover all 4 of these aspects...that worked, but was cumbersome and less cost effective than Ninja. We also tried a Ninja competitor but it was much more expensive and not any better.
Pluspunten:
It is very effective in allowing us to find and effectively outreach to our target customers.
Minpunten:
I had some specific questions that weren't easily answered on the page or in the Knowledge Base (although whenever I chatted a question to them, they answered really quickly).
Geverifieerde reviewer
CEO in Denemarken
Geverifieerde LinkedIn-gebruiker
Computersoftware, 2-10 werknemers
Heeft de software gebruikt voor: 1+ jaar
Overwogen alternatieven:
NinjaOutreach - Been using it for almost 2 years for Amplifcation
Opmerkingen: I basically use it weekly for promoting a piece of content to a related community. Find similar articles, use the extension to build a list, create the campaign, then send off the emails.
Pluspunten:
I used NinjaOutreach for regular amplification. It's been my go to tool for amplifying blog posts and reaching out to a variety of other publishers to see if they would share my content. The extension has been incredibly useful for quickly grabbing and enriching individual articles and publishers. I can usually hit about 50 - 100 outbound emails per campaign in a matter of a few hours. This would be a few days if I were to do it manually. Great tool for amplifying reach.
Minpunten:
Sometimes the data isn't perfect. But that's okay. Email verification would be a huge help to reduce bounces. I use a different tool