Wat is Fons?
Plan klanten in en word betaald met Fons. Beheer je bedrijf vanaf elk apparaat voor slechts $ 9,95 per maand. Prepaid pakketten, forfaitaire abonnementen, en per sessie geautomatiseerde facturering maakt het zakendoen eenvoudiger voor jou en je klanten. Individuele en groepssessiefunctionaliteit. Elke account beschikt over een openbare boekingslink. Meld je nu aan om een gratis demo te krijgen en ontvang aangepaste onboarding voor je unieke zakelijke behoeften.
Wie gebruikt Fons?
Eigenaren van op afspraak gebaseerde bedrijven. Muziekleraren, personal trainers, academische coaches, life coaches, wellnessprofessionals, tenniscoaches, enz. Geweldige klantenondersteuning en een goedkope oplossing.
Waar kan Fons worden geïmplementeerd?
Cloud, SaaS, Web, Mac (desktop), Windows (desktop), Windows (lokaal), Chromebook (desktop)
Over de leverancier
Fons
Gevestigd in Seattle, VS
Opgericht in 2015
Telefonische ondersteuning
Chatten
Beschikbaar in deze landen
Australië, Canada, Verenigd Koninkrijk, Verenigde Staten
Over de leverancier
Fons
Gevestigd in Seattle, VS
Opgericht in 2015
Telefonische ondersteuning
Chatten
Beschikbaar in deze landen
Australië, Canada, Verenigd Koninkrijk, Verenigde Staten
Video's en afbeeldingen van Fons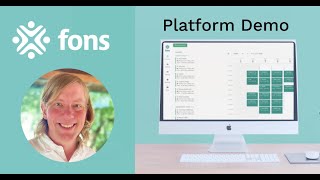 Vergelijk de kosten van Fons met soortgelijke producten
Functies van Fons
Aanwezigheid bijhouden
Afspraakplanning
Beschikbaarheidsbeheer
Betalingen verwerken
Bevestiging van inschrijving
Bevestigingen/herinneringen
Communicatiebeheer
Evenementenbeheer
Facturen opstellen
Factureren
Faculteits- en personeelsbeheer
Geautomatiseerde planning
Groepsregeistratie
Herinneringen
Integraties van derden
Kalenderbeheer
Klantenbeheer
Klantendatabase
Klantprofielen
Klasplanning
Klasregistratie
Klassenbeheer
Mobiele app
Mobiele betalingen
Mobiele toegang
Online betalingen
Online facturering
Online registratie
Online reserveren
Personeelsbeheer
Plannen
Portal voor ouders en studenten
Realtime planning
Reserveringsbeheer
Studentenbeheer
Terugkerende afspraken
Terugkerende facturering voor meerdere perioden
Voor muziekscholen
Waarschuwingen/Meldingen
Website-integratie
Rob H.
Owner in VS
Geverifieerde LinkedIn-gebruiker
Muziek, Zelfstandig ondernemer
Heeft de software gebruikt voor: 1+ jaar
I no longer dread billing my students.
Opmerkingen: I love teaching guitar, but I hate the tedious administrivia part of running your own business, and until recently the worst part was scheduling and billing my students. I tracked their lessons with pencil and paper, and used email to schedule and bill. Looking back on it, the whole process was incredibly inefficient and prone to miscommunication and mistakes. Now my calendar is synced with my students, and the billing happens behind the scenes. When I first signed up with Fons I think it had just opened for business, and I'd occasionally encounter bugs. Their customer service is AMAZING. Like, "how do you stay in business with this level of service?" amazing. Not only did they genuinely care if I had a problem, often things I reported got fixed within a few days. The app now feels solid and I recommend it without reservation.
Pluspunten:
Not spending six hours at the start of every month calculating and emailing invoices to each of my students.
Minpunten:
A minor gripe: I'd like to have access to a record of each email Fons sends on my behalf.
Reactie Fons
3 maanden geleden
Thank you Rob! This is awesome! We are so happy you are with us at Fons and we appreciate you! :)
Jeremy E.
Owner & Instructor in VS
Muziek, Zelfstandig ondernemer
Heeft de software gebruikt voor: 1-5 maanden
Overwogen alternatieven:
Fons adds value and simplicity to my business
Opmerkingen: Fons adds value to my music teaching business by taking most billing and scheduling matters off my plate. I set my policy and explain it to my studio families, and Fons takes care of the rest. There are no more "we were on vacation during one of our lessons last month, so we're going to pay you less this month" conversations. It's great having a system I can count on to make sure I get paid and taking care of most of the issues without me having to step in. I have to add that the Fons support team and the broader Fons community are amazing. They are incredibly responsive when I have questions or issues. They also roll out new features all the time, usually in response to suggestions made by the people who use the software. I get the sense from everyone I have interacted with at Fons that they truly want my business to succeed and to help make that happen.
Pluspunten:
As a music teacher, I strongly prefer to keep my conversations with students and parents about music, building confidence, and having fun in the process. Toward the bottom of the list would be chasing down payments or being the studio policy enforcer on things like last-minute cancellations. With Fons, after some initial setup and onboarding with new students, I generally don't have to talk about payments or scheduling. With a little bit of training and coaching, my students know they will be charged automatically and on a regular basis, which turns out to be a point of convenience for them because it's one less bill they have to remember to pay. So in turn, I can count on getting paid regularly and consistently while giving the vast majority of my attention to my students and their development.
Minpunten:
Fons doesn't have any major issues in my opinion...but in the future, I would love to see 2-way calendar sync so that Fons can determine my availability using appointments on my calendar that aren't related to my business (similar to what Calendly does). This would be a "nice to have" and not a reason I would decide to use/not use the service.
Reactie Fons
vorige maand
This is the kindest, most well thought out review. Thank you so much for taking the time to share your experiences with us. We are so happy to have providers like you as part of the Fons Family. :)
Muziek, Zelfstandig ondernemer
Heeft de software gebruikt voor: 1-5 maanden
Great Customer Service
Opmerkingen: My overall experience with fons has been relatively good. The customer service has been helpful with all of my issues and there are definitely some wonderful benefits with Fons, but there are some issues with layout that could use improvement.
Pluspunten:
I have had excellent customer service experiences with Fons. It is also wonderful to have a scheduling app where clients can schedule and pay for their appointments and include the option to purchase in bulk!
Minpunten:
This software is a bit complicated to use at times. It is hard to find how to do certain things, and there needs to be more direct options for certain actions. Sites like these should be laid out in the easiest manner for the simplest laymen to use. It would also help to have an option for a business policy to be read by clients before scheduling appointments and when appointments are being confirmed so that the policy is fresh in their minds and for liability purposes.
Reactie Fons
3 jaar geleden
Hey there Hannah! Thank you so much for your review and this feedback. We want to make Fons as simple as possible to use for anyone, regardless of their comfort with using new technologies. Please let our team know if there are any particular areas you'd like to see improve or explained better. Fons is a powerful platform nestled into minimal design., and we make updates each week to try and improve the user experience. We are guided by our customers' needs and feedback. Thanks for sharing yours!
Geverifieerde reviewer
Co-Owner in VS
Geverifieerde LinkedIn-gebruiker
E-learning, 2-10 werknemers
Heeft de software gebruikt voor: 6-12 maanden
Overwogen alternatieven:
Worth it!
Opmerkingen: It has been great! We've been very happy and grateful for this product
Pluspunten:
Customer service and usefulness. This team has really figured out what small, service businesses need!
Minpunten:
I wish we could get the activation bar to go away
Reactie Fons
vorige maand
Thank you so much for this review and feedback. We are thrilled you are here and cannot wait to grow with you!
Esther B.
Piano Teacher in Canada
Beeldende kunst, Zelfstandig ondernemer
Heeft de software gebruikt voor: 6-12 maanden
Overwogen alternatieven:
Amazing customer service
Opmerkingen: Basically this platform has been life-changing for my business! I love the internal messaging feature. It allows any communications for scheduling or payment processing to be done through the software. This frees up my email and really brought my anxiety down by having everything organized in one place. I also love being able to charge a client's credit card anytime I need to. The client doesn't have to do anything. There is absolutely no friction on their end. This was of the utmost importance for my business.
Pluspunten:
The best thing about Fons is that they keep making it better. They are interested in their clients needs. This was crucial for me as I think it is the most important thing when it comes to your business. No platform is perfect, but I am confident this is going to be the best one out there, given the drive and dedication of the Fons team
Minpunten:
When I am editing appointments there are no batch actions and it always takes me back to the home calendar page… So it can be a bit clunky and time consuming when doing things like this. I'm sure they will fix it!
Reactie Fons
vorige maand
Hey there! Thank you so much for your review, and the excellent idea to improve navigation for editing appointments. We will send this over to our design team right away and see how we can better that flow. Grateful that you're enjoying the platform, and thank you again for your note.