Helpt Nederlandse bedrijven al 15 jaar
bij het vinden van de juiste software
Wat is Brilliant Assessments?
Self-service beoordelingssoftware voor bedrijven, voor het genereren van verfijnde, gedetailleerde en persoonlijke feedbackrapporten die mensen aanspreken. Zowel het beoordelings- als het feedbackrapport is volledig merkeigen en meertalig. Het wordt door zowel internationale Fortune 500-bedrijven als startups gebruikt voor medewerkers (afstemming van cultuur/strategie/team, training, certificering, 360's), contentmarketing, behoeftenanalyse, risicobeoordelingen, evaluatie van bedrijf/organisatie, cybersecurity-beoordelingen, en noem maar op!
Wie gebruikt Brilliant Assessments?
Voor bedrijven van elke omvang die hun eigen geavanceerde beoordelingen willen opstellen met aantrekkelijke, persoonlijke en gedetailleerde feedbackrapporten. Gebruikers zijn onder meer HR en training, marketing en consultants.
Waar kan Brilliant Assessments worden geïmplementeerd?
Cloudgebaseerd
On-premise
---
Over de leverancier
Brilliant Assessments
Gevestigd in Manhattan Beach, VS
Opgericht in 2015
Ondersteuning voor Brilliant Assessments
Telefonische ondersteuning
Chatten
prijzen van Brilliant Assessments
Beginprijs:
Niet door leverancier verstrekt.
Ja, heeft een gratis proefversie
Geen gratis versie
Brilliant Assessments heeft geen gratis versie maar biedt wel een gratis proefperiode.
Over de leverancier
Brilliant Assessments
Gevestigd in Manhattan Beach, VS
Opgericht in 2015
Ondersteuning voor Brilliant Assessments
Telefonische ondersteuning
Chatten
Video's en afbeeldingen van Brilliant Assessments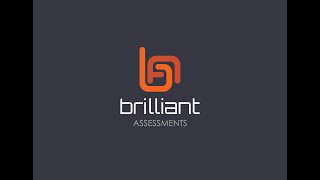 Functies van Brilliant Assessments
Aanpasbare vragen
Aselecte indeling
Automatische classificatie
Beoordelingsbeheer
Certificering en licentieverlening
Dashboard
Enquêtes en feedback
Gegevens importeren en exporteren
Gewogen vragen
Geïndividualiseerde beoordelingen
Leadmeldingen
Mobiele toegang
Online tests
Planning van tests
Quizen en toetsen
Rapportage en analyse
Scores
Sjabloonbeheer
Sollicitantenbeheer
Tests en toetsen maken
Tijdslimieten
Vragenbibliotheek
Werknemersdatabase
Zelfserviceportal
Alternatieven voor Brilliant Assessments
Reviews over Brilliant Assessments
Sophie
CEO in VK
Geverifieerde LinkedIn-gebruiker
Marketing en reclame, 2-10 werknemers
Heeft de software gebruikt voor: 1-5 maanden
Bron van de reviewer
Honestly, this is brilliant
Opmerkingen: Absolutely brilliant. It's a fantastic product; we set it up with no fuss. Highly recommend.
Pluspunten:
Brilliant Assessments is simple to use and set up, and delivers a much more comprehensive set of functions than alternatives on the market.
Minpunten:
Nothing. The giveaway is in the name. This is an assessment platform built how it should be.
Eerder overwogen alternatieven: Pointerpro
Redenen om over te stappen op Brilliant Assessments: Pointerpro didn't have the depth of functionality we required and was light in comparison to Brilliant Assessments.
Informatietechnologie en -diensten, 11-50 werknemers
Heeft de software gebruikt voor: 1-5 maanden
Bron van de reviewer
Best in their cetegory
Opmerkingen: All the support that I needed has been solved by their great team of support.
Pluspunten:
It has all we need to do assessments, great support, great interface in back end and front end, easy to customize and rebranding.
Minpunten:
The best of this software is that you can use templates or create a new one from scratch and have awesome reports.
Eerder overwogen alternatieven: Pointerpro, Zoho Survey, SurveyMonkey Enterprise en Mercer Mettl Talent Assessments
Redenen om voor Brilliant Assessments te kiezen: I needed more features like scoring based on responses and generate reports in PDF.
Overgestapt van: Zoho Survey
Redenen om over te stappen op Brilliant Assessments: Features, Support, Price, Flexibility, Customization
John
VP of Marketing in VS
Informatietechnologie en -diensten, 51-200 werknemers
Heeft de software gebruikt voor: Gratis proef
Bron van de reviewer
Great way to setup an online survey or audit
Opmerkingen: By adapting proven example it was very easy to get an online assessment/audit up and running - took less than 24 hours from start to customized audit with branded web site and pdf report
Pluspunten:
Easy to get something going quickly Easily customizable, add own corporate identity etc. Online chat for support was fast and knowledgable Quick Zoom meeting cleared up some additional questions Value for money - good get you started pricing
Minpunten:
Couple of quirks, but no big negatives One confsing bit, have to add a section before can add questins
David
President and CEO in VS
Ziekenhuis- en gezondheidszorgbranche, 2-10 werknemers
Heeft de software gebruikt voor: 6-12 maanden
Bron van de reviewer
Review of Brilliant Assessments Software and User Support Systems
Opmerkingen: We have developed very sophisticated assessments of providers clinical capabilities when treating a wide range of minority patient populations. In the past, we used commonly available survey tools like Survey Monkey to collect and analyze our data. That allowed us to deliver system level data to our hospital system clients as well as data by hospital within a system. What we lacked was the ability to deliver near instantaneous individualized feedback reports to clinicians. Brilliant Assessments gives us precisely this capability which, in turn, allows us to charge clients both for the administration of the assessment, the systems level data analysis as well as for the individual provider feedback reports. In the future, we expect to take advantage of Brilliant Assessments' benchmarking capabilities to compare and contrast providers' practice behaviors by medical sub-specialty against our national database. Overall, we are very pleased with our experience with representative and his Brilliant Assessments software. We are looking forward to a long-term business relationship with them.
Pluspunten:
I own and operate a national management consulting and training firm that specializes in cross-cultural healthcare. Most of our clients are large hospital systems. One of my hospital clients wanted to survey their clinicians (physicians, nurses, APP's, others) on their technical (clinical) competence in delivering cross-cultural medical care to a wide variety of non-traditional patient populations. The client not only wanted to survey their clinicians but sought to provide individualized feedback reports to their providers within minutes of completing their survey. We looked at a number of online assessment, reporting and feedback tools and none of them was as methodologically sound and sophisticated as Brilliant Assessments. We used Brilliant Assessments to load and administer our survey via e-mail to our hospital system client's providers, collect and report the data and send out individualized feedback reports to providers within two minutes of their completing the assessments. The Brilliant Assessments team was great in understanding our needs and working with us and our client to resolve problems/issues as they emerged. Given the sophistication of our medical audience and how time limited they are, it was essential that this whole process work effectively and efficiently from start to finish. With Brilliant Assessment's help, it did. That made us look good to a prestigious hospital client and it also made the hospital system administration look good to their providers.
Minpunten:
Really, we had very few complaints about the software. Some of the data reporting elements on multiple choice questions were not as robust as we had hoped but we quickly developed work-arounds and I believe that Brilliant Assessments has since resolved these issues.
Amanda
Team Leader in Australië
Milieudiensten, 2-10 werknemers
Heeft de software gebruikt voor: 6-12 maanden
Bron van de reviewer
Brilliant Assessments Flexible Versatile and Excellent Customer Support
Opmerkingen: Our program required a detailed multi-sectioned assessment to be built and tailored to meet various different stakeholders and achieve various results from one assessment. Overall our experience with Brilliant Assessments has been extremely positive. With support from CSR and also continuous feature enhancements that are released and/or put on the roadmap this product offering is excellent in performance and value for money.
Pluspunten:
We needed to configure a very specific assessment to meet the needs of our program on a shoe string budget. Brilliant Assessments was affordable, versatile, 100% configurable and the support provided at every step of the way was fantastic.
Minpunten:
I found that the help and support pages were not that helpful once I got into the depths of developing the assessment and needed a lot of additional specific support (which was promptly and efficiently provided)