Wat is Google Sheets?
Ontworpen om spreadsheets in realtime te creëren, te wijzigen en te delen. Vooraf ontworpen sjablonen, chatten en opmerkingen zijn beschikbaar.
Google Sheets - Details
Google
Opgericht in 2012
Google Sheets - Details
Google
Opgericht in 2012
Video's en afbeeldingen van Google Sheets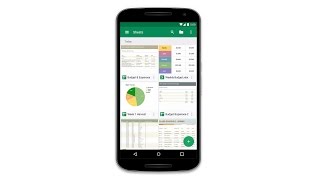 Vergelijk de kosten van Google Sheets met soortgelijke producten
Vanaf
N/A
US$ 1,99/maand
US$ 6,00/maand
US$ 0,01
Google Sheets - implementatie en ondersteuning
Ondersteuning
E-mail/helpdesk
Veelgestelde vragen/forum
Kennisbank
Telefonische ondersteuning
Chatten
Implementatie
Cloud, SaaS, Web
Mac (desktop)
Windows (desktop)
Android (mobiel)
iPhone (mobiel)
iPad (mobiel)
Training
Live online
Documentatie
Video's
Functies van Google Sheets
API
Aanpasbare rapporten
Aanpasbare sjablonen
Activiteiten volgen
Activiteitenbeheer
Activiteitendashboard
Audittrail
Bestandsbeheer
Bestandsoverdracht
Communicatiebeheer
Databaseondersteuning
Documentautomatisering
Documentbeheer
Documenten controleren
Documenten opslaan
Documentsjablonen
Eenmalige aanmelding
Formulierbeheer
Gebruikersbeheer
Gegevens importeren en exporteren
Gegevens vastleggen en overdragen
Gegevensextractie
Gegevenssynchronisatie
Gegevensvisualisatie
Geplande en geautomatiseerde rapporten
Grafieken maken
Integraties van derden
Kalenderbeheer
Maatwerk
Meerdere projecten
Offline toegang
Ondersteuning voor meerdere indelingen
Opmerkingen/notities
Personeelsbeheer
Projectbeheer
Projectsjablonen
Rapportage en analyse
Realtime gegevens
Realtime updates
Rekenmachines
Samenwerking tussen meerdere gebruikers
Samenwerkingstools
Sjablonen
Sjabloonbeheer
Slepen en neerzetten
Toegangsopties/machtigingen
Voor meerdere talen
Workflowbeheer
Zoeken in gehele tekst
Zoeken/filteren
Tanishq A.
Content Writer and Digital Marketing Executive in India
Geverifieerde LinkedIn-gebruiker
Consumentendiensten, 11-50 werknemers
Heeft de software gebruikt voor: 2+ jaar
Overwogen alternatieven:
Take your reporting to the next level with Google Sheets
Opmerkingen: User friendly with good and exciting features supporting the requirements of today's day and age.
Pluspunten:
1. Simple and easy to understand with all the necessary tools available right in front of the eyes. 2. Uploading and downloading feature with multiple file format support. 3. Version and editing history with option to suggest edits. 4. Highly controllable in terms of sharing with email notifications.
Minpunten:
I did not find any cons of this product.
Rajesh C.
Co-Founder in Bangladesh
Geverifieerde LinkedIn-gebruiker
Tekstschrijvers, 2-10 werknemers
Heeft de software gebruikt voor: 2+ jaar
An Outstanding Cloud Spreadsheet Tool
Opmerkingen: My overall experience with google sheets is quite good. It is faster and smooth and most importantly it's easy accessibility made me stick with it for a really long time.
Pluspunten:
I always wonder, I would've been stuck somewhere if I didn't have google sheets. What an excellent tool it is! The first benefit of this tool is it is completely cloud based, so I don't need to store anything in my computer. And, I can easily access my files literally from anywhere in the world. There are many pre-made templates I can use for my projects. Whether you need to maintain accounts, track budgets, or manage multiple projects, google sheets have everything to help you out. Besides, you can easily import data from other platforms, for example MS excel.
Minpunten:
The Google sheets team needs to improve the features and functionality of charts. From my point of view, there are some lacking in the chart features. Specially when it comes to manipulating default charts, you may get fewer options compared to other platforms.
Mahmudul islam S.
Civil engineer in Bangladesh
Geverifieerde LinkedIn-gebruiker
Civiele techniek, 501-1.000 werknemers
Heeft de software gebruikt voor: 2+ jaar
Google sheets is good for remote work with teammates
5
2 maanden geleden
Nieuw
Opmerkingen: For teamwork, google sheets is the perfect addition for documentation work, I can easily complete my work ,in such pandemic time. Remote work is the speciality of Google sheets, it doesn't have so many features like MS Excel, but as a tool for documentation in cloud platform, it's very fast.
Pluspunten:
Google sheets have kind of same features like MS Excel, do documentation work,editing,prepare data and graph ,more logical ways. So that audience understand it perfectly. Besides it is cloud based tools, with my team mates ,I can easily able to do work at same time . Real time syncing is top notch here. Able to access from any device , so place doesn't matter.
Minpunten:
I wish to have some extra features like MS Excel, shortcuts function is only working in keyboard. Mouse should be included also.
Rebecca R.
Head of Core Curriculum in VS
E-learning, 51-200 werknemers
Heeft de software gebruikt voor: 2+ jaar
A good free alternative to Excel—if you need free
Opmerkingen: Since I don't use super-advanced features, I would say my experience is mostly fine, but I probably wouldn't go out of my way to suggest the use of Google Sheets over Excel—I would offer it as a suggestion to someone who either didn't have the money to spend on a spreadsheets software or if their intentions were limited to relatively simple or common tasks like making a monthly budget or creating a to-do list.
Pluspunten:
The basic features of Google Sheets are very easy to use, especially if like me, you spent the first 30 years of your life on Microsoft products. Google didn't reinvent the wheel and most of the functions used in Google have identical syntax to Excel, so you won't spend time re-learning how to sum your rows or columns. If you don't need to do anything overly complex in a spreadsheet, Sheets is an absolutely acceptable alternative to its competitor
Minpunten:
While the basic features are simple and easier. Some of the "intermediate" features require a bit of research. For example, basic conditional formatting is fairly straight forward—however, if you want to do even a little bit beyond basic, for example, look for duplicates (which is very straightforward in Excel), you need to apply custom functions within conditional formatting rules. And if you're not relatively informed or willing to sit through a YouTube tutorial, it's not going to be super clear what the correct answer is. Also, Google's customer service doesn't usually supply any help here; I've seen numerous threads between customers and Google where customers ask how to do very common tasks or ask about common features and the reply is a resounding "We don't do that.". I'm in a privileged position because I work at a company that actually teaches people how to use Google Sheets, so I have a free resource to teach myself tricks if necessary, but despite this, the syntax for "complicated" tasks is easy to forget and I do often find myself looking up the same things over and over again.
Andrea G.
Formatore in Italië
Geverifieerde LinkedIn-gebruiker
E-learning, Zelfstandig ondernemer
Heeft de software gebruikt voor: 1+ jaar
Anni luce più avanti, hanno fatto un lavoro magistrale.
Opmerkingen: Molteplici, basti pensare che ho realizzato un gestionale interamente con GS, provato con Excel e solo un sacco di problemi. Grazie a formule e funzioni come FILTER o Query o risolto molti problemi.
Pluspunten:
Formule e funzioni al top. Le Query sono super, basti pensare che è una funzione. ArrayFormula è una funzione strepitosa senza uguali, Flatten non ha uguali. Un bel layout semplice e molto funzionale, App Script facile da utilizzare e una vastità di applicazioni. Convalide dati senza doppioni e senza problema con gli spazi vuoti. Abbiamo le caselle di controllo che basta selezionare le celle e vengono inserite. Abbiamo la possibilità di inserire immagini e di poterle gestire (cerca vert, confronta, indice, filter, query...) come un qualsiasi dato! Spettacolare! Mi fermo qui! Perché investire soldi in un prodotto, quando Google c'è lo offre migliore e gratuito?
Minpunten:
Alcuni bug, come la visualizzazione del menu contestuale sulle colonne, forse mi mancano le tabelle di Excel. Ma tutto sommato con la funzione ArrayFormula si risolve molto. Altro non c'è molto da dire, mi piace davvero parecchio.