Wat is Zoho Desk?
Zoho Desk de web-based klantenservice software van Zoho die bedrijven helpt bij het leveren van goede klantervaringen. Het doel is om klanten tevredener, agenten zelfstandiger en bedrijven gezonder te maken. Met Zoho Desk kunt u omnichannel support leveren, de productiviteit van agenten verbeteren, krachtige AI-mogelijkheden gebruiken, alledaagse taken automatiseren, live inzichten in prestaties krijgen en diepgaand integreren met diverse apps - en dat alles zonder een fortuin uit te geven.
Wie gebruikt Zoho Desk?
Zoho Desk, de web-based klantenservice software van Zoho, helpt bedrijven van alle soorten en maten een uitstekende klantenservice te bieden zonder een fortuin uit te geven.
Waar kan Zoho Desk worden geïmplementeerd?
Cloudgebaseerd
On-premise
---
Ondersteuning voor Zoho Desk
Telefonische ondersteuning
24/7 (contact met medewerker)
Chatten
prijzen van Zoho Desk
Beginprijs:
US$ 14,00/maand
Ja, heeft een gratis proefversie
Ja, heeft een gratis versie
Zoho Desk heeft een gratis versie en biedt een gratis proefperiode. Zoho Desk heeft een betaalde versie vanaf US$ 14,00/maand.
Prijsmodellen
vraag een gratis proefversie aan
Ondersteuning voor Zoho Desk
Telefonische ondersteuning
24/7 (contact met medewerker)
Chatten
Video's en afbeeldingen van Zoho Desk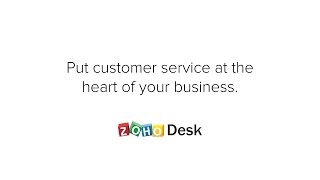 Functies van Zoho Desk
Aanpasbare branding
Aanpasbare sjablonen
Aanstellen (van personeel)
Accountbeheer
Activiteiten volgen
Activiteitendashboard
Afsprakenbeheer
Automatic call distribution (ACD)
Autoresponders
Beheer van Service Level Agreements (SLA's)
Beheer van enquêtes/peilingen
Beheer van klantervaringen
Beheer van negatieve feedback
Beheer van supporttickets
Beheer van verkooppipeline
Bestanden delen
Bijhouden van klachten van klanten
CRM
CTI (Computer Telephony Integration)
Callcenterbeheer
Catalogiseren/categoriseren
Chatbot
Communicatie met klanten
Communicatie via meerdere kanalen
Communicatiebeheer
Consumentgericht chatten in realtime
Contactendatabase
Contentbeheer
Controle van oproepen
Dashboard
Discussies/forums
Documentbeheer
E-mailbeheer
Enquêtes en feedback
Factureren
Feedbackbeheer
Geautomatiseerde routing
Gebruikersbeheer
Gegevensverzameling via meerdere kanalen
IVR en spraakherkenning
Integraties van derden
Interactie bijhouden
Kennisbankbeheer
Kennisbeheer
Klantenbinding
Klantendatabase
Klantgeschiedenis
Leads beheren
Live chatten
Macro's/reacties via sjablonen
Mobiele toegang
Offertes
Offline formulier
Opdrachtenbeheer
Oproepen doorsturen
Oproepen opnemen
Oproepen routeren
Oproepregistratie
Oproepscripts
Overdrachten en routering
Personalisatie
Prestatiemeetwaarden
Priorisering
Proactief chatten
Problemen bijhouden
Rapportage en analyse
Rapportage en statistieken
Rich Text Editor
Routering
SEO-beheer
Samenwerkingstools
Sentimentanalyse
Sjabloonbeheer
Taakbeheer
Tekstanalyse
Tekstbewerking
Ticketbeheer
Toegangsopties/machtigingen
Transcripten/chatgeschiedenis
VoIP-verbinding
Volgen en analyseren van gebruik
Voor de verzekeringsbranche
Voor meerdere talen
Waarschuwingen/Escalatie
Waarschuwingen/Meldingen
Wachtrijbeheer
Widgets
Workflowbeheer
Workflowconfiguratie
Zelfserviceportal
Alternatieven voor Zoho Desk
Derek
CEO
Geverifieerde LinkedIn-gebruiker
Management non-profit organisaties, 2-10 werknemers
Heeft de software gebruikt voor: 6-12 maanden
A great tool for managing your brand and supporting customers
Bijschriften in het Nederlands beschikbaar in de videospeler
Alyssa
Human Resources Generalist in VS
Geverifieerde LinkedIn-gebruiker
Ziekenhuis- en gezondheidszorgbranche, 10.000+ werknemers
Heeft de software gebruikt voor: 1+ jaar
Using Zoho Desk as a ticketing based solution is great
Opmerkingen: A single glance at this program was all it took to fix the ticketing problems we were facing. When we were looking for a new software, I was simply able to get the things I required and could display them to my team with no trouble at all.
Pluspunten:
As a ticketing system, Zoho Desk allows us to keep tabs on and respond to customers' questions about our bespoke goods, whether they reach out to us via email, phone, or in person. Although we have just begun to understand how the system works, we already have a good idea of how beneficial it will be after we have fully implemented it.
Minpunten:
When it comes to cost, Zoho should be more transparent when incorporating additional tools like Zoho Assist. Although Zoho's huge amount of modules is a great asset, it would be even more helpful if there were a means to track the potential financial impact of implementing various configuration options.
Letlet
Sales and Marketing in Filipijnen
Detailhandel, 11-50 werknemers
Heeft de software gebruikt voor: 6-12 maanden
Boost Your Customer Satisfaction Levels with Zoho Desk
Opmerkingen: We were having a hard time managing customer service and support because customers could contact us through multiple channels and we didn't see how they were interacting with us. We were able to address these issues and streamline our customer support processes with the assistance of Zoho Desk.The capacity of Zoho Desk to incorporate multiple customer service channels into a single platform is one of its primary advantages. We can manage support tickets, phone calls, emails, messages on social media, and more with Zoho Desk. We can also manage our support operations more effectively with the help of a wide range of features and tools offered by Zoho Desk. We can use analytics and reporting tools to gain insight into our customer support performance, automate routine tasks, and create custom workflows.In general, Zoho Desk has assisted us in raising customer satisfaction, strengthening our relationships with them, and raising the standard of our customer support and service.
Pluspunten:
The unified platform of Zoho Desk is one of its best features. It gives me a single view of all customer interactions across channels like email, phone, chat, social media, and forums. This assists me with keeping steady over all client requests and guarantees that no client demand goes ignored.The ability to customize Zoho Desk is yet another great feature. I have been able to tailor the platform to our particular business requirements thanks to the capability to modify things like renaming tabs, adding new departments, and customizing email templates.
Minpunten:
Although Zoho Desk offers a streamlined ticket management system, I've noticed that some tickets are lost or closed too quickly. This can impede the resolution of customer issues and frustrate both customers and service representatives.The reporting capabilities of Zoho Desk are yet another area for development. Although the platform offers scheduled and custom reports, I've found that the dashboard's reporting capabilities can be limited. Despite these drawbacks, I have found Zoho Desk to be an overall useful customer service management tool.
Overwogen alternatieven: Freshdesk en Zendesk Suite
Redenen om over te stappen op Zoho Desk: Zoho Desk has several advantages over its competitors in the help desk software market. Firstly, Zoho Desk seamlessly integrates with other Zoho products, such as Zoho CRM, Zoho SalesIQ, and Zoho Projects. This makes it easier for businesses to have a comprehensive solution that streamlines their sales, marketing, and support operations.Another advantage of Zoho Desk is its affordable pricing. Zoho Desk offers a range of pricing plans that are affordable and scalable for businesses of all sizes. In fact, its pricing is often more competitive than other help desk software solutions in the market, making it an excellent value for businesses looking to streamline their customer support operations.
Computersoftware, Zelfstandig ondernemer
Heeft de software gebruikt voor: 1+ jaar
Zoho Desk isn't a favourite option of mine, but it works.
Opmerkingen: Zoho Desk is a great tool with many features, it seems some features may need ironing out or better documenting but otherwise it is a very useful tool that could be extremely valuable to many businesses in all different industries and niches. It is perfect for anyone who just wants a simple email ticketing solution but for those wanting to use the help desk knowledgebase solutions you may want to set aside some time to fully understand how it works and how to best use it.
Pluspunten:
Zoho Desk offers a range of tools to make sure that customer success rates are high. Their self service options are empowering and wouldn't be possible without their awesome ticketing tools which allow for agents to identify regular questions and support individual customers in a per-user tailored way. Being able to receive tickets in many different ways is also a great feature enabling customers to contact us in many different ways and always get the same level of support from the same great knowledgeable team. The ability to send branded emails directly from Zoho Desk with correct SPF records to keep the email safe is also a great feature that I couldn't be without.
Minpunten:
Unfortunately the creation and customisation of the help desk and the posts within it come across as difficult to create and maintain even from the perspective of someone working in computer software. It is unclear what features are available for this and how they should be used to create a perfect self-service help desk to enable customers to get help immediately and free up time for agents to answer more complex and user specific problems.
Overwogen alternatieven: Freshdesk, HubSpot CRM en Zendesk Suite
Redenen om over te stappen op Zoho Desk: I was already a Zoho Mail user and it made sense to me to try to use all tools by the same company to keep everything more simple and make connecting two tools easier. This also meant less account creations and such.
Alain Mukanuna
ICT Consultant in Burkina Faso
Internationale handel en ontwikkeling, 5.001-10.000 werknemers
Heeft de software gebruikt voor: 1+ jaar
A Comprehensive and Feature-Rich Help Desk Solution: Zoho Desk
Opmerkingen: Overall, Zoho Desk is a great help desk solution that is well worth the investment. It is packed with features that make managing customer support a breeze. It has great reporting and analytics tools to help us better understand our customers' needs.
Pluspunten:
Zoho Desk is an incredibly intuitive and user-friendly help desk solution that makes managing customer support incredibly easy. It's well organized and has a variety of features that allow us to customize our support operations. The reporting and analytics tools are incredibly helpful in understanding customer needs.
Minpunten:
Zoho Desk can be a bit overwhelming with all of its features and options. It can be difficult to keep track of all the different tasks and settings. Additionally, some of the features can be a bit confusing to use.
Rahul
System Engineer in India
Gezondheid, wellness en fitness, 1.001-5.000 werknemers
Heeft de software gebruikt voor: 2+ jaar
A Good ITSM tool - Zoho Desk
Opmerkingen: It helps in managing assets inventory, ticketing. It increase team efficiency to work with better trackability and meeting of SLA.
Pluspunten:
Zoho is great ITSM tool. It helps us in manage Assets inventory, ticketing over cloud. It is easy to implement, automate and customizable. It have knowledge base, where you can manage your common IT issues related docs or policies and shared within the team. Reports and statistics are quite good related to others. Announcement feature is also good, where you can announce any IT related maintained or downtime to the organization.
Minpunten:
Price is quite high. Zoho have some standard field names with specific values, which can't be deleted or renamed, you have to create again as per your requirement, which creates duplicity. Also there is delay in automated mail alerts.
Overwogen alternatieven: JIRA Service Management
Redenen om over te stappen op Zoho Desk: Its having good UI and also customizable as per your requirement to an great extent.