Wat is Zoho Projects?
Zoho Projects is de projectmanagementsoftware van Zoho, een merk waarmee 35 miljoen gebruikers online kunnen werken. Zowel grote als kleine bedrijven vanuit elke branche gebruiken de app om op tijd geweldig werk af te leveren. Je kunt je projecten plannen, taken toewijzen, effectief communiceren, nooit een belangrijke update mislopen en gedetailleerde rapporten over de voortgang bekijken.
Wie gebruikt Zoho Projects?
Het wordt gebruikt door grote en kleine teams in elke branche om werk gedaan te krijgen. Hiermee kunnen ze projecten plannen en deze opvolgen, samenwerken en op de hoogte blijven.
Waar kan Zoho Projects worden geïmplementeerd?
Cloudgebaseerd
On-premise
---
Ondersteuning voor Zoho Projects
Telefonische ondersteuning
24/7 (contact met medewerker)
Chatten
prijzen van Zoho Projects
Beginprijs:
€ 5,00/maand
Ja, heeft een gratis proefversie
Ja, heeft een gratis versie
Zoho Projects heeft een gratis versie en biedt een gratis proefperiode. Zoho Projects heeft een betaalde versie vanaf € 5,00/maand.
Prijsmodellen
vraag een gratis proefversie aan
Ondersteuning voor Zoho Projects
Telefonische ondersteuning
24/7 (contact met medewerker)
Chatten
Video's en afbeeldingen van Zoho Projects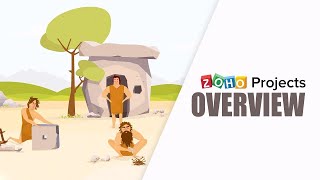 Functies van Zoho Projects
Aanpasbare sjablonen
Activiteiten volgen
Activiteitendashboard
Afhankelijkheden bijhouden
Backlog-beheer
Bestanden delen
Budgetbeheer
Budgettering/prognoses
Bugs/problemen opsporen
Capaciteitsbeheer
Communicatiebeheer
Contentbeheer
Dashboard
Documentbeheer
E-mailbeheer
E-mails omzetten naar taken
Factureerbare en niet-factureerbare uren
Factureren
Gantt-/tijdlijnweergave
Goedkeuringswerkstroom
Ideeënbeheer
Integraties van derden
Kalenderbeheer
Kanban-bord
Kennisbankbeheer
Klantenportal
Kleurcodes en -pictogrammen
Kosten van voltooiing bijhouden
Live chatten
Markeren
Mijlpalen bijhouden
Mobiele app
Mobiele tijd bijhouden
Mobiele toegang
Notitiebeheer
Onkosten bijhouden
Online tijdregistratie
Opdrachtenbeheer
Opmerkingen/notities
Overurenberekening
Percentage-voltooid bijhouden
Personeelsplanning
Portefeuillebeheer
Priorisering
Projectbeheer
Projecten bijhouden
Projectplanning
Projecttijd bijhouden
Rapportage en analyse
Rapportage en statistieken
Rapportage/projecten volgen
Realtime bewerken
Realtime meldingen
Resourcebeheer
Roosterbeheer
Samenwerkingstools
Sjablonen
Slepen en neerzetten
Staafdiagram
Status bijhouden
Subtaken maken
Taakbeheer
Taakplanning
Taakvoortgang bijhouden
Taken bewerken en bijwerken
Taken importeren
Taken labelen
Terugkerende taken
Tijd bijhouden
Tijd en onkosten bijhouden
Toegangsopties/machtigingen
Toewijzing en planning van resources
Vakantie en verlof bijhouden
Videovergaderen
Voortgang bijhouden
Waarschuwingen/Escalatie
Waarschuwingen/Meldingen
Werknemersdatabase
Workflowbeheer
Zoeken/filteren
Alternatieven voor Zoho Projects
Reviews over Zoho Projects
Prathamesh
Tech Lead Manager in VS
Geverifieerde LinkedIn-gebruiker
Kleding en mode, 1.001-5.000 werknemers
Heeft de software gebruikt voor: 2+ jaar
Excellent tool for task management
Opmerkingen: My overall experience is great with Zoho projects, it works fine if given the right technology support. In past three years we have done multiple updates and customization on Zoho projects and they have worked well for us. I personally would recommend Zoho projects to others to built a very good project management tracking system.
Pluspunten:
Zoho projects has been part of our organization from past 3 years. It is a very useful tool for project management. It has high importance in task management especially in tracking down deliverable in kanban projects. The user interface is very friendly and the dashboard is highly interactive. Milestones can be easily set and can be tracked throughout its completing period. Project lags, time delays, and bottlenecks can be identified easily in the system. This tool also helps to manage teams and individual tasks assigned to each person. Notifications can be enabled to track individual performances. Overall, this tool is multi-purpose tool that can perform wide range of tasks.
Minpunten:
Zoho projects are hard to customize. Its scalability is very limited to certain tasks. It is good in project management, but it fails to provide a communication channel between people. Chat windows lag a lot between communication and real time forums take lot of time to update. Zoho requires high internet bandwidth, slow internet creates problem with updates and Zoho starts lagging. Multi user portal has also lot of issues. Even multi user portal is a common feature. The feature creates issues with file sharing. It takes lot of time for file transfers.
Alin
Assistant Vice President Projects in India
Informatietechnologie en -diensten, 11-50 werknemers
Heeft de software gebruikt voor: 1+ jaar
Zoho Projects Review
Opmerkingen: Zoho Projects as a whole is an efficient Project Management Software for Development companies and software companies. The UI/UX part of the software is good with customizable screen themes. Auto- mail for completed tasks, reminder for uncompleted task and time log of weekly activity is readily available, which makes Zoho Projects an overall Good- to-go project and task management tool.
Pluspunten:
1.Zoho Projects handles efficient Project Management.2.Resource Allocation to particular project and time tracking is good.3. Project Timelines and Dependencies with Critical Path can be measured.4. Each Project can have a task list, task and subtasks.5. Client can be assigned a user to view the status of projects.
Minpunten:
1. Since, its a SaaS model application, sometimes slowness in loading is observed.2. Pricing can be much more cost efficient.
Overwogen alternatieven: Microsoft Project
Redenen om over te stappen op Zoho Projects: Zoho Projects has much more capabilities and pricing is also cost effective for companies.
amy
Operations Manager in VS
Managementconsulting, 11-50 werknemers
Heeft de software gebruikt voor: 1-5 maanden
Bron: SoftwareAdvice
Do not get Zoho Projects!
Opmerkingen: Terrible.
Pluspunten:
There is very little, if anything about this product that is likable. I guess, if pushed, I would say the calendar feature and the forum features are interesting but by no means makes up for the lack of features overall of Zoho Project. We are a small to medium business that recently, and regrettably, transitioned from Harvest to Zoho. There is quite a gap in pricing between the two platforms but you get what you pay for, mainly how many users you have. Zoho Project feels more like a bata test platform, then an actual product that should be live and used by any business. If you are doing very basic project management, like planning a wedding or a home renovation this tool would be good for you. But why would you pay for it when you can get any template on-line for free. The only other "pros" I could manage to list is their support. They have a help representative chat feature which is good and they are responsive. Unfortunately for them and mean most of it was used to inform me that "that feature is currently not available". Overall go with Harvest!
Minpunten:
Does not integrate with Quickbooks. Can not add basic client contact information. Can't view all invoices that are due or in draft form (they force you to use another one of their clunky platforms). The Zoho Dashboard is terribly unhelpful and uninformative. You can not run basic reports like; time reports for team members across projects, expenses, invoiced projects, etc. You can't even simply alphabetize Client Users, so as you add clients they are sorted by when you entered them, only. You can only export information in one format and the reports provide very little (helpful) information; for example if you want to export your Clients. The report that is generated only provides the internal Client ID#, Name, User Name, Email Address, Role, Invoice. It does not provide State/End Dates, what Projects are associated with Clients, any Budget information, and so on, and so on. Invoice, Expense, and Time information are shown and available only through each individual Project. You can not see all invoices due, total amounts out standing, or time sheets across Projects and Clients. You are forced to click into each individual project to access that information and once again, the reports you are able to generate are very limited. I could go on about all the "cons" associated with Zoho Project but I don't have time.
Selma
Content Manager in Algerije
Internet, 2-10 werknemers
Heeft de software gebruikt voor: 2+ jaar
Zoho Projects: A Powerful Project Management Tool
Opmerkingen: Overall, I have had a positive experience with Zoho Projects. It is a powerful tool that has all the features I need to manage my projects. The user interface is easy to use, and the reporting and analytics features are excellent.
Pluspunten:
Zoho Projects has a great user interface that is easy to use and navigate. It has all the features I need to manage my projects and tasks, and I can keep track of the progress of the project. The reporting and analytics features are great, and I can easily access the information I need.
Minpunten:
Zoho Projects can be slow at times and the customer support could be improved. The dashboard could also be more customizable, as it can be difficult to find the information I need.
Sarah
System Administrator in VS
Geverifieerde LinkedIn-gebruiker
Informatietechnologie en -diensten, 10.000+ werknemers
Heeft de software gebruikt voor: 1+ jaar
Superb Business Project Management Software
Opmerkingen: A project can be assigned to an individual with the help of a group chat, a deadline, and a list of what needs to be done and how long they have to do it.
Pluspunten:
There are a variety of options for visualizing any given project, and it's all quite straightforward and user-friendly. It's also an effective means of communication and cooperation inside the group. Simply put, it allows us to monitor the latest advances in our field.
Minpunten:
When compared to rivals, I think the Zoho team may benefit from a more updated look and feel. The result could be an even greater edge for Zoho in the marketplace.