Wat is Zoho Projects?
Zoho Projects is de projectmanagementsoftware van Zoho, een merk waarmee 35 miljoen gebruikers online kunnen werken. Zowel grote als kleine bedrijven vanuit elke branche gebruiken de app om op tijd geweldig werk af te leveren. Je kunt je projecten plannen, taken toewijzen, effectief communiceren, nooit een belangrijke update mislopen en gedetailleerde rapporten over de voortgang bekijken.
Wie gebruikt Zoho Projects?
Het wordt gebruikt door grote en kleine teams in elke branche om werk gedaan te krijgen. Hiermee kunnen ze projecten plannen en deze opvolgen, samenwerken en op de hoogte blijven.
Waar kan Zoho Projects worden geïmplementeerd?
Cloud, SaaS, Web, Android (mobiel), iPhone (mobiel), iPad (mobiel)
Over de leverancier
Zoho
Opgericht in 1996
Telefonische ondersteuning
24/7 (contact met medewerker)
Chatten
prijzen van Zoho Projects
Beginprijs:
€ 18,00/maand
Ja, heeft een gratis proefversie
Ja, heeft een gratis versie
Zoho Projects heeft een gratis versie en biedt een gratis proefperiode. Zoho Projects heeft een betaalde versie vanaf € 18,00/maand.
Prijsmodellen
vraag een gratis proefversie aan
Over de leverancier
Zoho
Opgericht in 1996
Telefonische ondersteuning
24/7 (contact met medewerker)
Chatten
Video's en afbeeldingen van Zoho Projects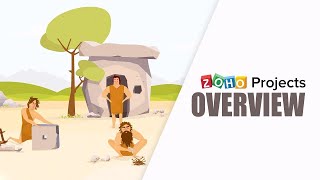 Functies van Zoho Projects
Aanpasbare sjablonen
Activiteiten volgen
Activiteitendashboard
Afhankelijkheden bijhouden
Backlog-beheer
Bestanden delen
Budgetbeheer
Bugs/problemen opsporen
Communicatiebeheer
Contentbeheer
Dashboard
Documentbeheer
E-mailbeheer
E-mails omzetten naar taken
Factureerbare en niet-factureerbare uren
Factureren
Gantt-/tijdlijnweergave
Goedkeuringswerkstroom
Ideeënbeheer
Kalenderbeheer
Kanban-bord
Kennisbankbeheer
Klantenportal
Kleurcodes en -pictogrammen
Kosten van voltooiing bijhouden
Markeren
Mijlpalen bijhouden
Mobiele app
Mobiele toegang
Notitiebeheer
Onkosten bijhouden
Online tijdregistratie
Opdrachtenbeheer
Opmerkingen/notities
Overurenberekening
Percentage-voltooid bijhouden
Personeelsplanning
Portefeuillebeheer
Priorisering
Projecten bijhouden
Projectplanning
Rapportage en analyse
Rapportage en statistieken
Rapportage/projecten volgen
Realtime bewerken
Resourcebeheer
Roosterbeheer
Samenwerkingstools
Sjablonen
Slepen en neerzetten
Staafdiagram
Status bijhouden
Subtaken maken
Taakbeheer
Taakplanning
Taakvoortgang bijhouden
Taken bewerken en bijwerken
Taken importeren
Taken labelen
Terugkerende taken
Tijd bijhouden
Tijd en onkosten bijhouden
Toewijzing en planning van resources
Vakantie en verlof bijhouden
Waarschuwingen / Escalatie
Waarschuwingen/Meldingen
Werknemersdatabase
Workflowbeheer
Alternatieven voor Zoho Projects
Reviews over Zoho Projects
Prathamesh M.
Tech Lead Manager in VS
Geverifieerde LinkedIn-gebruiker
Kleding en mode, 1.001-5.000 werknemers
Heeft de software gebruikt voor: 2+ jaar
Excellent tool for task management
Opmerkingen: My overall experience is great with Zoho projects, it works fine if given the right technology support. In past three years we have done multiple updates and customization on Zoho projects and they have worked well for us. I personally would recommend Zoho projects to others to built a very good project management tracking system.
Pluspunten:
Zoho projects has been part of our organization from past 3 years. It is a very useful tool for project management. It has high importance in task management especially in tracking down deliverable in kanban projects. The user interface is very friendly and the dashboard is highly interactive. Milestones can be easily set and can be tracked throughout its completing period. Project lags, time delays, and bottlenecks can be identified easily in the system. This tool also helps to manage teams and individual tasks assigned to each person. Notifications can be enabled to track individual performances. Overall, this tool is multi-purpose tool that can perform wide range of tasks.
Minpunten:
Zoho projects are hard to customize. Its scalability is very limited to certain tasks. It is good in project management, but it fails to provide a communication channel between people. Chat windows lag a lot between communication and real time forums take lot of time to update. Zoho requires high internet bandwidth, slow internet creates problem with updates and Zoho starts lagging. Multi user portal has also lot of issues. Even multi user portal is a common feature. The feature creates issues with file sharing. It takes lot of time for file transfers.
Kelly m B.
System Engineer in VS
Geverifieerde LinkedIn-gebruiker
Informatietechnologie en -diensten, 10.000+ werknemers
Heeft de software gebruikt voor: 2+ jaar
This easy-to-use app keeps track of chores and projects quickly
Opmerkingen: I really like the functions, the tools, and everything else that this software provides us with in order to manage a project. Those tools are really useful and important at the moment in order to manage a project and collaboration, and this software, it's absolutely useful if you want to manage like a professional.
Pluspunten:
Zoho projects have a number of great features, but one of my favorites is the option to personalize the parameters for the project management. In addition to being incredibly simple to operate, the customization function meets the vast majority of the needs that my firm has in regard to project management.
Minpunten:
Zoho Projects is, without a doubt, one of the least user-friendly and most aggravating pieces of software I have ever worked with. It has some of the worst user experience and interface (UI) that I have ever seen, and it is missing some of the most fundamental capabilities that a project management software ought to have. It has been nothing but a hassle from the beginning to the end.
Amy W.
Operations Manager in VS
Managementconsulting, 11-50 werknemers
Heeft de software gebruikt voor: 1-5 maanden
Bron: SoftwareAdvice
Do not get Zoho Projects!
Opmerkingen: Terrible.
Pluspunten:
There is very little, if anything about this product that is likable. I guess, if pushed, I would say the calendar feature and the forum features are interesting but by no means makes up for the lack of features overall of Zoho Project. We are a small to medium business that recently, and regrettably, transitioned from Harvest to Zoho. There is quite a gap in pricing between the two platforms but you get what you pay for, mainly how many users you have. Zoho Project feels more like a bata test platform, then an actual product that should be live and used by any business. If you are doing very basic project management, like planning a wedding or a home renovation this tool would be good for you. But why would you pay for it when you can get any template on-line for free. The only other "pros" I could manage to list is their support. They have a help representative chat feature which is good and they are responsive. Unfortunately for them and mean most of it was used to inform me that "that feature is currently not available". Overall go with Harvest!
Minpunten:
Does not integrate with Quickbooks. Can not add basic client contact information. Can't view all invoices that are due or in draft form (they force you to use another one of their clunky platforms). The Zoho Dashboard is terribly unhelpful and uninformative. You can not run basic reports like; time reports for team members across projects, expenses, invoiced projects, etc. You can't even simply alphabetize Client Users, so as you add clients they are sorted by when you entered them, only. You can only export information in one format and the reports provide very little (helpful) information; for example if you want to export your Clients. The report that is generated only provides the internal Client ID#, Name, User Name, Email Address, Role, Invoice. It does not provide State/End Dates, what Projects are associated with Clients, any Budget information, and so on, and so on. Invoice, Expense, and Time information are shown and available only through each individual Project. You can not see all invoices due, total amounts out standing, or time sheets across Projects and Clients. You are forced to click into each individual project to access that information and once again, the reports you are able to generate are very limited. I could go on about all the "cons" associated with Zoho Project but I don't have time.
Nurul syakira H.
Human Resources Manager in Maleisië
Geverifieerde LinkedIn-gebruiker
Detailhandel, 1.001-5.000 werknemers
Heeft de software gebruikt voor: 2+ jaar
Amazing feature for project management
Opmerkingen: Zoho Projects has been one of the best cloud based project management software that has been really helpful for us in managing and tracking all the progress of the project.
Pluspunten:
ZOHO projects have many great features, but one of my favorites is the option to personalize the parameters for project management. The part that allows for customization is elementary to use, but it also meets most of the needs that my company has for project management. I enjoy the functionalities, the facilities, and everything else that this program provides us with to manage a project. Those tools are beneficial and vital at the time to maintain a project and collaborate on it. I like all of the features that this software provides.
Minpunten:
It might be challenging to make changes to Zoho prototypes. Its scalability is slightly limited for specific features due to the constraints. Although it helps establish projects, it does not have a platform for individual dialogue. People prefer not to lean on Zoho tasks to convert their work over to Spreadsheets to interact with other people since they find it cumbersome.
Jaideep T.
Head of Product in India
Geverifieerde LinkedIn-gebruiker
Financiële dienstverlening, 2-10 werknemers
Heeft de software gebruikt voor: 6-12 maanden
Great online collaborative project management tools with feature you have always wanted
Opmerkingen: While I have not used the customer support for Zoho Projects extensively, all of the other Zoho tools that I use have an extensive Knowledge Base, very active public forum where people respond quickly, in-built live-chat to chat with a customer service representative, and plenty of videos on YouTube to learn different aspects of the software.
Pluspunten:
Zoho Projects has the following features - no restrictions on number of projects you can create. Easy to switch between projects in the same online interface vs managing multiple files. Ability to create workflow automations that trigger on event based activities, which enables standardization of processes. Ability to share projects with outside vendors/project participants and improve the collaborative nature of Project management.
Minpunten:
More flexibility on making the user interface more compact (like Excel or MSP). Current interface is well spaced, but some users may like a more compact view. More simplified Gantt Charts that help us understand progress and dependencies. Ability to export projects to Excel for sharing with others we can't/don't want to bring on to Zoho projects
Overwogen alternatieven: Trello en Asana
Redenen om over te stappen op Zoho Projects: Zoho Projects is well suited for corporates who want to make project management a more collaborative tool rather than a PM managed tool. It's well suited for startups where founders/co-founders come from large corporate settings and prefer to use comprehensive project management tools over new age tools like Asana and Trello. Its well suited for those who appreciate the importance of dependencies between tasks and want to build and track comprehensive plans for their projects.