Wat is ZoomInfo SalesOS?
ZoomInfo aangedreven door DiscoverOrg combineert de meest uitgebreide zakelijke database met toonaangevende technologie om je go-to-market strategie van begin tot eind te voeden en een nauwkeurig, 360-graden beeld te bieden van klanten, prospects en kansen.
Wie gebruikt ZoomInfo SalesOS?
Cloudgebaseerd platform voor het genereren van leads dat bedrijven van elke omvang helpt workflowprocessen te stroomlijnen en marketingbewerkingen te verbeteren met databasebeheer, taaktoewijzing en meer.
Waar kan ZoomInfo SalesOS worden geïmplementeerd?
Cloudgebaseerd
On-premise
---
Over de leverancier
ZoomInfo
Gevestigd in Vancouver, VS
Opgericht in 2000
Ondersteuning voor ZoomInfo SalesOS
Telefonische ondersteuning
Chatten
Over de leverancier
ZoomInfo
Gevestigd in Vancouver, VS
Opgericht in 2000
Ondersteuning voor ZoomInfo SalesOS
Telefonische ondersteuning
Chatten
Video's en afbeeldingen van ZoomInfo SalesOS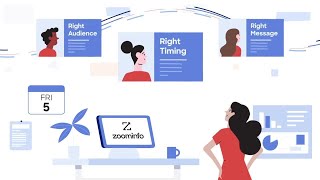 Vergelijk de kosten van ZoomInfo SalesOS met soortgelijke producten
Functies van ZoomInfo SalesOS
Activiteitendashboard
B2B-lead generation
Bijhouden van klantenactiviteit
CRM
Concurrentieanalyse
Contactendatabase
Contentmarketing
Gegevens importeren en exporteren
Integraties van derden
Intentiegegevens
Interactie bijhouden
Klantensegmenten
Klantprofielen
Leadkwalificatie
Leadmeldingen
Leads beheren
Leads vastleggen
Leadsegmentering
Multi-channel attribution
Pipelinebeheer
Predictieve analyse
Priorisering
Rapportage en analyse
Realtime analyse
Realtime gegevens
Tools voor exploratie
Volgen van gedrag
Waarschuwingen/Meldingen
Websitebezoekers bijhouden
Workflowbeheer
Alternatieven voor ZoomInfo SalesOS
Reviews over ZoomInfo SalesOS
Max
Contact Center Engineer in VS
Geverifieerde LinkedIn-gebruiker
Telecommunicatie, 11-50 werknemers
Heeft de software gebruikt voor: 1-5 maanden
Zoominfo the Holy Grail For Sales
Opmerkingen: My experience with Zoominfo has been amazing, I was able to find out when people are looking for our services and reach out to them to close some bussiness.
Pluspunten:
What is not a pro of this tool! it has everything!! I'm able to find all my contacts for a business and everything I need to know about them. Helping my closing right when talking to new clients.
Minpunten:
There are no cons with this platform, this tool is amazing for sales teams to get more new clients, and able to see what they are looking to buy.
Muziek, 2-10 werknemers
Heeft de software gebruikt voor: 2+ jaar
A Fantanstic Business to Business Lead Generation & Contact Finder!
Opmerkingen: Overall ZoomInfo Sales OS has done wonders for my small business! It opened up a world of contacts and doors that we would not have been able to open on our own. It's simply a great idea and one that no other company is doing that I'm aware of, at least not on this scale. If you deal with a lot of business to business sales, this is really a must have. Even if you are just looking for certain contacts in your industry, ZoomInfo will really help you out. Highly recommended to businesses of all kinds!
Pluspunten:
ZoomInfo SalesOS is unlike any other software I've used! Gone are the days of spending countless hours searching for leads or contacts manually...Simply use SalesOS to get a whole database of relevant info quickly and safely. Other than the great concept of ZoomInfo in general, and the great info you can get from them, I have to say the thing I like the most is their customer service. They are very attentive and available to help you make sure you get the most out of the platform.
Minpunten:
I honestly don't have anything really negative to say about ZoomInfo Sales OS! If anything, it can be a little confusing at first because they have many different pricing options and packages to choose from. But fear not! If you need help deciding what's best for you business, their great customer service team will guide you every step along the way.
Geverifieerde reviewer
SDR Team Lead in Litouwen
Geverifieerde LinkedIn-gebruiker
Computersoftware, 51-200 werknemers
Heeft de software gebruikt voor: 6-12 maanden
Overwogen alternatieven:
Best tool for prospecting & lead generation in the US
Opmerkingen: ZoomInfo has the largest database of companies, contacts in the USA, it helps our sales team, who are working with the US, to get relevant contact information and most importantly, the tool helps us to get direct dials.
Pluspunten:
Software is very easy to use, it integrates with all of the most popular sales technology tools like Salesforce, Linkedin, Outreach and etc. The best thing about Zoominfo is their largest database of companies, contacts in the United States.
Minpunten:
Like with all similar tools, sometimes data is inaccurate, outdated or there is no data at all. Moreover, their support is very slow and not very helpful. Moreover, the data quality in Europe is poor, we need to use another tool (Congism) for Europe.
Reactie ZoomInfo
vorig jaar
Hello, Thank you for your review and feedback on ZoomInfo. We always like to hear from our customers and we value what you have to say. There is some things we would love to share with you as well about our data. Currently we have 95M+ Company Profiles, 63M+ Direct Dials, 100M+ Direct Emails, 4.3M+ C-Level Contacts, and we are constantly growing daily. Our platform employs automated machine learning to constantly scan corporate websites, news articles, SEC filings, job postings and other sources for information along with our massive growing network of voluntary contributors to update information about companies and contacts. The contacts and companies are updated as soon we get new information that can be validated for accuracy. We are continuously working on improving our product everyday to better fit the needs of our customers, like yourself. We always love the chance for customers to speak with our Product team. If you're interested, please email: [email protected]
Geverifieerde reviewer
Head of sales northern europe in Israël
Geverifieerde LinkedIn-gebruiker
Computersoftware, 11-50 werknemers
Heeft de software gebruikt voor: Gratis proef
Overwogen alternatieven:
It's ok but definitely not a 'silver bullet'
Pluspunten:
Zoominfo is really easy to use as a prospecting tool that connects well with Salesforce CRM on your day to day prospecting activities. in other words as a simple tool to do all of the sales team's pre-work prior to a call, it definitely does what it says on the tin plus it has great filters.
Minpunten:
the contact data is decent in the US but for foreign companies (EMEA or APAC) it's actually not that great. in addition, that price is a bit too high for what the product does.
Managementconsulting, 201-500 werknemers
Heeft de software gebruikt voor: 2+ jaar
Zoominfo as a database for lead generation
Opmerkingen: Zoominfo is the greatest database in the market, extremely user friendly with great data accuracy, at a very affordable cost!
Pluspunten:
Zoominfo database is not only very accurate and frequently updated (contact info accuracy is great), but it is also extremely user friendly, making it very easy to set up, customize and use on a daily basis, even for users with limited technological skills.
Minpunten:
The set up of the websights feature can be a bit challenging, but once it is properly implemented, it is a wonderful feature to use and generate more qualified leads on a daily basis!