WooPOS
Wat is WooPOS?
Hoogwaardige detailhandelsverkooppunten en voorraadbeheer op ondernemingsniveau op Windows Desktop tegen betaalbare prijzen. WooPOS bestrijkt elk aspect van je detailhandel. Aanpasbaar voor alle
Meer informatie
soorten detailhandel. Functionaliteiten omvatten CRM, klantloyaliteit, werknemerscommissie, tijdkaart, automatische kortingsregels, belasting per postcode, hybride online en offline database, 500 uitgebreide analyserapporten. Diepe integratie met e-commerce, waaronder WooCommerce en Shopify.
Minder informatie
Wie gebruikt WooPOS?
Kleine tot grote detailhandelbedrijven die hun POS, voorraadbeheer, klanten en werknemers goed willen beheren.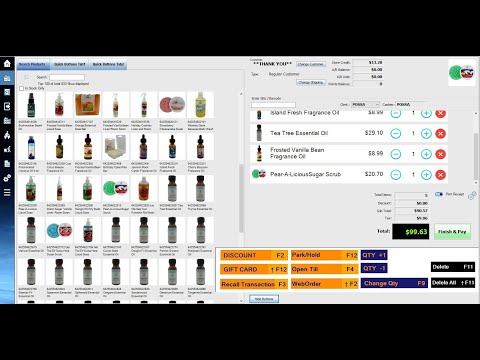 Twijfel je over WooPOS? Vergelijk met een populair alternatief
Niet beschikbaar in jouw land
Gratis versie
Gratis proefversie
Gratis versie
Gratis proefversie
Waarom krijg ik dit te zien?
Alternatieven voor WooPOS
Greg
Operations Fellow
Geverifieerde LinkedIn-gebruiker
Hoger onderwijs, 1.001-5.000 werknemers
Heeft de software gebruikt voor: 1-5 maanden
Posted a few products with WooCommerce.
Bijschriften in het Nederlands beschikbaar in de videospeler
Scott
Web Developer in VK
Geverifieerde LinkedIn-gebruiker
Heeft de software gebruikt voor: 2+ jaar
One of the most customizable ecommerce addon
Pluspunten:
What makes Woocommerce greatis the fact that it is higly cutomizable. WIth your every need it can exceed your expectations by far. Built for speed and custom it is another great tool to work with as a designer. The easy to install and manage make it for users ideal for small and large shops. You can manage a multi store from the same dashboard and start making some severe changes. It integrates perfectly with other plugins and apis
Minpunten:
The export data function should be tailored for less fields or make it more compact, it is great for export import in the same ecommerce platform but a nighmare just to upload it to something else.
Matthew
Owner in VS
Geverifieerde LinkedIn-gebruiker
Heeft de software gebruikt voor: 1+ jaar
Super powerful and designed for use for Wordpress and it works great in the software it was written
Opmerkingen: Its a great, powerful peice of software, makes for a very flexible and complete store. But you need to pay to get their, other competitors already offer the options in a monthly paid format and include phone support. But those are different models. Its working for this client and I'm glad they are happy. I would consider it again, but perhaps a little closer eye on the yearly cost.
Pluspunten:
I had a client who needed a store and wanted me to build it an host it. Since I use wordpress for all my sites I'd already known about woocommerce. Its allowed me to build a very flexible, powerful store that can do almost anything I ask of it, as long as my client can continue to pay for the yearly renewals.
Minpunten:
Its expensive if you run anything more than a very simple store with simple products. As soon as you want to process credit cards, thats a paid plugin, you want to add the cost of goods (a feature free by default in 99% of its competitors), thats paid plugin. I would necessarily call it a full eCommerce solution, more like a solution framework that you need to buy multiple once a year renewing addons. Since its self hosted on your wordpress server you will not have phone support, email/ticket support is pretty responsive though. but you are expected to have moderately high level of tech knowledge.
Detailhandel, 2-10 werknemers
Heeft de software gebruikt voor: 2+ jaar
WooPOS Review
Opmerkingen: The POS software we previously used did not have nearly the customizability that Woo has. We have a necessity to be extremely detailed with our work orders for example and it being able to change the attributes so easily and often to fit our changing needs has been a great feature. Overall I find Woo Pos to be one of the better POS systems I have worked with in over 16 years in Retail.
Pluspunten:
I appreciate that tech support is very responsive and helpful when needed. I like that this software is so customizable it has really made a positive impact and streamlined our sales interactions.
Minpunten:
There are times when it can be confusing or complicated to work with on certain tasks. However the WOOPOS knowledge base website has been very helpful in those moments.
Zied
Web developer and president of a company in Canada
Online media, 2-10 werknemers
Heeft de software gebruikt voor: Gratis proef
Amazing soft but needs a lot of changes
Opmerkingen: See above
Pluspunten:
A lot of usefull functionnalities. One of the rare professional Pos easily linked with woocommece.
Minpunten:
Hard to configure Hard to customize frontend pos Hard to customize functionalities Not user friendly Please add a custom product for when the cashier scans an unavailable product they can add a custom product with price and name. Add a function to customize front end pos to simplify the visual complexity for the cashier for example remove the search product tab. Add a category product instead to access example vegetables fruits ... and when you click on it a list of these product are shown .... But overall the pos is really great just need some easy friendly platform and some additional custom functions I ll be the first to go back to your soft . Please keep me posted for any updates this
Reactie WooPOS
4 jaar geleden
Hi Zied, Thanks for the review. But we have all the custom options you have mentioned in your review. Some functions are hidden or need advanced special settings to show up. Please email us to get help on setup. And don't forget to give us a better review! Thanks
Aidan
Digital Operations Manager in VS
Detailhandel, 11-50 werknemers
Heeft de software gebruikt voor: 2+ jaar
The Best POS and Inventoy Control Program for Retail
Pluspunten:
WooPOS includes features that other programs do not that are essential to our day to day operations. This includes easy SKU creation, customer database management, lots of unique special order parts, transfers between retail locations, and in-depth reports. Without a program like WooPOS, many of these critical business functions would not be possible. Customer support is absolutely incredible compared to other systems. When we have an issue, it is generally fixed within an hour. Simply unmatched.
Minpunten:
There is a high learning curve to WooPOS, but once you understand its general functions, you are able to do so much.