Wat is Zendesk Suite?
Zendesk bouwt helpdesk software voor betere klantrelaties. Onze producten geven bedrijven de mogelijkheid om betrouwbaarder, flexibeler en meer schaalbaar te zijn. Ze helpen de communicatie te verbeteren en enorme hoeveelheden gegevens te doorgronden. Bovenal werken ze samen om interacties te veranderen in duurzame relaties. Meer dan 200.000 bedrijven zoals Uber, Groupon, Box, Airbnb en Disney gebruiken Zendesk om hun ondersteuningskosten te verlagen en de productiviteit en klanttevredenheid te verhogen.
Wie gebruikt Zendesk Suite?
Meer dan 200.000 klanten vertrouwen op Zendesk voor hun klantenondersteuning, van startups tot Fortune 500-bedrijven.
Waar kan Zendesk Suite worden geïmplementeerd?
Cloudgebaseerd
On-premise
---
Over de leverancier
Zendesk
Gevestigd in San Francisco, VS
Opgericht in 2007
Ondersteuning voor Zendesk Suite
Telefonische ondersteuning
24/7 (contact met medewerker)
Chatten
prijzen van Zendesk Suite
Beginprijs:
US$ 49,00/maand
Ja, heeft een gratis proefversie
Geen gratis versie
Zendesk Suite heeft geen gratis versie maar biedt wel een gratis proefperiode. Zendesk Suite heeft een betaalde versie vanaf US$ 49,00/maand.
Prijsmodellen
vraag een gratis proefversie aan
Over de leverancier
Zendesk
Gevestigd in San Francisco, VS
Opgericht in 2007
Ondersteuning voor Zendesk Suite
Telefonische ondersteuning
24/7 (contact met medewerker)
Chatten
Video's en afbeeldingen van Zendesk Suite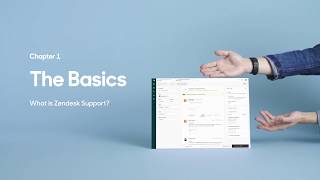 Functies van Zendesk Suite
Aanpasbare branding
Aanpasbare formulieren
Aanpasbare rapporten
Aanpasbare sjablonen
Aanstellen (van personeel)
Accountbeheer
Accountwaarschuwingen
Activiteiten volgen
Activiteitendashboard
Archiveren en retentie
Assets volgen
Auditing van problemen
Automatic call distribution (ACD)
Autoresponders
Beheer van Service Level Agreements (SLA's)
Beheer van enquêtes/peilingen
Beheer van klantervaringen
Beheer van negatieve feedback
Beheer van supporttickets
Beheer van verkooppipeline
Bewaking van sociale media
Bijhouden van klachten van klanten
CMDB
CRM
CTI (Computer Telephony Integration)
Callcenterbeheer
Campagnebeheer
Catalogiseren/categoriseren
Chatten/messaging
Communicatie via meerdere kanalen
Communicatiebeheer
Configuratiebeheer
Consumentgericht chatten in realtime
Contactenbeheer
Contentbeheer
Contract- en licentiebeheer
Controle van oproepen
Dashboard
Discussies/forums
Documenten opslaan
Door gebeurtenissen geactiveerde acties
E-mailbeheer
Enquêtes en feedback
Feedbackbeheer
Geautomatiseerde routing
Gegevens importeren en exporteren
Gegevensverzameling via meerdere kanalen
Geotargeting
Gezondheidsscore
Groepenbeheer
Helpdeskbeheer
IVR en spraakherkenning
Incidentenbeheer
Inkomstenbeheer
Integratie van sociale media
Integraties van derden
Interactie bijhouden
Invoer via telefoontoetsen
Kennisbankbeheer
Kennisbeheer
Klantenbeheer
Klantenbinding
Klantendatabase
Klantenondersteuning
Klantensegmenten
Klantgeschiedenis
Leads beheren
Live chatten
Macro's/reacties via sjablonen
Meerdere scripts
Mobiele toegang
Offline formulier
On-demand opnamen
Online implementatie
Opdrachtenbeheer
Opmerkingen/notities
Oproepen opnemen
Oproepen rapporteren
Oproepen routeren
Oproepregistratie
Oproepscripts
Overdrachten en routering
Personalisatie
Prestatiemeetwaarden
Priorisering
Proactief chatten
Probleembeheer
Problemen bijhouden
Rapportage en analyse
Rapportage en statistieken
Realtime controle
Realtime meldingen
Releasebeheer
Routering
Samenwerkingstools
Servicecatalogus
Sjabloonbeheer
Slepen en neerzetten
Sms-berichten
Sociale profielen van klanten
Stemaanpassing
Taakbeheer
Tekst naar spraak
Tekstanalyse
Tekstbewerking
Ticketbeheer
Toezicht houden op klachten
Transcripten/chatgeschiedenis
Trendanalyse
Veranderingsbeheer
VoIP-verbinding
Voicemail
Volgen en analyseren van gebruik
Voor de verzekeringsbranche
Voor iPad-apparaten
Voor meerdere talen
Voor start-ups
Waarschuwingen/Escalatie
Waarschuwingen/Meldingen
Wachtrijbeheer
Websitebezoekers bijhouden
Widgets
Workflowbeheer
Workflowconfiguratie
Zelfserviceportal
Zoeken in gehele tekst
Alternatieven voor Zendesk Suite
Reviews over Zendesk Suite
Federico
CFO in Brazilië
Geverifieerde LinkedIn-gebruiker
Bankwezen, 2-10 werknemers
Heeft de software gebruikt voor: 1-5 maanden
Bron van de reviewer
Great tool to Develop a great Customer Success
Opmerkingen: Our overall experience with Zendesk Suite was very pleasant, we have established a successful Customer Success team, now we are working to maintain the quality of our service.
Pluspunten:
This solution is really great, very easy to use and have an elegant interface. We improved our customer support tickets management as well as our internal IT tickets.
Minpunten:
One issue that they could improve is the free trial, they only offer 14 days instead of 30 days like many other companies. In addition we send a request to their Customer Support and no much help received.
Overwogen alternatieven: Intercom
Redenen om voor Zendesk Suite te kiezen: We tried several tools and this solution really worked to solve our needs.
Overgestapt van: Intercom
Redenen om over te stappen op Zendesk Suite: We did an evaluation and the cost/benefit ratio from Zendesk was the highest
Abdullah
Director of Ad Partnerships in Bangladesh
Luxeartikelen en sieraden, 11-50 werknemers
Heeft de software gebruikt voor: 1+ jaar
Bron van de reviewer
Zendesk Suite: Assuring top quality customer support for our sunglass business
Opmerkingen: I have had a really good overall experience with Zendesk Suite. Our business has used the program to effectively manage and close deals, prioritize and organize customer questions, and keep an eye on potential sales prospects. Our team can simply access and use the data and resources they need to deliver the best customer assistance thanks to the seamless interaction with other applications and services. The software once saved me time and allowed me to concentrate on other crucial responsibilities by rapidly detecting and resolving a client issue. This personal experience has strengthened my conviction that Zendesk Suite is a valuable resource for enhancing customer support in our sector.
Pluspunten:
The incredibly straightforward and user-friendly interface of Zendesk Suite is one feature I really value because it enables our staff to respond to consumer questions and issues regarding their purchases promptly and effectively. Our team's productivity has increased dramatically as a result of this ease of use, and we are now able to give our customers better service. We can administer Zendesk Support Suite in more sophisticated ways, including adjusting the permissions of certain users, thanks to the extra administration options. It also has a vast integration with our platform.
Minpunten:
The customization restrictions of Zendesk Suite are one feature I find annoying. Advanced features like Regex are absent. Additionally, less complex automation rules such executing triggers that are established for a specific time period. Again, there aren't many search options, which makes it difficult for customers to find a specific ticket.
Overwogen alternatieven: Freshdesk en Help Scout
Redenen om over te stappen op Zendesk Suite: Due to its simplicity of use, extensive toolkit, and seamless connection with other programs and services, Zendesk Suite stands out.
Geverifieerde reviewer
Geverifieerde LinkedIn-gebruiker
Financiële dienstverlening, 501-1.000 werknemers
Heeft de software gebruikt voor: 2+ jaar
Bron van de reviewer
Bron: GetApp
Dissapointing experience
Opmerkingen: Upon the questionnaire of more than 80 people in the department regarding Agent Workspace, we received zero positive reviews, and 10% of agents replied that they would consider quitting the company if the service remains working like that. For that price, the service is not worth recommending, and if you did not yet decide wherever Zendesk is for you, we would advise reviewing other companies.
Pluspunten:
Wide variety of services: HelpCenter, chats, e-mails, there are a lot of integrations. But while there are many services, and we do appreciate their stability, the mistakes and bugs will not be addressed, and you will be completely trapped with those issues.
Minpunten:
-Regardless of how much you pay, your feedback will be ignored, even if it is widely supported by the community.-Zendesk forces you to transfer to their new system, "Agent Workspace," which lacks major features that are present in the Classic Chat Widget. Despite any arguments, they took the position, "We will not update the old system, so transfer to the new." When transferring to the new system, Zendesk lacks attention, understanding, and proper support. Agent workspace does not work as promised (later, more on that). -Horrible support. I cannot emphasize that enough, but every manager in my team constantly complains about the inattentiveness and lack of basic comprehension abilities of Zendesk managers. Unless you involve your personal manager (who does not answer support questions), your issues will be paid zero attention to. They will not accept any feedback. Most importantly: if the question cannot be answered with a link or a shortcut, the support team forwards your issue to tickets. Moreover, in 30% of cases, support will resolve the tickets without giving your replies. As a support manager of many years, I cannot imagine the level of disregard for a paying customer who needed to close the requests without a reply. -Agent workspace: slow performance. Translation does not work on mobile SDK. Skillbase routing doesn't work, inconsistent ticketing system, and an inconsistent tag system.
Samuel
Senior Manager in Oostenrijk
Vrije tijd, reizen en toerisme, 51-200 werknemers
Heeft de software gebruikt voor: 2+ jaar
Bron van de reviewer
Efficient and Versatile
Opmerkingen: Ticket management, live chat, call center integration, and knowledge base management but also the ability to customize the software to fit specific needs is a major bonus! :)
Pluspunten:
Ease of use and intuitive interface, which makes it easy for agents to navigate and resolve customer issues quickly, and the help and customer support Zendesk offers.
Minpunten:
The price can be steep for young companies, but the ROI is worth it.
Tora
IT Service Desk Lead in Japan
Geverifieerde LinkedIn-gebruiker
Financiële dienstverlening, 10.000+ werknemers
Heeft de software gebruikt voor: 1+ jaar
Bron van de reviewer
The All-in-One Customer Service Solution
Opmerkingen: Zendesk Suite offers support across multiple phones, email, chat, and social media channels. It allows customers to contact support in their preferred channel and have a consistent experience across channels. Agents can also view the entire customer conversation history in one place to provide personalized support. The knowledge base feature allows you to create help center content for customers to self-serve. You have complete control over the layout, design, and content. The knowledge base seamlessly integrates with the rest of the Zendesk Suite to provide a unified customer experience.
Pluspunten:
Zendesk Suite provides over 100 pre-built reports and dashboards to gain data-driven insights into your customer service operations. You can analyze customer satisfaction, agent performance, ticket volume, and more metrics. The reporting tools are easy to use but also highly customizable. Zendesk Suite has a robust API allowing you to integrate the software with many third-party applications. Many pre-built integrations are also available to connect Zendesk Suite to live chat, phone support, and internal tools like Slack or Salesforce. The integrations and API provide much flexibility in building a customized support solution.
Minpunten:
In my experience using Zendesk Suite, I did encounter a few minor issues with the mobile interface for agents. However, Zendesk released updates to address most of these issues. Overall, Zendesk Suite is an intuitive, full-featured customer service software with a simple and modern interface.
Overwogen alternatieven: SolarWinds Service Desk
Redenen om voor Zendesk Suite te kiezen: Previously, I used a combination of multiple tools like email, spreadsheets, and a basic ticketing system to manage customer service. This solution was inefficient, disjointed, and did not scale well. Zendesk Suite provided an all-in-one platform to consolidate our customer service operations. By switching to Zendesk Suite, we could: Gain a single view of the customer across channels. Reduce manual processes and redundancies. Improve agent productivity and collaboration. Generate data-driven insights to optimize our support.
Overgestapt van: Zingtree
Redenen om over te stappen op Zendesk Suite: Zendesk Suite has an intuitive, user-friendly interface that is easy to navigate. Both agents and administrators can get up and running quickly with minimal training. It reduces the learning curve and allows you to focus on providing excellent customer support. Zendesk Suite is built to scale your business. It can support small startups to large enterprises with tens of thousands of agents. No matter how much your customer base grows, Zendesk Suite can scale with you.