Wat is Retail Pro?
Retail Pro is een flexibel, apparaat-agnostisch beheersoftwareplatform voor de gespecialiseerde detailhandel, met krachtige POS-, aanvul- en voorraadbeheer, promoties, medewerkers- en klantenbeheer, backoffice, prestaties en KPI-rapportagecapaciteiten. Detailhandelaren kunnen Retail Pro gebruiken om gegevensfragmentatie te overwinnen en Retail Pro afstemmen op exacte werkstroom-, branding- en zakelijke behoeften, ongeacht of ze als franchise, bedrijfswinkel, outlet of multi-filiaal werken, waar ook ter wereld.
Wie gebruikt Retail Pro?
Retail Pro wordt vertrouwd door meer dan 159.000 gebruikers in gespecialiseerde detailhandel-verticals zoals kleding, schoeisel, luxe-artikelen, elektronica, geschenken, speelgoed, duurzame goederen, woninginrichting, sieraden, sportartikelen en meer.
Waar kan Retail Pro worden geïmplementeerd?
Cloud, SaaS, Web, Mac (desktop), Windows (desktop), Windows (lokaal), Linux (lokaal), Android (mobiel), iPhone (mobiel), iPad (mobiel)
Over de leverancier
Retail Pro International
Opgericht in 1987
Beschikbaar in deze landen
Verenigde Staten
Over de leverancier
Retail Pro International
Opgericht in 1987
Beschikbaar in deze landen
Verenigde Staten
Video's en afbeeldingen van Retail Pro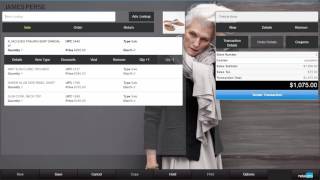 Vergelijk de kosten van Retail Pro met soortgelijke producten
Functies van Retail Pro
CRM
Inkooporderbeheer
Multilocatie
Personeelsbeheer
Rapportage en analyse
Retourbeheer
Verkooppunt
Voorraadbeheer
eCommerce-beheer
Alternatieven voor Retail Pro
Robert
Retail Pro Administrator in VS
Detailhandel, 201-500 werknemers
Heeft de software gebruikt voor: 2+ jaar
Bron: SoftwareAdvice
Retail Pro 9
Opmerkingen: I have been a Retail Pro Admin now for years. I know that if I ever have an issue pop up, I can call my RPro business partner at any time of the day, even 2 am, which I have done. I get the same high quality and knowledgeable support I need at the time.
Pluspunten:
It's ability to provide a one-stop shop. It has everything a business needs to succeed as software goes. Along with it knowledgeable business partners is an excellent choice to support your retail business
Minpunten:
New more knowledge based support. When I access my portal, the limited amount of user information is disappointing
Jose Miguel
Software Development Team Manager in El Salvador
Geverifieerde LinkedIn-gebruiker
Computersoftware, 11-50 werknemers
Heeft de software gebruikt voor: 2+ jaar
Overwogen alternatieven:
Full Stack Retial Software
Opmerkingen: I install Retail Pro for several Clients in America, with different requirements and Retail Verticals, but one common requirement is allow software to connect with thier ERP, and with the Retail Pro strong API, you can accomplish this. So, my experience has been mostly very positive.
Pluspunten:
I've been using Retail Pro since version 8 and now We are on Prism, which is a huge update and change of mind for Retail Pro user... but for the good. Retail Pro Prism its a store distributed web application now, with this I mean that you can have one Retail Pro server per store, in a multi store chain kind of business. As a web application, it uses AngularJS as a front end, allowing a incredible flexibility to customize the User Interface, so you can create your own look and feel for the system, not only for the Cashier view, but for all the modules. About that, you have: - Inventory - Vendors and Purchases - Transfers - Customers - POS - Physical Inventory - Inventory Adjustments - Customer Loyalty So, you see... It is the full package. One more thing: their global support with their partners around the globe will give your peace of mind for your multi store chain in almost any country, to name a few (Full North/Central/South America, Full EU, Some EMEA, Full ASIA, some Africa).
Minpunten:
Cost, period... But you are paying a Porsche for a Porsche, you know what I mean. This is a serious Retail software, for serious Retail business. You can use it in small business as well, as its perfectly scalable. So, If you foresee a bright future in your Retail Business, you can bet on Retail Pro.
Detailhandel, 11-50 werknemers
Heeft de software gebruikt voor: 2+ jaar
Bron: SoftwareAdvice
Retail Pro 9.4 is a very unfortunate product.
Opmerkingen: V9.4 is very very slow and without features or benefits to offset the moving from V8 to V9.4. If you love lack of features and watching a spinning wheel you will love Rpro 9.4
Pluspunten:
ECM polling replace the 32 bit polling in Rpro 8.6. In theory this allows close to real time updates to your main. unfortunately, seeing it failing for various reasons with no logs or error message to help navigate.Therefore, Never know if it works or not. The Retail Pro dealer has been helpful in trying to fix the numerous issues with Rpro.
Minpunten:
Unbelievably slow. We have had replaced all hardware with SSD, tons of ram and fast processors. Views, filters, moving from Sales to Customer management system pauses each step of the way. Even direct connect to server does little to speed up process. Missing most basics elements. Can not view inventory by sold as this element is missing from filter. Likewise, Cannot view on order in inventory as this most basic feature is also missing from filters. We currently 95,000 active SKU very hard to manage as system is so slow. My Rpro dealer blames it on the Oracle data base. Reporting in 9.4( why we have the system) is basically missing. We have to export all of the 9.4 data into our old 8.6 in order to run even the most basic reports. Therefore we are essentially running two systems. 9.4 heavy data base requires more management and is expensive and time consuming. If an emergency reinstall is needed it might take a while. Rpro 9.4 only allows one EFT interface. End user is stuck in a noncompetitive relationship with POS EFT which has it owns struggles. Have been with Retail Pro Since 1998. Been on V8 since 2004. V8 while not the most advanced product in the market place was a stable
Sportartikelen
Heeft de software gebruikt voor: Niet verstrekt
Bron: SoftwareAdvice
I'm a managing partner and CIO.
Pluspunten:
It does 90% of everything we want & need. Frankly, that other 10% is probably unrealistic without custom programming. We get awesome tech support when needed, and I especially love the live chat feature that lets us ask quick questions. The product is very quick and easy to train an employee on and setting up levels of permission is awesome. We're able to delegate job duties easily with the different features. Receiving is a perfect example. That workstation is set up to be used completely differently than our cash registers. For example, we have three cash registers our of eight total machines running Retail Pro. Each has a unique function, and the software works well in supporting those varied functions simultaneously.
Minpunten:
Some of the more intricate details of the software take quite a while to learn. It's easy for an average sales associate to use the main functions, but some of the higher level features get complex. The software can be "quirky" with some old features that were added on to, so there are features that are not intuitive. An example is polling: some things happen automatically and others require initialization. Like every time we add an employee to the system, it's a process to get them into other locations and requires higher-level knowledge.
Detailhandel
Heeft de software gebruikt voor: Niet verstrekt
Bron: SoftwareAdvice
Retail Pro gives us a competitive edge!
Pluspunten:
Our operation is very seasonal, and we gear up from 0 to 100 in a short amount of time. The accuracy the system delivers for inventory management gives us the confidence to make rapid decisions that impact our bottom line. We especially appreciate the level of support that we receive. That level of trust in the product and support is important for us since we have such a narrow window for our business.
Minpunten:
No software is perfect. However, our experience with Retail Pro has been significantly better then our previous vendor. Our least favorite thing about the software is how it behaves with our unique discount structure. However, we have found ways to make it fit our operation.