Wat is GoTo Meeting?
GoToMeeting is marktleider op het gebied van online videoconferenties en wordt door miljoenen mensen elke dag vertrouwd voor professionele realtime virtuele communicatie. GoToMeeting biedt een snelle, eenvoudige en betrouwbare professionele online vergaderoplossing waarmee klanten elkaar kunnen ontmoeten, presentaties kunnen delen en met collega's kunnen chatten, allemaal met één klik op de knop.
Wie gebruikt GoTo Meeting?
Voor bedrijven van elke omvang die op het web willen vergaderen.
Waar kan GoTo Meeting worden geïmplementeerd?
Cloud, SaaS, Web, Mac (desktop), Windows (desktop), Windows (lokaal), Linux (lokaal), Android (mobiel), iPhone (mobiel), iPad (mobiel)
Over de leverancier
GoTo
Gevestigd in Orem, VS
Opgericht in 2003
Telefonische ondersteuning
Over de leverancier
GoTo
Gevestigd in Orem, VS
Opgericht in 2003
Telefonische ondersteuning
Video's en afbeeldingen van GoTo Meeting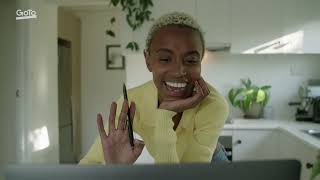 Vergelijk de kosten van GoTo Meeting met soortgelijke producten
Functies van GoTo Meeting
Activiteit-/nieuwsfeed
Annotaties
Audio opnemen
Audio-/videovergaderen
Audio-oproepen
Automatisch framen
Automatische transcriptie
Beheer van audiobestanden
Beheer van vergaderingen
Bestanden delen
Brainstormen
Call conferencing
Chatten/messaging
Communicatiebeheer
Contactenbeheer
Contentbeheer
Controlebeheer voor presentaties
Desktop/browser delen
Discussies / forums
Documentbeheer
E-mailbeheer
Elektronisch hand opsteken
Enquêtes en feedback
Evenementenbeheer
Externe ondersteuning
HD-audio/-video
Hostfuncties
Integraties van derden
Interactief whiteboard
Kalenderbeheer
Kennisbeheer
Kleine vergaderruimten
Live chatten
Merkenbeheer
Mobiel scherm delen
Mobiele toegang
Notitiebeheer
Online spraakoverdracht
Opiniepeilingen en stemmen
Opname van meerdere schermen
Opnemen
Oproepen opnemen
Oproepen routeren
Personeelsfoto's
Personeelslijst
Plannen
Privéchat
Rapportage en analyse
Realtime bewerken
Realtime chatten
Samenwerking tussen meerdere gebruikers
Samenwerkingstools
Scherm delen
Scherm delen in realtime
Schermopname
Sessies opnemen
Softphone
Streamen van presentaties
Taakbeheer
Toegang en controle op afstand
Toegangsopties/machtigingen
Transcripten/chatgeschiedenis
Tweewegs audio en video
Vergaderen
Video bewerken
Video-ondersteuning
Videochat
Videovergaderen
Virtueel klaslokaal
Virtuele achtergronden
Waarschuwingen/Meldingen
YouTube-uploads
Alternatieven voor GoTo Meeting
Reviews over GoTo Meeting
Archna S.
Special Correspondent in India
Geverifieerde LinkedIn-gebruiker
Mediaproductie, 501-1.000 werknemers
Heeft de software gebruikt voor: 6-12 maanden
One stop destination for Online Webinar, Meeting and Video Conferencing needs.
Pluspunten:
The best and unique thing about GoToMeeting is its User Interface which is much more clean and looks more professional than its competitors. GoToMeeting provides the meeting host with several features like Scheduling etc. to effectively manage the meeting. There are all the necessary tools for an interactive presentation like the Draw Tool. Along with Audio Calling and Video Conference calling, Screen sharing is also very easy and smooth with a good internet connectivity. Our organization is using the platform for all types of Video conferencing from quick meetings, discussions, reporting, training and Formal high level virtual meetings in the organization. Before the publication of any major report or article, our team organizes a virtual meet on the platform where we easily share our thoughts thanks to the interactive features and organized user interface GoToMeeting offers. GoToMeeting allows us to share images, documents and presentation files very easily. As per my experience, the quality of audio, video and images etc. is very good and clear. The platform can be accessed from a browser too. It is very secured and safe to use GoToMeeting for Webinars, Video Meetings and Conferencing.
Minpunten:
I think a quick demo about using the platform should be added because its first time usage is a bit tricky as compared to its competitors. More chat feature should be available for Free users too rather than just for the Premium users. More email reminders and SMS notifications should be sent to the users before a Webinar is about to get started. A very fast and stable internet connection is required to use GoToMeeting without any issues. A Wifi connection and a PC with a good hardware is recommended, mobile internet would cause lags and buffering.
Bhuban R.
Research Assistant in Bangladesh
Schoolleiding, 201-500 werknemers
Heeft de software gebruikt voor: 2+ jaar
Overwogen alternatieven:
It's easy to share documents during meetings, and there are ways for me to do it as well
5
2 maanden geleden
Nieuw
Opmerkingen: To make a webinar, I can use GoToMeeting to do it easily in an efficient manner.
Pluspunten:
GoToMeeting gives managers a lot of freedom when it comes to scheduling meetings. It lets me have up to 500 people at a time at our meetings. GoToMeeting cuts down on the costs of travel for employees who have to go to meetings at work. It's possible to avoid paying for things like air travel, hotels, and rental cars by using GoToMeeting. Companies can then use these funds to grow their business. If your business meets the requirements for GoToMeeting, you can use the software. There are drawing tools and other virtual tools that I can use to keep my audience interested.
Minpunten:
As with any computer software, there may be mistakes that can't be avoided. Problems like not being able to load or cutting out while you're using GoToMeeting can make it less useful. Some people don't like the fact that they need a fast, error-free Internet connection to use GoToMeeting. This is true even if the company has a good relationship. Things like power outages or violent storms could have an impact on the program. With all of the features it has, GoToMeeting still doesn't have enough chat features for people to talk to each other. The meeting recordings only stay in the cloud for a year, after which they are removed and can no longer be used.
Andrew D.
Center IT Engineer in VS
Informatietechnologie en -diensten, 1.001-5.000 werknemers
Heeft de software gebruikt voor: 2+ jaar
Good for a while, but got passed up
3
2 maanden geleden
Nieuw
Opmerkingen: For the time it was fine, but better solutions came along and surpassed them. When you want minimal impact and don't want to get in a tussle with a hundred external clients who don't even know what a browser plugin is, something that circumvents that requirement is far superior to GTM in this regard.
Pluspunten:
At the time, before web and teleconferencing became a MUST in business, this wasn't a bad solution for teleconferencing. When you need people outside your organization that don't have a license for Skype or some other software, this wasn't a terrible solution. The fact that you could attend said meeting without needing to buy the software or a license was nice.
Minpunten:
This just got way outclassed very quickly by other teleconferencing solutions (which I won't name here) in both front-side and back-end implementation. Integration with SSO and Outlook was much simpler on our current solution than what GTM had to offer. GTM required a plugin even for outside users to attend, which is a serious roadblock as many of our external clients who are far from tech-savvy. In short, you had to wonder why they couldn't just fix this earlier on.
Computersoftware, 51-200 werknemers
Heeft de software gebruikt voor: 2+ jaar
Overwogen alternatieven:
GoTo Meeting an efficient way to connect with anyone,anywhere on any device
Opmerkingen: GoTo Meeting is virtual platform meeting that fits every company environment. Effortless plan,create and deliver immersive virtual or hybrid events in minutes . It helps engage your employees or customers with simple to deliver but powerful virtual events
Pluspunten:
I use GoTo Meeting for online meetings. It is seamless and simple. It is easy to join for attendees. It is a reliably way that I can trust for our company. It works every time. The features and overall functionality are trustworthy
Minpunten:
I like everything. It is very easy to use. The clarity of the technology used for GoTo meeting is great. It works great,anytime and anywhere.
Michael C.
Business Owner in VS
Bouw, 2-10 werknemers
Heeft de software gebruikt voor: 1+ jaar
Overwogen alternatieven:
GoTo Meeting Rocks!
Opmerkingen: Using the GoTo Meeting has helped my company grow. Being able to communicate efficiently and provide quality service to my clients.
Pluspunten:
The best part of using the GoTo Meeting is how easy it is to use. It is easy to set up and use. It helps me communicate better with my clients and customers. Most importantly with the pandemic, it keeps both side safe.
Minpunten:
Without high-speed internet is doesn't work!