Wat is Productboard?
productboard is het productbeheersysteem dat iedereen afstemt op de juiste functies om als volgende te creëren. Het is ontworpen volgens de Product Excellence-methodologie en wordt gebruikt door moderne, klantgestuurde organisaties zoals Zendesk, UiPath, Avast en Envoy. Met zijn aanpasbare boards biedt productboard de juiste balans tussen begeleiding en flexibiliteit, zodat productteams kunnen begrijpen wat gebruikers echt nodig hebben, prioriteit kunnen geven aan wat ze als volgende moeten creëren en iedereen samen kunnen brengen rond de productstrategie.
Wie gebruikt Productboard?
Productteams van startups tot grote ondernemingen
Waar kan Productboard worden geïmplementeerd?
Cloud, SaaS, Web
Over de leverancier
Productboard
Gevestigd in San Francisco, VS
Opgericht in 2014
24/7 (contact met medewerker)
Chatten
prijzen van Productboard
Beginprijs:
US$ 20,00/maand
Ja, heeft een gratis proefversie
Ja, heeft een gratis versie
Productboard heeft een gratis versie en biedt een gratis proefperiode. Productboard heeft een betaalde versie vanaf US$ 20,00/maand.
Prijsmodellen
vraag een gratis proefversie aan
Over de leverancier
Productboard
Gevestigd in San Francisco, VS
Opgericht in 2014
24/7 (contact met medewerker)
Chatten
Video's en afbeeldingen van Productboard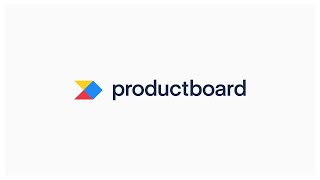 Functies van Productboard
Aanpasbare branding
Aanpasbare sjablonen
Activiteit-/nieuwsfeed
Activiteiten volgen
Activiteitendashboard
Activiteitenplanning
Afhankelijkheden bijhouden
Agile-methodiek
Backlog-beheer
Beheer van negatieve feedback
Beheer van problemen
Beheer van productgegevens
Belangrijke prestatie-indicatoren (Key Performance Indicators, KPI's)
Bestanden delen
Beveiligde gegevensopslag
Brainstormen
Communicatiebeheer
Contentbeheer
Dashboard
Discussies / forums
Documentbeheer
Doelen stellen en bijhouden
Eenmalige aanmelding
Enquêtes en feedback
Externe ondersteuning
Feedbackbeheer
Gantt-/tijdlijnweergave
Gebruikersbeheer
Gegevens importeren en exporteren
Gegevensintegratie
Gegevensverzameling via meerdere kanalen
Ideeënbeheer
Ideeënvorming
Integraties van derden
Kanban-bord
Klantenportal
Kleurcodes en -pictogrammen
Levensduurbeheer van producten
Markeren
Mijlpalen bijhouden
Notitiebeheer
Op rollen gebaseerde toestemmingen
Opiniepeilingen en stemmen
Opmerkingen/notities
Percentage-voltooid bijhouden
Portefeuillebeheer
Priorisering
Procesmodellering en -ontwerp
Projectplanning
Rapportage en analyse
Rapportage en statistieken
Rapportage/projecten volgen
Realtime meldingen
Releaseplanning
Resourcebeheer
Roadmapping
Roadmaps van producten
SSL-beveiliging
Samenwerkingstools
Sjablonen
Slepen en neerzetten
Sprint planning
Staafdiagram
Status bijhouden
Subtaken maken
Taakbeheer
Taakplanning
Taakvoortgang bijhouden
Taken bewerken en bijwerken
Taken labelen
Teammanagement
Terugkerende taken
Tijd bijhouden
Tijd en onkosten bijhouden
Toegang en controle op afstand
Toegang voor gasten
Toegangsopties/machtigingen
Vereistenbeheer
Visualisatie
Visueel workflowbeheer
Voor IT-project management
Voortgang bijhouden
Waarschuwingen/Meldingen
Workflowbeheer
Zoeken/filteren
Alternatieven voor Productboard
Reviews over Productboard
Eric
Chief Product Officer in VS
Geverifieerde LinkedIn-gebruiker
Computersoftware, 11-50 werknemers
Heeft de software gebruikt voor: 1-5 maanden
Simplest way for sophisticated insight consolidation, prioritization, and roadmap management
Opmerkingen: We had an alignment and communication problem that we had to solve. Plain and simply, productboard gives us a clear way to communicate and collaborate on our product roadmap. And gives our team insight into how we think about and prioritize initiatives.
Pluspunten:
Consolidating insights from myself, our customers, and our team. I also really like the different views I can create and ways I can prioritize things by release and various scores. The public feedback forum is also really, really nice. Then the beautiful roadmap view is just icing on the cake.
Minpunten:
Doesn't integrate to Clubhouse, which we are moving to from JIRA. We also didn't use the JIRA integration because we were on New JIRA. Which is why we are now on Clubhouse, which I'll save for another review. Also, I feel there are a couple of elements missing when looking at reporting and ongoing maintenance of tickets... but that's hard, and is probably something they're thinking about.
Overwogen alternatieven: Aha!
Redenen om voor Productboard te kiezen: Well, JIRA isn't really a great tool for roadmap planning and prioritization. So the reality is that we _needed_ to do more strategic product planning, and JIRA didn't cut it.
Overgestapt van: Jira
Redenen om over te stappen op Productboard: Aha! was simply just too much software for what we needed. productboard gave us exactly what we needed at our stage, and was more intuitive to pick up and get going.
Joshua
CTO in VS
Geverifieerde LinkedIn-gebruiker
Evenementenbureaus, 11-50 werknemers
Heeft de software gebruikt voor: 1-5 maanden
Alas! We found our product management solution
Opmerkingen: Over the past two years, we've tried about every product management solution under the sun. While many have been good, we hadn't found the best solution for *us* (a small team, 3 product people, 5 engineers). This is the first solution that's been adopted by the entire team, a big part due to the easy shared inbox for customer insights.
Pluspunten:
In order of benefit, here's what I like most so far about Productboard: (1) Aggregating product insights / customer requirements across all of our inboxes + Slack into one place (2) Ability to build a quarterly roadmap w/ existing tickets in Jira + w/ ability to write new features back to Jira as tickets (3) Ability to outline all of the components of our platform w/ features under each component - something we've never had before.
Minpunten:
Some small nit-picks around interactions (eg. bulk selecting rows), but so far customer support has responded instantly to guide me in right direction.
Overwogen alternatieven: ProductPlan en ProdPad
Redenen om voor Productboard te kiezen: After trying many other solutions we resorted back to spreadsheets. Ultimately, it becomes managed chaos in spreadsheets, so we knew we needed something to fit our growing team. We went back to demoing solutions and productboard fit our needs best.
Overgestapt van: Google Sheets
Redenen om over te stappen op Productboard: See above. All were good, but productboard wound up fitting our specific needs the best. The quick support during our trial period helped seal the deal.
Alex
Software Engineer in VS
Computersoftware, 2-10 werknemers
Heeft de software gebruikt voor: 1+ jaar
Great for iterating on customer feedback
Opmerkingen: Productboard is a great tool for software companies looking to build a process around their customer feedback.
Pluspunten:
Productboard's insights are a great way to process customer feedback and group that feedback into actionable features for our engineering team. The user impact score helps us prioritize this feedback based on needs, and when a feature is complete we can circle back to the insights and see everyone who requested the feature.
Minpunten:
Sometimes the customization options can be overwhelming. It would be nice to have a templates feature that lets you reuse certain processes & functionality between views. I sometimes think I'm doing something the 'wrong' way because there are so many ways to accomplish it.
Overwogen alternatieven: monday.com, Asana en Notion
Redenen om over te stappen op Productboard: Productboard had the best approach to high-level feature planning, and it has a clear process for managing customer feedback. The Azure Devops integration is a nice bonus.
Hana
Product Owner in Tsjechië
Cosmetica, 5.001-10.000 werknemers
Heeft de software gebruikt voor: 1-5 maanden
The billing mechanism of individual plan is awful experience
Opmerkingen: After spending some time on working with the tool and really enjoying its quality, I was sure that I would stay with it. But experiencing tricky non-transparent billing is just cold shower making the tool same as any other, just half way through to full value.
Pluspunten:
It is for sure well thought through tool.
Minpunten:
It is not mandatory or sole source ... so charging individual for adding member without any alert or notice that just selecting someone as member from drop down menu automatically apply charging to your card is really awful experience ruining any value for the product
Kaan
Product Manager in Turkije
Informatietechnologie en -diensten, 51-200 werknemers
Heeft de software gebruikt voor: 1-5 maanden
A simple yet powerful tool for managing and communicating the product roadmap
Opmerkingen: Productboard did enable us to create a manageable, customer value driven product roadmap that is in alignment with our corporate objectives and product vision. The communication of our product roadmap to different stakeholders is much easier now thanks to the customizable and stunning views.
Pluspunten:
Productboard has a very easy to use user interface, but still manages to provide you the functionality of customizable views with its powerful aggregations, filters, tags and view options. With the insights feature of productboard, it is very easy to parse the ideas and requirements of customers to product features and keep track of the customer demand for each feature in detail. The beautiful roadmap views which you can export for presentations are also a real timesaver.
Minpunten:
An internal file viewer for common file formats (e.g. pdf, doc, xls) is needed for attachments. It would be preferred if the internal insights could be seperated from customer insights when calculating the user impact score which we utilize to measure the customer demand of features.
Overwogen alternatieven: Jira, OpenProject en monday.com
Redenen om voor Productboard te kiezen: We could not maintain our product roadmap in a structured way. The release and objective models of productboard were really useful for managing and presenting the data for us.
Overgestapt van: monday.com
Redenen om over te stappen op Productboard: The simple to use interface despite the underlying complex features and aggregations was the biggest selling point for us.