Wat is SOS Inventory?
SOS Inventory is the premier Inventory, Order Management and Manufacturing app built specifically for QuickBooks Online. SOS Inventory allows small and medium-sized companies to manage operations more efficiently while synchronizing financial data with QuickBooks Online. SOS adds literally hundreds of capabilities to QuickBooks Online.
Wie gebruikt SOS Inventory?
SOS Inventory specializes in small to medium-sized businesses. Current businesses using SOS Inventory include aircraft manufacturers, food processors, craft beer distributors, resellers, etc.
Waar kan SOS Inventory worden geïmplementeerd?
Cloud, SaaS, Web, Android (mobiel)
Over de leverancier
Saddle Oak Software
Opgericht in 2009
Telefonische ondersteuning
Chatten
Beschikbaar in deze landen
Verenigde Staten
Over de leverancier
Saddle Oak Software
Opgericht in 2009
Telefonische ondersteuning
Chatten
Beschikbaar in deze landen
Verenigde Staten
Video's en afbeeldingen van SOS Inventory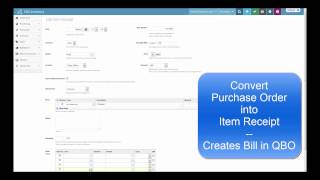 Vergelijk de kosten van SOS Inventory met soortgelijke producten
Functies van SOS Inventory
Assets volgen
Beheer van teruggehaalde producten
Beheer van vervaldatums
Documentbeheer
Factureren
Inkoop en ontvangst
Inkooporderbeheer
Klantenbeheer
Mobiele toegang
Nabestellingbeheer
Offertes
Orderbeheer
Productidentificatie
Productiebeheer
Rapportage en analyse
Reserveringenbeheer
Streepjescodes en tickets scannen
Traceerbaarheid
Voorraad bijhouden
Voorraadbeheer
Alternatieven voor SOS Inventory
Reviews over SOS Inventory
Geverifieerde reviewer
Operations Manager in VS
Geverifieerde LinkedIn-gebruiker
Heeft de software gebruikt voor: 1-5 maanden
Very useful and customizable product
Pluspunten:
We recently switched to SOS Inventory from a much more rudimentary inventory tracking system. We can already tell that it will be a huge improvement and will help us keep our inventory records more accurate. There are a lot of features and ways to customize the product so set-up can take some time, but the user guide is thorough and easy to understand.
Minpunten:
It takes significant training to introduce new users to this system; it is not as intuitive as it could be. The price is also somewhat high for a small organization.
Michele
administrtor in VS
Machine- en installatiebouw, 2-10 werknemers
Heeft de software gebruikt voor: Gratis proef
getting started
Opmerkingen: so far, it's been interesting, but, I feel it's going to take care of our needs fabulously after installation is complete, once again, I wouldn't have been able to do it without the help of [SENSITIVE CONTENT HIDDEN].
Pluspunten:
so far it looks good, still learning EXCELLENT help from [SENSITIVE CONTENT HIDDEN] and all others I spoke with
Minpunten:
the transition, was very confusing - but, [SENSITIVE CONTENT HIDDEN] was AWESOME with helping me get things going. I would not have been able to use this software if it weren't for him, i would have given up.
Johnny
Finance & Operations Manger in VS
Consumentengoederen, 2-10 werknemers
Heeft de software gebruikt voor: 6-12 maanden
Overwogen alternatieven:
Great, void filling inventory software!
Opmerkingen: SOS allowed us to fill the inventory management void or accounting software left us with. It really has given us a useful "ERP" at budget prices!
Pluspunten:
SOS Inventory has all of the inventory management tools that allow us to turn our cloud based accounting system into a discount ERP.
Minpunten:
Some features of this software are dated. Reporting is there, but it is more difficult to navigate that other tools on the market.
Anne
Project Manager in VS
Fabricage van elektrische/elektronische producten, 2-10 werknemers
Heeft de software gebruikt voor: 1-5 maanden
Great software that syncs with QuickBooks, is easy to navigate with top notch support!
Opmerkingen: We now have systems for our small business. We have much more of a handle on cost vs. pricing. We like that the system syncs with our newly acquired QBO accounting system. We may begin to use G Suite because attaching documents seems to make more sense within that system. We have saved time and money and have an entire staff that feels very comfortable using the software.
Pluspunten:
This software is easy to navigate and is visually appealing. All functions can be done from the menu bar at top or menu bar down the side. The different aspects of the software are set up in a way that makes sense. The Purchasing Menu includes Vendors, POs, Item Receipts, Returns to Vendors. The Sales Menu includes Customers, Estimates, Sales Orders, Invoices, Sales Receipts. Inventory includes Items, Transfers, Serials, Adjustments, Lots. Fulfillment includes Pick Tickets and Shipment. Within SOS, one can create Form Templates and Customer Fields. Within User Administrations privileges can be applied. Also included are Dashboard, Calendar and Reports. Because the system is so robust, we are recognizing, as a customer manufacturer, that inventory is less important to us, but estimates, jobs (we call projects) and the ability to sync with QBO is what we value the most about SOS. The support team at SOS will work with me personally to get our workflow to work within the SOS system. They are so easy to talk with by phone, an email support is also fantastic. I get my questions answered almost immediately. I am very pleased.
Minpunten:
I love this software. I have very little negative to say. Because we are a custom manufacturer, our processes are unique, which makes no software out there perfect for us. Customer support easily worked with us to make SOS fit our workflow. There have been just a few glitches, but the support team immediately gets with their coders to correct these.
Medische apparatuur, 11-50 werknemers
Heeft de software gebruikt voor: 1-5 maanden
Great product and amazing support!!
Opmerkingen: Ease of workflow and communication.
Pluspunten:
Intuitive, reduces repetitive data entry and phenomenal support team, amazingly responsive and helpful.
Minpunten:
There isn't anything I don't like about this software. It is robust, intuitive and has incredible support. I wish all software was this incredible.