Wat is Inbenta?
Inbenta is a one-of-a-kind Conversational AI Platform that helps organizations of 500+ employees automate personalized interactions at scale with their customers.
Offering 360º conversational experiences across all channels becomes easy with its 4 modules that power search, chat, knowledge, and voice solutions.
Due to its patented Natural Language Processing (NLP) technology, available in +35 languages, no previous data training is needed, and it can be up and running in a matter of days.
Wie gebruikt Inbenta?
We help Customer Service, HR, Sales and Marketing teams in the following industries: - Banking - Telecommunications - eCommerce & retail - Travel & Airlines - Insurance - Utilities
Waar kan Inbenta worden geïmplementeerd?
Cloud, SaaS, Web
Over de leverancier
Inbenta
Gevestigd in Foster City, VS
Opgericht in 2005
Telefonische ondersteuning
Chatten
prijzen van Inbenta
Beginprijs:
Niet door leverancier verstrekt
Ja, heeft een gratis proefversie
Geen gratis versie
Inbenta heeft geen gratis versie maar biedt wel een gratis proefperiode.
Over de leverancier
Inbenta
Gevestigd in Foster City, VS
Opgericht in 2005
Telefonische ondersteuning
Chatten
Video's en afbeeldingen van Inbenta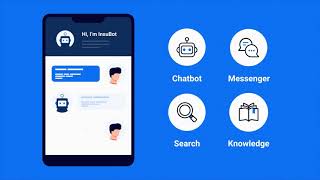 Functies van Inbenta
Aanpasbare branding
Activiteitendashboard
Beheer van supporttickets
Catalogiseren/categoriseren
Chatbot
Communicatie via meerdere kanalen
Consumentgericht chatten in realtime
Contactenbeheer
Contentbeheer
Discussies / forums
E-mailbeheer
Een-op-een berichten
Integraties van derden
Interactie bijhouden
Kennisbankbeheer
Leads vastleggen
Live chatten
Marketing via meerdere kanalen
Overdrachten en routering
Prestatiemeetwaarden
Proactief chatten
Rapportage en analyse
Realtime gesprekken
SEO-beheer
Samenwerkingstools
Spraakherkenning
Tekstbewerking
Ticketbeheer
Toegangsopties/machtigingen
Verwerking van natuurlijke taal (NLP)
Virtuele persoonlijke assistent (VPA)
Voor meerdere talen
Waarschuwingen / Escalatie
Wachtrijbeheer
Zelfserviceportal
Zoeken in gehele tekst
Alternatieven voor Inbenta
Jelle D.
Software Engineer in Nederland
Computersoftware, 2-10 werknemers
Heeft de software gebruikt voor: 6-12 maanden
Inbenta is one of my favorites!
Opmerkingen: My overall experience is just great.
Pluspunten:
Working with Inbenta has been very easy, including setting it up. The UI is simple and great. Has been a great addition of software in my team.
Minpunten:
Even though the UI is great it could use more functionalities. Besides that I can't think of anything.
Tanguy V.
Responsable Innovation & usages digitaux - relation client à distance in Frankrijk
Geverifieerde LinkedIn-gebruiker
Verzekeringen, 10.000+ werknemers
Heeft de software gebruikt voor: 2+ jaar
Un éditeur très adapté à nos besoins.
Opmerkingen: Meilleure visibilité web par le référencement SEO friendly, diminution des appels à faible valeur ajoutée, permet de bien mettre le pied à l'étrier des solutions conversationnelles sans besoin d'un background technique.
Pluspunten:
Un lexique de base très développé qui fait que l'on peut atteindre très facilement 80% de compréhension, pas besoin de devoir gérer une couche sociale, des synonymes, ... tout est "compris de base et en constante évolution". C'est une solution, ou plutôt une galaxie de solutions, en évolution permanente. et capable de gérer une très grande base de connaissance
Minpunten:
Moins puissant, de prime abord, pour comprendre deux intentions ou une intention + un contexte dans la même expression.
Overwogen alternatieven: Smart Tribune
Redenen om over te stappen op Inbenta: Présence forte dans notre secteur d'activité avec compréhension native de nos termes clés; facturation à l'usage; souplesse de mise en place.
Vanessa D.
Associate Manager, Digital Content in VS
Vrije tijd, reizen en toerisme, 10.000+ werknemers
Heeft de software gebruikt voor: 1+ jaar
Useful AI Chatbot and Live Chat Integration
Opmerkingen: Overall, we've had great success with the Inbenta chatbot. By providing basic answers to common user questions, it has freed up our call center agents to handle more complex inquiries and transactions.
Pluspunten:
The Inbenta chatbot has been an incredibly helpful tool for our platform. It's allowed us to communicate easily with our customers, providing fast responses to common questions that may have otherwise been calls made to our contact center. The natural language capabilities made it easy to set up, and the linguistic tuning allows us to optimize as much or as little as we need. The lexicon is also very helpful, because there's less work for our team when adding modals and we can pull from that extensive library of terms. We also integrated the automated chatbot with our live chat software, and that has worked pretty well for our team, and the agents have found it easy to use.
Minpunten:
For the most part, Inbenta is easy to implement and use. There could be some backend enhancements to make features more convenient. For example, we would love the ability to publish one or two pieces of content, rather than publishing the entire knowledge base. This would allow for updates to be made more quickly in real time, but also let us continue editing other intents without the fear that they'll be published live before they're ready.
Tina T.
Manager, Membership Services in VS
Management non-profit organisaties, 51-200 werknemers
Heeft de software gebruikt voor: 1-5 maanden
I highly recommend Inbenta to improve your customer experience
Opmerkingen: The Inbenta team is wonderful to work with. They do a lot of hand holding when needed while also providing the tools to get the system up an running on your own. I especially appreciated their working directly with our integration team. They have a great training program that is included with the platform purchase and their response to questions, tickets and requests for assistance are excellent.
Pluspunten:
The Inbenta software platform has everything you need to improve your customer experience. We were looking for a software company that provided a chatbot to answer the most common questions asked by our customers. We wanted to lighten the load of our customer service staff who spent a lot of time answering the same routine questions multiple times a day. Inbenta provided a solution to that problem with an AI chatbot and messenger that gave us that and more. The chatbot handles the common questions in a Q & A prompt based system according to customer input and also provide a more "human like" dialogue response system. What's extremely useful is that the customer doesn't get "stuck" with just interacting with the bot. Due to different ways a person may ask a question, their specific needs or language barriers, the bot can also escalate to a human representative, which allows our customer service staff to take over whenever needed. This is definitely a win-win. Our staff handles the more non-routine questions and our customers get responses to their more general questions quickly and efficiently.
Minpunten:
The software definitely has a learning curve, but it has so many well built features it is completely understandible.
David S.
Support Manager in VS
Computersoftware, 51-200 werknemers
Heeft de software gebruikt voor: 1+ jaar
Excellent Chatbot and AI Solution
Opmerkingen: Overall I've had an excellent experience with Inbenta and the Customer Service. They're always available and haven't ever left me hanging.
Pluspunten:
Implementation was very easy and straight forward and management after implementation has been a breeze.
Minpunten:
The GUI is laid out in a way that makes it difficult to find things on occasion. There are different methods of saving/updating across pages and it can be tough to remember what to click and when.