Helpt Nederlandse bedrijven al 15 jaar
bij het vinden van de juiste software
Wat is AgencyAnalytics?
AgencyAnalytics is een zakelijk marketingdashboard dat indruk maakt op klanten en tijd bespaart. Je kunt het dashboard een whitelabel maken en klanten hun eigen persoonlijke aanmeldingsgegevens verstrekken, zodat ze jouw geweldige marketingcampagne aan het werk kunnen zien. SEO-tools zoals het volgen van rangordes, audits en backlinks zijn ingebouwd. Integreer andere diensten zoals sociale media, Google Analytics, gespreksregistratie en PPC om het hele marketingplaatje te creëren.
Wie gebruikt AgencyAnalytics?
Voor digitale bureaus en freelancers
Waar kan AgencyAnalytics worden geïmplementeerd?
Cloudgebaseerd
On-premise
---
Over de leverancier
AgencyAnalytics
Gevestigd in Toronto, Canada
Opgericht in 2009
Ondersteuning voor AgencyAnalytics
24/7 (contact met medewerker)
Chatten
prijzen van AgencyAnalytics
Beginprijs:
US$ 12,00/maand
Ja, heeft een gratis proefversie
Geen gratis versie
AgencyAnalytics heeft geen gratis versie maar biedt wel een gratis proefperiode. AgencyAnalytics heeft een betaalde versie vanaf US$ 12,00/maand.
Over de leverancier
AgencyAnalytics
Gevestigd in Toronto, Canada
Opgericht in 2009
Ondersteuning voor AgencyAnalytics
24/7 (contact met medewerker)
Chatten
Video's en afbeeldingen van AgencyAnalytics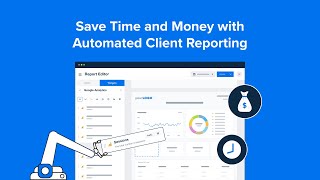 Functies van AgencyAnalytics
Aanpasbaar dashboard
Aanpasbare rapporten
Activiteitendashboard
Ad-hocrapportage
Auditbeheer
Backlinks controleren
Beheer van meerdere accounts
Bewaking van sociale media
Campagneanalytics
Campagnebeheer
Campaign tracking
Concurrentieanalyse
Conversies bijhouden
Dashboard
Dataconnectors
Doelen stellen en bijhouden
Engagement tracking
Gegevens importeren en exporteren
Gegevensverzameling via meerdere kanalen
Gegevensvisualisatie
Integratie van sociale media
Klantenbeheer
Koppelingsbeheer
Meerdere campagnes
Meerdere gegevensbronnen
Multi-channel attribution
Prestatiemeetwaarden
Projectbeheer
ROI-tracking
Rapportage en analyse
Rapportage en statistieken
Realtime rapportage
Samenwerkingstools
Slepen en neerzetten
Tijd op site bijhouden
Tools voor onderzoek naar trefwoorden
Trefwoorden bijhouden
Visualisatie
Websiteanalyse
Webverkeerrapportage
Zoekwoordposities bijhouden
Alternatieven voor AgencyAnalytics
Reviews over AgencyAnalytics
Colin
Managing Director in VK
Geverifieerde LinkedIn-gebruiker
Marketing en reclame, 2-10 werknemers
Heeft de software gebruikt voor: 2+ jaar
Bron van de reviewer
Efficient reporting saves time, core part of business
Opmerkingen: We have been using AA for 4 years now and in that time Agency Analytics has become a core part of our business offering, allowing us to provide real-time reporting to our SEO clients. A lot of agencies only send monthly reports, often late - whereas with Agency Analytics our clients can always see their results and ROI anytime of the day or month without having to wait. The dashboard and reports can be fully customised to only show the info that clients want to see, and there are dozens of different integrations with other platforms.
Pluspunten:
Saves me time every month, automated reporting, live reporting dashboard, dozens of integrations
Minpunten:
Haven't had any significant issues, and the features we requested were implemented
Eerder overwogen alternatieven: Semrush
Redenen om voor AgencyAnalytics te kiezen: Agency Analytics reporting system is magnitudes better and of course includes rank tracking which is essential for SEO.
Overgestapt van: Raven Tools
Redenen om over te stappen op AgencyAnalytics: Significantly better and more developed product offering.
Reactie AgencyAnalytics
3 jaar geleden
Thanks for your feedback Colin!
Sam
Director in Australië
Marketing en reclame, 2-10 werknemers
Heeft de software gebruikt voor: 2+ jaar
Bron van de reviewer
Good Solid Product
Opmerkingen: AgencyAnalytics is amazing. While there are a handful of features that I would love to see implemented (Customisable report cover pages for example) it is light years above the alternatives (and I know I've trialled them all). Their support is lightning fast and unusually (for Saas platforms) helpful. Their development schedule is also really fast and in the 2-3 years that we have been using it, they have probably rolled out 3-4 features that we have requested ourselves. I've never seen such fast adoption of user suggestions. It's almost the standout feature. If some limitation really bugs you enough for you to take the time to register it as a feature request, there's a very high chance it will get adopted. Other than that, it does what it says on the box. It's super stable (although occasionally prone to crash on the first of the month when server load must be very high) and certainly favours simplicity and ease of use in it's UX.
Pluspunten:
Super easy to use. Easy to white label. Keyword rankings update daily. Really cost-effective. Open and transparent pricing, which is super easy to scale up and down as needed. Essential tools built-in and integrates with everything else. Purpose-built for modern digital agencies
Minpunten:
The cover page of the reports is super ugly, like unbelievably ugly and they offer no options to customize this. Other than the cover page, the rest of the interface is quite nicely designed, but so many agencies now use it more granular visual customisation would be welcome.
Sarfaraz
SEO Manager in India
Geverifieerde LinkedIn-gebruiker
E-learning, 1.001-5.000 werknemers
Heeft de software gebruikt voor: 6-12 maanden
Bron van de reviewer
Very Responsive SEO Tool For Data & Reports
Opmerkingen: My overall experience with AgencyAnalytics is truly excellent. I have been using their software for many years, and it has been instrumental in streamlining some of my business processes. The user interface is easy to navigate, making it suitable for both inexperienced and experienced users alike. The reporting capabilities are second-to-none, allowing me to pull meaningful insights from the data quickly and easily. Support is highly responsive and incredibly helpful when needed. Furthermore, the pricing is quite reasonable compared to other similar solutions on the market. I would confidently recommend AgencyAnalytics to others without hesitation!
Pluspunten:
I have used AgencyAnalytics for a significant period of time and I must say, it is an exceptional piece of software. Its performance tracking feature allows me to quickly gain insights into how well my campaigns are performing, making it easy to identify which ones need further optimization. With its intuitive and user-friendly design, I am able to set up projects and monitor key metrics with minimal effort. Finally, another perk I really appreciate is the automated report generator that creates professional reports in a matter of seconds. All in all, these features make AgencyAnalytics an essential tool for any marketing team or agency that is serious about gaining an advantage over their competition.
Minpunten:
One part of AgencyAnalytics software that I found the least enjoyable was the inflexibility of the reporting. It was difficult to create reports with more robust analytics, such as multiple metrics and detailed segmentation, without having to manually input data sources. The platform had limited capacity when it came to configuring report dimensions and tracking custom dimensions, which severely limited my ability to gain the insights I wanted from our performance reports. Furthermore, there were quite a few occasions where I encountered bugs in their software or had difficulty getting technical support for my issues. All these things combined led me to have a less favorable experience with AgencyAnalytics compared to other analytical platforms I have used before.
Nicole
Director of Brand Marketing in VS
Marketing en reclame, 2-10 werknemers
Heeft de software gebruikt voor: 1-5 maanden
Bron van de reviewer
The Ultimate Time-Saver
Opmerkingen: We came to Agency Analytics for better monthly reporting, but the dashboards have completely transformed our analytics processes. The report templates and auto-send feature cut my monthly reporting time in half, and the reports also look really nice!
Pluspunten:
I LOVE the customizable dashboards. Being able to select the data points I want - and removing what I don't need - is a huge pro for me. It's so streamlined, clean and easily digestible.
Minpunten:
This is small - and I'm digging for a con, because I think it's a nearly perfect platform - but it would be nice to be able to add a manual page to the monthly reports, where I could upload images (such as screenshots of notable social media engagement).
Eerder overwogen alternatieven: Sprout en Hootsuite
Redenen om voor AgencyAnalytics te kiezen: I wanted a cleaner-looking report, with more customizable options. Traject offered the same data options, but I didn't like how it was presented. It was difficult for our clients to understand.
Redenen om over te stappen op AgencyAnalytics: The customizable dashboard, pricing and beautiful, clean-looking reports that can be auto-scheduled.
Reactie AgencyAnalytics
3 jaar geleden
Thanks for your feedback Nicole! I will pass your suggestion along to our team.
Geverifieerde reviewer
Geverifieerde LinkedIn-gebruiker
Marketing en reclame, 2-10 werknemers
Heeft de software gebruikt voor: 2+ jaar
Bron van de reviewer
Perfect Software for Marketing Agencies Handling Multiple Clients
Opmerkingen: Overall, I'm generally pleased with Agency Analytics.
Pluspunten:
I really like the organization of this software and the vast amount of integrations. I also like that the Agency Analytics team takes feedback and makes updates based on the feedback. They've had a few updates with my feedback implemented.
Minpunten:
They don't offer grid tracking for Google maps which means we have to use another software for that.