Wat is ClickCease?
Stop Google-advertentieklikfraude en Facebook-advertentiefraude met ClickCease. ClickCease is hooggewaardeerde software voor het beschermen en detecteren van klikfraude en helpt adverteerders en merken hun PPC-campagnes te stimuleren en hun advertentie-uitgaven te besparen door nepklikken en doelgroepen te blokkeren. De oplossing biedt 24/7 campagnebewaking, geautomatiseerde realtime IP-blokkering, siterecorder, aangepaste detectieregels en gedetailleerde rapporten.
Wie gebruikt ClickCease?
PPC-managers en adverteerders die geïnteresseerd zijn in het optimaliseren van hun campagnes door frauduleuze klikken van concurrenten van hun klanten en andere bronnen van klikfraude te elimineren.
Waar kan ClickCease worden geïmplementeerd?
Cloudgebaseerd
On-premise
---
Over de leverancier
CHEQ
Gevestigd in Holon, Israël
Opgericht in 2014
Ondersteuning voor ClickCease
Telefonische ondersteuning
24/7 (contact met medewerker)
Chatten
Beschikbaar in deze landen
Amerikaanse Maagdeneilanden, Australië, België, Bosnië en Herzegovina, Britse Maagdeneilanden en nog 53 andere
prijzen van ClickCease
Beginprijs:
US$ 69,00/maand
Ja, heeft een gratis proefversie
Geen gratis versie
ClickCease heeft geen gratis versie maar biedt wel een gratis proefperiode. ClickCease heeft een betaalde versie vanaf US$ 69,00/maand.
Prijsmodellen
vraag een gratis proefversie aan
Over de leverancier
CHEQ
Gevestigd in Holon, Israël
Opgericht in 2014
Ondersteuning voor ClickCease
Telefonische ondersteuning
24/7 (contact met medewerker)
Chatten
Beschikbaar in deze landen
Amerikaanse Maagdeneilanden, Australië, België, Bosnië en Herzegovina, Britse Maagdeneilanden en nog 53 andere
Video's en afbeeldingen van ClickCease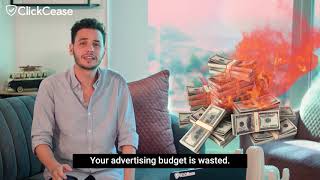 Functies van ClickCease
Accountwaarschuwingen
Bezoekers bijhouden
Budgetbeheer
Concurrentieanalyse
Gebruikersinteractie bijhouden
Gegevensvisualisatie
Prestatiemeetwaarden
ROI-tracking
Realtime controle
Tijd op site bijhouden
Toezicht op activiteiten
Tools voor onderzoek naar trefwoorden
Trefwoorden bijhouden
Webverkeerrapportage
Alternatieven voor ClickCease
Ian
Founder in VS
Geverifieerde LinkedIn-gebruiker
Marketing en reclame, 2-10 werknemers
Heeft de software gebruikt voor: 6-12 maanden
I tried all the rest, and I went with the best.
Opmerkingen: It's rare when you test out all of the competitors in a market segment, and one of the stands SO FAR above the rest, in all the areas that are most important (effectiveness, price, management, implementation, and support team). This has been our consistent experience with ClickCease.
Pluspunten:
To think that fraud doesn't exist within many industries, is turning a blind eye to the facts. Our OWN clients used to engage in click-fraud on a slow day, before we worked with them to improve their leads, and Google Ads close rates (and put them into the top place, and now they are so busy, they don't have time to think about such things). After doing long demo tests of PPC Protect and ClickGuard, it was immediately apparent that ClickCease NOT ONLY had a superior SYSTEM, but they had a proper TEAM to work with you, help guide the onboarding (which honestly, is quick and easy, even if you're not wildly skilled with these types of solutions), and to jump in and explore different use-cases and options at the drop of a hat. I've NEVER felt rushed, I've ALWAYS found their team to be knowledgeable, friendly, and responsive. [SENSITIVE CONTENT HIDDEN] and I just worked through a number of conceptual use-cases, as we are seeing easily $2K+ fraud/month savings for some heavy accounts. The fact that we pay... $50 per account, and our SMALLEST account is saving $55 (on a slow month), and our busiest is saving $2,876.20/month... it's the definition of a "no-brainer". And THEN you get Ad-Spy? That's a standalone product by another vendor (and I've bought them before) AND it's better.
Minpunten:
I buy and return a LOT of software, because it doesn't live up to the hype. I have -100% cons for ClickCease.
Overwogen alternatieven: ClickGUARD en Lunio
Redenen om over te stappen op ClickCease: Management interface, price, speed to successful implementation, and SUPPORT. I felt like my questions were a BOTHER to the other companies, (and I mean, come ON, I'm writing THIS glowing review after 6+ months of using ClickCease, if you don't have time for your customers, they don't have time for you). AdSpy? Did I mention... AdSpy? We are using it so spy on new areas and industries we want to expand into.. they don't market it for this, but we now know who wants to answer the phone when we offer our services.
Reactie ClickCease
3 jaar geleden
Ian, thanks so much for writing these amazing words. We are honored to serve Drive+ Company. This type of review makes our day and it will be shared with the entire ClickCease team. We will reach out to you on another platform to thank you as well. All the best, The ClickCease team.
Matt
Director in VS
Geverifieerde LinkedIn-gebruiker
Rechtspraktijk, 51-200 werknemers
Heeft de software gebruikt voor: 2+ jaar
PPC Business Must- have
Opmerkingen: Overall the day we turned it on we noticed an immediate difference. It's like breathing for the first time.
Pluspunten:
Google doesn't block 100% of fraud and it's good to have REAL numbers when comparing Adwords invalid click rates and comparing it to your own Device ID data. Clickcease keeps PPC honest and really gives us insight into when we're wasting dollars on Adwords and WHICH competitors are clicking on our ads and their own. Pretty interesting stuff if you use it the right way.
Minpunten:
Display ad placement blocking features and excluding low quality sites is a recently added feature that still doesn't perform optimally. And we wish it worked on Youtube.
Overwogen alternatieven: Lunio en TrafficGuard
Redenen om voor ClickCease te kiezen: PPCSecure had downtime that of which we've never experienced on Clickcease.
Overgestapt van: PPCSecure
Reactie ClickCease
2 jaar geleden
Hi Matt! We are super happy to read such a lovely review! Glad you are enjoying your experience :) We continuously work on improving our services for our customers and will keep this in mind.
Recreatieve faciliteiten en diensten, 11-50 werknemers
Heeft de software gebruikt voor: 1-5 maanden
Most reliable option Click Fraud wise
Opmerkingen: Customer service is at the top, you have a follow-up since the first step that it really helps to develop the "skills" of this tool, dashboard, and reports are friendly enough for any level, all this comes with a price so you need to verify if the ROI regarding the fraudulent cliks it worth your time, it offer a free trial so you can easily verify the advantages of the tool
Pluspunten:
Custome service support, since the free trial option you have a constant support from the agents, you find webminars tutorials with all the "how to" in order to use the tool, you can generate automatically reports in order to report Google
Minpunten:
At first sight is an expensive tool, obviously is a money that you can get refund is you apply to it...after this point it depends on Google, if you are able to recover 20% of all the fraudulent clicks you will cover the expenses
Geverifieerde reviewer
CTO in VS
Geverifieerde LinkedIn-gebruiker
Horeca, 11-50 werknemers
Heeft de software gebruikt voor: 6-12 maanden
Not worth the cost
Opmerkingen: We were initially pretty happy with ClickCease and had a great onboarding.
We then realized after a few months that this wasn't helping at all and was pretty costly for limited benefits.
We decided to cancel and were offered 50% for a few months, but eventually the price became unattractive again.
Pluspunten:
- Simple user interface and user experience - Fairly easy setup
Minpunten:
- Very high cost compared to the value provided - Google Ads is limited the blocked IP addresses to 500, making ClickCease partially useless - Google Ads would deny our refund claims on the basis that ClickCease algorithm is generating false positives and their anti-fraud algorithm is already covering all bases
Overwogen alternatieven: ClickGUARD, Clixtell en Lunio
Reactie CHEQ
10 maanden geleden
It's important that our customers get value from our capabilities while getting the highest level of protection. As the leader in click fraud prevention, we offer very competitive prices on monthly subscriptions and also 20% off all annual subscriptions. Our platform manages the IP blocking for you and we can automatically update the IP addresses so the most malicious IPs are prioritized, with that, we rarely see a problem with the 500 IPs limit although we also have "advanced mode" to enable a 500 IP list on the campaign level. We Also offer a plethora of analytics to make your Google refund request stronger, when it's needed, but as we block the malicious clicks, our customers are not being charged for them by Google Ads, thus focusing their budget on customers that matter. Our customer success specialist team is always ready to help you optimize your account so you will not lose real customers in your marketing efforts over Facebook, Google ads etc.
MacKenzie
Digital Marketing Manager in VS
Financiële dienstverlening, 51-200 werknemers
Heeft de software gebruikt voor: 1-5 maanden
Essential part of our Google Ads success
Pluspunten:
The click fraud feature as part of the software has saved us hundreds of dollars in the first few months of implementation!
Minpunten:
Customer support is a bit lacking. I'd love to have some more help from customer service to see if there's anything we could be doing better.
Overwogen alternatieven: ClickGUARD
Redenen om over te stappen op ClickCease: ClickCease was the only product we looked at that worked well with Hubspot.