Wat is Paladin POS?
Paladin Data provides a simple point of sale solution with inventory management to hardware stores, pharmacies, and retail stores nationwide.
With no long-term contracts, we believe in monthly agreements. Setup, onboarding, and training are easy with dedicated account managers who assemble your system and transfer the data.
Our 100% USA-based customer support is available 24/7. With automatic system updates, you'll always be running the latest version.
Wie gebruikt Paladin POS?
Hardware stores, lumber and building supplies, pharmacies, pet stores, feed & seed stores, as well as general retail.
Waar kan Paladin POS worden geïmplementeerd?
Cloud, SaaS, Web, Windows (desktop), Windows (lokaal), Linux (lokaal), Android (mobiel)
Over de leverancier
Paladin Data
Opgericht in 1982
Telefonische ondersteuning
24/7 (contact met medewerker)
Chatten
Beschikbaar in deze landen
Verenigde Staten
Over de leverancier
Paladin Data
Opgericht in 1982
Telefonische ondersteuning
24/7 (contact met medewerker)
Chatten
Beschikbaar in deze landen
Verenigde Staten
Video's en afbeeldingen van Paladin POS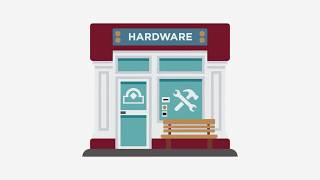 Vergelijk de kosten van Paladin POS met soortgelijke producten
Functies van Paladin POS
Beheer van cadeaubonnen
Beheer van retailvoorraad
Betalingen verwerken
E-mailmarketing
Elektronische handtekening
Gegevens importeren en exporteren
Inkooporderbeheer
Integratie in de administratie
Integraties van derden
Klantenaccounts
Kortingsbeheer
Multilocatie
Personeelsbeheer
Prijsbeheer
Retailbeheer
Retourbeheer
Retouren bijhouden
Streepjescodes en tickets scannen
Touchscreen
Verkooppunt
Verkooprapporten
Voorraadbeheer
eCommerce-beheer
Alternatieven voor Paladin POS
Donna O.
Author in VS
Geverifieerde LinkedIn-gebruiker
Heeft de software gebruikt voor: 2+ jaar
The Best POS for our business
Pluspunten:
Paladin POS made it seamless for our family-owned hardware store to change from our previous POS, which was geared more for big box stores to their Paladin POS. The assistance, training and friendliness that we continue to receive from this company has paid off in spades. Not to mention the cost savings per month. We have been extremely pleased since switching over to Paladin POS more than four years ago.
Heeft de software gebruikt voor: 2+ jaar
GREAT FUNCTIONING SOFTWARE FOR AN AFFORDABLE PRICE.
Opmerkingen: I HAVE A MORE ACCURATE INVENTORY WHICH MEANS THAT I HAVE LESS DOLLARS TIED UP IN INVENTORY. THE REPORTS ALLOW ME TO KEEP A CLOSER EYE ON MY SALES AND MARGINS IN COMPARISON TO LAST YEAR. I FEEL LIKE I HAVE A MUCH BETTER HANDLE ON THE BUSINESS THAN I DID WITH THE PREVIOUS SOFTWARE THAT I USED.
Pluspunten:
EASY TO SET UP, EASY TO LEARN AND USE, WHILE HAVING GOOD FUNCTIONALITY. SUPPORT HAS BEEN WONDERFUL. WE ARE ON OUR 3RD STORE WITH THIS SOFTWARE. IF I DIDN'T LOVE IT, I WOULDN'T HAVE BROUGHT IT INTO THE SECOND STORE. I WOULD RECOMMEND AND ACTUALLY, I HAVE RECOMMENDED THIS SOFTWARE. I LOVE THE INVENTORY GRAPH WHICH IS A QUICK LOOK AT MY SALES OF AN ITEM BY THE WEEK. THE SUGGESTED PO REPORT KEEPS ME AWARE OF THINGS THAT I NEED TO ORDER. I ALSO USE THE DIALS TO KEEP TRACK OF THINGS THAT I AM OVERSTOCKED WITH OR ARE NOT MOVING. REPORTS ARE GOOD.
Minpunten:
THERE ARE A FEW REPORTS THAT I WOULD CHANGE IF I COULD TO MAKE THEM LESS PAGES AND EASIER TO USE. ALSO ENTERING ITEMS INTO THE "SALE LIST" COULD BE MADE EASIER AND LESS KEYSTROKES BUT IT IS NOT SOMETHING THAT I USE EVERY DAY. I FIND THE COUPON DESIGNATION FIELD TO BE CUMBERSOME AT CHECKOUT. REALLY SLOWS DOWN THE TRANSACTION. WISH I COULD LOOK UP A LIST OF ITEMS BY DESCRIPTION AND PRINT IT.
Detailhandel, 2-10 werknemers
Heeft de software gebruikt voor: 1+ jaar
Bron: SoftwareAdvice
Warning! Not all its cracked up to be.
Minpunten:
We were led to believe that this system could handle our rental department, which after we signed up didn't. Every time we turned around they were adding more to our monthly bill. They also had us buy thousands of dollars worth of equipment that we were told we needed, which we ended up not needing. Then when we finally cancelled our service with them, I was told that I would not be charged again. Sure enough they took out the full monthly payment and when I called to have them refund the other 28 days of the month I shouldn't have been charged for, I was told that it was a standard policy to take the full monthly payment even though my service cancelled two days into the next billing cycle. My experience with Paladin is that they get you signed up with promises of what the system will do and when you discover that it doesn't do what you were told, you are forced to put more and more money out monthly.
Joe P.
Owner in VS
Geverifieerde LinkedIn-gebruiker
Detailhandel
Heeft de software gebruikt voor: 2+ jaar
We have used Paladin since 2013, helping us have the most profitable period in our history!
Opmerkingen: We use Paladin to assist with inventory replenishment, allowing us to have very few outs while maximizing our ROI. In addition, Paladin allows us to quickly and efficiently check our customers out at POS, enhancing customer satisfaction and keeping our personnel costs low. Intuitive and easy to learn, Paladin performs complex tasks with little effort.
Pluspunten:
Paladin is very easy to learn and use, making it a very productive package of useful tools to accomplish the goals and needs of our business. The replenishment module allows easy and accurate ordering based upon sales history, analyzing each item every time an order is being considered. The POS module is quick, very easy to learn and intuitive to use so personnel may easily and accurately check customers out. Paladin operations are very simple and quick, saving us time and effort so we can concentrate on assisting our customers. Updates are frequent and automatic, not requiring intervention on our end.
Minpunten:
I look forward to even more multi-store capability that would make Paladin even more usable. Not much to say that qualifies as a CON. It's not for those who want a complicated system that they constantly have to tweak.
Dennis B.
Many in VS
Geverifieerde LinkedIn-gebruiker
Heeft de software gebruikt voor: 2+ jaar
Easiest transition we have ever made. It really was so simple that "a caveman" really could do this!
Opmerkingen: Simple & Heavy Duty! A rare combination, i know, but with Paladin you can run your business, not stay on the phone with looking for answers and not getting them. It WORKS, and we use our system a lot. You will find companies telling you they can save you money get a better deal. Do not waste your time. You will be sorry. This software allows us to move into different areas and go back to where we were at "the same place without having to reopen a filed". This has been great. Many things like this you do not fully understand until you use the feature of stumble on to it. It still has areas i am sure we have not used. Customer Support at Paladin has answers to software question, when, which rarely they come up. This company is there for YOUR COMPANY. Do not wait until you lose business. Call PALADIN TODAY and move ahead!
Pluspunten:
Customer support in fantastic. Cost is a little more, but you get your monies worth. Simple & Heavy Duty. Very, very rarely do we have "lockups or down stations". These people have answers to your questions. They WILL CALL YOU BACK, but most of the time this is not necessary.