Fuse Universal
Wat is Fuse Universal?
Fuse verbindt je mensen met de kennis en expertise die ze nodig hebben om hun vaardigheden te verbeteren en goed te presteren. Fuse wordt wereldwijd gebruikt door meer dan 150 vooruitstrevende organisaties, waaronder Hilti, Vodafone, Panasonic, Scandic en Avon. Het stelt organisaties in staat om van laag presterende, cursusgerichte strategieën over te stappen naar meetbare verbetering van de organisatorische en persoonlijke prestaties.
Fuse is de ideale oplossing als je op zoek bent naar echte prestatieondersteuning in de workflow.
Wie gebruikt Fuse Universal?
Fuse werkt met bedrijven, liefdadigheidsinstellingen en overheidsafdelingen met meer dan 5000 leerlingen. Fuse wordt veelal gebruikt bij grote en snelgroeiende bedrijven.
Fuse Universal - Details
Fuse Universal
Opgericht in 2008
prijzen van Fuse Universal
Beginprijs:
Niet door leverancier verstrekt
Ja, heeft een gratis proefversie
Geen gratis versie
Fuse Universal heeft geen gratis versie maar biedt wel een gratis proefperiode.
Fuse Universal - Details
Fuse Universal
Opgericht in 2008
Video's en afbeeldingen van Fuse Universal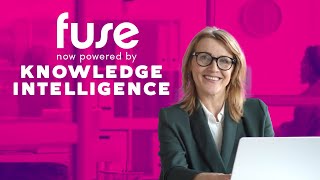 Fuse Universal - implementatie en ondersteuning
Ondersteuning
E-mail/helpdesk
Telefonische ondersteuning
24/7 (contact met medewerker)
Chatten
Implementatie
Cloud, SaaS, Web
Android (mobiel)
iPhone (mobiel)
Training
Persoonlijk
Live online
Webinars
Documentatie
Functies van Fuse Universal
Catherine C.
Instructional Designer in Zuid-Afrika
Geverifieerde LinkedIn-gebruiker
E-learning, 201-500 werknemers
Used the Software for: 1+ jaar
The epitome of user experience platforms and social learning
Comments: We are solving issues with getting all the employees from our various branches to unify under one complete understanding of how the group functions and the direction that we are going in. The benefits have been tremendous, with serious engagement from the staff, and increasing productivity in the work environment.
Pros:
I really like the fact that I can login at any time of the day, from any device and learn in short, concise and well put together learning programmes; as well as socially using informal learning. The CSM Team and Support Desk are extremely supportive and respond immediately to any requests.
Cons:
There is very little that I dislike, but I definitely feel that there are untapped areas that can be improved on, with the system structure.
Phil W.
Head of Curriculum & Learning Technologies in VK
Schoolleiding, 1.001-5.000 werknemers
Used the Software for: 2+ jaar
Fuse - Communications, People Development & Training Delivery Review
Comments: Fuse has been and continues to be unique in the market place in terms of the features it has and integration it is now promising across many software applications. It's allowed us to grow as a business and stay connected to a national workforce and its encouraged us to digitise our learning delivery to our clients. The customer teams are always engaging and willing to help and in recent years Fuse have recognised the importance of customer steering groups and advisory boards. They are becoming a "listening" business while remaining innovative and challenging in whats hot and whats not in Learning & development.
Pros:
A very innovative product and development team. Fuse really is a Next Gen platform that supports company wide business communication, collaboration, learning and engagement. The base suite of tools and functionality is fantastic and the team look to innovate and now collaborate with the latest thinking and learning tools in the market place.
Cons:
As a growing business over the years we have worked with them they have focused alot on new features development and functionality before the basics of previous introductions have been ironed out. This leads to a "buggy" experience in the 1st instance of a feature that held so much promise. I'm pleased to say they have worked this out and now have good development road maps and testing in place before they come to market with new features - The system is stable most of the time and new functionality is discussed with customers before release
Alternatives Considered: Cornerstone LMS, Totara Learn en Moodle
Reasons for Choosing Fuse Universal: We needed to grow up fast and deliver a better end user experience for our staff and customers. We have a significant amount of content that sat in sharepoint in an unstructured and hard to reach format with very little collaboration or tracking of what people were doing.
Switched From: PDF Share Forms Enterprise
Reasons for Switching to Fuse Universal: Ahead of the game in the more Social Learning Features and thinking across the business. Price. Forward thinking and quite agile in their approach.
Paul G.
Head of learning in VK
Telecommunicatie, 10.000+ werknemers
Used the Software for: 2+ jaar
Average product made hopeless by instability issues and non-existent support
Comments: It was great having the freedom to be able deliver completely custom user interfaces using HTML and Javascript. Fuse were good in accommodating our unusual needs and developing the platform to make features they developed for all clients available to everyone. However, i could never risk working with them again because they're simply unable to provide a robust system and the support was truly dreadful. For more than 5 years they promised to recruit better people that would miraculously solve their inability to manage/support their own platform. Truth is, they have no idea how to structure a software development team, or customer service team in a way that makes them able to deliver a stable system.
Pros:
The ability to customise the user experience using custom html. We were able to completely customise the user interface, which was good because we found the fuse interface terrible.
Cons:
It was highly unstable which led to no end of issues for us. We relied heavily on fuse tracking our new starters completing their training and then reporting via their APIs. We had so many issues with this failing to properly register completions and it caused huge problems for us. What's worse was the terrible level of support given by Fuse. Going via the normal/formal routes of reporting bugs was literally a waste of time and pretty much never resulted in any issue being resolved in 5+ years of use. I'd instead have to kick off with the [SENSITIVE CONTENT HIDDEN], and in fairness to them they did then try to resolve issues. However, even then is was largely hopeless and we were forced to leave fuse and build our own LMS functionality internally.
Topher O.
Sr. Director of Learning & Development in VS
Vastgoed, 1.001-5.000 werknemers
Used the Software for: 6-12 maanden
Alliance Residential Turns the Tide on Learning
Comments: Fuse has been a greta team to work with. They had an initial architect team that came along side of us to help us focus the project on the overall goals for the organization. This sounds so elementary, but when we came into it, we were just thinking about providing this cool tool for our associates to use. This shif in thinking was revolutionary and has really helped the whole site come together. Now that we are up and running, we have biweekly meetings with our client success managers who help us dive into what's working and what's not. They offer help and suggestions and help us stay focused on our overall objectives.
Pros:
What we love about Fuse is that it has the ability to bring together Learning, Policy, and Communications into one central location where our workforce (who is disparate across the country) can connect and actually engage with the content presented. We understand that how we learn is changing. We want to consume information right at the time we need it, and we want it to be short and effective so that I can get about the job at hand. In our personal lives we use Google, but now, at work, we use Fuse!
Cons:
There have been some issues on reporting that they are working through with the addition of Good Data to the project. At the current time, some reporting is limited, but with the Good Data coming on, we are going to have the ability to slice and dice thousands of data points in ways that we've never been able to do with X data.
Alternatives Considered: Cornerstone LMS, SAP Litmos en Moodle
Reasons for Choosing Fuse Universal: To be honest, we never had a customer success manager who could/would help us out. We had purchased the product from ADP, and because of that middle man, we had a third party service provider that we could only utilize if we needed support items. There was no chance to learn how to optimize or maximize their system. In addition, their 'Connect' piece was, at the time, still not robust enough on the Socaial Learning side of things. That was a huge selling point for us. We wanted a system, whereby our associates could learn from each other as well as take control of their own learning.
Switched From: Cornerstone LMS
Renee S.
Director of Learning and Development in VS
Geverifieerde LinkedIn-gebruiker
Detailhandel, 1.001-5.000 werknemers
Used the Software for: 1-5 maanden
Just adopted FUSE as our new intranet and learning platform
Comments: We are still preparing for organization-wide launch, but FUSE will allow us to centralize and track our learning and communication initiatives. It will also connect a geographically distributed company to improve connectedness, learning, and communication.
Pros:
The decision-making factors for us were two-fold - 1: The ability to house both our learning and communication in one platform, and 2: a platform built around 70:20:10 to maximize the impact of learning and communication.
Cons:
I do wish that the app was a bit more similar to the desktop version, but I still think it's great. Many platforms don't even have an app at all!
Alternatives Considered: MindTickle
Reasons for Switching to Fuse Universal: It fit the needs of our company better. MindTickle is amazing, but it was hyperfocused around sales enablement and did not have learning community capability.