Vagaro
Wat is Vagaro?
Verhoog je productiviteit en maak tijd vrij met Vagaro. Plan afspraken vanaf een desktop of gebruik de Vagaro Pro-app om klanten onderweg te beheren. Neem reserveringen aan op de beauty-marktplaats,
Meer informatie
je boekingspagina, Facebook, Yelp, Instagram of op je eigen website via de boekingswidget van Vagaro. Stuur geautomatiseerde herinneringen en e-mails. Beheer pakketten. Verwerk veilig betalingen. Vagaro Pro is de meest gedownloade/beoordeelde app voor Apple en Android. Prijzen vanaf $ 25 per maand. Meld je aan voor een gratis proefversie van 1 maand.
Minder informatie
Wie gebruikt Vagaro?
Eigenaren van fitness/sportscholen, dans-, pilates- en yogastudio's, salon of spa. Op basis van je wensen biedt Vagaro zelfs een persoonlijke boekingssite, een merkeigen app en zoekpagina.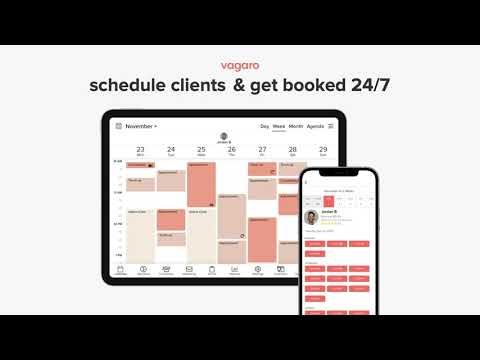 Twijfel je over Vagaro? Vergelijk met een populair alternatief
Niet beschikbaar in jouw land
Gratis versie
Gratis proefversie
Gratis versie
Gratis proefversie
Waarom krijg ik dit te zien?
Alternatieven voor Vagaro
Christie
Owner
Geverifieerde LinkedIn-gebruiker
Sport, Zelfstandig ondernemer
Heeft de software gebruikt voor: 2+ jaar
Makes My Business & Life Scheduling Much Easier
Bijschriften in het Nederlands beschikbaar in de videospeler
Axel
Engineer in Mexico
Geverifieerde LinkedIn-gebruiker
Automotive, 2-10 werknemers
Heeft de software gebruikt voor: 6-12 maanden
Overwogen alternatieven:
It's great but unnecessary
Opmerkingen: It's awesome really really awesome but like I said is not necessary for small companys, maybe if you grow up in the future it is a better idea. Is your decision.
Pluspunten:
It's a good option for organize all the company schedule, there are so many functions for all, anyone can use this and is not necessary to know about this software, is so intuitive.
Minpunten:
I really thing that is unnecessary beacuse you can do a lot of this things in other app for free, but some functions are only in this app that made it better. If you don't have the money for pay this, I really recommend use your phone calendar or something like that.
Reactie Vagaro
4 maanden geleden
Hello Axel. We appreciate the review. We'll definitely take your feedback into consideration.
Geverifieerde reviewer
Owner in VS
Geverifieerde LinkedIn-gebruiker
Alternatieve geneeskunde, 2-10 werknemers
Heeft de software gebruikt voor: Gratis proef
Overwogen alternatieven:
Many great features, excellent customer services, and small areas that can improve
Opmerkingen: So far, this software is above and beyond our previous two companies. They seems very willing to change and add features, as well as helpful in onboarding and migrating our business into their system. They were even able to import reviews!
Pluspunten:
There are many optional add-on features. This allows us to do things like add forms, accept payment, and have a waitlist. These are super helpful features and it is nice to know if we don't need them we can cancel them.
Minpunten:
The software is a bit slow, and challenging when it comes to customer management. I have gotten some errors around adding customers with "existing email addresses" even though they can't find the email in the system.
Geverifieerde reviewer
Studio Manager in VS
Geverifieerde LinkedIn-gebruiker
Gezondheid, wellness en fitness, 2-10 werknemers
Heeft de software gebruikt voor: 1+ jaar
Bron: GetApp
Small Business owners, look elsewhere
Opmerkingen: See above.
Pluspunten:
Cheaper than others, but you get what you pay for in that it is glitchy and customer support is incompetent in troubleshooting.
Minpunten:
POOR CUSTOMER SERVICE AND LACK OF EFFECTIVE SOLUTIONS. GLITCHY SOFTWARE. Vagaro USED to be a viable solution, but it is glitchy and tech support is (respectfully) incompetent when it comes to troubleshooting. It has been 4 days now of lost revenue and frustrated clients for my business. The only option that your customer service has been giving me is that they are trying to "replicate" the issue but haven't come up with a reasonable solution. They sent the issue to the developers two days ago. By the time we expect a response, it will be one week of lost revenue. We have had over a DOZEN clients report that they aren't able to complete checkout and all they keep getting is a "spinning red wheel." The solution offered by your tech support was to "refresh their cache," and to "change browsers" which is an unreasonable option to even offer, since there are clients who may not be even reporting issues and won't have that direction from us. No one from Vagaro has openly admitted that their is an issue with the software. This is inauthentic as how can over a dozen clients have issues with their web browsers or history(#gaslight)? It's clearly on your end yet no one has owned up to it at Vagaro. We are looking to switch due to lack of transparency, effective customer service and technical support.
Molly
Salon Owner/Esthetician in VS
Consumentendiensten, 2-10 werknemers
Heeft de software gebruikt voor: 1-5 maanden
Overwogen alternatieven:
Is Varago is good for your company?
Opmerkingen: With Vagaro the purpose was always selling time. FIlling up the white space on the calendar with clients and making sure you did that as efficiently and productively each day as possible in order to create growth and profit for the company. Vagaro is a tool in which you are able to do that. But for bigger salons that need more details, reports, numbers, it does fall bit a short.
Pluspunten:
I liked that this system was super simple and straight forward. It is very easy to switch over to Vagaro from another company which is what we did. The ease of use is definitely a plus but it also was a reason why we left. It was not very detailed on other aspects that we needed more options and attention on.
Minpunten:
I love a software company that has a well developed app for it's salon users. This is important for the team because they use this every hour to see and check their schedules. I think also the reports should have been more detailed and intricate but they may have improved that at this time. I don't think anything was difficult to use but because of it's ease of use, it meant that the software didn't really allow for as much information and details as we needed at the time to run a salon aiming towards growth. Things were hard to find or figure out because it wasn't provided in the reports or we had to add other features from outside companies to make up for lacking features.
Reactie Vagaro
2 maanden geleden
Thank you for the feedback, we love to hear that our software is easy to use. We recently released updates to our reports section based on the feedback that businesses were looking for more intricate data. You can check what other features we are currently working on here: https://feedback.vagaro.com/forums/915991-feature-requests
Consumentendiensten, Zelfstandig ondernemer
Heeft de software gebruikt voor: 2+ jaar
Bron: SoftwareAdvice
Overwogen alternatieven:
Great Scheduling System for both provider and clients
Opmerkingen: I have been using Vagaro for about a decade now. I would say that if your looking for a scheduling system and the ability to have your clients book online and also receive reminders than Vagaro is perfect for you.
Pluspunten:
I like that fact that clients can schedule anytime. I also like the fact that on my voice mail I inform new and existing clients of the website. This is very helpful because I can't always answer the phone. This gives the clients more option and the ability to look at my schedule and make an appointment that meets the clients needs.
Minpunten:
It was difficult using the Merchant Services to take payments. The price was in line with some of the other providers such as Square. Before taking payments from clients, I wanted to make sure it work. I used my debit card to charge $1.00. After I did that and started taking payments they froze my account, noting that I violated the Merchant Service agreement. It took several months to get this resolved. I had to find out which company Vagaro was using to process Merchant Services. I had to call so many times as well as write and mail out demand letters to get my founds. I found that it was less expensive going with one of the major processors such as First Data and Fiserv Merchant Services. I also was not impressed with Vagaro's customer service. I had issues with their Merchant Services as well as some other customer services issues. As I have been using Vagaro for the past decade I would have hoped that their customer service would be much better. Don't expect much from the customer service team or the management.