Synapcus
Wat is Synapcus?
Synapcus is webgebaseerde bedrijfssoftware (ERP) die speciaal is ontwikkeld voor project- en servicegerichte bedrijven in het MKB, met gespecialiseerde functies voor architectenbureaus, bouwbedrijven
Meer informatie
en projectontwikkelaars. Dankzij meer dan tien jaar geconcentreerde ervaring in verschillende sectoren op basis van het Synapcus-platform kan dit product je bedrijfsprocessen optimaal en kostenbewust implementeren. De focus ligt op het vinden van high-tech oplossingen voor de klanten.
Minder informatie
Wie gebruikt Synapcus?
Voor architecten- en planningskantoren, bouw, IT, projectontwikkelaars, marketingbedrijven en alle sectoren die zich op projecten richten: adviesbureaus, onroerend goed en publieke sectoren.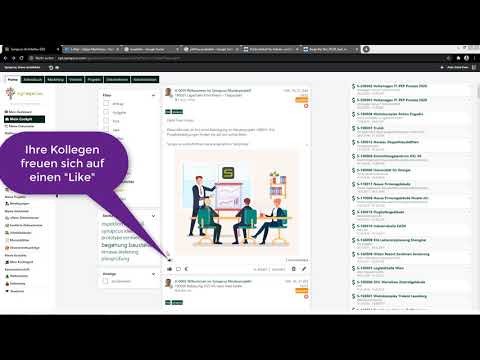 Twijfel je over Synapcus? Vergelijk met een populair alternatief
Niet beschikbaar in jouw land
Gratis versie
Gratis proefversie
Geen prijsinformatie gevonden
Gratis versie
Gratis proefversie
Waarom krijg ik dit te zien?
Alternatieven voor Synapcus
Adriana
Event Scenographer / Window dressing in Roemenië
Geverifieerde LinkedIn-gebruiker
Bouw, 2-10 werknemers
Heeft de software gebruikt voor: 2+ jaar
Synapcus for interior designers
Opmerkingen: As a scenographer and interior designer project manager and company owner, I'm active especially in large projects of residential real estate development, projects ranging from the concept phase to implementation and site supervision. I'm usually working with many collaborators and subcontractors with whom I must regularly exchange information about the state although each can be in a different geographic location. The Synapcus web-platform allows all participants access to information based on different specific rights, it can be used on MAC which for architects and designer is a "must have", sends notification whenever the situation in a project runs out of control, which greatly aids the successful completion of projects.
Pluspunten:
a. Web Application b. Available on MAC c. Collaboration d. Exchange Document Management Platform e. Email Notification f. Friendly User Interface g. Budget-time-quality project control with graphical display of the result h. Invoicing, Fee planning and Cashflow i. Subcontractors Management and Evaluation Controlling and billing are not issues with which a Designer wants to lose much time because his focus is on design. The Synapcus platform provides an intuitive and easy-to-understand controlling graphic of the project. Subcontractors' evaluation is another valuable feature of the software for a project manager which has to take shortly decisions about the companies to involve into the project realization based on previous collaborations.
Minpunten:
The platform is not yet available in Romanian language.
Bogdan
Engineer in Roemenië
Civiele techniek, 51-200 werknemers
Heeft de software gebruikt voor: 2+ jaar
Owner and Managing Director Construction Company VREAUCASANOUA
Opmerkingen: I have been using the Synapcus web application for 2 years now and the performance of the projects has improved since by 10%.
Pluspunten:
I am the co-owner of the construction company VREAUCASANOUA - "I want a new house" for over 10 years. Organizing and developing a building project is a very complex process from designing, organizing auctions and evaluating suppliers to selecting subcontractors and implementing the project. I appreciate the application most:  web application  Management and supplier evaluation  Resource planning - budget and time  Risk management  Feasibility analysis of projects  Notification by email  Controlling and prognosis  Document management
Minpunten:
I have no complaints regarding the product. Maybe it could support other languages besides english and german.
Reactie Qalgo
4 jaar geleden
Thank you very much for the good review. We will release also a romanian and franch version in 2019.
Thomas
IT-Administrator in Duitsland
Architectuur en planning, 51-200 werknemers
Heeft de software gebruikt voor: 2+ jaar
Review :)
Opmerkingen: It´s easy to depict workflows. So we´re testing the ticketing-tool this time.
Pluspunten:
I think it´s a central and important tool for our company to manage our daily business.
Minpunten:
Sometimes, there are a few problems with the performance. The system is powerful but sometimes to slow.
Reactie Qalgo
3 jaar geleden
Dear Synapcus user, thank you for your review. The performance issue on your particular on-premise Synapcus system was analyzed and improved with the new Synapcus Version 2.33.007. The main causes (sync ajax call for the burger menu and unneccessary agent run over the day) are now resolved. The responce times are now in the normal range for a web app.
Constantin
Consultant - High rise operation manager in Canada
Bouw, 2-10 werknemers
Heeft de software gebruikt voor: Gratis proef
A pleasant , useful,reliable work tool
Opmerkingen: In condo construction consulting business with a lot of consultants plus trades involved in the overall process till the final occupancy is achieved this tool is a must in order for you to present an overall picture to the owners in terms of resources and time frames to be allocated within.
Pluspunten:
Estimating was a breeze , easy to use even using mobile devices - on the go! Conclusions and analysis much more at hand at the end of the work day or as a fact for the whole month! It facilitates also cross departments interconnection along the way. PM in construction are gonna love this!
Minpunten:
As a matter of fact at the first glance it looks that it gives you more than you can handle It will be nice to see more linkage from the app for different documents types. Time zone difference between Europe and North America imposes office space here.
Reactie Qalgo
4 jaar geleden
Thank you very much for the review. Kind regards Adrian Engelmann
Mircea
Application Development Analyst - Team Leader in VS
Geverifieerde LinkedIn-gebruiker
Informatietechnologie en -diensten, 11-50 werknemers
Heeft de software gebruikt voor: 6-12 maanden
Synapcus Canada
Opmerkingen: Having an All In One , centralized hub saving lots of time on project management for sure. Sharing and finding content across departments , great analysis for ongoing projects it's a must for any company.
Pluspunten:
Easy to use, all in one platform, centralized and well organized tool for projects, team work , document sharing, intelligent tracking.
Minpunten:
A little bit crowded at first but easy to peak up after. Overall very good tool
Reactie Qalgo
4 jaar geleden
Thanks for evaluating our product. We would like to know what we could improve on our customer support since we didn't get any stars on it. best greetings Synapcus team