Misschien vind je dit ook leuk...
Wat is SmartrMail?
Ben je op zoek naar een MailChimp-vervanging voor Shopify? Ontvang een betaald bedrag van $ 19 terug en gratis migratiehulp op SmartrMail. Het platform is volledig geïntegreerd met Shopify, BigCommerce, WooCommerce en Neto. Dit platform is de eenvoudigste manier om betere e-mails te sturen die je klanten waarderen. Gebruiksvriendelijke automatisering, productaanbevelingen, aantrekkelijke nieuwsbrieven en geavanceerde segmentatie. Meer dan 100 5-sterrenbeoordelingen op Shopify.
Wie gebruikt SmartrMail?
Duizenden e-commerce detailhandelaren op Shopify en andere toonaangevende platforms gebruiken SmartrMail om betere e-mails te verzenden in minder tijd.
SmartrMail - Details
SmartrMail
Opgericht in 2016
Video's en afbeeldingen van SmartrMail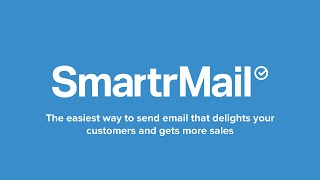 ▶︎
SmartrMail - Details
SmartrMail
Opgericht in 2016
Vergelijk SmartrMail met soortgelijke producten
Vanaf
US$ 29,00/maand
US$ 10,00/maand
US$ 20,00/maand
US$ 9,00/maand
SmartrMail - implementatie en ondersteuning
Ondersteuning
E-mail/helpdesk
Kennisbank
Telefonische ondersteuning
Chatten
Training
Live online
Webinars
Documentatie
Video's
Functies van SmartrMail
A/B-tests
API
Aanpasbare branding
Aanpasbare formulieren
Aanpasbare sjablonen
Aanpasbare velden
Abonneebeheer
Abonnementsbeheer
Activiteiten volgen
Activiteitendashboard
Afbeeldingenbibliotheek
Autoresponders
Beheer van e-mailcampagnes
Beheer van mailinglijsten
Bestemmingspagina's en webformulieren
CAN SPAM-compliance
CRM
Campagneanalytics
Campagnebeheer
Campagneplanning
Campagnesegmentering
Contactenbeheer
Contactendatabase
Door gebeurtenissen geactiveerde acties
Drip -campagnes
Dynamische inhoud
E-mailbeheer
E-maildistributie
E-mailmarketing
E-mails bijhouden
E-mailsjablonen
Engagement tracking
Integratie van sociale media
Integraties van derden
Klantenonderzoeken
Klantensegmenten
Klikken bijhouden
Leads vastleggen
Lijstbeheer
Marketing via meerdere kanalen
Meerdere campagnes
Rapportage en analyse
Rapportage en statistieken
Realtime analyse
Sjabloonbeheer
Slepen en neerzetten
Spamblokkering
Voor mobiel geoptimaliseerde e-mails
WYSIWYG-editor
Webformulieren
Rusty R.
Director in Australië
Geverifieerde LinkedIn-gebruiker
Sportartikelen, 2-10 werknemers
Used the Software for: 1-5 maanden
Excellent Product, Even better Service.
Pros:
The product is excellent, and full of hidden gems as you get to know it more. The customer service is top shelf.
Cons:
There is a learning curve to be able to unlock the true power. Though, the excellent service makes this pretty easy to navigate.
Kristie R.
Owner in Australië
Detailhandel, 2-10 werknemers
Used the Software for: 6-12 maanden
Alternatives Considered:
Fantastic product for our business
Comments: Our overall experience has been great. We have better insight as to who is viewing our emails, the links they click on from our email to access our website and the sales we generate from the emails we send out.
Pros:
Very easy to use. I am able to create newsletters within 10 minutes (compared to approx. 45 mins on the previous software we used). The reports provide good insight as to how successful each marketing campaign has been.
Cons:
The cost can be prohibitive for small businesses but it is still cheaper than some of the competitors.
Philippa M.
Marketing Manager in Australië
Detailhandel, 2-10 werknemers
Used the Software for: 1+ jaar
SmartrMail Review
Comments: We are able to stay in contact with customers through email and have created some beautiful campaigns which SmartrMail has helped us send. The customer service is always helpful and if you have any hiccups or challenges, they will help you through to find a solution.
Pros:
Designing our own emails in InDesign, it is easy to then import GIFs and images into the emails for our weekly newsletter. For weekly emails, the system is intuitive and easy to use. With the assistance of the team from Smartrmail, we've been able to create a range of automated campaigns to target customers and upsell other products. The customer service team is great and reply to help requests very promptly.
Cons:
Setting up automated campaigns and creating audiences with certain rules can be rather complex and easy to make errors, so it is essential you work with the Smartrmail team on this.
Nikki T.
Busines Owner / Manager in Australië
Detailhandel, 2-10 werknemers
Used the Software for: 6-12 maanden
Cheaper than Mailchimp with practical functionality.
Comments: Great customer service and help when needed.
Pros:
We use Smartrmail with out Shopify store and really enjoy it. Pulled our email list out of mailchimp over 6 months ago as it was just getting too expensive. Smartrmail has all the functionality I need without being overly complicated. Just realised it does 2 way sync with Shopify so if a subscriber purchased once, but more than 2 years ago, and then makes a new purchase in our Shopify store, they'll be labelled as " Repeat customer" since there will be 2 orders in this subscribers' profile in your Shopify store. This is great so that customers repeat business is recognised. Thank you Smartrmail.
Cons:
Nothing major just took a little bit of getting used to the autosave as I was used to saving everything I did manually in mailchimp. Not a software problem, just a person problem ;-P
Pat R.
Director in Australië
Sportartikelen, 2-10 werknemers
Used the Software for: 1-5 maanden
Alternatives Considered:
SmartrMail where have you been???
Comments: Overall Smartrmail is nothing short of sensational. It immediately started working within minutes of set up.
Pros:
For those working on a Neto platform this is for you.
Cons:
No set-up wizard to walk you through. Would be great if it had a step by step set up wizard to guide you through the first time.