Birdeye
Wat is Birdeye?
BirdEye stelt je in staat om zo goed mogelijk zaken te doen. BirdEye stimuleert de bedrijfsgroei door nieuwe beoordelingen te krijgen en de klantervaring te verbeteren. Meer dan 50.000 bedrijven
Meer informatie
gebruiken BirdEye om hun beoordelingen te beheren, online te worden gevonden, feedback van klanten te verzamelen, activiteiten te verbeteren en inkomsten te verhogen. De alles-in-één-software van BirdEye omvat monitoring, genereren en marketing van beoordelingen, klantonderzoeken, sociale media, ondersteuning aan de hand van tickets, vermeldingen, web-chat, zakelijke inzichten en competitieve benchmarking.
Minder informatie
Wie gebruikt Birdeye?
Bedrijven die een sterke online reputatie willen opbouwen op basis van klantenfeedback, beoordelingen willen verbeteren en vertrouwen willen opbouwen om nieuwe klanten te werven.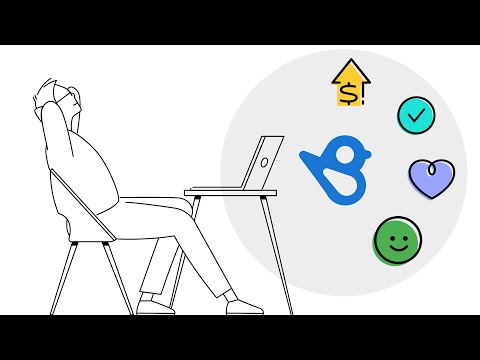 Twijfel je over Birdeye? Vergelijk met een populair alternatief
Niet beschikbaar in jouw land
Geen prijsinformatie gevonden
Gratis versie
Gratis proefversie
Gratis versie
Gratis proefversie
Waarom krijg ik dit te zien?
Alternatieven voor Birdeye
David
CEO
Geverifieerde LinkedIn-gebruiker
Marketing en reclame, 2-10 werknemers
Heeft de software gebruikt voor: 2+ jaar
Works well and good support
Bijschriften in het Nederlands beschikbaar in de videospeler
Nick
CEO in Canada
Geverifieerde LinkedIn-gebruiker
Marketing en reclame, 2-10 werknemers
Heeft de software gebruikt voor: 1+ jaar
Overwogen alternatieven:
Best choice for review management platforms
Opmerkingen: I'm quite happy with everything. We have run into some billing issues, technical issues, etc, but we did manage to get everything resolved. We were assigned a customer service rep and they've been very helpful in ironing out any problems. I've been with these guys for almost 2 years and I don't have any interest in switching to a different provider.
Pluspunten:
We tried a few different review management systems but BirdEye was the most established one. They offer great deals for marketing agencies that are looking to whitelabel the software and offer it to clients as part of the marketing packages. This was a huge plus for us.
Minpunten:
Software can be clunky. Think of BirdEye like Salesforce, they're the biggest in the space because the software is good but it can also be rather clucky to use. Other review management systems were more streamlined but I think BirdEye more than makes up for it with customer service and support.
Reactie BirdEye
2 jaar geleden
Hi Nick, thanks for choosing BirdEye! We appreciate you being a BirdEye partner and we look forward to the years to come. Keep up the great work!
Deborah
Orthodontisit in VS
Gezondheid, wellness en fitness, 2-10 werknemers
Heeft de software gebruikt voor: 2+ jaar
Good for reputation management
Opmerkingen: For overall reputation management Birdeye is great, when review requests are sent out. I feel like sometimes this is hit or miss. It's like when we get closer to renewal time we start to get reviews but in the midyear it drys up and we get nothing.
Pluspunten:
I like that it allows us to request and receive reviews for Google, we also get text messaging through the app with Birdeye but we have to physically generate the messages.
Minpunten:
We can not get any automated text message reminders through Birdeye, we want a service provider for this service. There are other features but they are at an additional cost. Also one of the Birdeye employees was badgering me to sign a two year contract instead of our usual one year contract. And he charged my credit card for additional fees as well without my knowledge.
Marketing en reclame, 2-10 werknemers
Heeft de software gebruikt voor: 2+ jaar
Bron: SoftwareAdvice
Overwogen alternatieven:
Over charged over promised bait and switch, deceit, and non stop billing issues!
Opmerkingen: I lost money by using BirdEye and they still wont fix the issues!
Pluspunten:
The ability to get more reviews on google
Minpunten:
Lots of issues with integrations and billing but most of all I purchased Yext through them and was given Synup! I was lied to and when I called them out on it they said oh we will give you Yext now, I asked for a refund and they said they were working on it, I found this out at the end of July or beginning of August then I told them I would not be renewing my 25 locations, they then said they would send me a new contract, tried to get me to sign a 3-year contract, I refused and said I wanted to drop down to 10 locations, they then sent me a new contract for one year, I didn't sign, then they auto renewed, I'm reporting them to the state attorney! Also everyone I dealt with was fired or left!
Thad
Director of Operations in VS
Marketing en reclame, 2-10 werknemers
Heeft de software gebruikt voor: 1+ jaar
Overwogen alternatieven:
Good product, but flawed
Opmerkingen: The support team really wants to do a good job and can make up for the product's shortcomings. Issues pop up, naturally, as we come across unique instances, etc., and our Account Manager is great about working with us on finding resolutions.
Pluspunten:
Birdeye's ability to integrate with a wide variety of patient management systems (PMS) for review generation is exceptional and sets this product apart from anything else we can find. Our clients use a wide variety of PMSs, and Birdeye integrates with nearly all of them. If they don't they'll work on finding a solution to bring automation to the system.
Minpunten:
We have a large number of clients that use this system and during the sales process we were told that all we needed to do was provide a CSV of their names & locations, and the onboarding team would handle it. Unfortunately, that was not the case. We had to manually configure a profile for each of our clients. Also, the continually cross market to existing clients. For example, we have a client that has multiple locations. Most of the locations are managed through our Birdeye account, while one location has it's own Birdeye account not tied to us. The manager of that one location continues to receive messages from Birdeye saying that they really should bring the other locations onboard and also says that nothing is being done with the locations we manage. Every time they send a message we request that Birdeye flag that the other locations are in our account - for some reason they won't. It's been a major issue for some of our larger clients with multiple locations spread across different Birdeye accounts.
Reactie Birdeye
3 maanden geleden
Amazing, thorough feedback, Thad! We are looking into your feedback and our team will be on top of enhancing the features for our customer's continued success. Thank you for the awareness and for being a wonderful Birdeye partner!
Gezondheid, wellness en fitness, 11-50 werknemers
Heeft de software gebruikt voor: 2+ jaar
Good Product
Pluspunten:
Review management is what I like the most
Minpunten:
Nothing at this moment, the software is working fine