Wat is FixMe.IT?
De best beoordeelde toepassing voor ondersteuning op afstand die is ontworpen voor het leveren van directe onbeheerde en on-demand ondersteuning aan klanten overal ter wereld. FixMe.IT biedt vanaf slechts $ 25 per maand afhandeling van meerdere sessies, onbeperkte on-demand ondersteuning en toegang tot 150 onbeheerde machines. Andere belangrijke functies zijn onder meer branding, navigatie via meerdere schermen, tweeweg delen van het bureaublad, bestandsoverdracht, tekenhulpmiddelen, sessie-opnames, rapportage en nog veel meer.
Wie gebruikt FixMe.IT?
IT-professionals van bedrijven van elke omvang en uit verschillende sectoren.
Waar kan FixMe.IT worden geïmplementeerd?
Cloudgebaseerd
On-premise
---
Over de leverancier
Techinline
Gevestigd in Toronto Ontario, Canada
Opgericht in 2007
Ondersteuning voor FixMe.IT
Telefonische ondersteuning
24/7 (contact met medewerker)
Chatten
Beschikbaar in deze landen
Albanië, Algerije, Amerikaanse Maagdeneilanden, Andorra, Angola en nog 146 andere
prijzen van FixMe.IT
Beginprijs:
US$ 30,00/maand
Ja, heeft een gratis proefversie
Geen gratis versie
FixMe.IT heeft geen gratis versie maar biedt wel een gratis proefperiode. FixMe.IT heeft een betaalde versie vanaf US$ 30,00/maand.
Prijsmodellen
vraag een gratis proefversie aan
Over de leverancier
Techinline
Gevestigd in Toronto Ontario, Canada
Opgericht in 2007
Ondersteuning voor FixMe.IT
Telefonische ondersteuning
24/7 (contact met medewerker)
Chatten
Beschikbaar in deze landen
Albanië, Algerije, Amerikaanse Maagdeneilanden, Andorra, Angola en nog 146 andere
Video's en afbeeldingen van FixMe.IT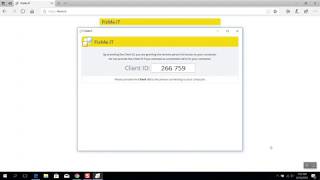 Functies van FixMe.IT
Bestanden delen
Bestandsoverdracht
Live chatten
Onbeheerde toegang
Rapportage en analyse
Realtime chatten
Scherm delen
Sessies opnemen
Toegang en controle op afstand
Toegang tot meerdere monitoren
Toegangsopties/machtigingen
Alternatieven voor FixMe.IT
R. Curtis
System Analyst in VS
Geverifieerde LinkedIn-gebruiker
Civiele techniek, 51-200 werknemers
Heeft de software gebruikt voor: 2+ jaar
Best Remote Access Software Available
Opmerkingen: I use this application daily to provide help desk and server support to many customers. The price is great and the features are fantastic.
Pluspunten:
The is by far the easiest remote access software I have ever used. As an IT manager, this software has saves me $1000s every month. With just a few clicks I can access customer's computers and correct problems while never leaving my office. My customers love this process. I can store computers for anytime access so I can manage many servers and computers 24/7 without requiring brick and mortar access.
Minpunten:
If I could fix a few things I would make this software available for MAC and get a different URL. I have to constantly spell the word "IT". It seems such a simple word but it does not correlate to web browsing to the common internet user. Few people have ever visited a .it domain.
Geverifieerde reviewer
Geverifieerde LinkedIn-gebruiker
Informatietechnologie en -diensten, 2-10 werknemers
Heeft de software gebruikt voor: 6-12 maanden
Strong Remote Management App - good balance of features for price
Opmerkingen: Overall, it's fast, simple, lightweight and good for get at this cost point.
Pluspunten:
Fixme is a simple and basic remote access tool that we use daily for unattended support to our end users. I like that you can have separate accounts should you want to have personal devices not available to the rest of my staff. It's easy and fast for one-off remote sessions and you can white-label a custom page for your end-users to keep your brand flowing through the remote experience. Deployment is simple and effective. The chat feature is also nice. With this basic feature set, it would easily be replaced by most bulit-in RMM tools.
Minpunten:
Although it has multi-monitor support, it's frustrating to always guess which monitor and sometimes does not reset correctly. I do like the chat feature, but it only stays on the end-user screen while you are connected with fixme. Which means you lose the dialog if you have to close out but your end-user has stepped away. It has a file transfer feature so you can send a file to the remote computer, but it would be very helpful to reverse the process and be able to send a file from the session back to the tech.
Overwogen alternatieven: TeamViewer en Dameware
Redenen om over te stappen op FixMe.IT: We chose FixMe because it has just the right amount of features to do what we need for much less than Teamviewer. Dameware is comparable in cost and has more features, but requires a central server to access multiple tenants. We also like that we can keep end users with our brand through the remote experience.
Reactie Techinline
4 jaar geleden
Thank you for taking the time to share your experience and for being our valued customer! Regarding the file transfer feature, the remote user has the option to use the Send File button which can easily be found on the Client App interface. Besides that, you can transfer files back to your desktop during the remote session via drag-and-drop or copy-paste. Best, Dan | Techinline
Computernetwerken, 2-10 werknemers
Heeft de software gebruikt voor: 6-12 maanden
It's hard to knock the product as it is but it's just ok
Opmerkingen: I am generally able to connect to my customers computers to assist with issues and install software
Pluspunten:
On demand sessions work great East to install and setup remote clients Easy to organize accounts by company
Minpunten:
No Ability to go cross platform ie mac No mobile ability The remote control agent doesn't work, well, sometimes gets eaten by anti virus clients/or disappears for what ever reason and you can't cut copy paste really!!! Their response is that's odd, just drag files...sorry to say that's a tedious endeavor with the spotty mouse movements.
Reactie Techinline
5 jaar geleden
Hi Thomas, Thank you for the feedback and for being our valued customer. We regret that you've experienced this copy-paste issue - this is, indeed, non-standard behavior of our application, which in most cases can be attributed to custom or advanced antivirus settings, or other 3rd party local factors that we have absolutely no control over. As suggested in most reviews here, FixMe.IT's file transfer feature is quite reliable and easy to use. Furthermore, FixMe.IT offers several file transfer options including a file transfer button and drag-n-drop, so our intent at the time was to provide you with a feasible workaround in case copy-paste didn't work with a specific client machine. Regards, Dan | Techinline
Logistiek en toeleveringsketen, 10.000+ werknemers
Heeft de software gebruikt voor: 6-12 maanden
A Great Remote Support Application for Teamwork
Opmerkingen: We have been involving this product for around 2year s, I haven't found whatever other program that is as simple to utilize. I appreciate how quickly and steadily our team's screen sharing operates.
Pluspunten:
1. very great video quality when sharing screen2. consistent and works fast3. the price and the speed of connection worth the cost.4. easy installation and configuration for new users
Minpunten:
1. not compatible with Apple Mac, so its only for windows os users2. a little pricy3. still having issue with mutiple screen workstations
Reactie Techinline
3 maanden geleden
Hello Samuel, Thank you for your feedback and your valued business with FixMe.IT. You mentioned the current absence of compatibility with Macs, and I wanted to share that recently we released a private beta of SetMe, our new flagship remote support solution that allows connecting to Macs and has a number of other major features and enhancements. We'd like to offer you a fully-featured free beta account so you can try SetMe in your environment and explore all of its features and benefits. Please contact us at [email protected] if you're interested, and we'll send you an invite. Best, Dan | Techinline
Stephen
Managing Director in VK
Computer- en netwerkbeveiliging, 11-50 werknemers
Heeft de software gebruikt voor: 2+ jaar
PC Paramedics use FixMe.IT
Opmerkingen: Network issues, Server issues, laptop and desktop issues. Printer issues. All the usual end user problems right down to data recovery on-line.
Pluspunten:
The client can watch what the techie is doing. Works reasonably well on a poor rural broadband connection down to 2mb/sec down - 50Kbs up Can see from the dashboard what connections have been made by team members
Minpunten:
Trying to get luddites to run the client - not easy with older users especially. Lockdown has meant connecting to home working users used to having a co-worker close by who could assist. Can take 20 minutes sometimes to start a session! A simple click and go for the client would be a huge improvement. Lack of Mac support is a big limitation, causing us to utilises two products. Limit on number of unattended clients that can be stored is a pain in the Rse.